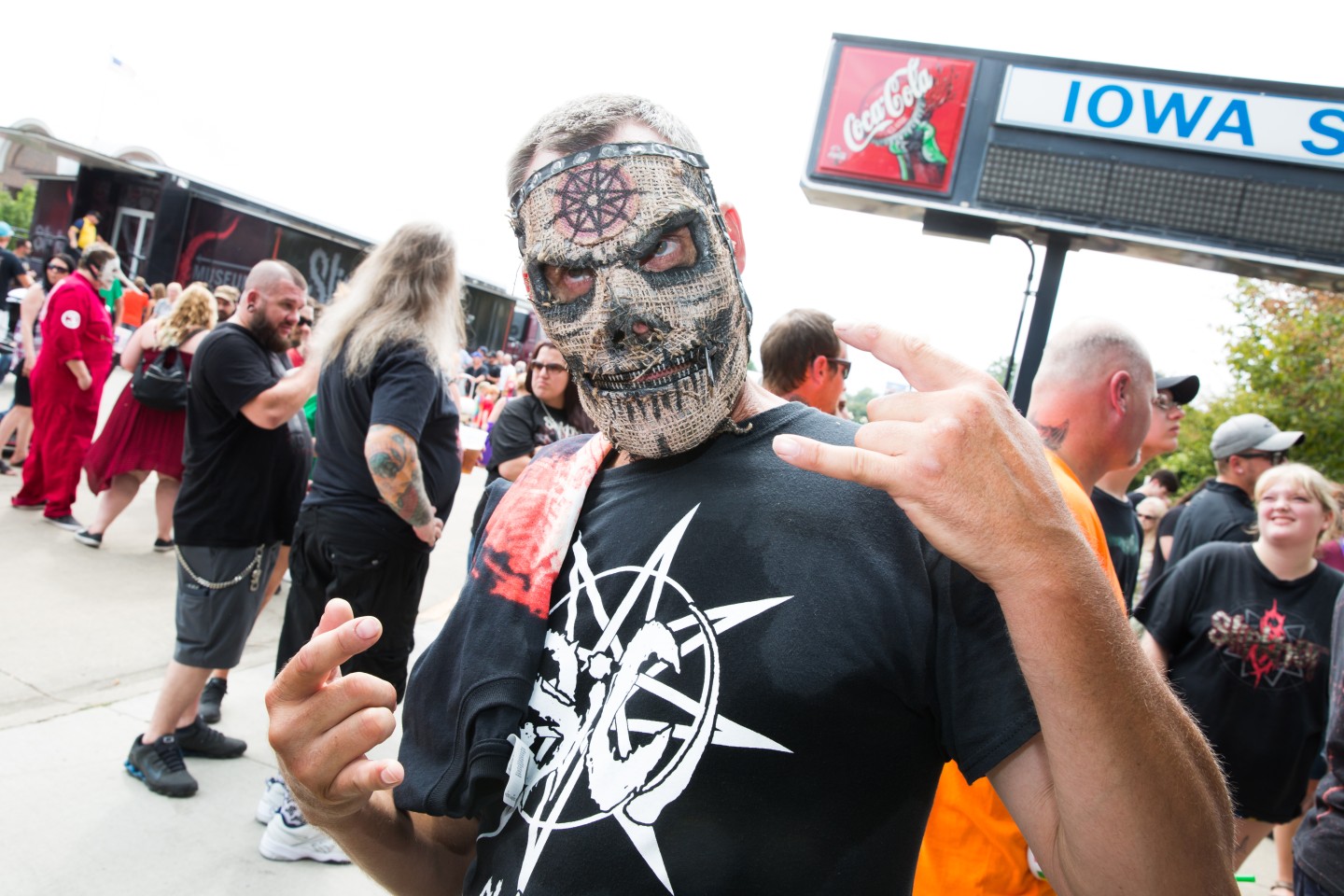 I got my start in photography by lugging my camera to music shows in sweaty basements and clubs, attempting to document bands and scenes I was passionate about. Night after night, I shoved my way up front while being weighed down with equipment, praying I got that one shot that would capture the feeling of being there.
In recent years, my focus has shifted. I now go from town hall to town hall, capturing politicians as they make promises and engage with Real Americans. Similar to music fans, political enthusiasts follow their candidates like Deadheads — shouting, waving signs, and begging to be heard while wearing expensive merch. It was for this reason that I initially had come to Iowa: to follow the grind of the 2020 Presidential campaign trail at the Iowa State Fair.
The Fair is a proving ground for any politician hoping to eventually lead the country. But when it was announced that Des Moines' hometown metal veterans Slipknot were headlining the Fair's Grandstand during the first weekend, my priorities shifted — I knew I had to be there. I wanted to see what musical loyalty and fandom looked like for one of the longest running metal bands in America, while they played to their hometown on sacred ground.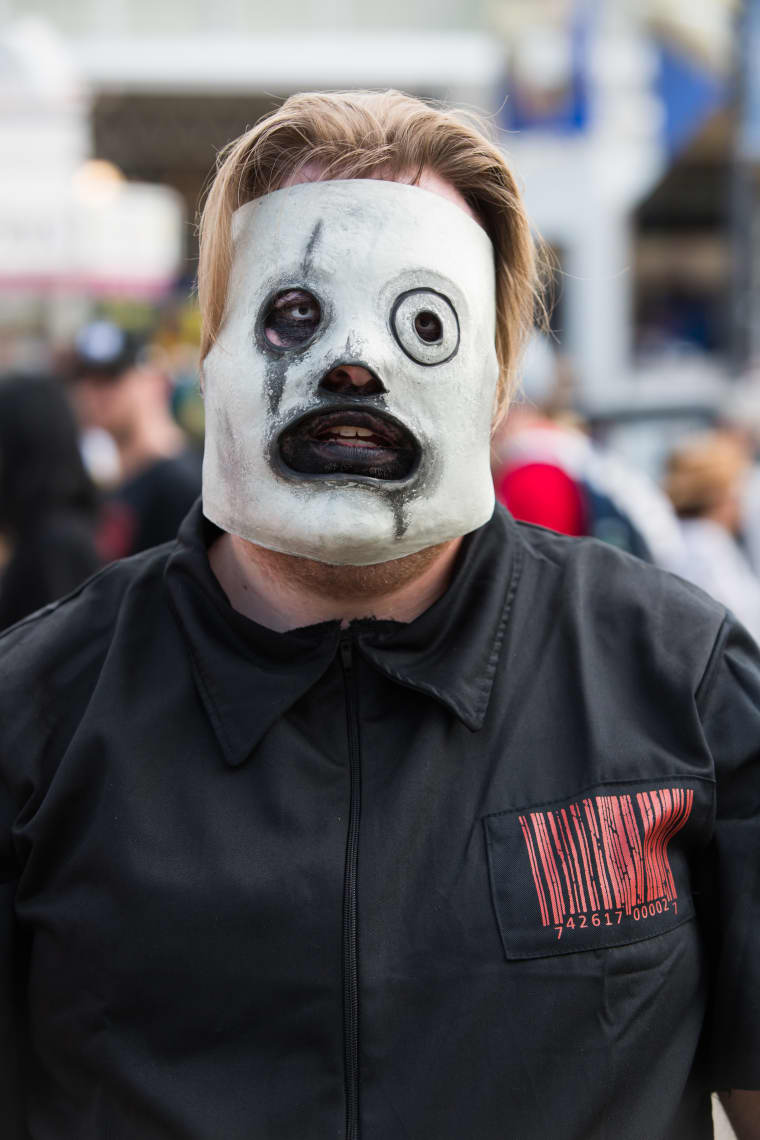 On the day of the show, the band's presence was impossible to escape no matter where you turned. Slipknot's fans, known affectionately as "Maggots," descended upon the sprawling fairgrounds outfitted in plastic masks, Hannibal Lector-esque jumpsuits, and messy face paint. "The mess is the point," one Maggot told me, describing her melting eye makeup that seemed to liquify and drip by the minute.
A "Slipknot Museum" was parked in the middle of Grand Avenue, normally a major thoroughfare for fairgoers on their way to eat Pork On A Stick; my worlds collided as I watched New Jersey Senator and Democratic presidential candidate Cory Booker make a stump speech while the band's soundcheck drowned him out. Hearing Booker's message of hope suffocated by thunderous double bass drum kicks felt like a perfect encapsulation of being alive in our current political hellscape.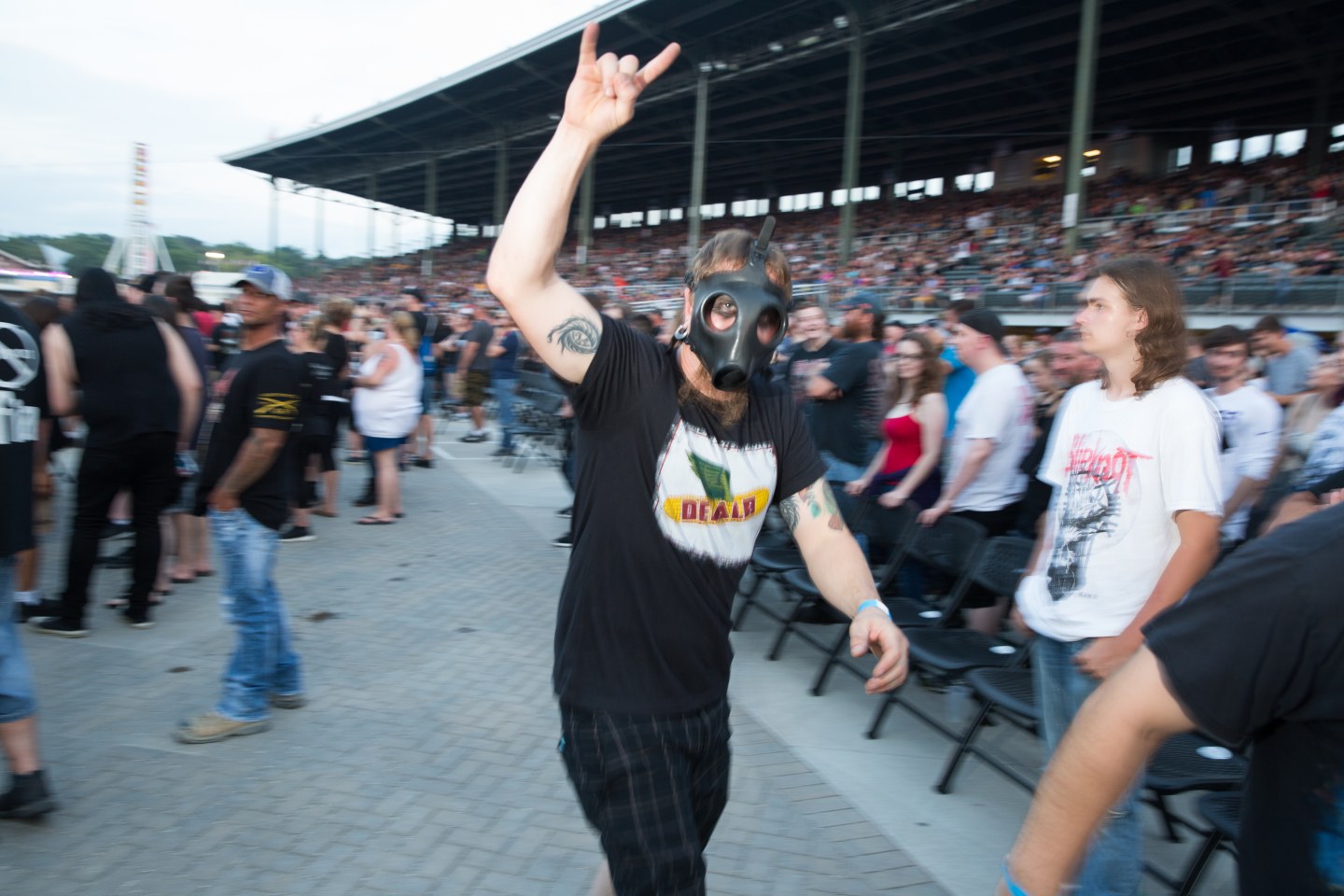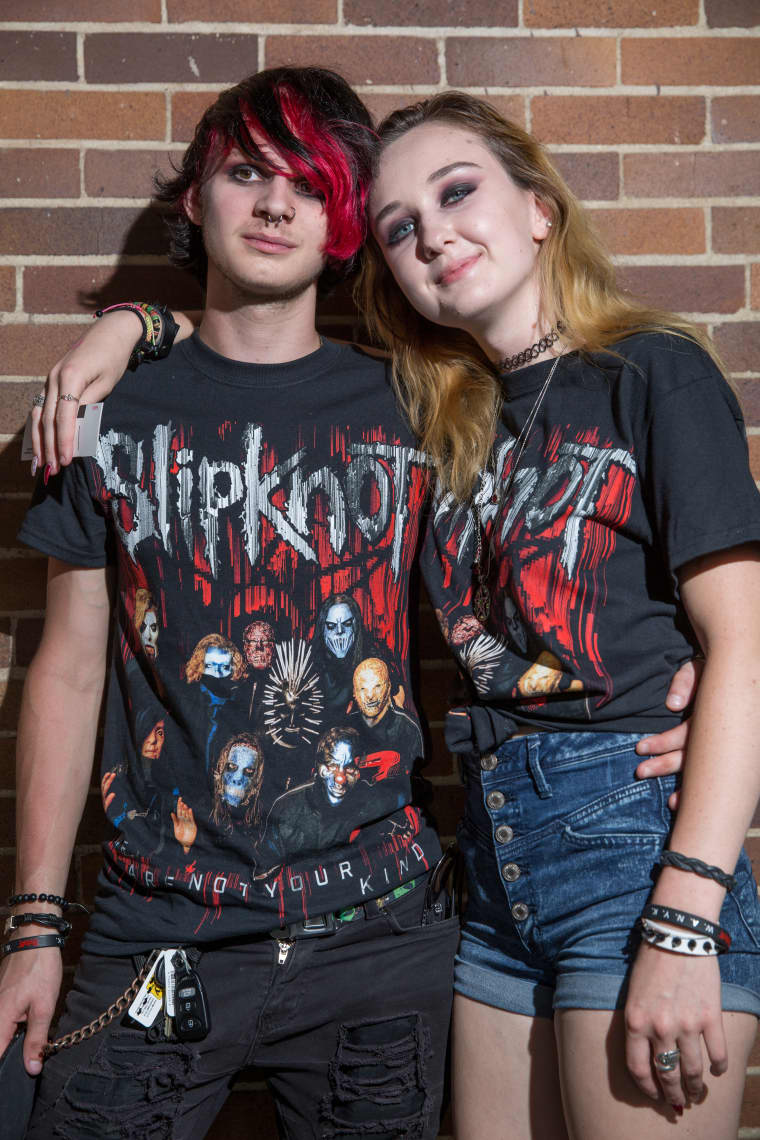 Later that night, AC/DC's "For Those About To Rock" blasted on the soundsystem as Maggots squished and squirmed in the pit, awaiting the band's hometown return. Eventually, a larger-than-life banner with the band's logo finally dropped, and all hell broke loose among the 17,000 people in attendance. The costumed bandmates ran around an elaborate stage, pyrotechnics seemingly threatening to engulf the whole damn thing in flames. I suddenly remembered what it's like trying to take pictures in this environment; sure, I'd run backwards trying to photograph Elizabeth Warren walking the fairgrounds earlier that day, but it doesn't compare to crowd surfers landing on top of you while you're trying to get a decent frame.
While Slipknot's show is visually one of the most overstimulating I've ever seen, watching the crowd was equally entrancing. Families with young children sang along, smiled, and screamed; Maggots moshed and shoved each other in a constant barrage of motion. Frontman Corey Taylor repeatedly shouted out appreciation of his hometown, and the crowd repeatedly gave the love back. Watching a large crowd truly enjoying themselves is a sight to see — thousands of people forgetting everything about their day-to-day and focusing on what's in front of them.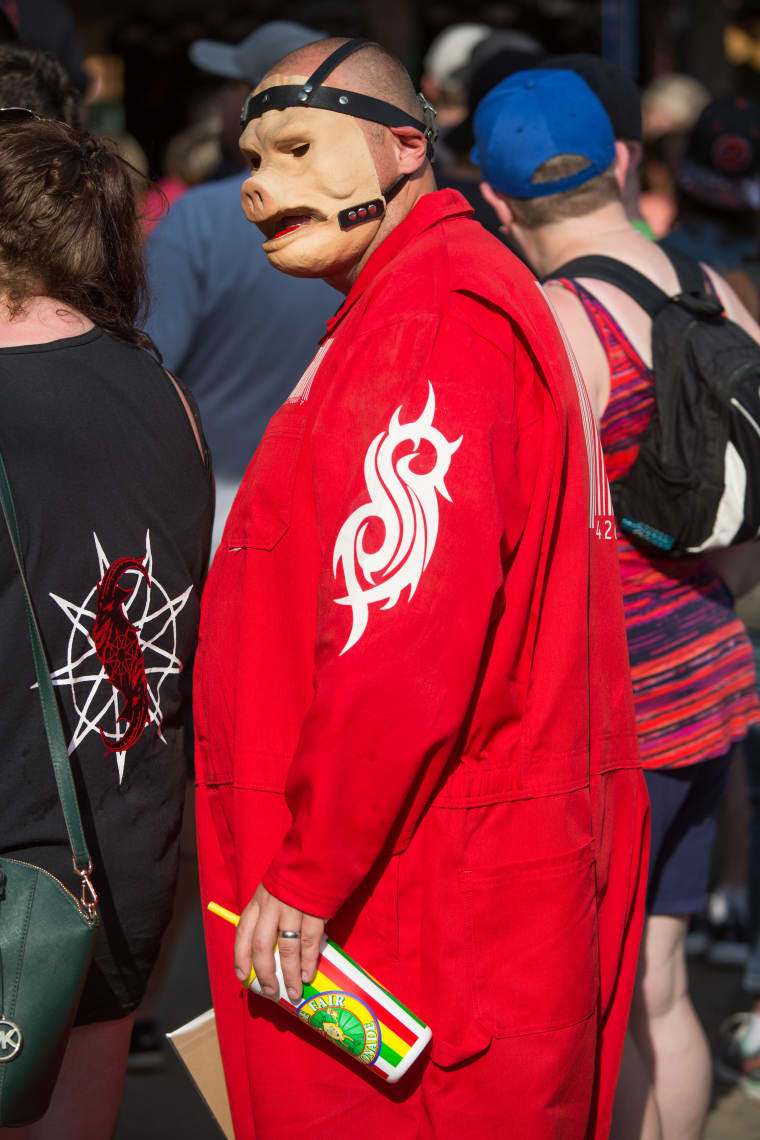 Towards the end of the night, I was making my way through sweat-drenched fans when I ran into Madeline Bishop, a 74-year-old woman I'd met outside the venue earlier who attended the show with her grandson. She proudly wore a "1st Time Maggot" shirt and told me about how excited she was for the show. When I saw her again later in the night, I asked what she thought over the music; she grabbed my arm, smiled, and yelled, "I'm having the time of my life!" I knew I'd find people coming together for a cause at the fair — I just didn't realize Slipknot would be the connector.