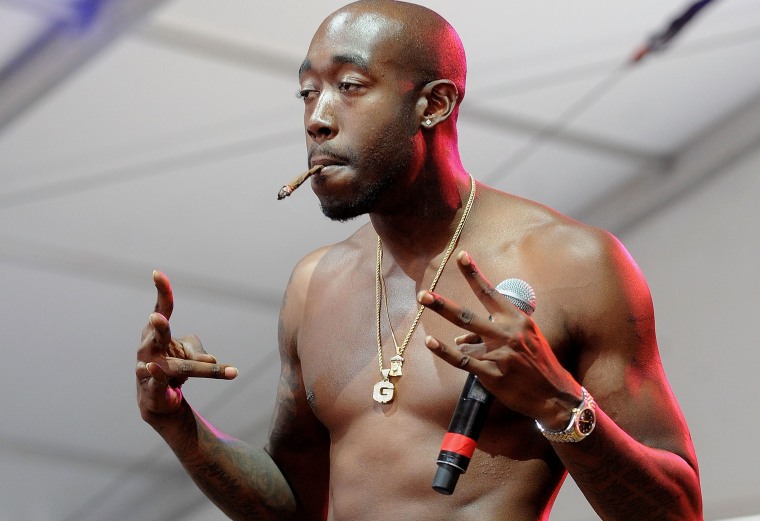 Despite calling out the NFL's inequity in his song "APESHIT" last year, JAY-Z has signed on for a new role in the league as a live music and social justice consultant. Expectedly, a lot of people have opinions on the matter. One of them is Freddie Gibbs, who made his case on an Instagram story this weekend: "I'm riding with Jay-Z, straight up, man. Fuck Colin Kaepernick. All y'all n*ggas marched for Colin Kaepernick and he took a settlement and ain't tell y'all what he got or nothing. Know what I'm saying? He settled. Let it go."
"Y'all hating on Jay-Z for trying to own something in the NFL," Gibbs continued. "Y'all n*ggas is some motherfucking crabs." When a fan expressed disappointment regarding his comments, Gibbs responded, "frankly my dear I don't give a fuck."
He isn't the only one who has voiced support for JAY-Z in the wake of his newly inked deal. Earlier in the weekend, Cardi B also spoke on the partnership, albeit with less malice toward Kaepernick. "I feel like JAY-Z can bring back Colin Kaepernick," she told TMZ. "I think that he could make a change. I don't think he'd go on an NFL deal without an agreement."
Last week, JAY-Z addressed the criticism that he crossed a picket line during a Roc Nation press conference. "I think that we forget that Colin's whole thing was to bring attention to social injustice, correct?" he said. "So in that case, this is a success; this is the next thing. 'Cause there's two parts of protesting. You go outside and you protest, and then the company or the individual says, 'I hear you. What do we do next?"
Though Kaepernick has yet to respond to JAY-Z, many have interpreted a comment from his Instagram page as an indirect shot at the rapper: ""My Brothers @e_reid35 @kstills @ithinkisee12 continue to fight for the people, even in the face of death threats. They have never moved past the people and continue to put their beliefs into action." It's been three years since Kaepernick first took a knee in the 2016 NFL preseason; he still hasn't been hired back.