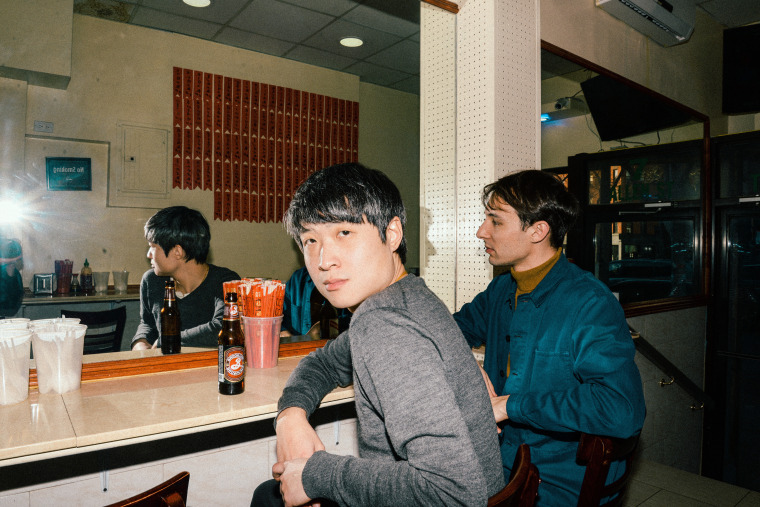 As Gong Gong Gong, Tom Ng and Joshua Frank stir up psychedelic Cantonese melodies that stick to the bones. The two met through Beijing's DIY scene in 2015 — Ng is originally from Hong Kong, Frank was born in Montreal but raised in Beijing — and have been honing their craft since then. This fall, they'll release their debut album Phantom Rhythm 幽靈節奏. Its out in its entirety on October 4, but today, the duo are sharing the second single "Some Kind of Demon." Foreboding in its angularity, "Some Kind of Demon" is a haunting glimpse into the world Ng and Frank craft on Phantom Rhythm 幽靈節奏 — one that you don't want to take your eyes off of.
"This is probably the most slow and meditative song on the LP, and one of our favourites," Ng wrote to The FADER. "The lyrics are a kind of self-reflection or internal monologue, combining Cantonese words to look at different possibilities or things that could have happened. It's a way of experimenting with language and creating a narrative that is both very evocative and completely open to interpretation. The words and the vocal melody create a flowing framework for internal reflection."
"Some Kind of Demon" lyrics:
"然後 又再 或者 假設 可會 若然是
Then / Again / Or / What if / Maybe / If it is
即使 且 不過 反正 或 仍然
Even though / And / However / Anyway / Or / Still
難道 豈不是
Could it / Wouldn't be
但 要不然
But / Otherwise
可惜只要 方可 卻沒 還是
It's a pity / As long as / Can only / But not / Still
然後 又再 或者 假設 可會 若然是
Then / Again / Or / What if / Maybe / If it is"