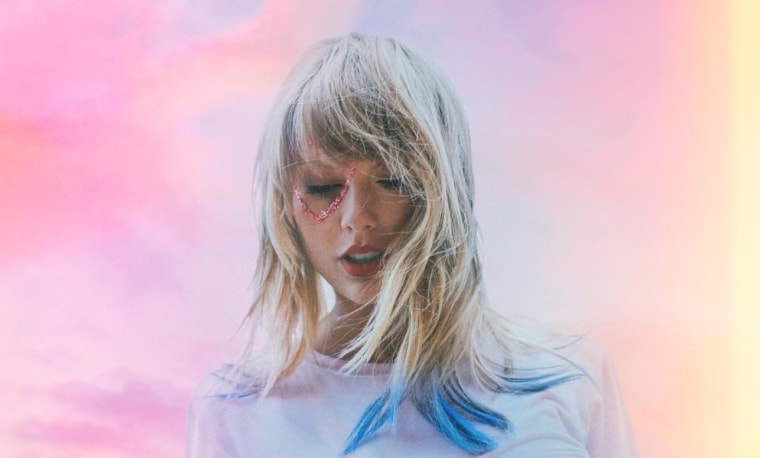 Deciding to no longer give a fuck was the best decision Taylor Swift ever made. Early on in her career, a quietly misogynist public decided that the pop megastar's career should be defined not by her music, but by her relationships to other people: her nemeses, her boyfriends, her fans, her "squad." At some point — around the summer of 2016 — she internalised that preoccupation with her interpersonal connections and wrote an album that, more than ever, obsessed over what other people thought of her.
But that was a previous Taylor. "I Forgot That You Existed," the opening track from her seventh record Lover, asserts in no uncertain terms that Swift doesn't care about what we think anymore. "It isn't love, it isn't hate, it's just… indifference," she explains. A lot of effort will be made to ascribe the "You" in this song's title to a single person, which is probably a zero-sum game; the "you" in this song is everyone, as she's explicitly rejecting the idea that Swift should be making her music to impress anyone except herself.

For the first time since before 2014's gargantuan 1989 made her the most loved and hated person in the world, Taylor Swift has nothing to prove. 1989 and its 2017 follow-up Reputation were the most discussed and dissected records of Swift's career because they were designed to be. Each was partially made in response to a hurdle she faced — 1989 to the fact that her 2012 record Red failed to win an Album of the Year Grammy, and Reputation to her gobsmacking public feud with Kanye West and Kim Kardashian.
These albums, so reactive in their conception and execution, were good pop records, but not necessarily good Swift albums — they lacked, in some way, the polished unruliness that had come with her earlier records, and Lover confirms that Swift creates her best music when it's not made to serve a specific purpose or address naysayers. Bearing the hefty length and stylistic incongruity of her best albums, Lover is a joy to listen to, creaking under the weight of good ideas and nuanced, hyper-specific songwriting. It's staggeringly long, oddly sequenced, and quite possibly Swift's most consistently pleasing record.
The road to Lover was bumpy, largely tainted by an early single that doesn't really carry the same depth and subtlety as the rest of the album. "ME!" a collaboration with Panic! At The Disco lead singer Brandon Urie, is still incredibly jarring and largely unenjoyable, essentially Swift's stab at a family-friendly summer hit in the vein of Justin Timberlake's similarly unpleasant "Can't Stop The Feeling."
Lover largely finds Swift returning to the kind of bittersweet and emotionally complex lyricism that characterised Red. It aches with the pain of bitter hindsight and anxiety-ridden foresight, as she rarely indulges in one-tone fantasies like she used to. Where earlier records indulged in the heat of the moment — car crashes, first kisses, debaucherous nights — the vignettes of Lover no longer throb with burn-it-all hedonism. For the first time ever, Swift — the patron saint of highkey celebrities — seems calm and collected.

Which isn't to say the record lacks passion. On the glittering, sun-kissed "Cruel Summer," Swift amorously describes an object of desire as she has many times before — but this time, she slips in a disclaimer, a blink-and-you'll-miss-it moment of upset: "I don't wanna keep secrets just to keep you." She's no longer writing narratives with clean beginnings and endings and easily demarcated emotions, instead now content to indulge in brief moments of pleasure as vignettes of a larger story. On "Lover," the pleasure of a potential marriage comes not in being whisked away but in sharing minute, intimate moments; "Cornelia Street" presents an open ended narrative in which Swift frets over the potential for a relationship to dissolve.
Swift has said that Lover is "a love letter to love," which isn't novel for her oeuvre. What is new, however, is that love is no longer a one-dimensional source of joy or pain in her world. Many of these songs are purely about Swift, as opposed to being about her relationships with others; "Death By A Thousand Cuts" is ostensibly about a dead relationship, but the song's central tension isn't between Swift and her ex-lover but her own relationship with grief. She's more cutting about her own identity than she's ever been on "The Archer," on which she resents past spite and, perhaps, her fame. It's confronting and, in a way, comforting to hear one of pop's most coiffed and put-together stars write with such candor, even if only for a few minutes.

Lover also happens to be her first album that's in dialogue with the pop music of the moment, finding her trying on aesthetics from the more popular end of the past decade's indie music. You can hear the influence of Danielle Haim's deep rhythmic timbre in Swift's vocals on "The Man," as well as Lana Del Rey's Born To Die era on "Miss Americana and the Heartbreak Prince." The vaguely abstract pop minimalism of "False God" seemingly nods to Blood Orange, and the sugary sighs and swoons on the giddy highlight "I Think He Knows" are reminiscent of Carly Rae Jepsen.
Jack Antonoff, Swift's most frequent producer since 1989, returns for many of these songs, and proves himself a good collaborator able to easily build Swift's world without imposing the ham-fisted 80s pastiche that sometimes manifests in his productions. There can occasionally be stylistic whiplash from track to track, bringing to mind the endearing messiness of Red and Speak Now, but Lover's eccentricities feel more like the product of an unwillingness to let go of good ideas than a lack of identity. And considering Lover houses many of Swift's best songs in years, can you really blame her for not wanting to let any go?