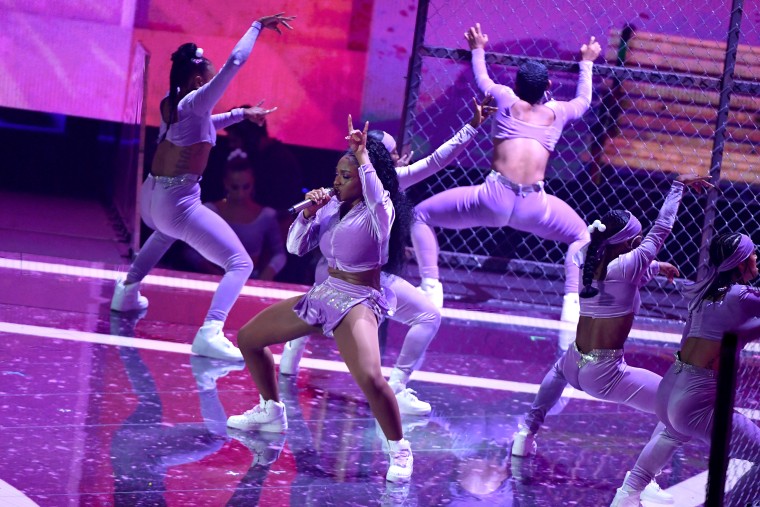 So far, 2019 has been the year the awards shows have been Actually Good. The Grammys — long a bastion of unwatchability — managed to eke out a mildly compelling show capped by Kacey Musgraves taking home the big prize, a rare victory for the internet criterati after years of crowing about who got robbed at the end of the night. As for the Oscars: remember the months of bad press and general unpreparedness that had this year's ceremony pegged as an absolute disaster? Instead, the lack of a host gave the Oscars a shockingly charming off-the-cuff looseness that resulted in one of the show's best ratings performances in years.
As a byproduct of our collective attention span entering an endless mitosis, awards shows have suffered ratings-wise in recent years — and that certainly includes the Video Music Awards. The VMAs' declining impact in the pop cultural conscious has meant that, by design, some of pop culture's biggest stars have simply stopped showing up. At their can't-turn-away peak, the VMAs have always thrived on chaos, but without pop's movers and shakers present to provide a sense of direction, the last few VMAs have had all the energy of a crowd of people milling about at an airport.

And for a few minutes in the early moments of this year's VMAs, it seemed like things could be going south again. Sebastian Maniscalco, a stand-up comic and actor who got perpetually "Who"'d online in the hours leading up to the ceremony, delivered a straightforward standup comic-esque monologue that, with weak-toothed references to being "triggered" and "safe spaces," felt like an airbrushed attempt at cited influence Andrew Dice Clay's own mini-set at the 1989 Video Music Awards. Clay's appearance earned him a lifetime ban that was lifted in 2011, but Maniscalco's monologue and subsequent hosting attempt was simply bland and stiff — the exact opposite of whatever demographic MTV's ostensibly trying to court with this thing.
As it turns out, however, the 2019 VMAs turned out to be just fine. Not amazing — not even very good, really — but just fine, which is still head-and-shoulders above, at the very least, the year this happened. Miley Cyrus gave a dramatic and huge performance of her new single "Slide Away" that packed a surprisingly emotional punch, while the best performance of the night undoubtedly was Missy Elliott's career-spanning Video Vanguard medley, which featured the "Supa Dupa Fly" bag-dress, all-grown-up dancer and frequent collaborator Alyson Stoner — and more augmented-reality silliness than you could ever imagine.
AR was all over much of the VMAs stage this year, taking a brief pause for Shawn Mendes and Camila Cabello's trying-too-hard performance of "Senorita," which seems like it was potentially fabricated in its own right anyway. Elsewhere, Taylor Swift's bold full-band performance of "You Need to Calm Down" didn't need the 3-D lettering on the home screen — but it paired strangely well with the Lover era, which seemingly represents Swift at her most most in every single way. (The performance was followed by an anthemic, massive-sounding rendition of the windswept title track, which further confirmed the song's status in the pantheon of Taylor Swift classics.)
The stage-filling technology was aggressively present enough that multiple people in FADER's staff questioned whether the inflatable ass behind Lizzo's performance was also purely digital; it wasn't, but Lizzo did the kind of real-deal crowd-pleasing thing she'll likely be able to do at every award show for at least three more years, performing a bombastic rendition of the 2016 single "Good as Hell" (quite possibly testing the waters to see if she and her label Atlantic can capitalize on the recent chart performance of 2017's "Truth Hurts" while her moment is hot).

Much of the show's other highs were cheap and easy: Cardi B's likable and energetic speech, French Montana standing too close to the mic while presenting an award with Alison Brie, John Travolta seemingly mistaking drag queen Jade Jolie for Taylor Swift. The lows — Vincent Pastore making a disgusting remark to his The Sopranos co-star Drea de Matteo about trying to steal a Moonman, Lil Nas X's visually overwhelming, Tron-tastic, and strangely inert rendition of "Panini" — were dispiriting, but they didn't leave too long of an aftertaste as ingredients in MTV's lightly salted broth.
And casting the VMAs in a faint, inoffensive light is less an insult against the VMAs themselves (not that MTV is ever, ever above reproach), and more reflective as to where pop music is at in 2019. With eye-popping performances from Rosalía, Bad Bunny, and J Balvin, the increased mainstream presence of Latin music was reflected in the VMAs' general framework — and so was the relative truth that, during a year in which most of pop's biggest stars have taken the year off, the genre is cluttered with a lot of pretty-good pop artists putting out pretty-good songs.

There was Shawn Mendes putting on a perfectly fine performance of the more-than-fine "If I Can't Have You," Jonas Brothers throwing down respectable showmanship during a walk-and-talk performance of "Sucker" and "Only Human" at and outside Asbury Park venue The Stone Pony, Big Sean and A$AP Ferg giving sufficient energy to the live debut of the former's competent new single "Bezerk." They all did the trick in the moment, leaving no trace as they escaped the mind — and even if the same could be said for this year's VMAs as a whole, well, at least we won't remember them for the wrong reason.