CURRENT MOOD: Relax with Divino Niño's Here 4 The Hang playlist
Listen to Chicago-via-Colombia band Divino Niño's Current Mood playlist.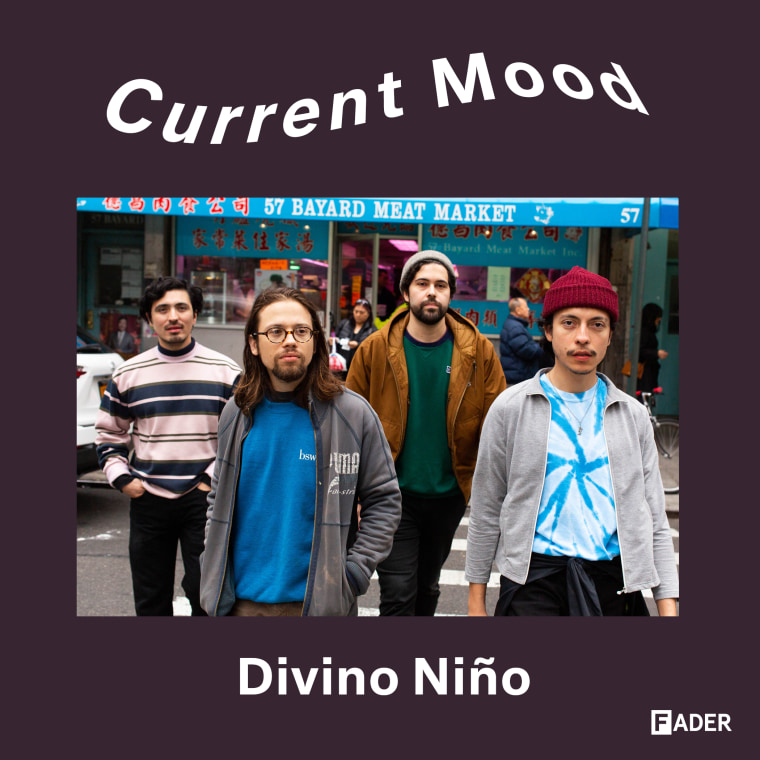 In our Current Mood series, we ask some of our favourite artists to curate a playlist according to a specific theme or mood of their choice. For Current Mood #016, Chicago-via-Bogotà, Colombia band Divino Niño are Here 4 The Hang. Listen to past Current Mood playlists here.
Chicago-via-Bogotà, Colombia band Divino Niño's debut full-length Foam is the perfect album to play during a lazy summer day and leave on repeat for hours. It's a record designed for sessions with friends, lying in bed for hours, or falling asleep in the park. It's a hangout album. Fittingly, Divino Niño's CURRENT MOOD playlist, Here 4 The Hang, carries with it a similar play-this-all-day kinda vibe. Designed to make listeners feel at ease, Here 4 The Hang is a perfect good times playlist, fitting in everything from Janet Jackson to True Blue to Cuco. Divino Niño are going on tour soon, and this 14-song mix feels like perfect road trip music.
"Here's a group of songs that can help bend your reality and make you feel at ease. Lay your troubles aside and join the little vibe we've been into this summer," Divino Niño tell The FADER via email. "Some will be sweet, some will go hard ass heck so let go of the wheel and enjoy the ride!" Listen to Here 4 The Hang above and find the band's tour dates with Crumb here.
Listen to The FADER's weekly playlist of songs you need in your life