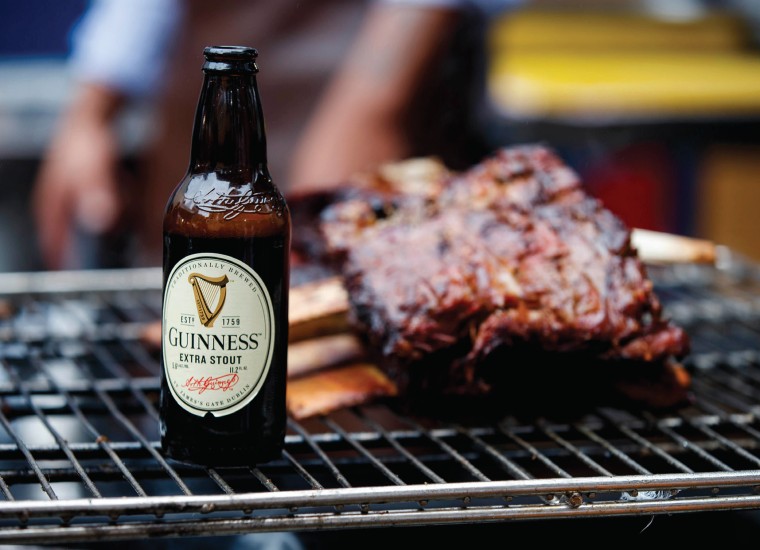 'Through a chink too wide there comes in no wonder' writes Irish poet, Patrick Kavanagh. My senses drive me towards the Guinness X Meatopia event, through the steaming barley-fat air humming with meaty juices in Dublin's Guinness Open Gate Brewery. I remind myself of this line as my salivary glands swell; this event is not about gluttony.
Rather, the festival adopts a contemporary approach in pairing quality dishes with beer (although it must be said that Guinness have a rich history in food pairing). Ranging from Korean spiced goat to Mulroy Bay Mussels, each dish has been paired specifically with a unique Guinness beer that should either compliment, contrast or cut through the flavours of the dish, including a jerk spiced brown ale and a maritime stout.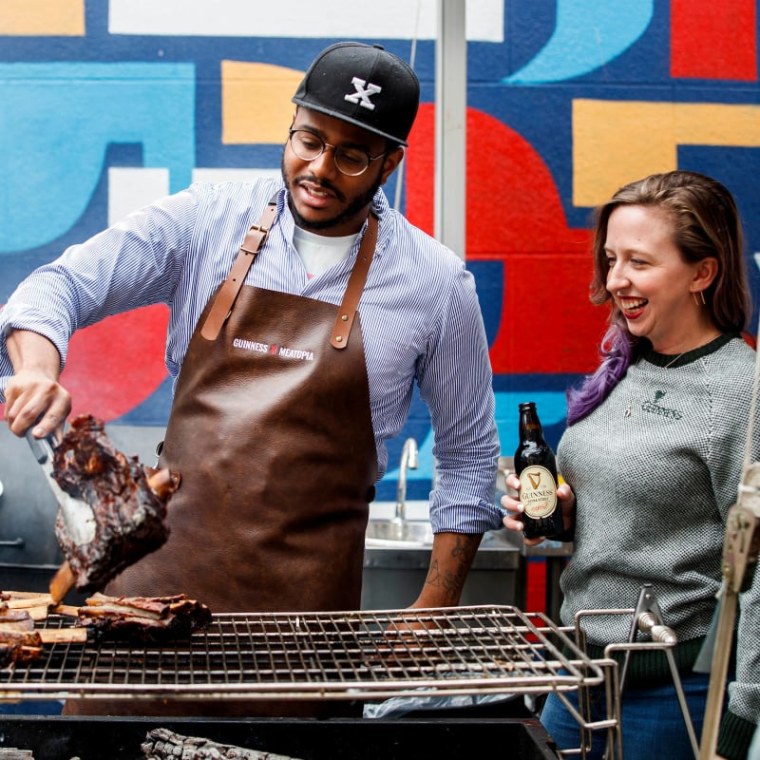 Amongst the pairings on offer, a heroic combination was delivered in the form of Chef Kwame Onwuachi's short rib suya and Guinness Extra Stout. It would be heedless to discuss Meatopia without mention of the hero of the event – fire. With food cooked atop burning charcoal, wood and moss, it is the essential element that brings dishes to life on the day. Guinness is one of the only brewers in the world to roast their own barley (to a whopping 232 degrees Celsius – 449.6 Fahrenheit) making their beers ideal flavour partners to the dishes of the day. This marriage is no better exemplified than between the roasted character of Guinness Extra Stout which vitally compliments the rich umami meatiness of Chef Kwame's charred ribs.
Kwame's cooking has distinct influences from his Caribbean and Nigerian heritage. He currently dishes up homey Afro-Caribbean food and is an attempt to explore the legacy of the African diaspora, though the chef claims that the inspiration really; 'is just Thanksgiving for me on a plate'. I was surprised as such, as someone who relates Guinness with damp evenings in cosy pubs, to find the carbonation of Guinness Extra Stout the perfect contrast to the heat of the spiced Calabrian honey glazing Kwame's suya ribs. Guinness, it seems, pairs far beyond oysters, and like oysters, our minds at times too must be coaxed open.
In fact, I discovered that the Guinness market reaches far beyond the Emerald Isle and one of its most popular markets is West Africa and parts of the Caribbean where the drink is as much a staple of social events as it is here in Dublin. In Nigeria, where Kwame spent a portion of his childhood, a period that hugely influenced his attitude to food and cooking - 'situation led to inspiration' he recounts - Guinness Foreign Extra Stout, a beer similar to Guinness Extra Stout, can be seen chilling in an ice bucket in the corner of all celebrations.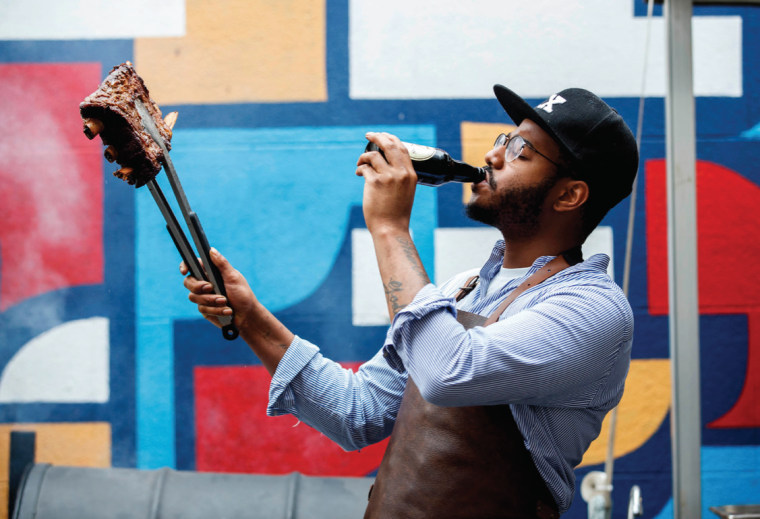 Chef Kwame tells us that for him, it is important to represent a culture of people that is not represented in the culinary landscape' and he is interested in preparing dishes that his friends and family could enjoy together. Therefore, by pairing his dish with Guinness Extra Stout, the chef succeeds in delivering an authentic and full-hearted representation of the flavours that would indeed be enjoyed by his family and friends back home in Nigeria. Although a new experience for me, this is as true to Guinness it strikes me, as Sunday pints with jacket potatoes after the Croke Park hurling.
My journey home weaves by Dublin's River Liffey coloured now by the night sky. The river, which flows directly behind the Guinness Open Gate Brewery is famed with the naming of this capital city, Dublin - Dubh Linn – meaning black pool. As rain drops begin to dance on the river's dark surface, I wonder where else in the world people are raising a glass of the black stuff tonight.