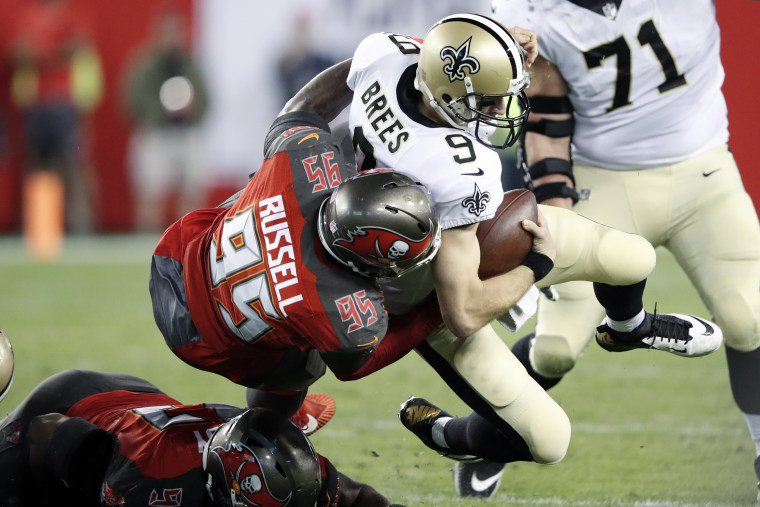 Ryan Russell, a defensive lineman who last played in the NFL in 2017 and was released from the Buffalo Bills roster last September, has come out as bisexual in an essay published this afternoon by ESPN. If he is signed to a team this year, he will be the only openly LGBTQ athlete in not only the NFL, but also in the NBA, the NHL, and MLB.
In his essay, Russell says that he tried out with an NFL team earlier this month and, as ever, did not tell them about his sexuality. Along with the death of his best friend and a battle with depression, the incident prompted him to come out publicly. "I want the next part of my career — and life — steeped in trust and honesty," the 27-year-old Purdue graduate and published poet writes. "During the season you spend more time with your team than with your own family; truth and honesty are the cornerstones of a winning culture. My truth is that I'm a talented football player, a damn good writer, a loving son, an overbearing brother, a caring friend, a loyal lover, and a bisexual man."
The last player from any of America's four major men's leagues to come out while active was NBA veteran John Collins in 2013. Collin Martin, who plays for Minnesota United of Major League Soccer, publicly came out as gay last year.
Read Russell's piece in full at ESPN.
Listen to The FADER's weekly playlist of songs you need in your life