Ariana Grande has filed a lawsuit against Forever 21 and Riley Rose (a makeup brand started by the daughters of Forever 21 founders Jin Sook and Do Won Chang) for allegedly utilizing her lyrics and likeness in a promotional campaign earlier this year, according to the Hollywood Reporter.
The suit, which seeks $10 million in damages, states that the fast fashion retailer had approached Grande for an endorsement deal "centered around social media marketing, including, but not limited to, Twitter posts, Instagram posts, and Instagram stories." According to Grande's complaint, the deal "never came to fruition because the amounts that Forever 21 offered to pay for the right to use Ms. Grande's name and likeness were insufficient for an artist of her stature." Still, the company posted a number of images from the "7 rings" and "thank u, next" videos to its Instagram, with the hashtag #LifeWithF21, implying that Grande was wearing the brand in her videos.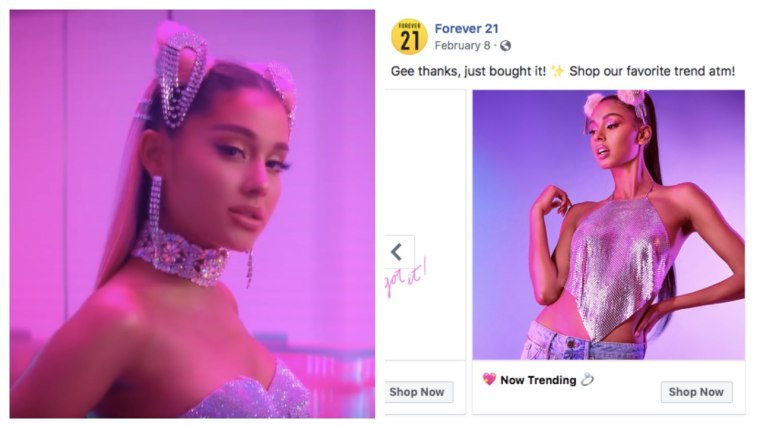 Furthermore, Forever 21 hired a model who resembled Grande, outfitted in clothes remarkably similar to those worn in the "7 rings" video, and posted the photographs with lyrics from the song. In certain posts, the complaint alleges that Forever 21 used direct audio from the song. All of this happened during the peak of Grande's album campaign — thank u, next dropped this past February.
"The resemblance is uncanny and Forever 21's intent was clear: to suggest to the viewing public that Ms. Grande endorsed Forever 21, its products, and was affiliated with Forever 21," the lawsuit states. Coincidentally, Business Insider reported last week that Jin Sook and Do Won Chang are preparing to file for bankruptcy. View Grande's full complaint here.