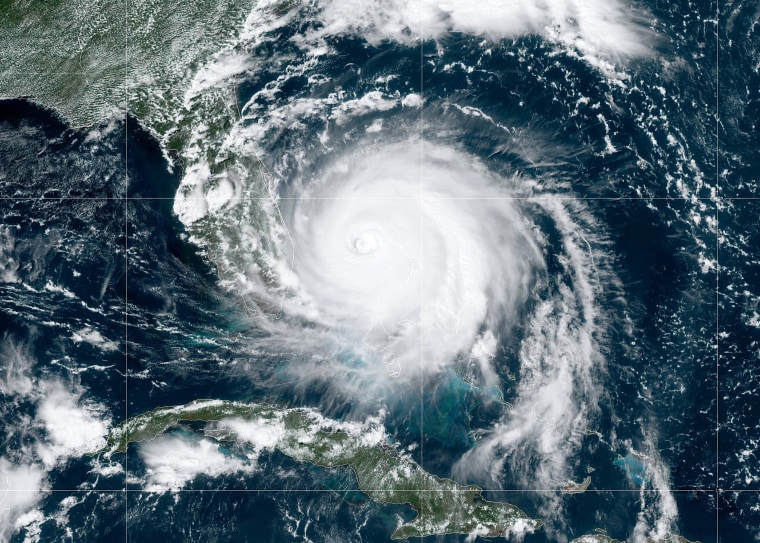 Hurricane Dorian has not left the Bahamas yet, but it's already the worst storm the country has faced in the modern era. The category five hurricane struck the northwest islands of Abaco at 2 p.m. on Sunday and moved across Grand Bahama; 185 mph winds, massive flooding, and storm surges collapsed buildings and sent the islands into the dark, cutting residents off from loved ones and rescue. Five people are confirmed dead in what Bahamas Prime Minister Hubert Minnis has called "a historic tragedy" for the country.
The videos and photographs emerging from these islands are apocalyptic: in some areas, water reaches as high as the second floors and attics of residences. In others, pieces of buildings that once kept people safe are spread across the streets as dazed Bahamians wander outside, seemingly wondering where to start. For those of us outside of the storm's range, there are ways we can help them begin to recover, too:
Send what cash you can to these reputable local organizations
Many different recovery efforts are in full swing even as Dorian remains stationary over Grand Bahama Island. To ensure your money gets quickly to the places that need it most, consider donating to the following groups:
HeadKnowles Emergency Funds for Dorian: Lia Head and Gina Knowles are two local Bahamians who have years of experience organizing hurricane relief. Unlike many charity conglomerates, you can be assured that your money here will go a long way. You can stay updated on the recovery effort's progress on the HeadKnowles Facebook group.
The Bahamas Humane Society: Resources to help the stray dog population of the Bahamas, affectionately known worldwide as "potcakes," were already thinly stretched before Dorian. The Humane Societies in Abaco, Bimini, and Grand Bahama will likely require funds to repair damage and assist the dogs requiring medical treatment and housing.
Drop off donations at your local Bahamas Consulate
Bahamian Consulates in Atlanta, New York City, Washington, and Miami are running donation drives starting today. Miami City Commissioner Ken Russell, who is holding a donation drive with two local churches, says they are accepting "everything from water and canned foods to first aid and mosquito spray to diapers and baby formula to small generators." Items such as feminine hygiene products, toiletries, and hardware such as tarps, chainsaws, and flashlights are also needed. See the consulate locations below:

Acknowledge the urgency of climate change
Even after the storm passes and the recovery is deemed "complete," Dorian will continue to impact the Bahamas. Economic instability, psychological trauma, and preparations for the next hurricane will play an outsized role in the lives of many Bahamians.
Climate change's devastation is being felt most deeply in smaller countries with fewer resources like the Bahamas — it will require massive systemic change stemming from global political will to stop things from getting worse. But it can be done.