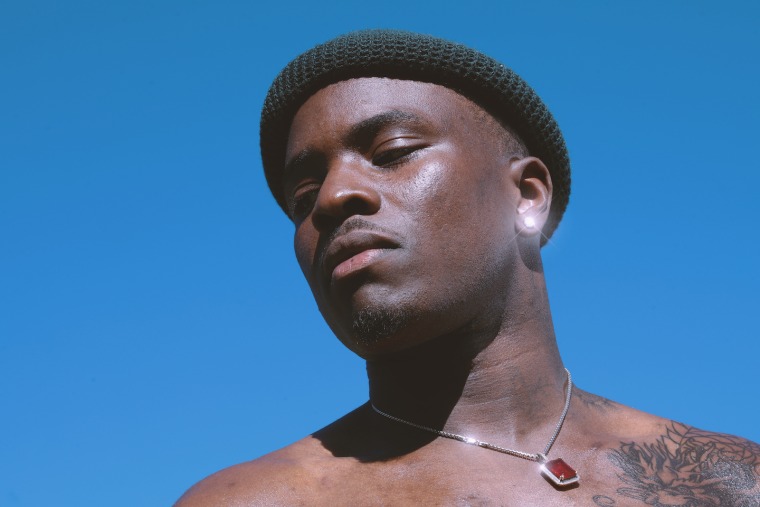 We are seven years and five mixtapes into the artistic development of Prince George's County, Maryland-raised emcee IDK. After nearly a decade, he's finally, by right of his distribution deal with Warner Music Group, releasing IsHeReal, his fourteen-track "debut" album. Clocking in at just under 40 minutes, it feels like an awfully brief amount of time to acquaint oneself with an artist on the rise. But, that's arguably the most important part of the story. IDK, like many artists of hip-hop's past decade of blog-driven hype, is as much a story of debating what is honed better, his music or his narrative. On IsHeReal, he's finally compiled a collection of music that is greater than the biographical sum parts of the creative who crafted it.
What is most stirring on IsHeReal is that IDK's building blocks for career longevity — his talent at wordplay and his burgeoning ability to develop fully formed sonic ideas against intriguing soundscapes — are fully revealed. It's an album that opens with an interlude where a child questions God's existence. But, it's in fleshing out his own place to exist as a unique musical spirit that the album succeeds. The project's standout is "Porno," a collaboration with G.O.O.D. Music President and inarguably a Hall of Fame level rhymer, Pusha T. A rare moment where King Push is not waxing elegiac about his skill at selling cocaine, it exposes a fresh side of IDK where he feels like late 90's era "pornocore" Kool Keith spitting sex raps. As well, there's the inward-looking "European Skies." In being a plain-spoken questioning of the aforementioned query that opens the album, it occupies a similar space of introspective lyricism as say, JAY Z's 2013 track, "Oceans."
Yes, these plaudits do not connote a space where IDK necessarily exists alone as an artist setting career course in his own lane. IDK is past a stereotypical framing of his career narrative. Yes, he grew up poorly educated, yes he was briefly incarcerated, and yes, he has no desire to have a career where he's solely known as an "underground legend." So many of his inspirations share similarities to his artistic creation story. Now, emboldened via talent to stand on the shoulders of his inspirations, he's reaching for something more. In daring to ask is God real — and he's actually scratching the surface of finding that answer — we get a sense of where he'd like to be headed. IDK is the total of an equation that is equal parts Kendrick meets Jay meets Kanye meets 50 Cent. He's a new suit comprised of comfortable old clothes: happily familiar, yet progressed.
We recently spoke to the Maryland rapper about the journey to this album and what it means for his career. At points, this interview sounds like numerous other ones conducted with emcees wanting to rule hip-hop's roost. But, it's when it finds space beyond that to settle with us in introspection, that it, and IDK, succeed at becoming more noteworthy than ever before.
You once stated online that you didn't want to just be "an underground legend." You're now releasing a debut album with a label situation (at Warner Music Group) behind you. Do you feel that you've finally maneuvered past being that which you had no intention of being?

Yeah, I have. I recorded this album self-funded with six figures of my own money. I then pitched it to labels with it already done. I had a conversation before recording the album with the team at Top Dawg Entertainment and they explained to me that I should just record the music if I had it done. I had the money saved, so I figured, why not?!?! I wasn't starving for bread or what not, so I decided to get it done. Completing the album without a label's initial involvement also allowed me great leverage in shopping it for release and distribution.
Having listened to the album in full a few times, it's the second half of the recording where your artistic maturity is heard loud and clear. Is this accurate?

Well, certainly. It's like my name IDK: Ignorantly Delivering Knowledge.The first half, it's a little more ignorant, still thoughtful, but less introspective. In the second half, I do some more storytelling. I've definitely matured. I've evolved in numerous ways. I've grown in skill at the art of song-making. A lot of artists, they blow up so quickly, where they don't know, themselves, what allowed them to succeed. What my path has allowed me is the ability to gain an understanding of self, an understanding of music, and an understanding of myself in my music, that has developed my unique personal art of how I make my music.
For people who are unaware of your work or have come to you of late as an artist, "Porno" — your Pusha T collaboration — is likely where people will place the greatest attention towards this album. Did you come to Pusha directly with the idea of the collaboration? Was there another type of conversation? What went into that?

Well, I hit him up directly. Texted him the song, told him he'd sound great on it. He said, "I'll check it out." He didn't respond back for two days, so I'm like, Oh no, maybe he's not feeling it? I texted him, he said, "Yo, this song is fire. Give me until the end of the month, I gotchu."
So, you're typically making these calls for your music directly? Has the impact of having that kind of autonomy hit you yet?

Yeah, I can reach out, directly, to almost anybody I need to. That's one of my strongest suits as a professional. The other day, I was working on finishing up a record that has a huge sample in it, and there was an issue with getting [the sample] cleared. I reached out to the producer's manager, got no answer. It was Saturday, and we needed the track cleared by Monday. I stopped, then realized I knew and had the phone number for the president of the label where the song was from. I called him, he picked up on one ring, said "Monday? No problem." Not a lot of artists can say that they can do that. I wouldn't say that most artists can do that because of their intellect (or lack thereof), but it's more their business savvy. Over the past few years, developing that ability to very easily have these kinds of conversations has been important.
Intriguing. So, to dive further, how difficult was it to develop these professional skills as an artist?

Well, consider that I got out of high school being barely able to spell, and failed at college partially because I was so interested in music, and also because I didn't care. That means that my drive to become better on the professional side came from a need to learn, plus a passion of wanting to sit in those rooms, then also potentially control my own situation.
Yeah, you've definitely stated in the past that artists like 50 Cent and Kanye West, who have that level of control over their careers in their history, are inspirations.

Well, on the label and professional control side, that's more Jay. I look at an artist like Kanye, or someone like Kendrick Lamar or Frank Ocean for creative inspiration, and 50 Cent for his honesty. As far as making moves like a businessman? Definitely JAY-Z.
Jay as a rapper — and simultaneously now you as an artist — have always impressed with an ability to showcase wit and verbal dexterity via wordplay. How has your ability to string words together improved over time?

Well, I write in layers. The words matter and they have to link with each other. I'll mention a group of words that are connected, and then when you look at the bars altogether, the meaning comes full circle. You mentioned "Porno" earlier, where I say, "The bible say beating my dick and killing are equal / But that don't add up because the number of times I milk my shit would probably be considered serial," which I think really showcases how much effort I put into making the layering work. Then, there's "European Skies," where I start off, "They say seeing is believing / well I don't see angel nor demon / I demand explanation but the pastor says "but for what reason." I'm doing it all over that song, actually.
Well then, a logical follow up here would be to ask when did you first learn the value and impact of words?

Since elementary school, actually. When I was in school, we had to do an exercise where the teacher gave us six words to use in a sentence and they had to make sense together. I wrote mine, and when I read it to the class, it made everyone laugh because it was so witty. I learned right there that I had a skill with this and that I should do something about it. I also wasn't very popular in elementary or middle school, and as my talent grew with being able to put words together, my popularity grew, too.
You've come a long way since your breakout track "METRO" in 2015. What would you consider to be your most significant personal and professional growth in this time?

Not necessarily worrying about everyone else and what they're doing. Back then, wow. Every move, everything that anyone was doing, it concerned me. But now, I know that they are who they are, and I am who I am. Even deeper now, I have a whole company, my LLC, behind me. I have daily meetings with my lawyer, and I have a partnership with the label for the release where I own all of my own material. In short, I have a lot more responsibility on my plate than the average artist does.
What is your greatest career achievement that has occurred from the process of making this album? Ideally, how has completing this album set up the rest of your career?

This album isn't the "breakout" album that's going to define my success, necessarily. This album is laying the foundation of my career. It will give people a greater sense of who I am, where I'm headed. If I may use Kendrick Lamar, for instance, as an example, this will be the Section.80 mixtape before my good kid, m.A.A.d city. This is a moment where I expect to gain more respect from everyone, and have people gain greater awareness of my talents. I'm setting a strong foundation. By likely my third major label album, I will have everything that I truly need, everything that any artist needs to have a classic. From there, all of the awards, I'll achieve all of that acclaim.