Inside 100% ElectroniCON, the world's first vaporwave festival
Vaporwave icon George Clanton threw the online community's first IRL party, and it went off.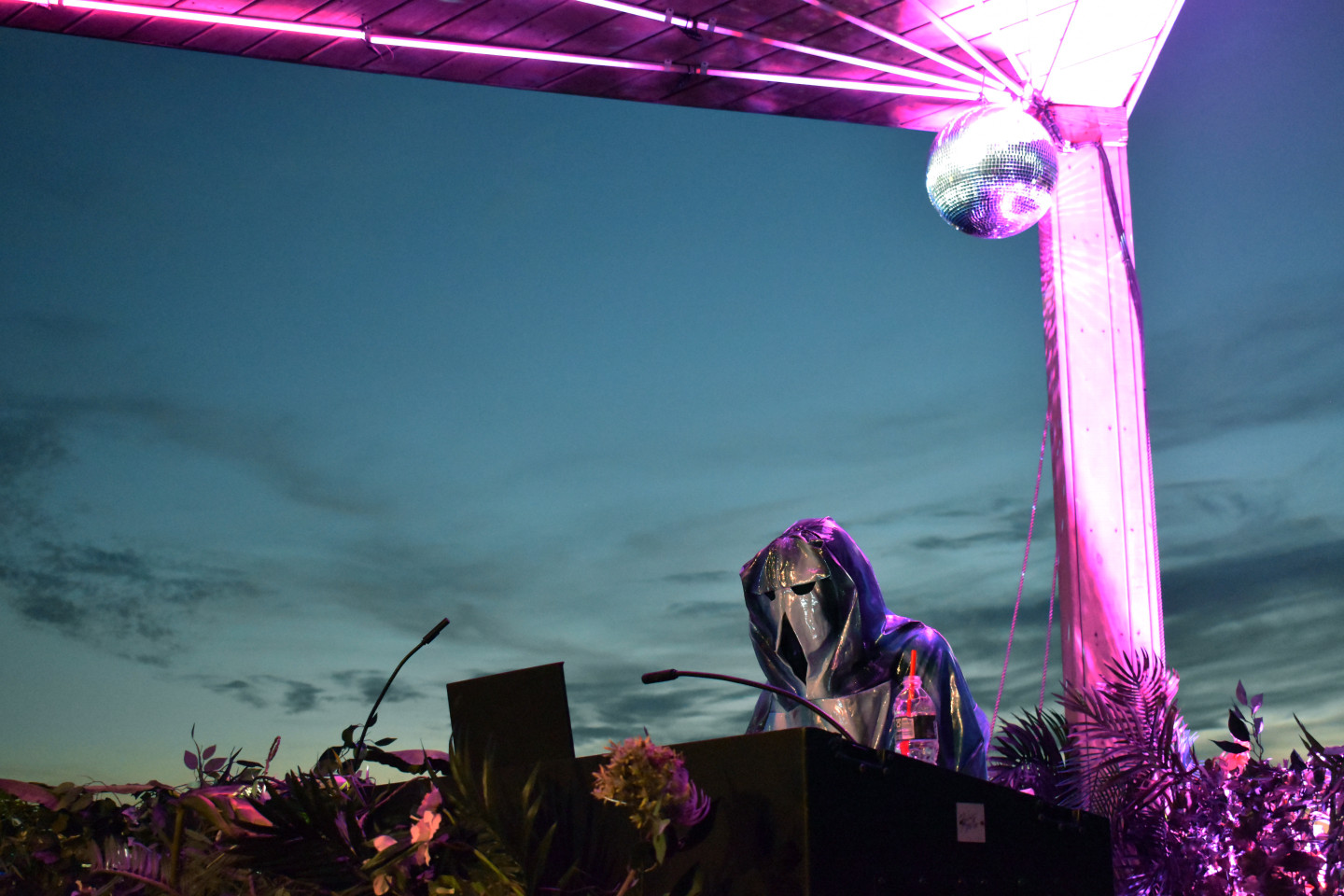 Vaporwave is a modern subculture born on the internet that's largely remained online until now. This past weekend, 100% ElectroniCON — the first-ever vaporwave music festival — took place in Brooklyn, New York, bringing 22 artists and more than 1,300 fans out from behind their computers to take over the entirety of Elsewhere. The event (of which the Los Angeles version just went on sale) was significant not only because many vaporwave artists rarely perform live, but also because these artists' fans aren't often given a chance to come together in real life. So when L.A.-based artist and 100% Electronica record label owner George Clanton announced the fest in May, tickets sold out in minutes.
He'd clearly identified an underserved niche in a subculture overflowing with product — cassettes, vinyl records, merchandise, videos — but lacking in communal experience. "We knew what we had on our hands, but it was hard to convince the gatekeepers to make this happen," he tells me the day after the festival, sitting in a friend's backyard in Ridgewood, Queens. "No one wanted to back me, but now it's bigger than I ever thought." The festival quickly ballooned into an immersive experience featuring special vaporwave merch from popular online stores, a custom chat app, and decorations inspired by memes.
With the help of a small team, Clanton booked many of the genre's most celebrated artists — including Telepath, death's dynamic shroud, Vaperror, 18 Carat Affair, and NxxxxxS — admitting, "It takes a workaholic to pull something like this off." But charisma, internet savvy, and a deep connection to the scene has also enabled Clanton to become what some have half-jokingly deemed a "vapordaddy." As a charismatic live performer and social media personality, his ability to bring the community together while promoting his work and others' is unparalleled; after he fell off stage and broke his leg while touring with Beach Fossils earlier this year, he put a photo of himself with his leg in a cast on T-shirts and billboards across Los Angeles, effectively turning himself into a meme.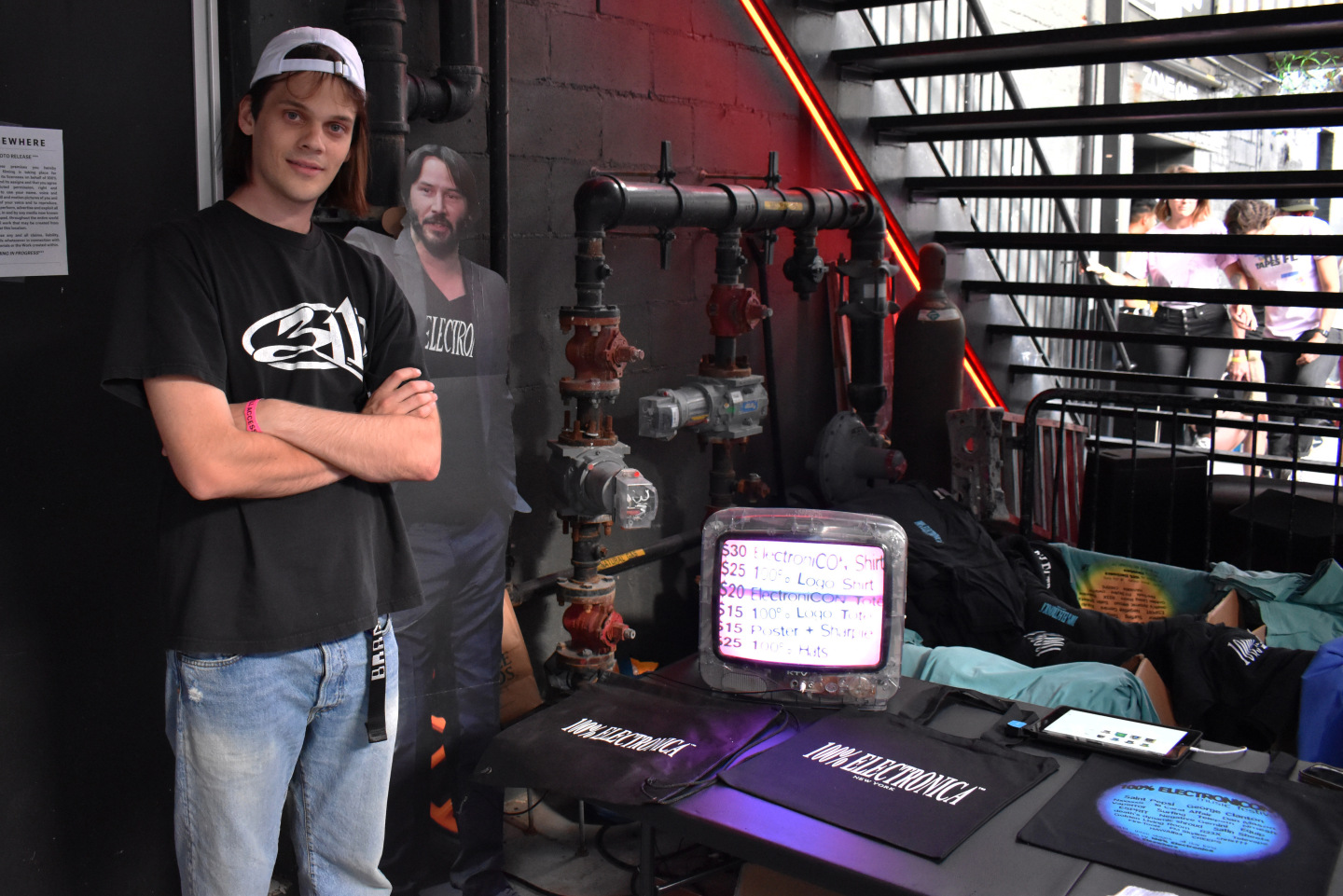 In some ways, Clanton simultaneously embodies vaporwave's past and future. The bleary-eyed, phone-selfie cover for his 2015 album 100% Electronica encapsulated the prototypical alone-online vaporboy of the past, and his most recent album Slide encompassed '90s rave, indie rock, and shoegaze, beckoning internet-native millennials and Gen-Zers with interests too broad to fit into vaporwave. But despite growing further out of the genre with each release, Clanton has leaned more into using the term as a marketing tactic to bring fans into a new era, maintaining a fervent following that includes a fan club where members pay for exclusive access to music, merch, and Clanton himself.
"No one could have done this festival like George did," says Lindsey French, who also creates and performs music as Negative Gemini. "He's somebody inside of this community that everybody knows and respects, and I think that's one of the reasons that it took off. They could trust that he's going to understand this, and that he's going to represent it well." And as the vaporwave community finally gathered at Elsewhere, a line stretched around the block from the moment the doors opened, with attendees greeted at the entrance by a cardboard cut-out of Keanu Reeves waving and wearing a 100% Electronica T-shirt (an item that's taken on a Thrasher-level ubiquity among the vaporwave community).
In between a demonic cut-and-paste set by Chris††† and the languid hypnagogic pop of FM Skyline, I bumped into Miguel Ramos, a UX Engineer from Miami who I met at the last George Clanton show I'd attended. "Every other genre has started off small and grassroots, but it's usually local communities that do it," he enthused. "This is people who live more on the internet than in the real world. It's our life, and everyone's contributing!" Ramos' contribution was building a fest-specific chat app that only worked inside the venue during the event, with different chat rooms for each stage so fans could stay plugged-in if they weren't "used to real life." "Everyone's been super nice," he says regarding the app. "There's been no nudity or weird stuff." Indeed, when I check it out, it's mostly light-hearted comments like "Y'all vaping?" and "Brought my 90s camcorder to take some footage."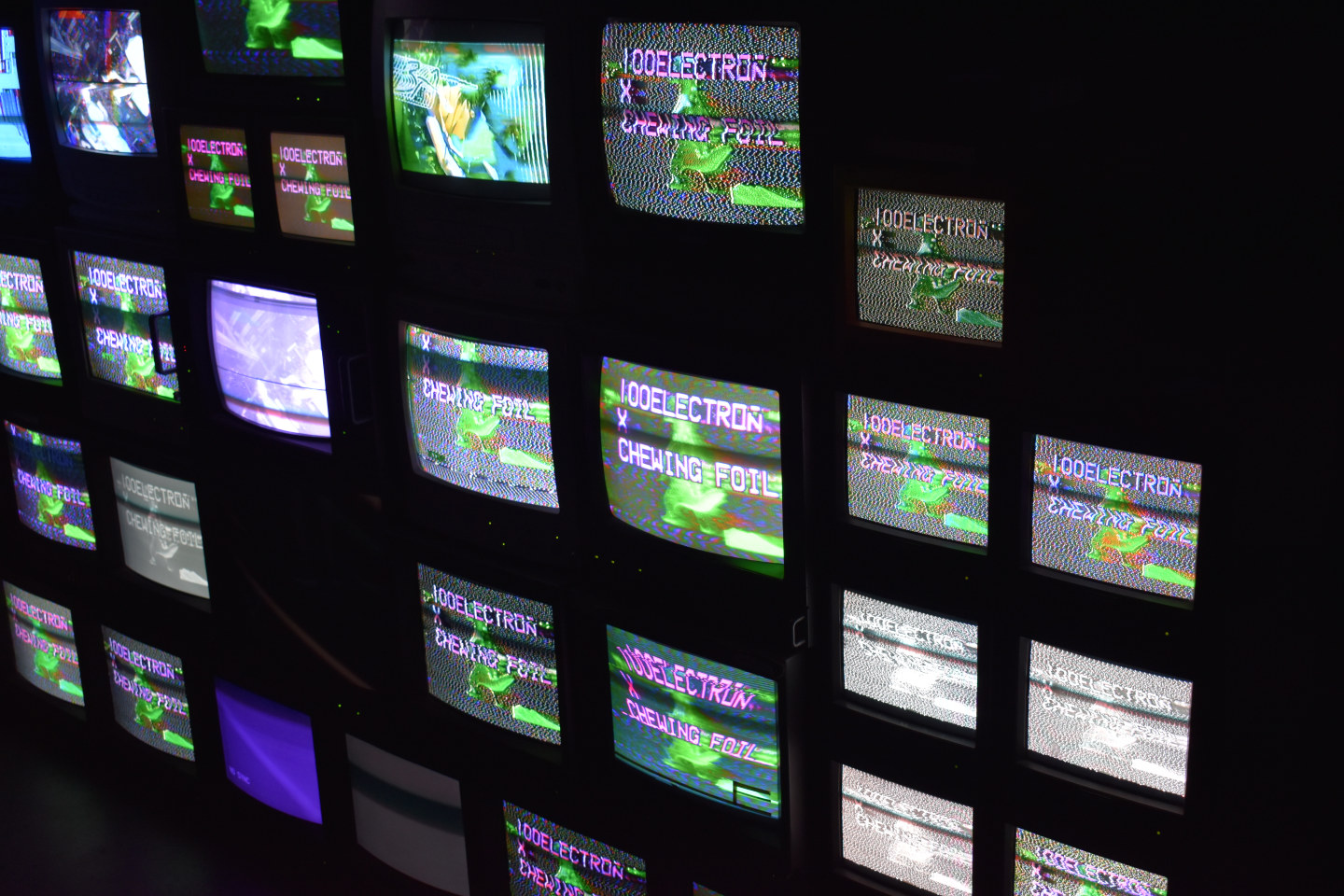 The festival's vibe was overwhelmingly positive. Kevin Hein, a Chicago-based artist who makes a combination of video game music, vaporwave, and "knightrock" as Equip, had only performed "a couple of times a year" prior to 100% ElectroniCON, but claims that being part of it forced him to step up his game. His performance ends up coming across as flawless and majestic, as he dons a dramatic costume of a cape, elf ears, and a horn affixed to his forehead. "George has been such a huge help in all of this," he exclaimed. "He's a natural leader — his whole modus operandi is making people's dreams come true, and he's really good at it!" Suddenly, Hein's eyes start to water. "I'm getting emotional!"
While watching Dan Mason's ebullient set in the Main Hall, a young man named Jack Valentine struck up a conversation with me. He seemed to be one of the few people in attendance who wasn't already strongly linked to the scene, invited that morning by a friend who had a spare ticket — but he's already hooked. "I feel like I'm witnessing Woodstock!" he beamed. "You can tell everyone truly cares about this. It's amazing."
Many attendees travelled across the country, spanning California, Arizona, Texas, and as far as Japan. "I'm in George's fan club, so we got advance tickets," said one fan Charlie, who'd travelled from Vancouver for the show with his friend Ethan. "We're only in New York for 30 hours, 'cause we've got to be at school on Monday." "This is absolutely spectacular — the first time that anything like this has ever happened, and I didn't think it would!" Ethan exclaimed. "The fact that all these people showed up to support vaporwave blows my mind. It's the friendliest scene I've ever interacted with. Random strangers that are down to chat — it's very rare."
"I'm so proud to be a part of that for someone," Clanton stated about facilitating those meet-ups through 100% ElectroniCON, and for all of his influence, the "Cult of Clanton" was visibly apparent during the fest. During the climax of his performance of his epic single "Slide", a huge pod of inflatable aliens rained down on the audience, as Clanton hugged one of the aliens close to his chest and effectively strangled the air out of it. Popping sounds started echoing through the crowd, and I realized that the crowd were strangling their aliens too — a morbidly beautiful moment of community.