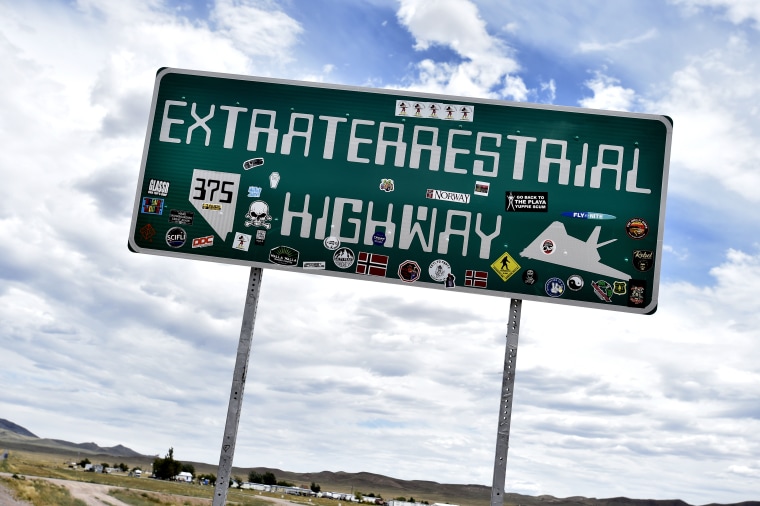 The planned raid on the US Air Force base known as Area 51 has been cancelled by organizers, who feared a "humanitarian disaster" akin to "FYREFEST 2.0." In a statement posted to the AlienStock website, organizers wrote that they were cancelling the event "due to the lack of infrastructure, poor planning, risk management and blatant disregard for the safety of the expected 10,000+ AlienStock attendees," all of which they blamed on the land's permit holder.
AlienStock, which began as a Facebook group called "Storm Area 51, They Can't Stop Us All," was set to take place from September 19-22 just outside the tiny desert town of Rachel, Nevada. Initially a joke that suggested its attendees storm the gates of Area 51 in an attempt to liberate the government's extraterrestrial secrets, it soon sprawled out into an event with 2 million attendees on Facebook. The Air Force even had to release a statement advising people against running en masse towards one of America's most protected and heavily armed military bases.
Matty Roberts, who started the initial Facebook group, decided to turn it into a more official event, though earlier this month their website didn't seem to say exactly what that would entail. They were, the website claimed while liberally overusing capital letters, "aiming to establish something unique here, a meeting place for all the believers. A place to freely discuss Aliens & the Unknown! When you arrive, you can expect Live Music, Great Food, and a Camping Experience!"
That "Camping Experience" might well have been hellish, however. As MJ Banias wrote at VICE late last month, AlienStock and two other nearby spin-off festivals seemed underprepared for an influx of thousands of people, and the residents of Lincoln County, where Rachel is located, were ready to defend themselves if things turned ugly. "Lincoln County has already pre-signed authorization to issue a state of emergency," Banias wrote. "If thousands of people gather and proper security, medical, shelter and food services are not established, there could be problems. For instance, there is no medical facility nearby that could effectively deal with serious injuries and Lincoln county's 11,000 square miles is covered by a police force of only 28 officers."
AlienStock isn't completely dead. They'll now hold an event in Downtown Las Vegas on September 19, which promises a "classified lineup of music artists" and an opportunity to buy a bucket of those limited edition Bud Light cans. The truth may well be out there, but it sure as shit isn't out there.
Listen to The FADER's weekly playlist of songs you need in your life