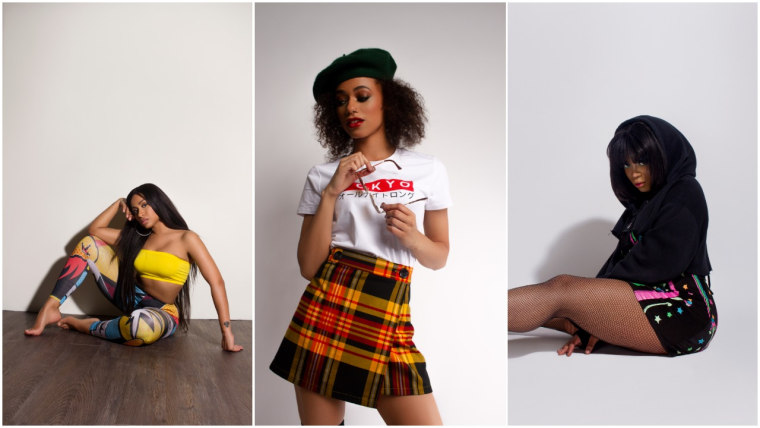 Five years ago, BunnyMightGameU was in charge of the VIP Room at the Bronx strip club Sin City. She managed the waitresses and handled the exotic dancers, including (briefly) Cardi B, Ayisha Diaz, and Nya Lee. The job was risky, but she loved it — until one night at work, when Bunny was attacked from behind and stabbed in the neck with a broken glass. She quit, got out of a relationship, started going to yoga, and went to therapy; after a few months, Bunny reached the last of her savings, and she began to pray. While praying one day, she heard a voice speak to her: "I don't know why you're so worried. Everything you need, you already have."
When she opened her eyes, her PlayStation turned on by itself. For Bunny — who has been an avid gamer since the earliest versions of Metal Gear and Tomb Raider hit the market — it was a sign. As an adolescent, Bunny borrowed her cousin's allowance to play arcade games at now-shuttered Manhattan venue Hackers, Hitters and Hoops. "Twitch had just started becoming this big thing in 2014," she says. "I didn't want to go back to food and beverage. I was just scared, and that scared me into this."
"This" is Lost Rings, a new imprint of Columbia Records that's focused on releasing music by and for the gaming community. Bunny was the first signing; then came Houston transplant BlackKrystel, a bubbly and telegenic ESPN esports commentator, cosplayer, and former YouTube vlogger who identifies as pansexual. A few months later, Lost Rings recruited SunZi (rhymes with "Chun-Li"), a DC-via-NJ editorial producer and cosplayer who recently moved closer to the DMV because the "Cons" (short for "comic convention," where fans, creators and scholars gather) are better down there.
All three are hardcore gamers, music fans, and female-identifying "blerds" — or, black nerds. They represent an underestimated demographic of the gaming population whose visibility is growing rapidly, dismantling the entrenched stereotype that all gamers are straight white dudes jiggling joysticks in their parents' basements. "This is definitely bigger than me," says SunZi, sitting on the couch in the gaming room of Columbia Records' New York office. "It's shining a light on a community of people – not just POC and black, but geeks in general — that we're well-rounded and musically inclined. We're out here. We've already been out here."
Recent research has shown that gamers are a lot more diverse than how they've been represented in the media. As Gameheads co-founder and executive director Damon Packwood pointed out in a recent Quartz article, more African-American teenagers than white teenagers play video games, and they're more likely to start earlier. Female-identifying players, which have grown 9 percent since 2006, are driving the gaming industry's valuation from $66.3 billion in 2012 to a whopping $152.1 billion this year.
"The nerd space does a good job at being inclusive as much as it can, but it's been a long battle," BlackKrystel tells me over Skype. "I suffered a lot of being denied my nerd card because I was black or a girl. When I was 16, I would've laughed at the thought of me playing Call of Duty as a female character. [Now] you have female character creation in these first-person shooters that I only ever got to play as a male white soldier."
BlackKrystel grew up in Palm Coast, Florida, a tiny town that's also home to singer/producer blackbear, who co-wrote Justin Bieber's "Boyfriend." "I was always touching a console or a controller," she says. Though her whole family supported her early obsession with games, as one of the few people of color in her schools' gifted and AP classes, Krystel struggled to find her "own little tribe." Once she convinced her fellow nerds that she really did put together her mom's PC when she was five years old, they invited her to play Super Smash Bros. and skip school to buy Call of Duty 4 when it was released at midnight. She began streaming online, hosting a YouTube series called The Weekly Krystel Fix where she reviewed upcoming releases, and parlayed her childhood of choir singing and piano training into recording acoustic covers and mashups of Fetty Wap songs.
When Instagram launched in 2010, Krystel took her small following to that platform, monetizing her internet presence by securing partnerships with brands like headphones brand Plantronics and Converse. By the time she graduated college, gaming wasn't yet considered a viable career — not by society at large, and certainly not by her parents — so she couch-surfed for a while and worked odd jobs at GameStop, the US Postal Service, and retail outlets. Eventually, she convinced her parents to let her try the "BlackKrystel thing" for a year. If it failed, she'd hang up her Harley Quinn costume and submit to the drudgery of a nine-to-five. "I made the decision to be really dedicated about it," she says. "I started streaming again to get back at that competitive level. A lot of followers from my YouTube days found me and were so welcoming, like, 'You're back! Long time no see.'"
Meanwhile, Columbia label executives Shahendra Ohneswere and Ryan Ruden had been keeping an eye on the level at which gaming culture was permeating pop's discourse. Last year, Drake live-streamed his Fortnite match with gaming golden boy Ninja, while DJ Khaled hyped himself at the Overwatch League Finals; Megan Thee Stallion often Tweets about the anime JoJo's Bizarre Adventure, and Lil Uzi Vert regularly torments his fans by playing Fortnite instead of releasing his long-awaited album Eternal Atake. The Red Dead Redemption OST was a must-have record on its own, and that was before clips from the game were used in the music video to Lil Nas X's record-breaking "Old Town Road." "If you peek behind the curtain of a lot of artists who are popular today, they are gamers," says Columbia A&R Tebongo "Tebs" Maqubela, who helped develop Lost Rings.
"We have so many more cultural milestones than I did when I was a kid," comedian and visual artist Zack Fox claims. Fox is an avid gamer and anime fan who hosted a VICE special on the Black Comic Book Festival in Harlem earlier this year. Growing up in Atlanta, where middle- and upper-class suburban black families with gaming-obsessed children abounded, his sense of belonging was different from BlackKrystel's. "No one was looking at me like an outcast," he adds. "All the black kids I knew were listening to fucking Paramore, playing Pokemon cards or Yu-Gi-Oh!, or Magic: The Gathering. We had all that, but we didn't really have any large cultural icon validating that for us."
Despite the essential advocacy that's come from support organizations like INeedDiverseGames, Black Girl Gamers and Brown Girl Code, womxn gamers of color are still among the least-represented demographics in the gaming world. In order to "superserve underserved communities," Ohneswere and Ruden aimed to sign artists whose closest peers might be nerdcore rap pioneer Mega Ran or rapper and producer Sammus, who took her name from the protagonist of the Nintendo-based Metroid game franchise and made her first beats on PlayStation's MTV Music Generator.
"Obviously, esports — as well as the intersection of music, anime, cosplay, all those things — has been going on for a long time," Ohneswere says over lunch at the Sony Club on Madison Avenue. "But it's the same names that come up over and over again. We had this conversation of, 'Is there an area for artists who are gamers first?' Do they need the support to make music about their lifestyle?"
After clearing their new business venture with Sony HQ, Ruden and Shahendra tapped their network for signees, landing on three promising and talented (and slightly skeptical) gamers. "I have family and friends in the industry, and all of them were like, 'I don't know man, stay away from labels,'" BlackKrystel says. "They'll try to make you do things that you don't want to do."
"I was flabbergasted," says SunZi. "It was very sudden, and I was very humbled. I was hyperventilating. I was like, 'How did you find me?'" SunZi grew up with a father who loved gaming and a mother who, when she got in trouble, would jokingly give her two options: punishment, or getting her "ass kicked" in a video game. She started writing poems and spoken word in high school that she never released, viewing the practice as a form of catharsis rather than a skill she could build into a career. After years working as a hospital admissions coordinator and a stint at a GameStop in Newark, she moved to Washington, DC, where she started working for Quirktastic Media and hosting her own podcast, Geek & Chill.
When Columbia tapped Bunny, she — in classic New Yorker fashion — was unfazed. "I laughed," she says. "I didn't take it seriously at all." Ohneswere and Ruden knew about Bunny from her hosting the podcasts Girls Can't Geek (which SunZi also occasionally co-hosted) and the Party Nerds Live. What they didn't know is that when Bunny was 15, she'd already accrued cred by rapping alongside Dave East and Immortal Technique in the foundational hip-hop crew Mad Ciphas. "They asked me how would I feel about changing from podcasting and doing what I do with my voice in that way — allocating it differently," she says. "I trusted their judgment."
That trust is essential to how Lost Rings operates. "Gamers as a whole are very similar to diehard fans of any genre — authenticity is king and queen," says Maqubela. "My first time meeting SunZi, Bunny, and Krystel really illuminated to me that I have to be on my shit to even be in the same room as them. It was such an educational process that included me buying a gaming system and becoming a gamer myself."
In turn, Tebs gave the trio an education on music business fundamentals — explaining why beats with samples are harder to clear, breaking down budgetary restraints, defining his role as A&R, and walking them through the fine print on record and singles deals. Though Bunny, SunZi and BlackKrystel each have managers, Tebs set them up with a team of producers and songwriters that would help refine their sonic vision. BlackKrystel went into the studio as a solo artist for the first time and came out with her first single "Party Up," a summer-y kiss-off littered with lyrical Easter eggs for gamers: "First you said 'Fighter Street'/Then you broke my elite." "I'm the only person that can actually tell this story and be that voice for us geek people," she states.
When SunZi connected with Boston producer LDG Beats, a fellow gamer who had a hand in Aminé's 2018 LP Reel It In and Playboi Carti's "Place," he provided the instrumental for SunZi's first single "Joystick," a glitchy, rolling banger planted with references to GTA, LOTR, and other nerd touchstones. The two of them have since continued sending each other ideas and working on more tracks, one of which pays homage to an old Eric B and Rakim joint. "It's still hip-hop, but it's very geek," says SunZi. "I call it geek trap."
Ohneswere and Ruden acknowledge that they're developing this new initiative slowly and steadily. There was no press kickoff for Lost Rings, although performances by Bunny, SunZi and BlackKrystel at the BET Experience in Los Angeles in June provided a soft launch of sorts. They also don't know (or won't divulge) long-term plans for the imprint beyond upcoming singles: SunZi's got the blaxploitation-inspired video for "Senpai" ready for the near future, and there's a new BunnyMightGameU track on the way, "New York Drip," that's piqued the interest of Overwatch League's New York Excelsior team. "As the market attaches themselves to certain artists, then they'll continue to release more work," explains Ruden. "It'll be very market-driven, so if there's an appetite for a lot more, we'll fuel a lot more."
"If" is the operative word there: Even though the Columbia executives reiterated their commitment to Lost Rings many times over the course of our conversation, major labels and their subsidiaries a history of signing up-and-coming artists to capitalize on potentially lucrative scenes, only to let them go for myriad reasons afterwards. In the early '00s, labels leapt at the chance to sign Jonathan Fire*Eater and other buzzy indie bands from New York City's resurgent rock scene, only to drop many of them when their albums didn't perform as anticipated.
In this case, the stakes are arguably higher. The Lost Rings signees aren't just making music — they're making space for and amplifying the voices of historically underrepresented cohorts: female gamers and gamers of color. "It's really great that we have the opportunity," says SunZi. "I feel like the best thing I can do is use my platform to shine a light on my community." BlackKrystel has a more risk-minded assessment of the situation. "Even if this goes south, I've done something that since I was a kid I had put my heart into, and my hopes of being able to get into a studio and laying my voice down on a song from myself," she says.
And the Lost Rings signees have had one or two pinch-yourself moments since getting signed, especially their performance at the BET Experience convention. The television network and media company initially reached out about having the artists hang out in the gaming lounge before seeing a sizzle reel of the music and videos Lost Rings had in the works. "It went from 'We want these artists to just show up and play Mortal Kombat,' to 'We want them to perform now,'" says Ohneswere.
They took over the Sprite Kicksperience Stage, and after BlackKrystel descended from the stage back into the crowd, an older woman approached and took her hand. "She was like, 'I've been waiting since the '80s for someone like this to be out here,'" BlackKrystel recalls. "'To see you as a person of color, to see you as a nerd, as I am, is amazing.' You know they're not just thanking you for the performance – they're thanking you for the representation."