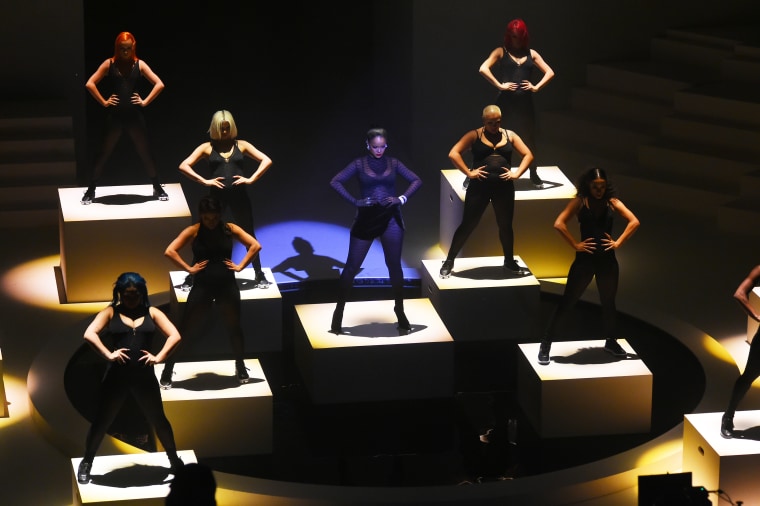 Rihanna put on an extravagant production last night to unveil her upcoming fall/winter 2019 Savage x Fenty line of lingerie. Barclays Center was completely repurposed to match her vision, transformed architecturally with arches and sweeping staircases. You're just gonna have to take our word for it, because no phones were permitted.
Rih stacked the runway with appearances from Cara Delavingne, the Hadid sisters, Normani, Joan Smalls, and 21 Savage, among others. The event was not short on high-profile performances either: DJ Khaled, Halsey, Big Sean, Migos, Fat Joe, ASAP Ferg, Fabolous, and Tierra Whack all picked up the microphone during the night. Additionally, there were plenty of other celebrities watching from the sidelines, including Diplo, Kehlani, and Kacey Musgraves.
Although she's already made a seismic splash with this show, Rihanna is not done with the fashion week festivities and is set to throw her fifth annual Diamond Ball Gala with Seth Meyers this Thursday. Read on for a quick roundup of what took place last night:
New Music:
Unfortunately Rihanna did not debut any new music — understandable given how much she had on her plate during the show. In a brief word with ET she did mention that whenever the project does drop it will be coming from a place of confidence — "Well obviously I'm a confident woman so whatever I do it's going to be confident, whether it's the album, perfume, lingerie, makeup, or fashion." However we did get to witness Halsey perform her forthcoming single "Graveyard" ahead of its release this Friday (September 13).

Emmy aspirations:
To call this event a fashion show would be similar to saying LeBron James plays basketball. Yes, it was a fashion show in that it debuted a line of clothing during New York fashion week but according to Variety the whole thing "was more of an audio-visual experience, combining music, art, fashion and dance, creating a multi-sensory experience for the audience." Rihanna will be credited as an executive producer for the production and it will be available to stream on September 20 through Amazon. To top it all off the show will be submitted to next year's Emmy awards.
Collaboration with Lizzo on the way?
During an interview with ET Rihanna did not shy away from a potential collaboration with Lizzo. "I would collaborate with her on the lights for this interview...Lizzo is so badass and she's everything Savage stands for. A confident woman no matter what size, color, or shape." Does this mean a song is on its way? One can only hope.