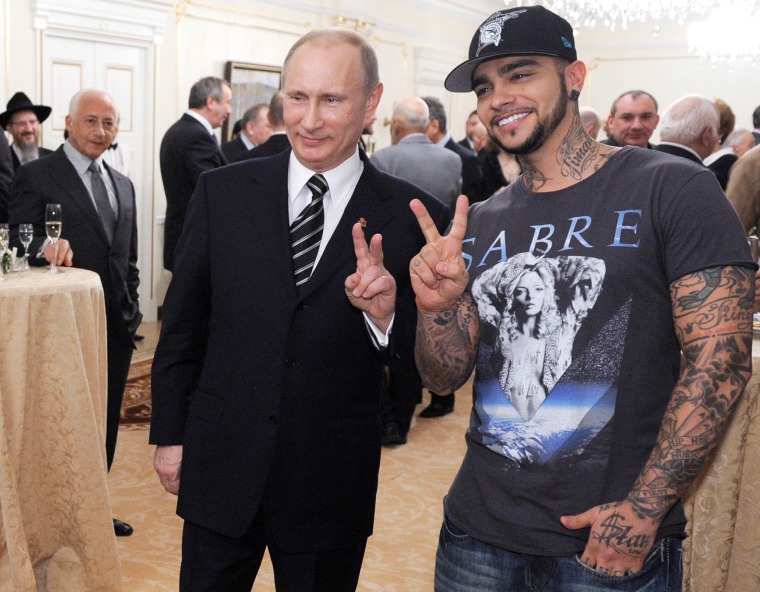 A pro-Kremlin rapper in Russia who once described himself in a song as "Vladimir Putin's best friend" has removed his latest music video from YouTube after it became one of most unpopular uploads in the site's history. Timati's "Moscow" racked up 1.48m dislikes — the most in Russian YouTube history — between its upload on Saturday and its removal on Tuesday. It received a comparatively paltry 85,000 likes in that time, vaulting it into the top-30 most detested videos in YouTube history globally.
The video is seemingly worth every ounce of the disdain that it generated. Released just a day before the Russian capital went to vote in municipal elections — the focus for sweeping protests after independent dissidents were arrested and jailed over the summer — "Moscow" is staunchly, nauseatingly pro-government. Timati toasts to the health of incumbent Moscow mayor Sergey Sobyanin and boasts of a "city that doesn't hold gay parades." (Sobyanin made gay pride parades illegal in 2011.) Elsewhere he raps: "I don't go to protests and talk bullshit."
"Today it's trendy to complain about the government, but I have my own opinion," Timati wrote on Instagram in an attempt to promote the video, according to Reuters. "Instead of going to protests, you should work and improve yourselves."
Timati denied that he was paid by the government to release the video. After removing it from YouTube, he followed up on Instagram by saying that he was trying "not to prolong this wave of negativity.
Pro-Putin candidates suffered losses in Sunday night's elections, despite the city removing the opposition from the ballot.
Listen to The FADER's weekly playlist of songs you need in your life