The 1975 Have Nowhere to Grow But Up
The British pop-rock phenoms have spent much of the decade growing in size and stature — and as they work on their fourth album, can they become the biggest band in the world?
London is melting. It's July 25, 2019, and the entirety of England is currently in the throes of the hottest day in the country's history, the final high for the day topping off at 38.7 degrees Celsius (that's 101.6 Fahrenheit for the North American readers). By the end of the day, a similar heatwave smashes high-temp records in France, the Netherlands, and Germany — incontrovertible proof of climate change's perpetually worsening effects, and an unfortunate stroke of perfect timing for the release of The 1975's new single.
The night before, the British pop-rock phenoms released "The 1975," the opening track and first single from their forthcoming fourth album, Notes on a Conditional Form. Since their self-titled 2013 debut, every 1975 full-length has opened with an intro track named as such, featuring a variation on a hushed, soothing musical motif. This time, the theme is nowhere to be found, replaced by a nearly five-minute monologue from 16-year-old climate change activist Greta Thunberg over subtle strings and tinkling piano. "We are right now in the beginning of a climate and ecological crisis," she states plainly but purposefully, ending on a literal rallying cry: "It is now time for civil disobedience. It is time to rebel."
"My mom texted me to say the new song isn't a bop," drummer George Daniel laughs. We're amidst a cavernous soundstage tucked within Black Island Studios in North Acton, where Daniel, frontman Matty Healy, bassist Ross MacDonald, and guitarist Adam Hann are hard at work shooting the video for Notes' second single, "People" — a searing, aggressive blast of capital-R rock music, as Healy screams about legal weed and a generation that "wanna fuck Barack Obama" before landing on a decidedly radio-unfriendly chorus: "Stop fucking with the kids."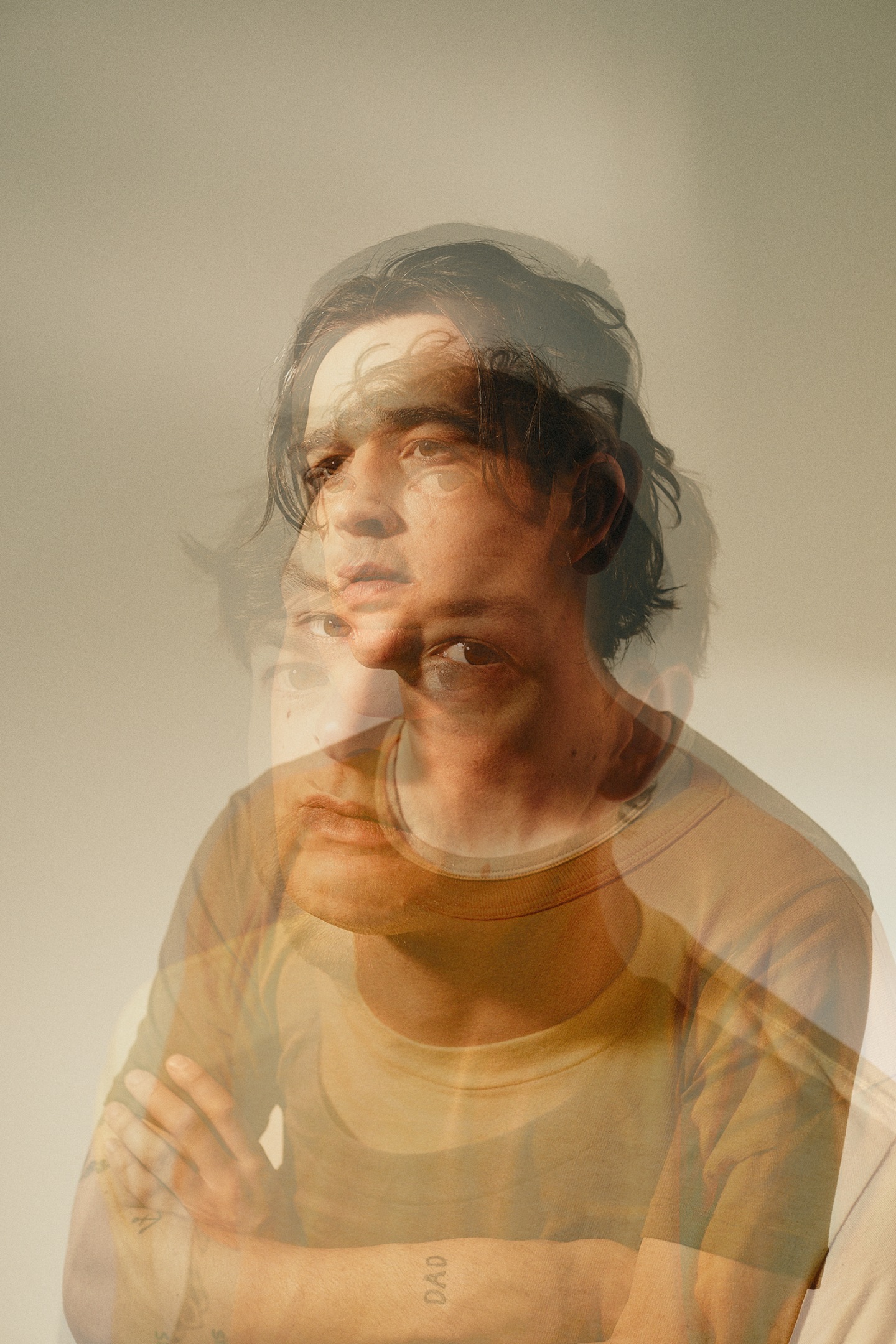 A 30-year-old consumer of all things pop cultural — possessing the ability to hold forth on topics ranging from XXXTentacion and John Coltrane to Years and Years and FKA twigs' Instagram account — Healy compares the song to Swedish punk veterans Refused, as well as New York hardcore outfit Glassjaw. Today, he's decked out in a pinstriped suit and pale-faced makeup, vaguely resembling shock-rock mainstay Marilyn Manson; but for now, he's got Nine Inch Nails on his mind, who he saw at the Reading and Leeds festival in 2007 while "on loads of drugs."
While enjoying a morning spliff, he enthusiastically explains his vision for The 1975's own headlining slot at this year's fest, which will kick off with "People" while mirroring the video's intense imagery. Mid-thought, he's cut off by a bicycle-bound fan who's stopped outside the studio to politely offer his admiration. "Welcome to Acton!," the cyclist offers before pedaling away, as Healy's initial graciousness takes a darkly humorous turn.
"One of these days, a fan's gonna walk up to me and go, 'Are you Matt Healy?' And then go, 'Alright then!,'" he exclaims, miming a stabbing motion towards an invisible torso and eliciting laughter from Daniel.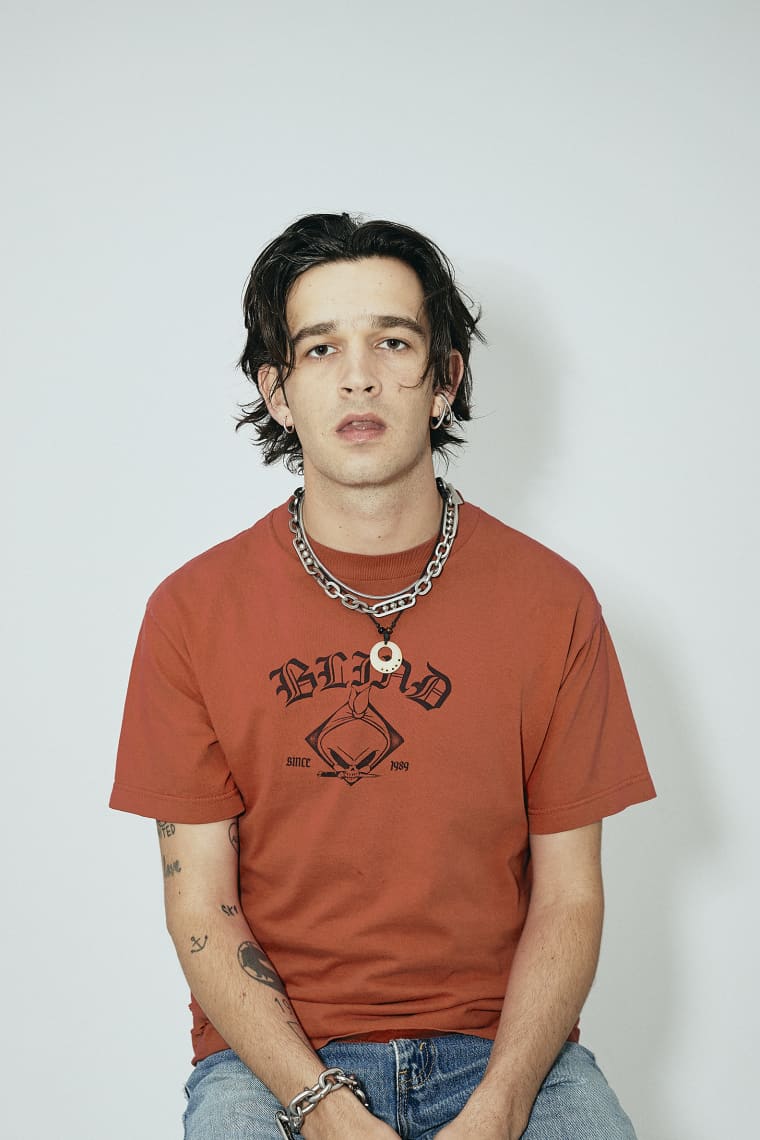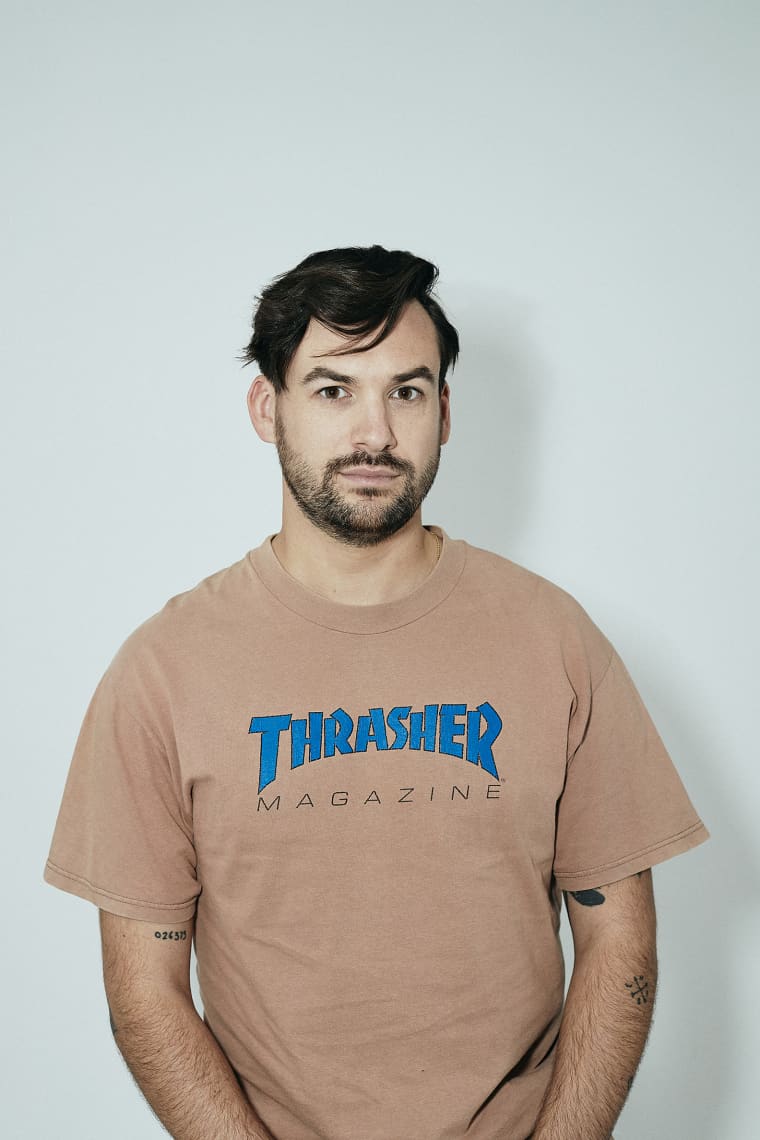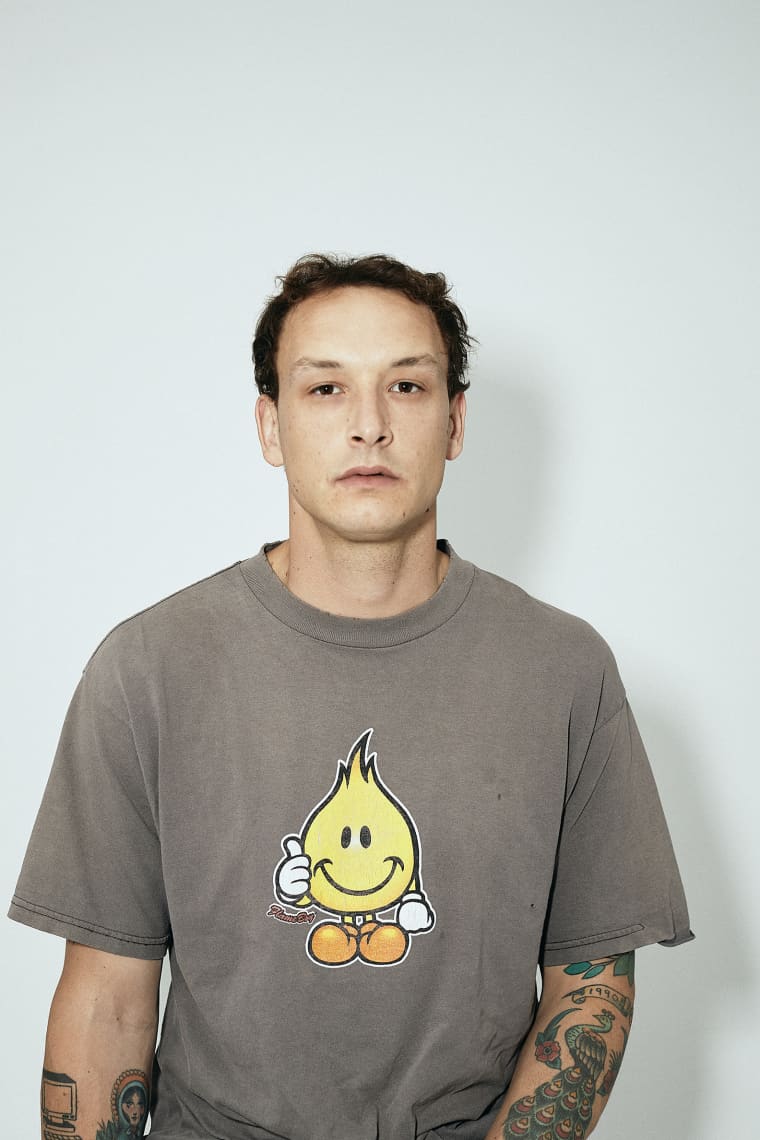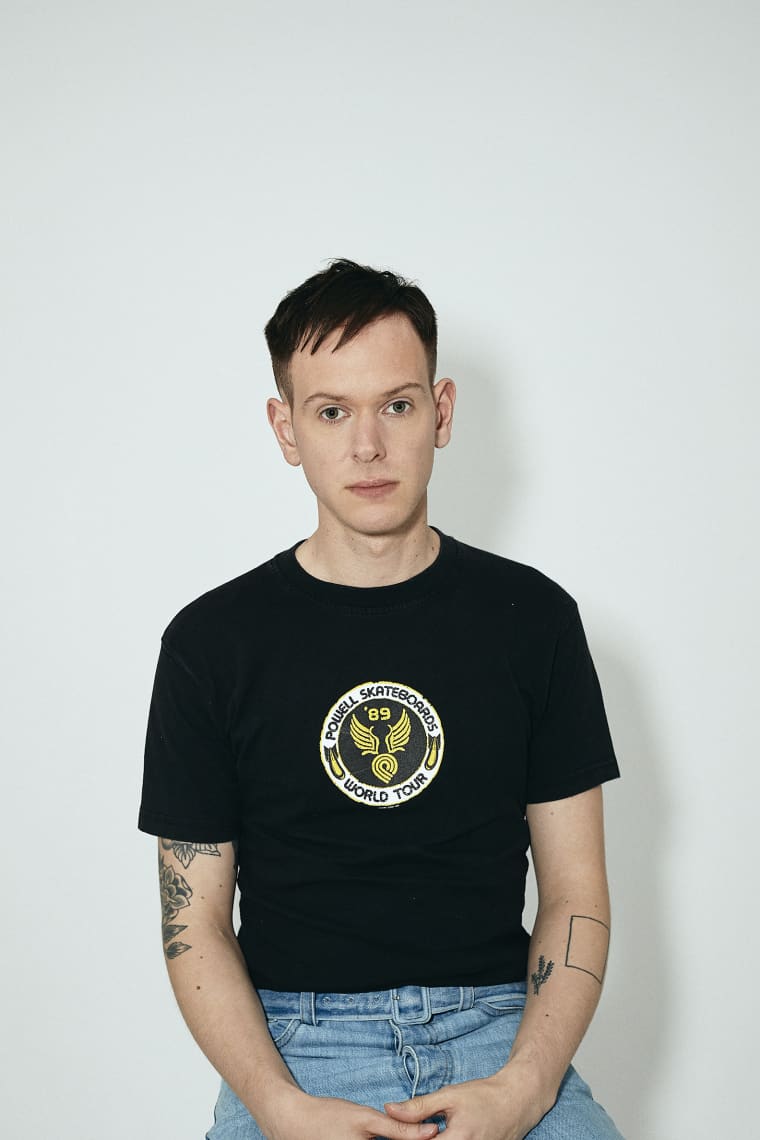 There's a good reason why defying death is on Healy's mind. The "People" video is nothing if not ambitious, as the band thrashes in an eyeball-burning box constructed of video screens not unlike the glass-cage performance captured in "The Sound," an anthemic single from The 1975's 2016 sophomore bow I like it when you sleep, for you are so beautiful yet so unaware of it. The screens display oft-gruesome imagery practically mainlined from the internet's darkest, trolliest recesses, and the day-long shoot includes a fast-paced robotic camera that has the capacity to literally kill someone if they get too close to it — not to mention a harnessed, upside-down Healy, swinging to and fro as the crew frantically tries to capture the perfect shot while the blood rushes to his brain.
"I'm probably less excited to do this than you are to see me do this," he cracks to me, with a touch of nerves. The stunts and potentially murderous robotics go off without a hitch, but the fear of long-term obliteration is nonetheless at the forefront as the day's heat rages on. Everyone is practically melting from temperature-induced lethargy; at the end of every take, Daniel immediately disrobes as much as possible to cool off, and even the three-minute walk to the catering pavilion feels like a slog through a vat of chowder.
The heated surroundings eventually spill into the realm of human interaction. During a discussion of the day's non-climate-related current events, a brief but charged exchange breaks out regarding rapper A$AP Rocky's recent prosecution and imprisonment in Sweden following an alleged altercation. "It's about holding famous people accountable when they commit a crime," MacDonald protests, while Daniel flatly replies, "It's racist." A strange chill of silence sweeps the room before everyone's ushered out to return to set; a few minutes later, the pair have their arms around each other between takes, chatting shit and gamely grinning as if the argument never took place at all.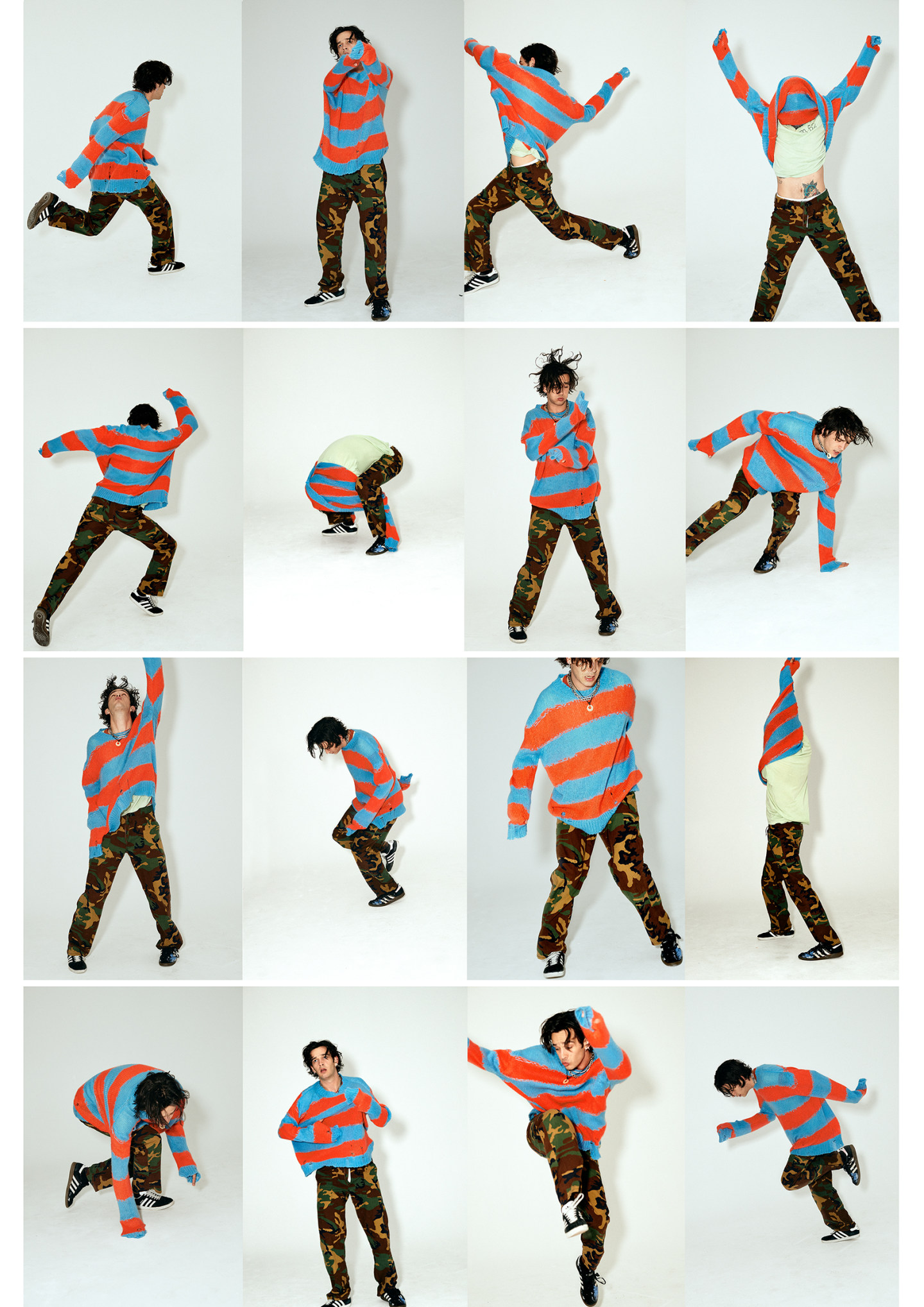 When I later mention the spat to Daniel, he explains his "speaking enthusiastically" was partially owed to having met Rocky personally a few times, taking great care to elaborate on his overall lack of knowledge regarding the situation in general. "Whenever we get into it, we're either being so stupid it's ridiculous, or we're talking about serious things," he offers, with Healy adding, "We need to be able to say 'You're a cunt' and 'I love you' in the same sentence."
Granted, keeping the peace between each other has never been much of a struggle for The 1975 — an astounding feat, considering the quartet have been at it since 2002, when they formed while attending school in the Northwest England county of Cheshire. If their core emotional dynamic has stayed resolute, then The 1975 have done the opposite artistically, essentially engaging in musical dress-up while following wherever their interests take them. Thus far, they've proven effective in modes ranging from effervescent pop-rock, tender balladry, and bouncing Afrobeats-inspired motifs, to spiky emo, passionately shouted anthems, and electronic pop fantasias.
Ambition has abounded: the gargantuan, 70-minute-plus I like it when you sleep featured multiple songs running well over the five-minute mark, while the shorter A Brief Inquiry included a robot-recited monologue about living online. Both possess the stylistic range of one of Healy's here-today-gone-tomorrow Spotify playlists, more often than not sounding a million light years away from the pulsing, sleek emo of their 2013 debut — itself receiving what Healy views as a less-than-welcoming critical reception upon its release. "The critics hated it so much," he recalls, "but I felt validated by how much the countercultural kids loved it."
Healy and co. traffic in youth-culture music that often radiates the generational sincerity of its listeners; "Love It If We Made It," a titanic slab of pop-rock catharsis from A Brief Inquiry that features Healy shout-singing like an open firehose while namechecking Lil Peep and quoting Donald Trump tweets, is the type of all-or-nothing gesture that would sound forced and uncomfortable from most of their supposed modern rock peers.
Debuting in the top 5 of the Billboard 200, the album as a whole didn't perform quite as well as its predecessor, which kicked off its chart run at the top; but A Brief Inquiry reflected a different summit for The 1975, who went from a well-kept critical secret to the center of conversation. Not since Vampire Weekend — another group of impeccably styled and sonically fluid young white men blurring the lines between rock music and everything else — has a band halted the pick-a-side critical discourse so thoroughly in its tracks, with little room in between its two opposing poles.
As a lyricist, Healy casts shapes that are fatalistic, romantic, and tissue-thin in their sensitivity — bear witness to A Brief Inquiry's penultimate, George Michael-recalling weeper "I Couldn't Be More In Love," in which he soars through multiple key changes while pleading, "What about these feelings I got?" It's easy to hear why they attract a passionately young audience, springing forth from the first generation that's often forced to learn how to process their feelings in a very public way. "They sound like social media — like someone scrolling," chuckles the band's manager Jamie Oborne as he discusses their generational appeal.
There's a self-aware promotional side to The 1975's whole thing, too — a self-aware embrace of "eras" not unlike what's typically expected from more straight ahead "pop" artists like Ariana Grande and Justin Bieber (two artists who Healy's cited in the past as peers and influences). Notes is considered part-and-parcel with its predecessor, both forming a sort-of double-album representative of the band's "Music for Cars" era — a designator that references the title of early pre-debut EPs, as well as the original working title for A Brief Inquiry.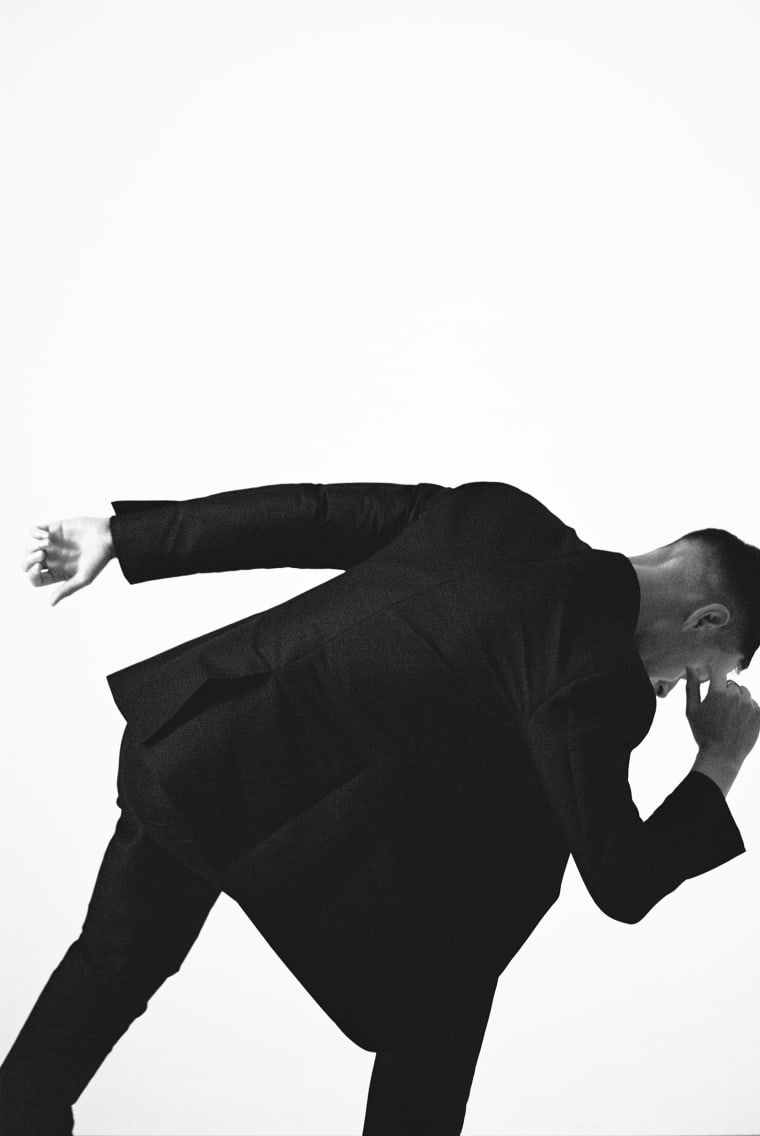 The 1975 will try anything at least once — as much a reflection of the streaming generation's genre-less consumption as it is a willingness to build a career out of perpetual forward motion. This whiplash-inducing tendency to pile left-turn upon left-turn is at the heart of Notes' one-two punch of "The 1975" and "People" — a literal call-to-arms followed by a furious admission of societal defeat — as well as the decision to throw Thunberg in the mix for "The 1975," the first time to date the band's featured an outside collaborator in their music.
And she won't be the last: Healy intends to log studio time with indie-centric artists like Phoebe Bridgers, as well as Dirty Hit-signed artists beabadoobee and The Japanese House, when the band returns to the studio later in the year to finish Notes. The ostensibly 22-song album is very much still in the early stages of creation, with four songs total in completion or close to it; besides "The 1975" and "People," there's the dusky, acoustic "The Birthday Party," and "Frail State of Mind," a 2step-driven slice of pop recalling UK producer Burial with Healy's gorgeous, cloudy sigh weaving in and out of the beat.
The album is currently penciled in for a February release, despite Healy's claim that it'd be out this past May. "It's the price that I pay for having real-time expression and an ongoing dialogue with fans," he says regarding the perceived blown deadline due to his previous statements. "Sometimes I forget that I'm talking to a lot more people than I think." Mainly, The 1975 have simply been too busy to finish the record; my time with the band is bookended by a gig at Lollapalooza Paris and a brief spate of dates in Russia and Ukraine. After that, more touring in Eastern Europe and Asia, studio time to finish Notes — and, then, more touring, this time in the U.S.

"Sometimes I forget that I'm talking to a lot more people than I think." —Matty Healy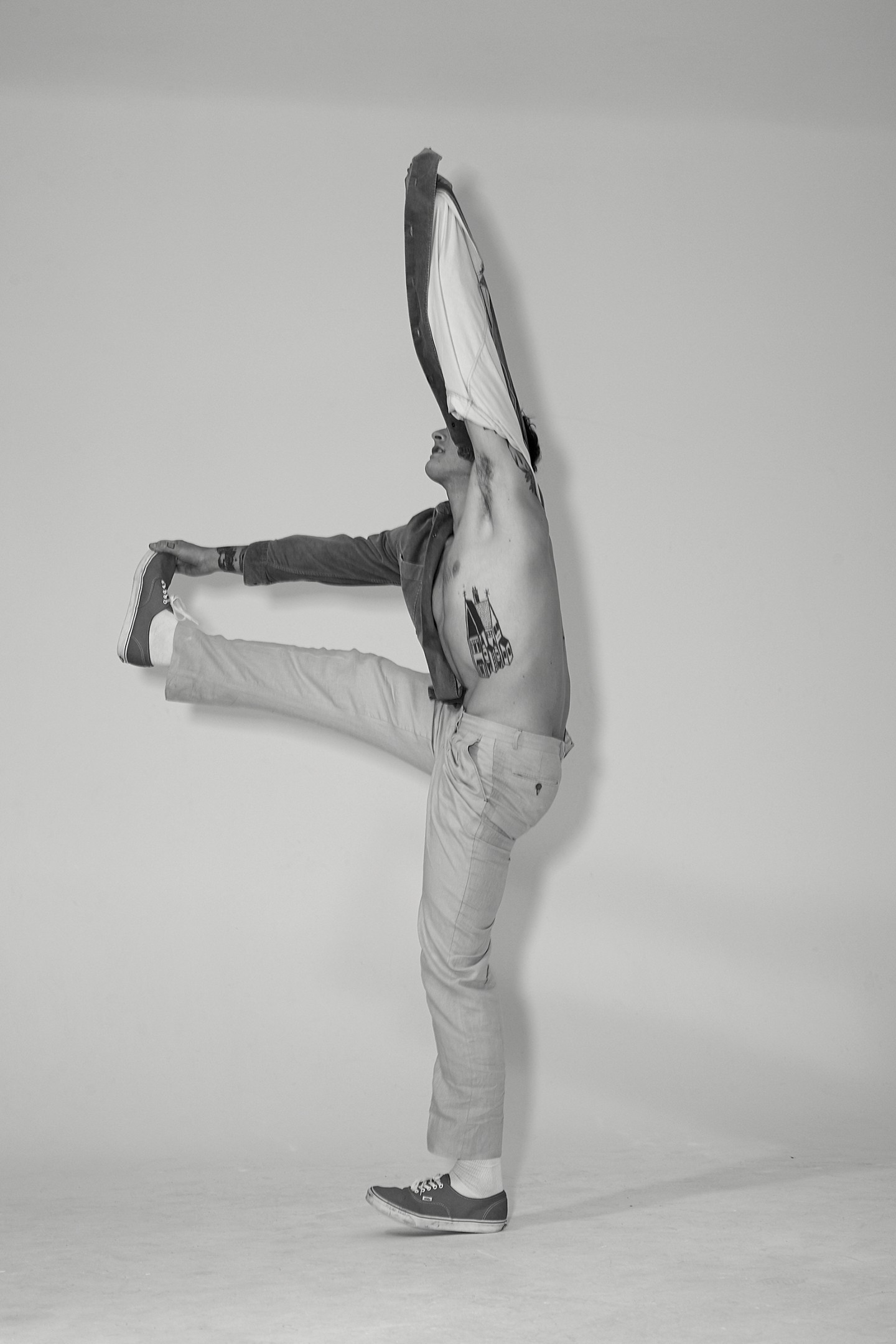 "I feel like I've been on the same tour since 2013," Healy states with equal awe and exhaustion. "I stopped to make two records, but this band hasn't left each others' side for six years straight. You can't help but become so immersed." Immersion sometimes comes at a price: Healy has a professed aversion to "socializing, or new people," and many of the people in his proximity over the past decade have been collaborators or professional colleagues. For the last three and a half years, Healy's also been in a relationship with actress and model Gabriella Brooks, and when I ask him about the topic of relationships in general, he demurs — briefly.
"I don't really want to talk about it, to be honest with you," he states several times, before admitting that he's "going through it, at the moment...What's very difficult is being able to nurture things — even if it's a home space. You can take pride in your little nest that you've made, but it's difficult to nurture all of your relationships. When you're with your wife and you're not talking to each other, on your phones — those moments don't not count. When you lose that proximity with people, it becomes really difficult to maintain relationships."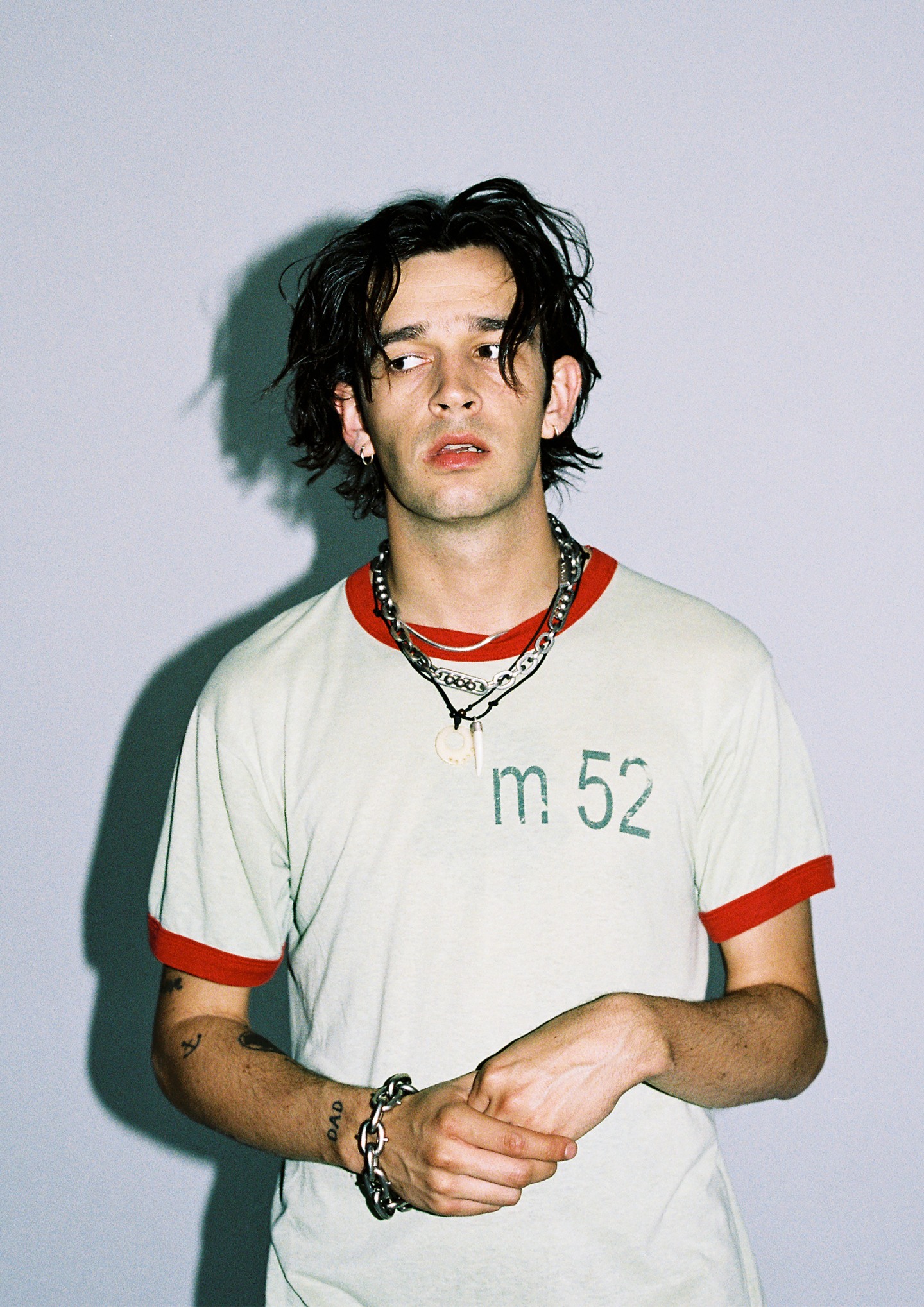 If Healy's struggled to keep tabs on some of his closer relationships, then Daniel has rarely been beyond an arm's reach. The 29-year-old drummer first entered Healy's line of sight while the latter was having a go at one of his early band attempts with Hann and MacDonald. Originally, Healy was playing drums and singing, but he eventually tired of double-duty: "He was like, who's that weird kid that plays drums?," Daniel remembers with a chuckle.
He describes his first impression of Healy as "the most outwardly passionate person in school — endearing, and intimidating." Before the quartet were The 1975, they cycled through myriad band names, including The Slowdown and Drive Like I Do; they played their earliest shows under the moniker Me and You Versus Them, bashing it out in a Wilmslow town hall that a local council worker had booked for shows. "It was fucking gnarly — our little version of a hardcore scene," Healy recalls. "Just a lot of drinking and playing music really badly." As the band went through various embryonic stages, Oborne received a MySpace message containing a YouTube link of the foursome at a gig. "It took me a couple of weeks to pin down Matthew," he remembers. ("It was easier to contact the dead than it was to contact the 17-year-old me," Healy concurs.)
"I knew they had great songwriting," Oborne continues. "When I met Matthew, I felt his presence. I was magnetized to him." After a few years of continuing to hone their sound, The 1975 signed to Oborne's Dirty Hit label, which was founded near the end of 2009, as one of the imprint's first acts. "They were rejected by every major label," Oborne remembers. "That's when we decided to do it ourselves."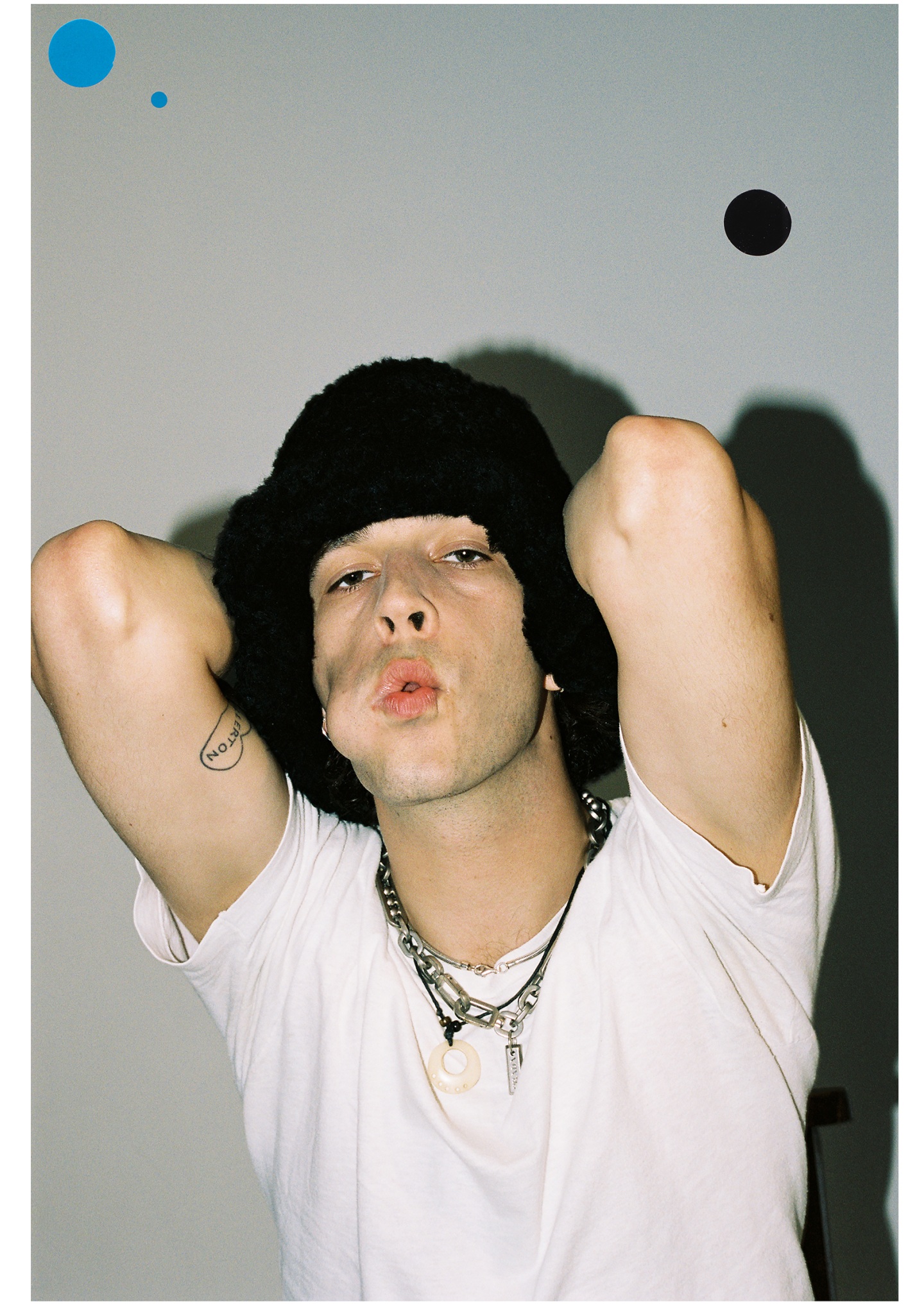 "People would pass on us because we dressed weird," Healy opines regarding the rejection they faced in the band's early years. "The Killers had just happened, The Libertines had just happened. Everyone was looking for the next Arctic Monkeys."
Over the course of 12 months starting in mid-2012, The 1975 released four EPs — Facedown, Sex, Music for Cars, and IV — leading up to their debut that fascinatingly showed the still-fledging emo-rockers exploring their own eclectic tendencies in real time, with R&B-tinged cuts and forays into electronic music that foreshadowed the anything-goes creative approach the band's become known for today. "It didn't make sense to a lot of people," Healy recalls regarding these early releases, claiming that A Brief Inquiry's eclecticism effectively reflected a return to the creative attitude embodied in those EPs. "I just kept thinking, 'I'm me, I'm who I'm talking to, and I know people like me.' I knew that [embodying] no genre was representative of something modern."
To this day, Healy and Daniel primarily work together on all aspects of songwriting; either Matty comes to George with something written on the guitar or keyboard, or George comes to Matty with something he composed on his computer. "Matty's a better musician than me, but I know how to use the computer," Daniel laughs. "Sometimes I'll come to him with something and say, 'Can you write a song around this?' There always has to be a mutual understanding about what we're trying to achieve."
"George and I have always been more interested in songs than bands," Healy claims in the midst of discussing their creative partnership. We have a shared musical library in our heads, so we have an inherent way of communicating in that regard. A lot of the time, I'll say to George, 'You know that song we heard the other day? Imagine Neil Young doing that — do that.'" Oborne gushes about the pair's creative vibe: "They're one of those great partnerships, and their power is really only visible when it's the two of them together. They have very little agenda beyond being the kind of band they want to be. It's quite rare."

Between Healy and Daniel, there's no mistaking the roles they've fallen into; the latter is more than comfortable with his behind-the-boards level of visibility ("I'd like to think that I could be outspoken about things that I feel passionate about, but there doesn't need to be two of us doing that"), while the former's unshakeable confidence of self is seemingly in complete congress with their collaboration.
"What George is so great at, is knowing that I'm probably right," Healy explains with a matter-of-factness that less suggests arrogance and more an honest understanding of how the band's creative ecosystem functions. "If anyone's going to be right about an idea for The 1975, it's going to be me. He's very patient with me, and we're both very patient with each other."
Despite essentially operating as a two-headed creative braintrust, Healy stresses that The 1975 is, at its core, a full-band operation — one that quite possibly wouldn't exist without Oborne, who he dubs the band's "fifth member." "He's incredibly smart and taught me a lot about what I know," Healy claims. "The music has always been mine and George's vision, but our cultural identity has always been me and Jamie." And as the head of Dirty Hit, Oborne is ensuring that the eco-conscious statement showcased on "The 1975" is more than just talk; there's plans to eventually eliminate plastics from the physical production of the label's releases, as well as pressing vinyl on less heavy stock and recycling old merch for the production of new merch.
"We're not gonna have it all sorted before this goes to print — we're not," Oborne admits. "But we might have twenty fucking percent of it sorted. I can't be another person who says, 'I can't do anything because these changes are impossible to change.' That's fucking bullshit." To him, every public statement coming from the band or the label is a public commitment — a belief that's core to The 1975's ethos. "We make these crazy plans and commit to doing these things very publicly so we actually do them," he laughs. "The world's ending, so we gotta try these things. Whenever we're freaked out by it, we always say to each other, 'What the fuck else are we gonna do?'"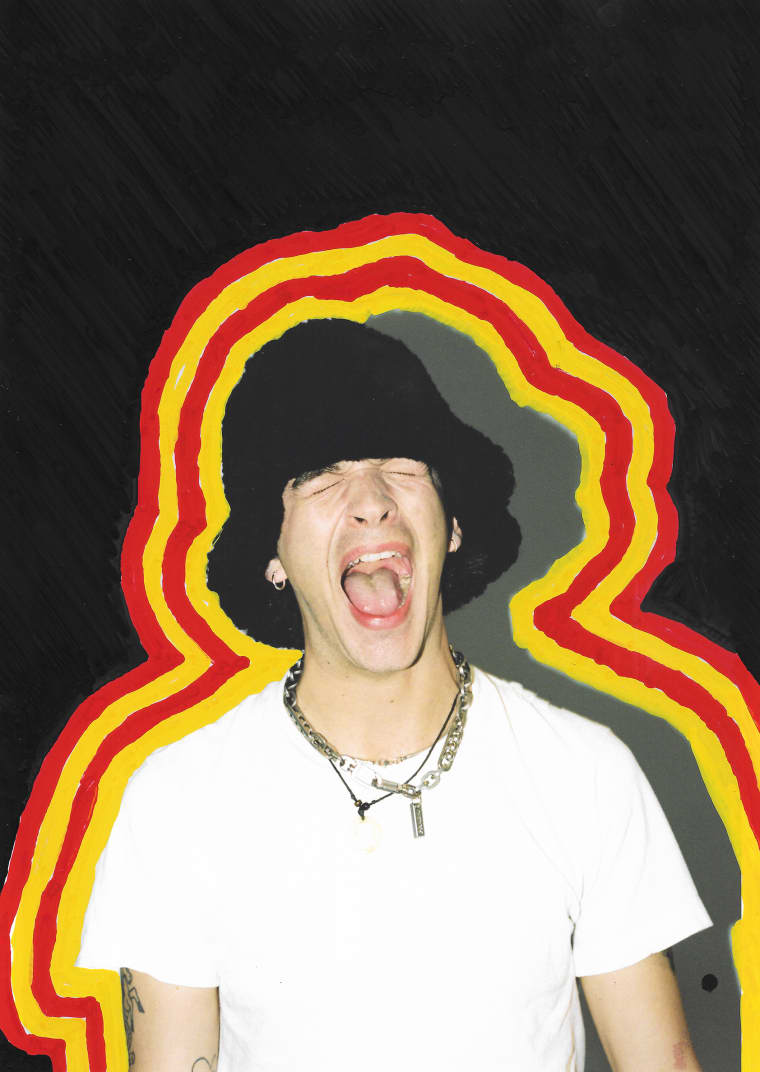 After a styling session to prep for this story's photo shoot, Healy and I hop in a car en route to his two-floor apartment in Queen's Park. We chat about his current video game obsession (right now: the VR edition of the conceptual first-person shooter SUPERHOT), kicking off a rewatch of Mad Men, and landmarks of personal import that we pass ("Oh my God, that Travelodge — I've had some awful times there").
Eventually, I ask him about his 21-and-counting tattoos, which includes "WABI-SABI" on his lower lip (a reference to a Japanese aesthetic concept) and a long number on his right forearm — specifically, his passport number. He got the tat while in the throes of heroin addiction ("when I was proper high — all the time"), after his tour manager took away his passport to keep him from jetting off and scoring. "I'd wake up on a long flight, he'd be passed out, and I'd have to fill out my landing card with my passport number," he explains. "I left space, so when I need to renew it, I'll just get the tattoo again."
As was documented in the press cycle surrounding A Brief Inquiry, Healy underwent and completed rehab treatment after the tour cycle behind I like it when you sleep had ended. The last time I spoke with him for this publication, he claimed that his use of the drug was exclusively limited to freebasing. A level of concern nonetheless arises on my part when I use the bathroom in his apartment and find a dirty spoon sitting behind the tank of the toilet. I ask him about the stained utensil later and he lets out a hearty laugh. "That's just a misplaced spoon — I wouldn't even know what to do with a spoon when it comes to drug use," he exclaims, before delivering a pitch-perfect bon mot: "That's probably more about me having a shit and a yogurt."
That doesn't necessarily mean heroin's been totally out of the picture. "There's been a couple of hiccups," he admits, elaborating that he's used the drug twice — once before A Brief Inquiry was released, and another time at the top of 2019 — since his rehab stint: "I'd be lying if I said I haven't had a couple of bumps, but that happens." Regardless, he's adamant that heroin is in the past, and that otherwise he's moved on from the drug completely.
"Heroin is not my problem anymore — it's bullshit," he states confidently. "That part of my life is over."
Healy's rehab stint was the longest time he'd been physically separated from Daniel, who kept in touch with his bandmate via text while decamping to Los Angeles to recover from the constant grind that the I like it when you sleep tour cycle represented. To Daniel, this period of time served as a reminder that, in the ever-growing whirlwind of creativity and the success that's resulted from it, he and his schoolmates-cum-superstars still need to take care of each other. "It was a worrying time, because we're so symbiotic," he recalls. "There can't be problems like that."
"I'd be lying if I said I didn't worry about him a lot," Oborne confesses, while quickly qualifying that Healy, in his view, is "doing great." "It's not an easy thing to deal with —and it's not even about The 1975. It's about my friends that I love. The boys and I all feel the same way, which is that we don't want to do this if it means losing him. I can't imagine a life without Matthew." And Oborne's concern regarding Healy extends to the sensitivity that comes with his sincerity — a rarely muted frankness that, especially in the canon of British rockers' relationship with the press, carries the potential for misinterpretation: "It really affects him. From the outside world, he seems so powerful and certain of himself — and he is. He's a powerful artist and a big presence."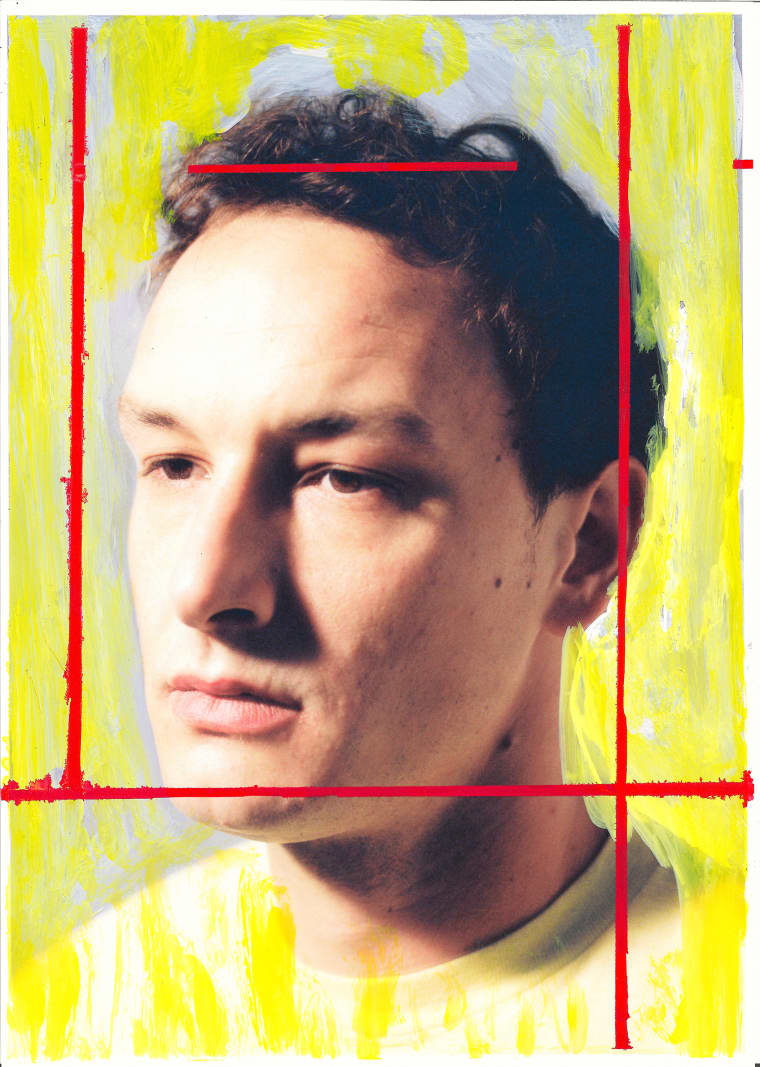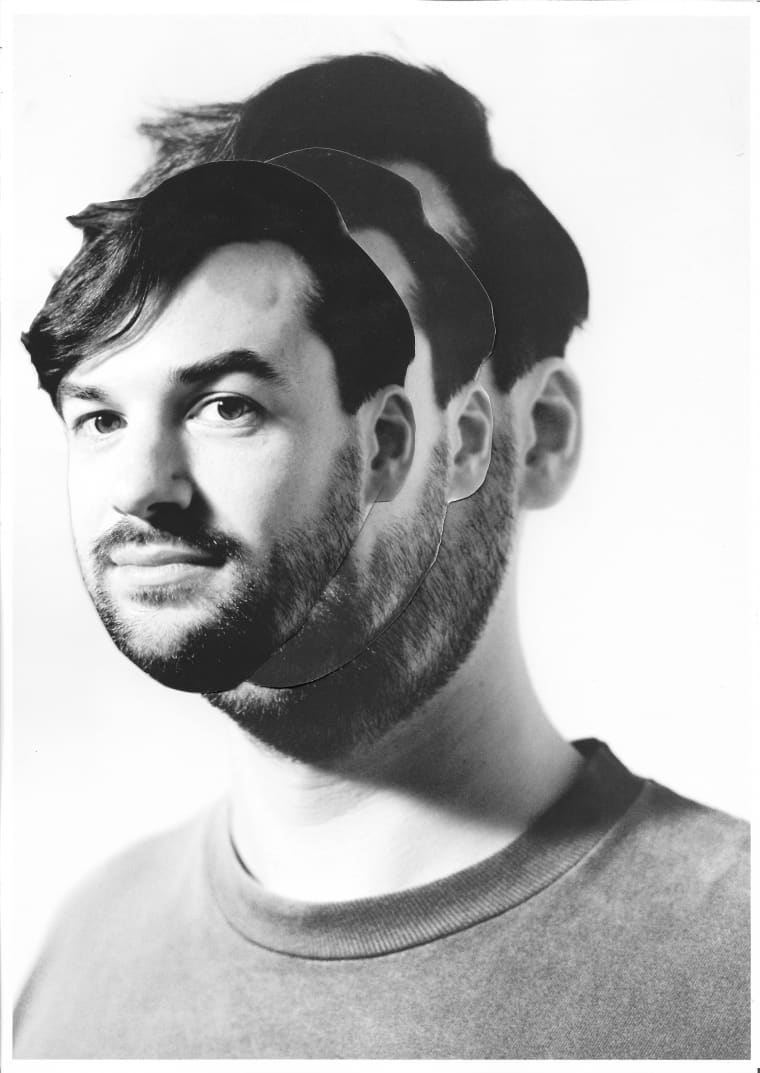 In conversation, Healy is impossibly likable and straight- forward, with a propensity to self-edit his thoughts in between spliff pulls. Face-to-face, his most outrageous-seeming statements on pop music and the world at large come across as bereft of bombast, his manner of speaking more closely mirroring the stream-of-conscious honesty he exudes on The 1975's albums than the brilliant-bullshit quotables offered by myriad British rock contemporaries past and present.
Nonetheless, he claims multiple times throughout our time together that he prefers on-camera interviews so the intent of his words isn't easily mistaken — as they were the last time we talked for The FADER, when comments he made on misogyny and its relation to hip-hop and rock music ("The reason misogyny doesn't happen in rock'n'roll anymore is because it's a vocabulary that existed for so long that it got weeded out...hip-hop's relationship with women hasn't caught up to its relationship with itself, but that's something that will happen") set off a minor online firestorm, quelled by a clarification from himself on Twitter.
"It's a tough pill to swallow," he concedes, "but if I was going to stand for something as an artist, and every time that had consequences I decided not to do it, that'd be pointless. I have to listen to people, and I always try to meet people with understanding." Regardless, Healy also has his suspicions regarding the endless echo chamber of online discourse, as well as what he terms the "keyboard warriors" of "cancel culture." "There has to be rules with this kind of shit, you know what I mean?...It feels like 90 percent of the time, cancel culture itself is far worse than the moral indiscretions of those that have been accused of something. What pisses me off is the removal of context."
The need for context has played a role in Healy's years- long spat with Las Vegas pop-rockers Imagine Dragons, whose massive hit "Radioactive" he slagged to Q in 2017 by referring to it as "nothingness." IG frontman Dan Reynolds fired back against Healy and other antagonists on various social media platforms, at one point writing that, "It's not the person that causes me the feelings of stress and depression, but what it does to the world we as a band have created."
"Don't fucking weaponize being depressed," Healy addresses Reynolds in absentia when I bring up the still-simmering beef. "Clinical depression and its ugliness has plagued my family before Twitter existed...I'm sure he struggles with mental health, but don't bring that into it."
I ask Healy if he's ever received a diagnosis for clinical depression. "I avoided it when I was younger," he admits, going on to describe how his mother (actress Denise Welch) underwent hormone replacement therapy to treat her depression while growing up. "Smoking weed has been a massive part of my life — it's been, like, my tool, which sounds really bad. But when I first started smoking weed, it was like this symphony in my head of every song I've ever written."
"I could've gotten diagnosed when I was younger, but I knew they were just going to tell me to stop smoking weed," he continues. "That wasn't an option, so I never did. It's as
simple as that."
When asked if he'd ever stop smoking weed for good, Healy is pragmatic despite his professed personal dependency. "I can't right at the moment, but I know I physically can," he explains. "When I have kids, I don't want to be blazing up in front of my kids all the time." Then, a brief grin flashes across his face: "Surely I have some license to be a cool dad, right?"
At the moment, though, fatherhood is the furthest thing from Healy's mind — he does have a record to finish, after all. Also, as is apropos for an artist whose work so constantly feels like it exists within this current moment, Healy has a hard time thinking too far ahead in general, which is certainly understandable. At one point during my time with the band, a Dirty Hit associate remarks to me that The 1975 are the type of band that tour until they get down time and then essentially go on vacation together — a charming fact reflecting their close-knit status, but also reflecting the reality that the band's perpetually upwards streak of success hasn't left for much else than continuing to scale the summit, in search of where the top might actually be.
Of course, nothing lasts forever. Part of what makes The 1975's music built to last is a sense of timelessness imbued even in an ultra-topical song like "Love It If We Made It" — power translated from pure passion — but it's hard not to wonder how a band that burns this brightly keeps its creative and functional flame from being extinguished. The question isn't just on Healy's mind, too: it's what continues to push him forward. "I just want to keep making records, and I'm excited because I don't know when I'm going to have this insanely creative period again," he exclaims, his energy slowly and finally fading from a long day of busyness and an accompanying migraine. "I've spent so much of my life thinking about the future and worrying about stuff. To say what you want — it's hard, isn't it?"
---
Hair by Yusuke Morioka at Coffin Inc using Bumble and Bumble, and Kim Rance. Make-up by Elaine Lynskey using MAC Cosmetics. Photographer assistant was Ivano Pagnussat. Styling assistants were Sofia Lai, Aurora Zaltieri and Mana Okabe. Hair assistant was Mirai Uejo.