Angel Olsen is beginning to see the light
Following a tumultuous end to her MY WOMAN tour, Angel Olsen is back with her fourth record All Mirrors, her most hopeful work yet.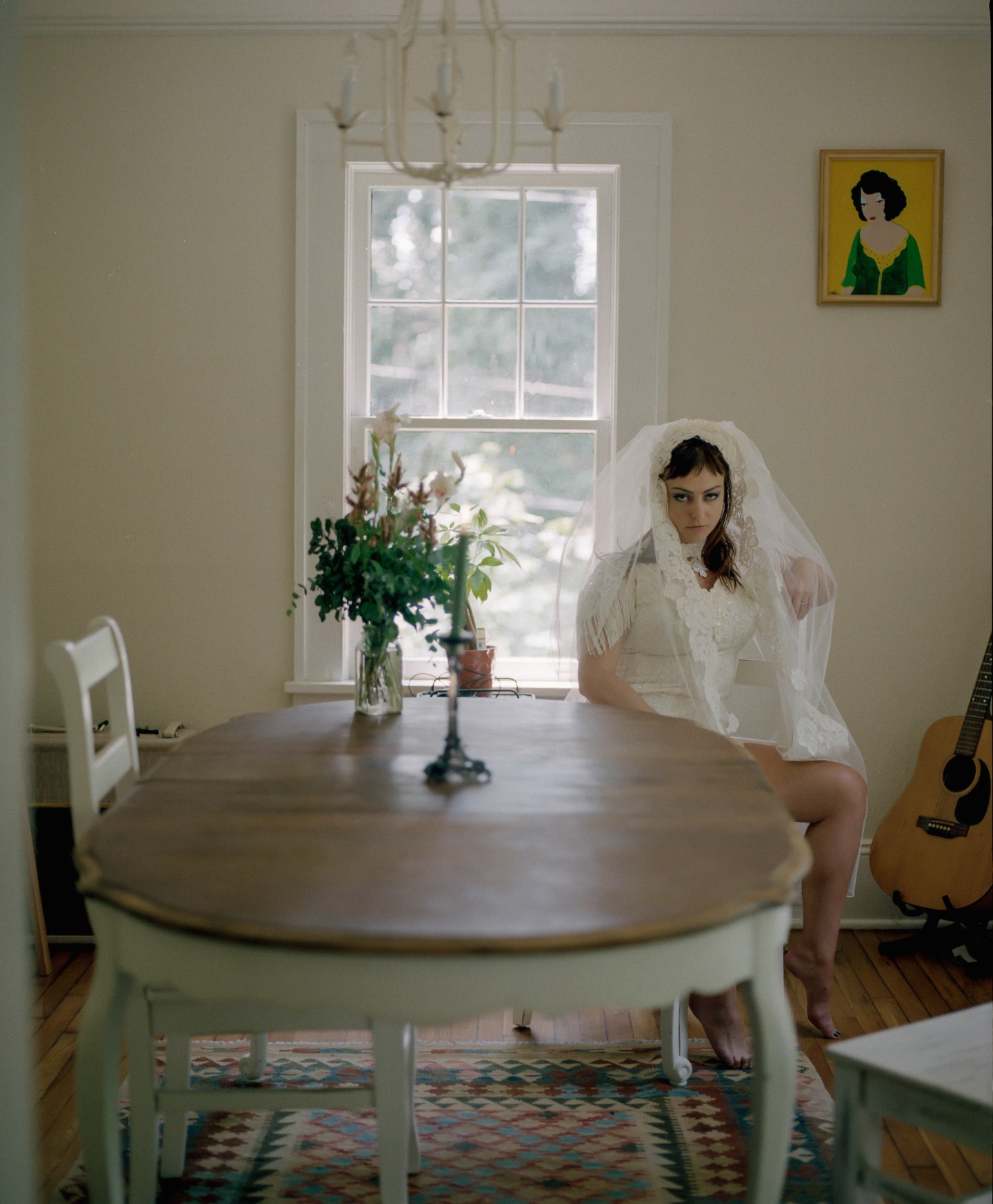 Angel Olsen's signature winged eyeliner is a bit smudged when she enters the Rainbo Club in Chicago.
"I'm so sorry," she says, apologizing for arriving nearly 30 minutes late. She very seriously explains that she has just woken up from a nap: She was catching up with a dear friend who, she tells me, has been going through a rough time. The conversation got intense. Wine happened. More wine happened. And then more wine happened. And then she threw up.
"I'm in my thirties," she says earnestly as I try not to laugh. "I never do that!"
Per her suggestion, we head somewhere else. The July air is oppressively hot and wet as we walk along a quiet residential street in the city's Wicker Park neighborhood — about ten minutes west is Humboldt Park, the rapidly gentrifying, historically Puerto Rican enclave where Olsen initially stayed when she lived in the city from 2006 to 2013. Chicago's a place that holds some intense and conflicting emotions for the St. Louis-born singer, songwriter, and guitarist. After settling on a picnic bench outside a coffee shop, she begins ranting about being cat-called nearly every day when she lived here, before acknowledging that it's also where she trauma-bonded over bed bugs with the aforementioned friend. "[I] went through so much shit here," she says, sighing.
Olsen relocated to Asheville, North Carolina in late 2013. She says the move was partially spurred by her conflicts with Chicago but, mostly, she was chasing someone with whom she fell in love. They eventually broke up, but Olsen stayed.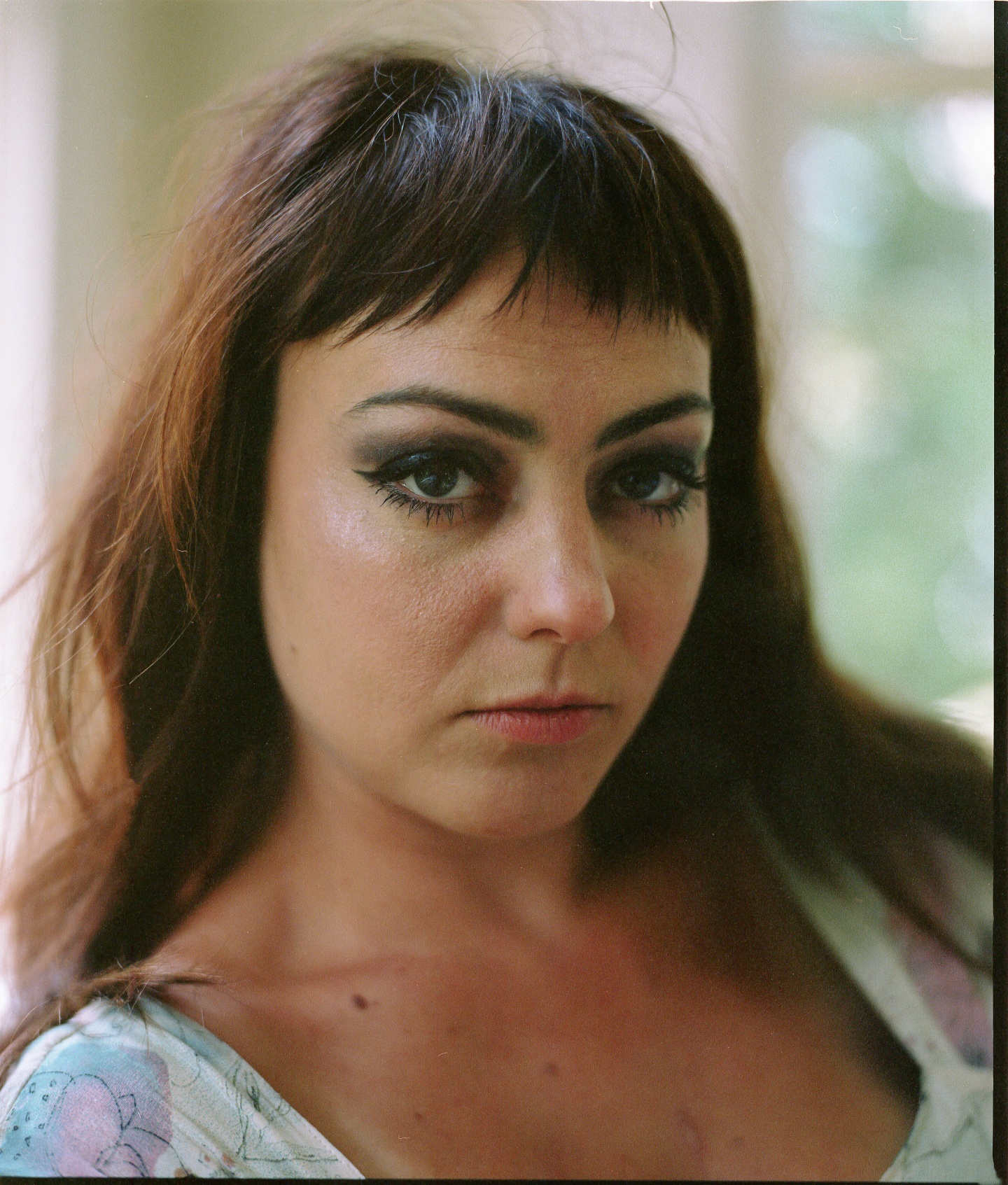 In the myth of Angel Olsen, Chicago is where her career began. With her early folk-country records, the now 32-year-old established herself as a writer who told stories of desire and heartbreak with the unjaded honesty of someone experiencing them for the first time. She had never taken vocal lessons (and still hasn't), but she had remarkable control over her instrument, capable of producing a trembling falsetto one moment and raw, jagged wails the next. Critics painted her as a lonesome, introverted storyteller. In a 2013 interview with Laura Snapes for Pitchfork, Olsen mocked the characterization as people "thinking about me crying in a room with a guitar…I'm capable of crazy — a lot of people are — but I'm OK."
Despite her constant pushbacks and clarifications, the association of her music with sadness became hard to separate. In fact, it was her ability to translate the prickly human heart with a wide-eyed sincerity that ultimately catapulted Olsen to indie rock stardom. Following the 2016 release of her critically acclaimed third record, MY WOMAN, Olsen played Barcelona's Primavera Sound. Her subsequent solo tour brought her as far east as Istanbul, and earlier this year, she collaborated with pop titan Mark Ronson. Now, Olsen is preparing to release her fourth record, All Mirrors — of which she'll release two versions. The first, out on October 4 via Jagjaguwar, is the bolder, full-band side of the songs, its freewheeling conception made possible only after Olsen had recorded a bare-bones, solo guitar version. Scrapping her original idea to release the two projects side-by-side, Olsen wrote in the project's accompanying artist statement that she needed to first share All Mirrors "in its heaviest form." Next year, she will release the solo record. Together, they're the hard-earned result of someone who's finally come to terms with the extreme personal nature of their work, and has decided to lean headfirst into it.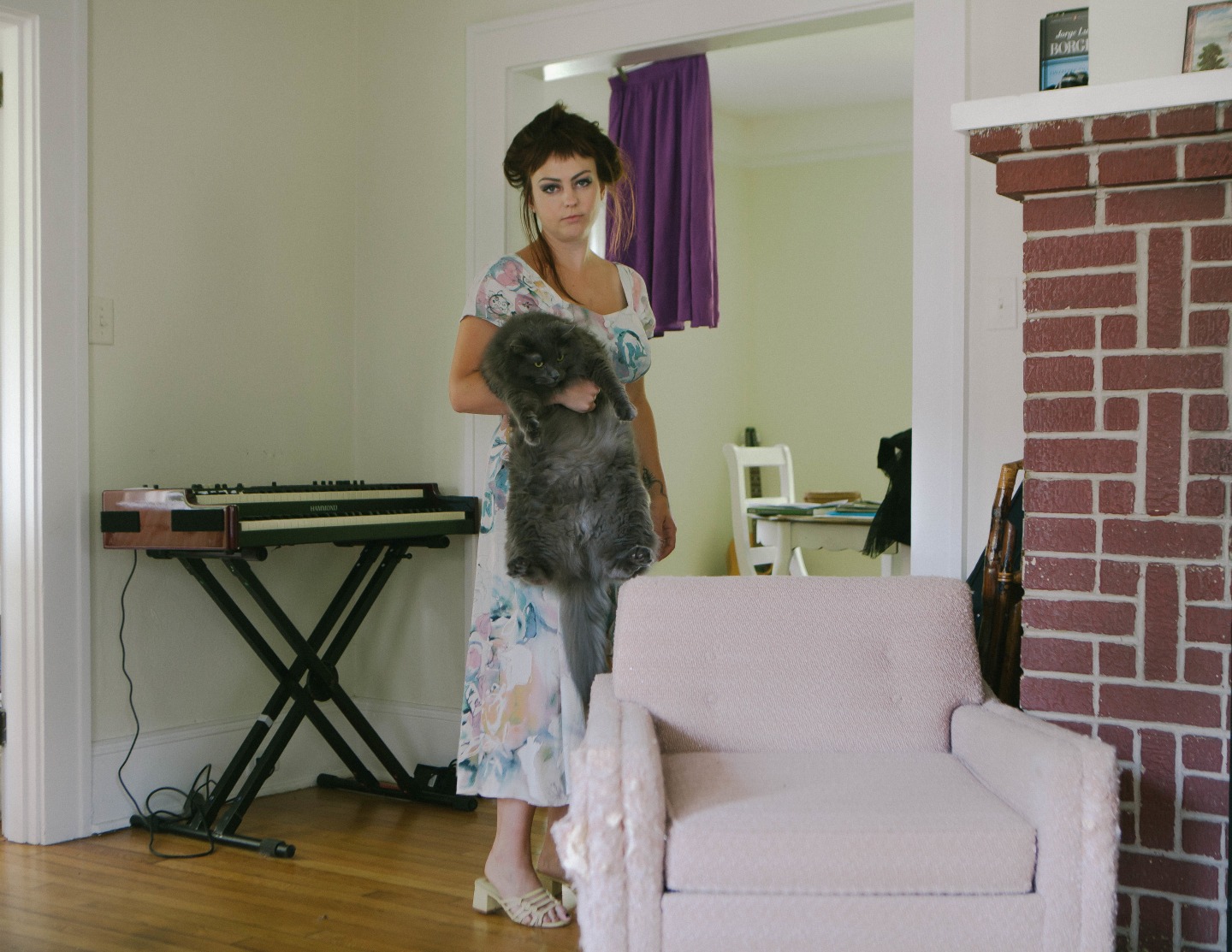 Back at the coffee shop, Olsen watches amusingly as a woman in high heels zooms by us on an E-scooter. If in the past she despaired at the thought of her crying in a room to write songs, she now offers a more diplomatic outlook on her current position: "A friend was like, Some people who can take the shit get dealt the shit. You might be one of those people. You're just gonna have to take shit and turn it into gold. That just might be your lot in life," she says. "Alright. I guess it's not that bad."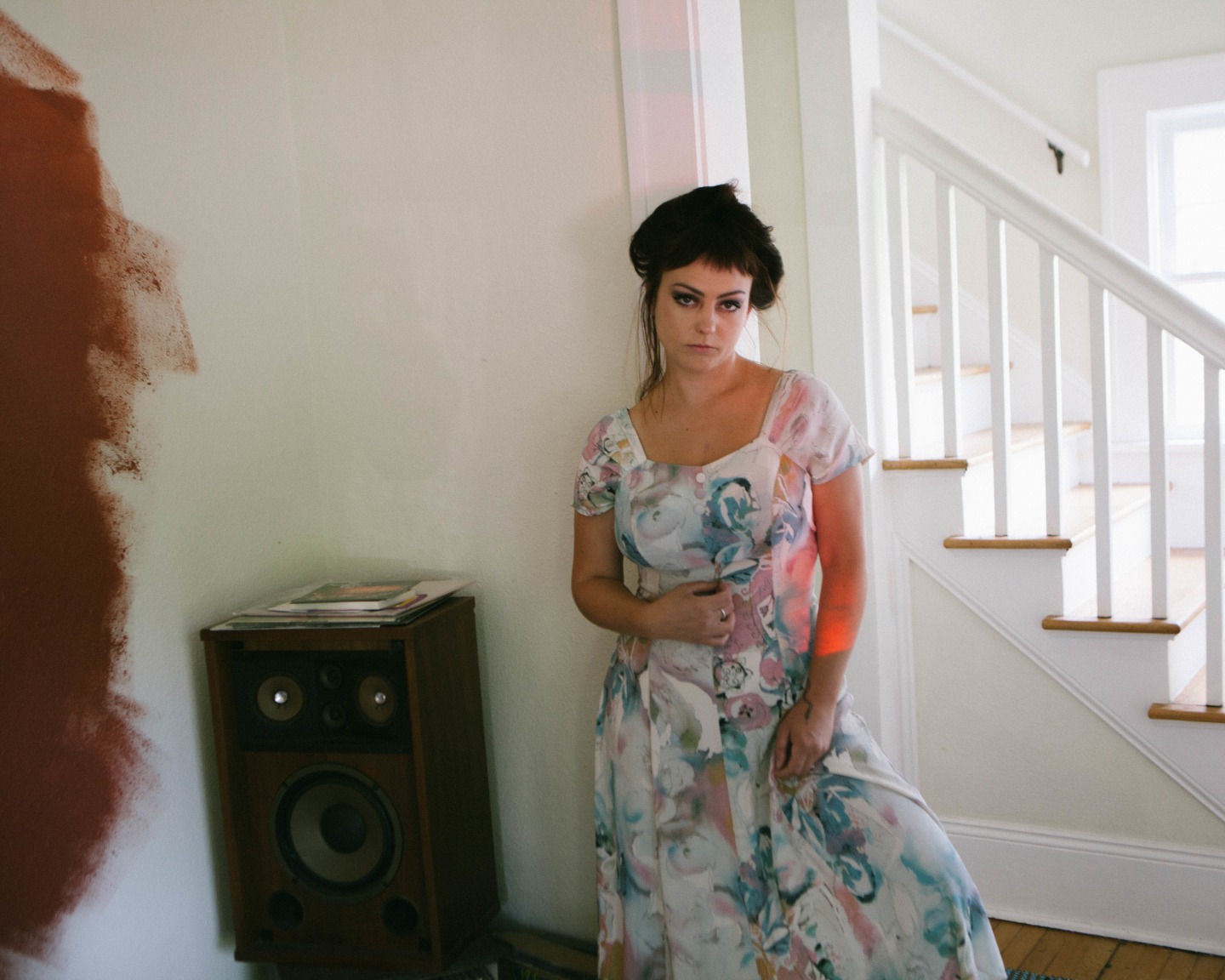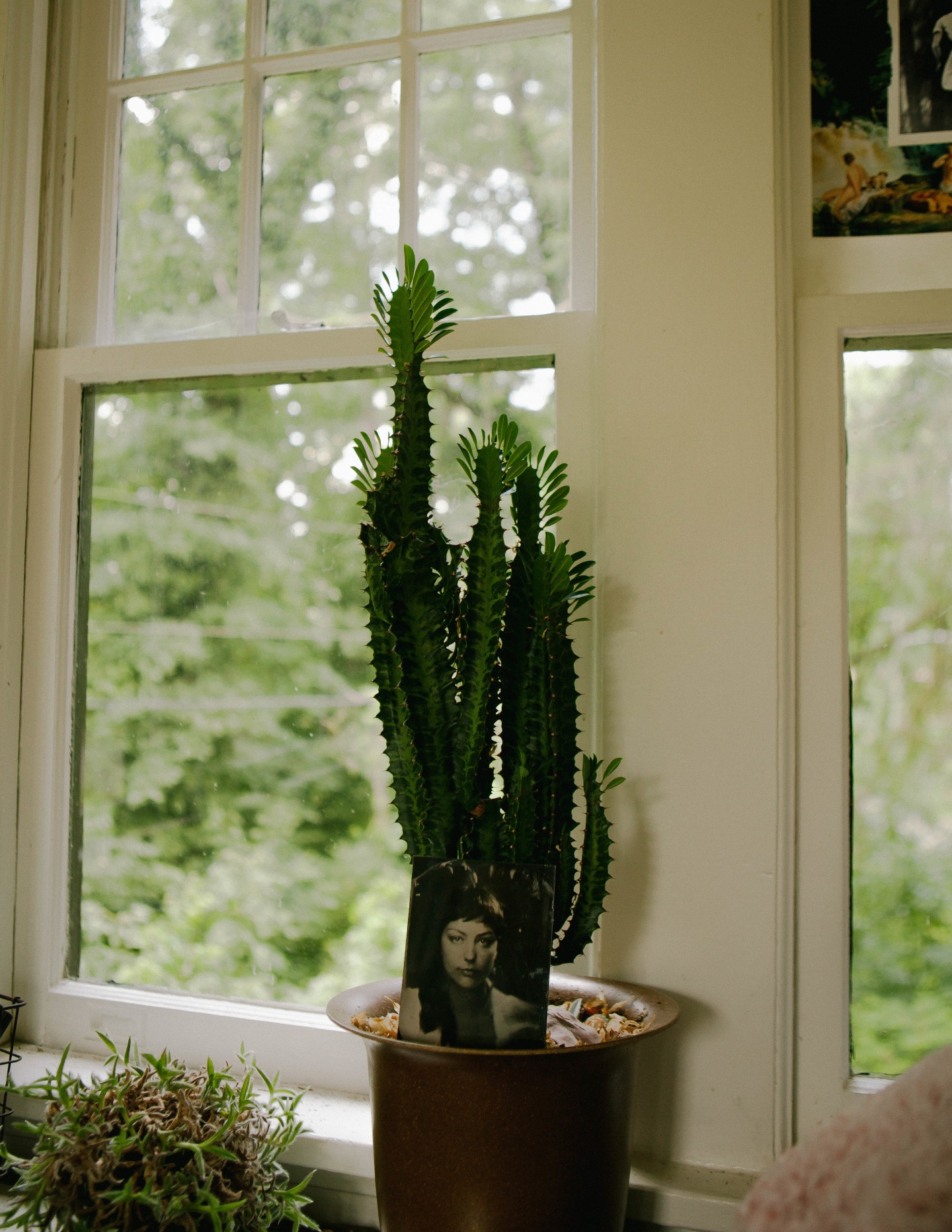 The story of Angel Olsen begins in St. Louis, where she was born on January 22, 1987, then adopted as a toddler by her foster parents. Both were nurse assistants, though her father also put in hours at the city's Chrysler offices. She grew up in a Victorian house in the small inner-ring suburb of Maplewood as the youngest of eight children (many of her siblings were already adults with families and homes of their own) and began singing and experimenting with a tape recorder when she was 10. They were poor, she remembers, and home was a "pretty weird environment, but I was so loved and so cared for that I forget sometimes that I was adopted."
In high school, Olsen became a goth. "Smoked clove cigarettes, listened to the Magnetic Fields, and obsessed about death, you know," she says, rolling her eyes. As a teen, she used a pager to meet up with friends, frequently at DIY venues across the city. She fondly recalls the Creepy Crawl, a "sketchy" all-ages club in downtown St. Louis that charged five dollars for a punk show.
Trauma struck when she was 16. One of her best friends — who had been diagnosed with schizophrenia — died. "He took one drop of acid and he just...over those next few years...completely…," she trails off, seeming too uncomfortable to elaborate. "It was like watching someone dying slowly, in increments. That is worse in some ways, because you get obsessed with trying to fix them. I really thought I would do something in mental illness, go to school for helping people with that. But then I fell in love with music."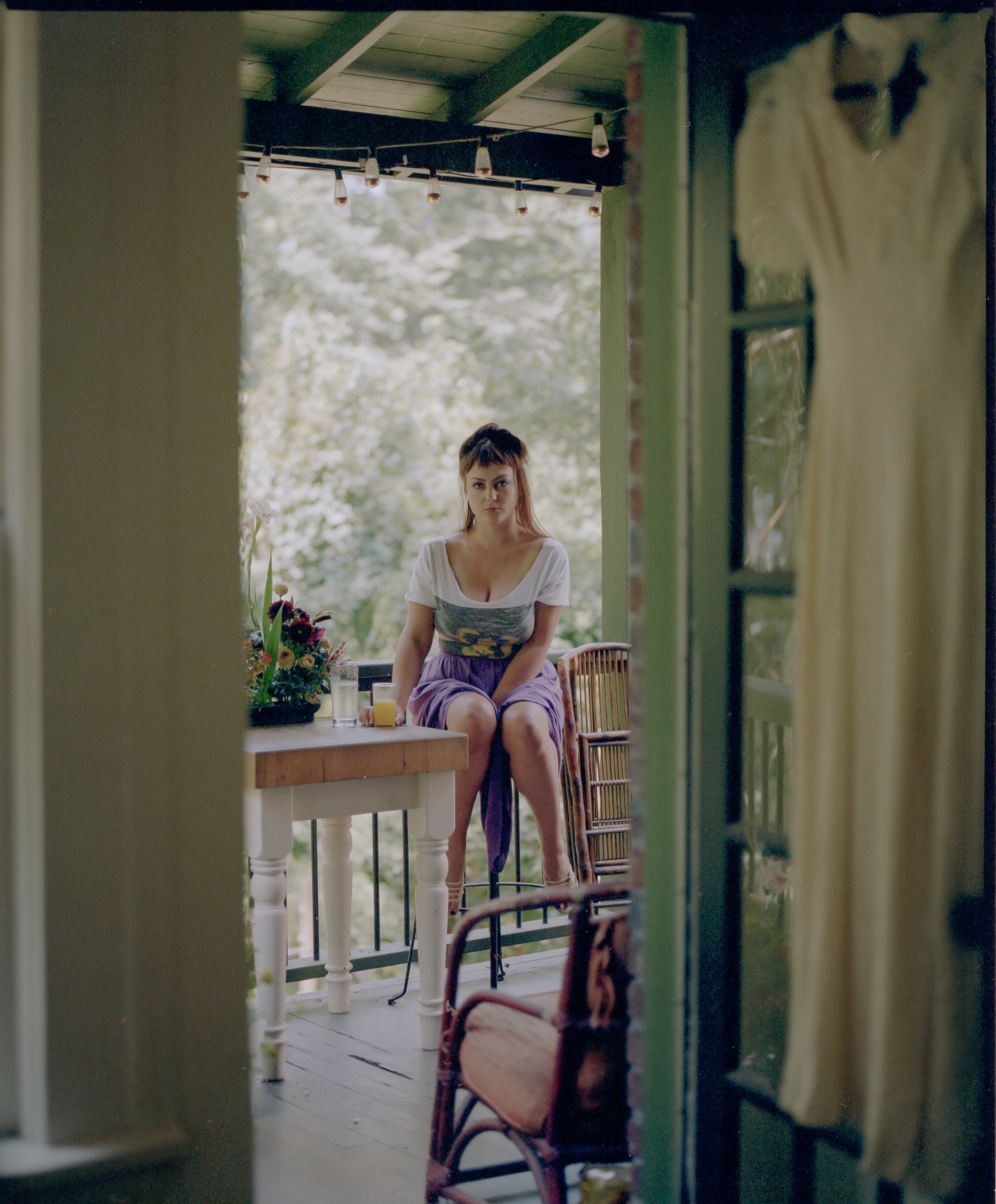 She dropped out of high school, got her GED, and, when she turned 20, moved to Chicago. After a brief stint at massage therapy school, she took a job at a café and fell in with the city's DIY music scene. Eventually, she met fellow folk musician Emmett Kelly, of the Cairo Gang, who sent her music to Will Oldham, better known as Bonnie "Prince" Billy. Oldham offered her a gig singing for his cover band, The Babblers. "I have high standards," Oldham says in a phone call a few weeks after my meeting with Olsen. "When I heard her sing, it was as good as I needed it to be. Which is to say it was excellent."
During the two years she spent on the road with him, she gained the confidence to step out on her own. "I wanted to be someone who could do all the things that Will was doing or perform at these kinds of festivals that were really fun," she remembers. "I felt really competitive; it would push me to get out there and share with people."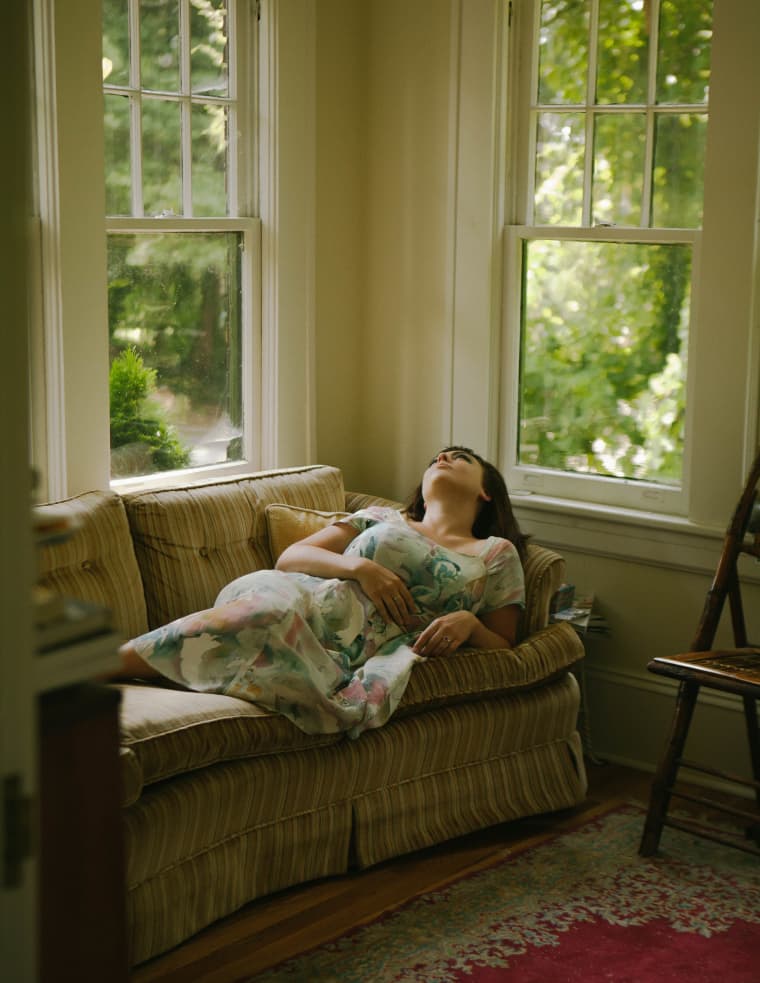 Her first release, Strange Cacti, recorded in her Chicago apartment, arrived on cassette in 2010, a spare landscape of Olsen's through-the-smoke vocals and guitar. Two years later, she expanded upon that raw outline and delivered her debut full-length, Half Way Home, a more fully realized collection of songs that saw her singing about death and disappearing with an intimacy that felt urgent. Critics took notice, and soon enough, she was touring the U.S. and Europe.
"I had managers, labels, everybody at my fucking doorstep," she says of the time with genuine disbelief. "I didn't even know there was an audience listening to my music."
Burn Your Fire for No Witness, which she released on indie-label Jagjaguwar in 2014, was Olsen's breakout record. It opens with the moody "Unfucktheworld," where her unruly vibrato sketches the project's overarching theme: "I am the only one now." Co-produced by John Congleton and bolstered by a full band, this rowdy, wild ode to defiant self-sufficiency earned Olsen the esteemed Best New Music designation from Pitchfork and her first TV performance on Letterman. It raised her to mystic cult status — a singer that could turn loneliness into something to be desired. In 2016, she released MY WOMAN, which suggested a stylistic evolution with its poppy love-hurt songs and enveloping synths. To those watching, it seemed like she was at the peak of her career.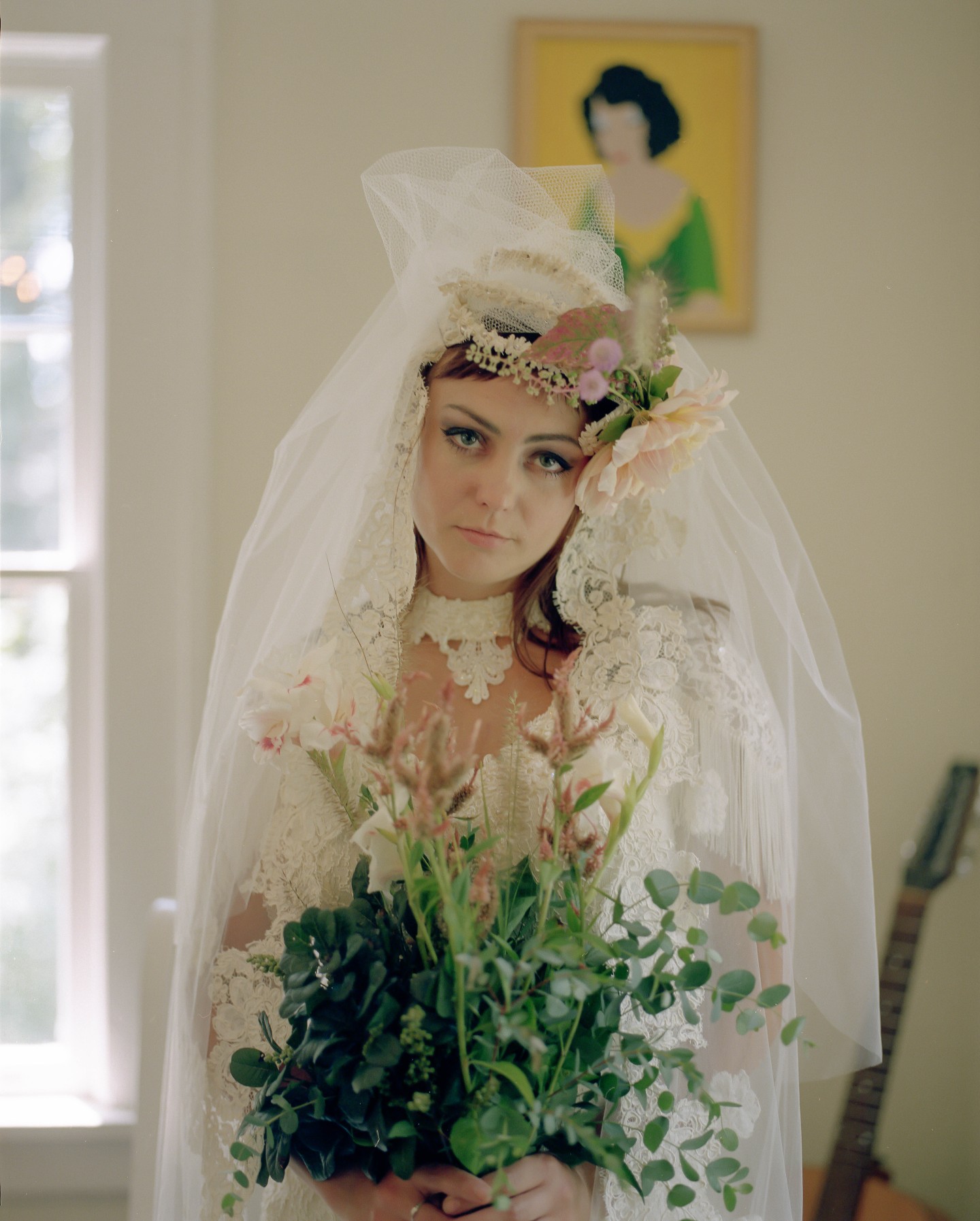 But Olsen was having a tough time. Midway through the MY WOMAN tour, she says she went through a "divorce," though she was never married. "I was losing weight, drinking a lot," she says. "They just saw me become this person that was lost," she says of her tour mates and label. "It was fucking embarrassing." She apologizes for the expletive, going on to say that she began to feel isolated from the people around her.
"No one in my life would ever think to ask me, 'Hey, are you OK?,'" she says, touching my arm. "Because a famous musician has everything, right? They just have everyone loving them and seeing them. But that's not true."
In March 2018, Olsen put the band on hiatus and embarked on her first of three solo tours, during which she revisited material from her Strange Cacti and Half Way Home days. When it came time to think about her next album, she turned to their raw, grassroots approach for inspiration: "Making [All Mirrors], I was like, Man, I just wanna go back to the way it was."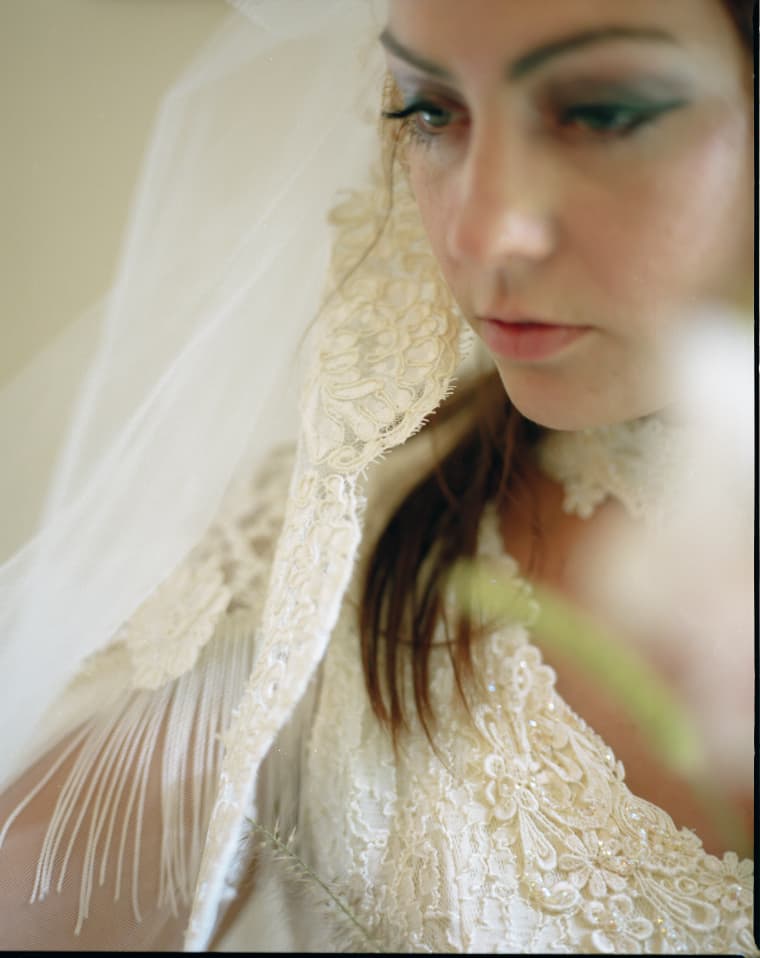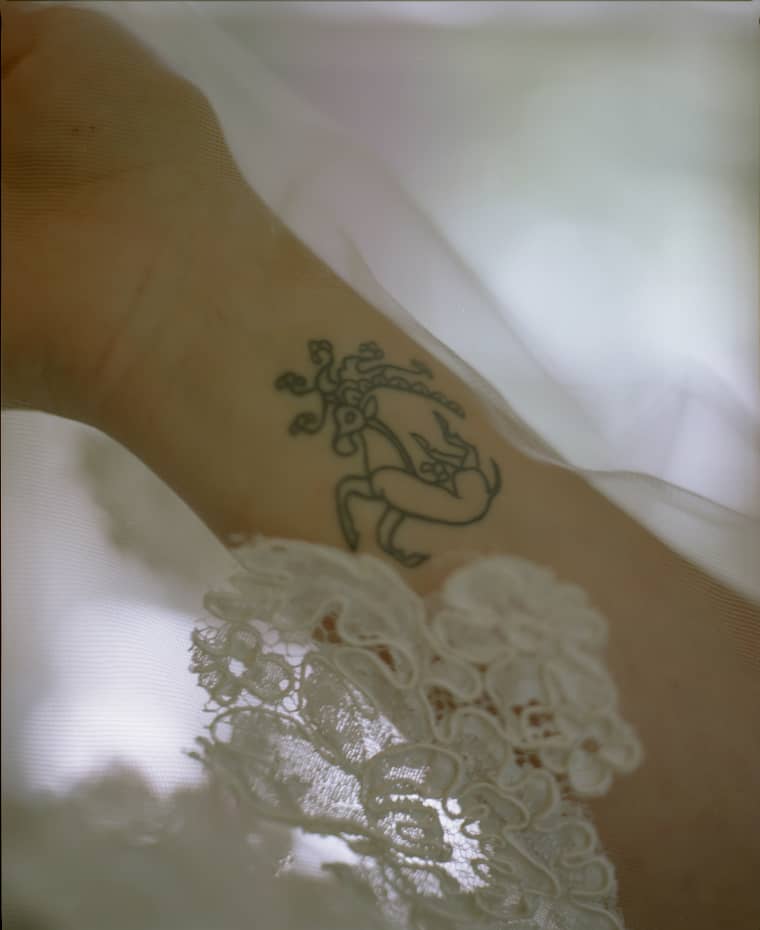 Back at the coffee shop the next morning, Olsen is distracted and stressed out. She had to do a last-minute phone interview with an Italian journalist before our meeting, and it's looking like our planned trip to the Art Institute of Chicago isn't going to pan out. Instead, we're going shopping for clothes for a video shoot the day after tomorrow, though she isn't allowed to tell me anything about it. I feel bad; her trip to Chicago was originally supposed to be a personal one to see old friends. Now it has been ambushed by phone interviews, this music video, and me.
At the immaculately curated vintage wares of store B, we browse in near-silence; Olsen spends most of the time in the dressing room or on the phone with someone, talking about "long, dark dresses I can run in." In the end, she purchases a couple of beige slip dresses and a black, sparkly sweetheart-neck corset top. She raises her phone to show me a photo of the skirt she's hoping to pair with it. It's black and long and falls in cascading, uneven layers. It's dramatic, and it looks extremely fun to run in.
After Olsen recorded the original version of All Mirrors in Anacortes, Washington, she used the full-band sessions to run wild. "Since I made the solo version of it, anything could happen," she says. Co-produced by John Congleton with arrangements from Jherek Bischoff and Ben Babbitt, it wanders forcefully into the sepia-soaked rhythms of bygone eras, aided by a cinematic 11-person string orchestra. It sounds huge, and Olsen wrangles her voice into the shape of a wise protagonist, wandering through different long-gone movie sets.

"I'm not saying I'm a celebrity necessarily, but people do have tattoos of my face on their body, so I have the right to say that. Especially in like, a text meme to my friends." —Angel Olsen
On the ballad, "Spring," Olsen acknowledges the futility of searching for meaning over gently warped piano: "Wow, time has revealed how little we know us," she sings, sounding content with all that remains unknown. Four tracks later comes "Summer," a cowboy song with a galloping hook that makes me imagine Olsen riding her horse blissfully over sandy plains to greet a new frontier. Elsewhere, the strings seem to inhabit characters of their own, like the swarm-of frenzied-bees-sounding moments on "What It Is," a jaunty number that calls out the problematic actions of a former lover.
In many ways, it feels like her voice has always belonged inside the emotive swings of a string orchestra, the trembles of the cello adding an extra twinge to the heart with every word she sings. And across All Mirror's 11 tracks, there are moments where the production and Olsen's message converge into a singular swirl of hope and optimism. At one point, mid-album slow-burner "Tonight" collapses into unrelenting waves of instrumentation that feel almost unbearable. It is Olsen's favorite song.
"'Tonight' is like, I'm not upset anymore at you, and I realized I don't need you, and it's not because I don't love you, I just don't have time to explain myself," Olsen reveals. "I'm happy, and it's great. Who knew I would be happy? Not me."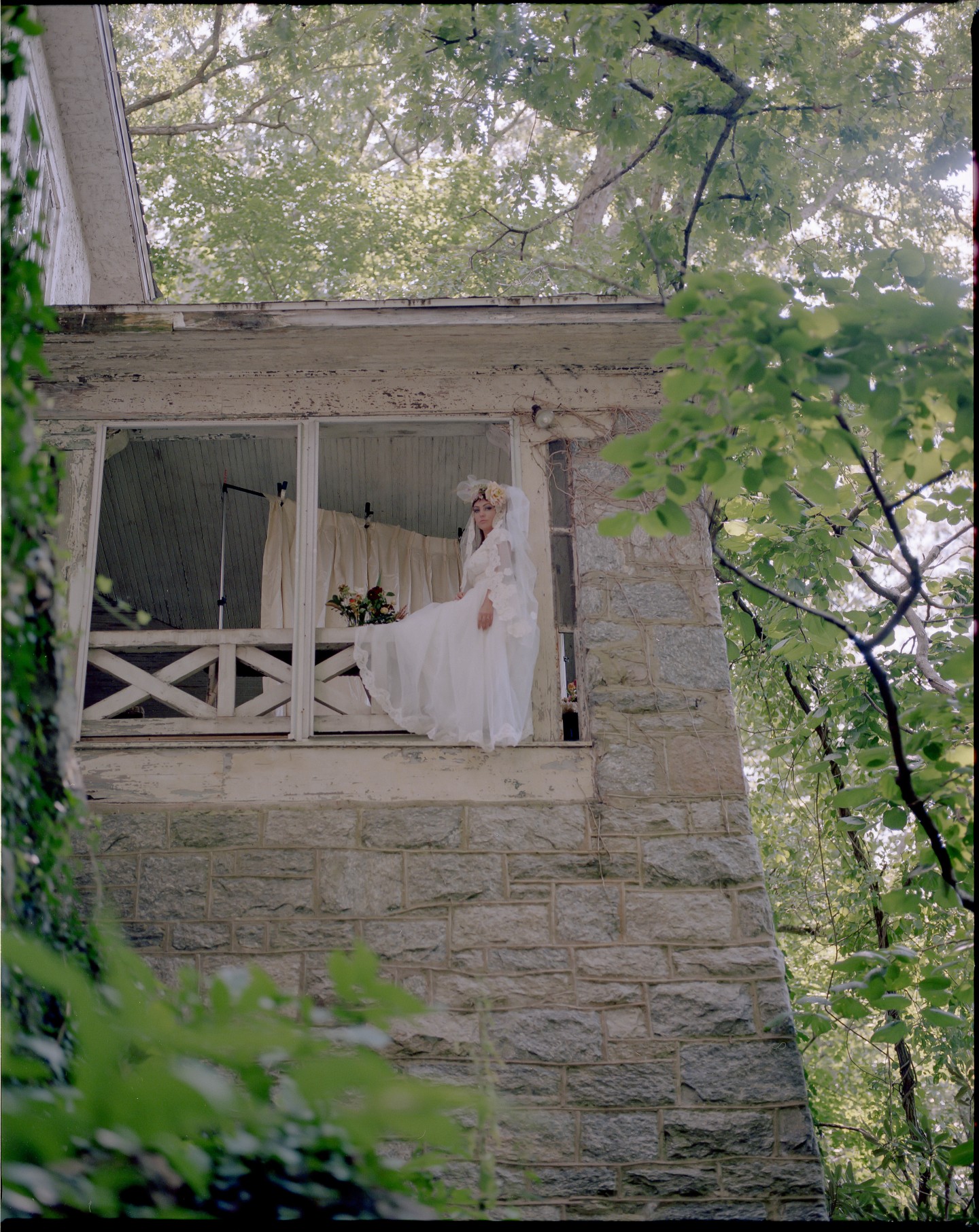 Olsen is hungry, so we head across the street to one of those Asian fusion restaurants that sell sushi burritos and Korean horchata. She apologizes — she typically doesn't eat breakfast and likens her eating habits to intermittent fasting. "I just can't be eating all the time," she says of her schedule.
The stress of the day seems to be getting to her; she's become quieter and shorter with her responses, and I'm reminded of her complicated relationship with the press, one due in no small part to her annoyance with sexist questions. Today, she updates me with the most recent kicker, from her European press tour for this album: "Do you consider yourself vain?" (Because the album is titled All Mirrors.) When I ask if she's ever considered putting an end to interviews entirely, she rejects the idea. She's happy to talk about her work, and when it comes to those questions, she's learned to not let them bother her so much. "[They're] not going to get a reaction out of me, not like that," she says.
She's also found her own pockets of image-shaping agency by communicating with the outside with a certain clever self-awareness. In response to a recent gushy Instagram comment that began with, "I recently discovered you through mark ronson," Olsen replied, cheekily, "I recently discovered me through him as well."
As we wait for our food, she perks up as she tells me a bit about the book she's reading now, Austrian art historian Ernst Gombrich's A Little History Of The World. She describes it as a "1930s history for idiots," and she's recently found herself wanting to learn more about the world, perhaps spurred on by touring, or simply existing — or maybe just newfound confidence.
"I'm not worried about breaking out anymore," she says. "I already did that in my mind. I don't need to play Primavera Sound every year and play the best slot at every festival. I just wanna keep making music. I feel a little bit more fulfilled by other things now, and it doesn't entirely depend on being accepted as a famous musician."
When I ask her what she sees herself doing in 10, 15 years, she says she'd like to write a memoir, or maybe a chapbook, or start an artist's residency in Asheville, or get into video editing ("I love editing in general, telling [people] what they can do to embrace certain parts of [their art].") Mostly, she wants to be home more — "Because I do have a community of people who know me and love me outside of music," she says with a grin. "We joke about how dumb 'Angel Olsen' is sometimes. I'll send photos to people of people getting my face tattooed on their arm… I'm not saying I'm a celebrity necessarily, but people do have tattoos of my face on their body, so I have the right to say that. Especially in like, a text meme to my friends."

Last summer, she realized another dream of hers: She bought a house in Asheville. Before we leave the restaurant, she tells me a somewhat winding but beautiful story about it.
It wasn't supposed to be the one where she currently lives. Her original dream house was one she found when she couldn't actually afford to buy a house. It had a beautiful creative room in the attic with big windows and built-in bookshelves. "I was like, This could be my writing room," she says. "I obsessed over this house." With no money to buy it, she eventually forgot about it.
Three years later, she went to look at a house that happened to be directly across the street and bought it.
"Now, every day when I leave my house, I look at my dream house," she says. "And that's all I needed. I needed it to be something that existed in my mind as a dream house, and it's so symbolic for me. As you get older, you romanticize narratives about the people in your mind, about the people you love, why you're close to certain people, like, It's so sweet we both loved poetry. And the people that are often there for you at the end of your life are just the people that show up. That's how I feel about my house."
She pauses for a moment.
"It's real! I'm not lying."