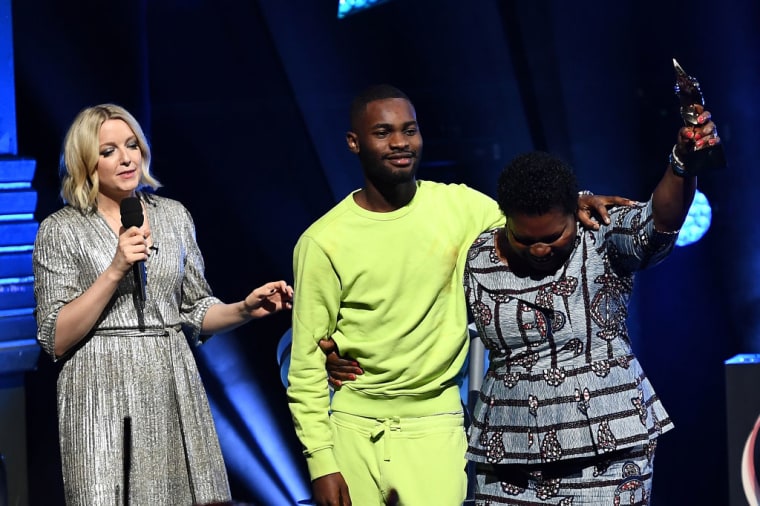 U.K. Rapper Dave was in a humble mood after picking up the 2019 Mercury Prize on Thursday evening. He won the annual prize, handed to one outstanding British album, for his debut Psychodrama.
Dave, who also appears in the new season of Top Boy on Netflix, told reporters in a press conference held after the ceremony that hearing his name being called was "surreal" and "a massive honor." He took time to praise the people he works with on a day-to-day basis, saying: "A lot of people devote their lives to me and what I do.It means the most to be able to repay that faith."
During his acceptance speech, Dave brought his mom to the stage. Speaking afterwards he proudly said that the win marked "the best day of my mom's life."
Dave won this year's Mercury Prize ahead of fellow nominees including Slowthai, Little Simz, The 1975, and Cate Le Bon. "I never expected to win," he admitted, clutching his trophy. "There's so many talented artists and so it's the biggest compliment. This is an award that's all about the music. Now it's time to prove I can do it again and again."
Talking about how he plans to move forwards, Dave stressed the importance of musicianship. He self-produced Psychodrama alongside co-producer Fraser T Smith. "I'm practising, trying to get on the level of some of these people on stage tonight," the rapper said. "People who can play guitar and sing at the same time. Little Simz rapping and playing piano. It's nuts. I'm always looking forward and trying to improve."
Dave performed "Psycho" from his album during the Mercury Prize ceremony. Check that out below.