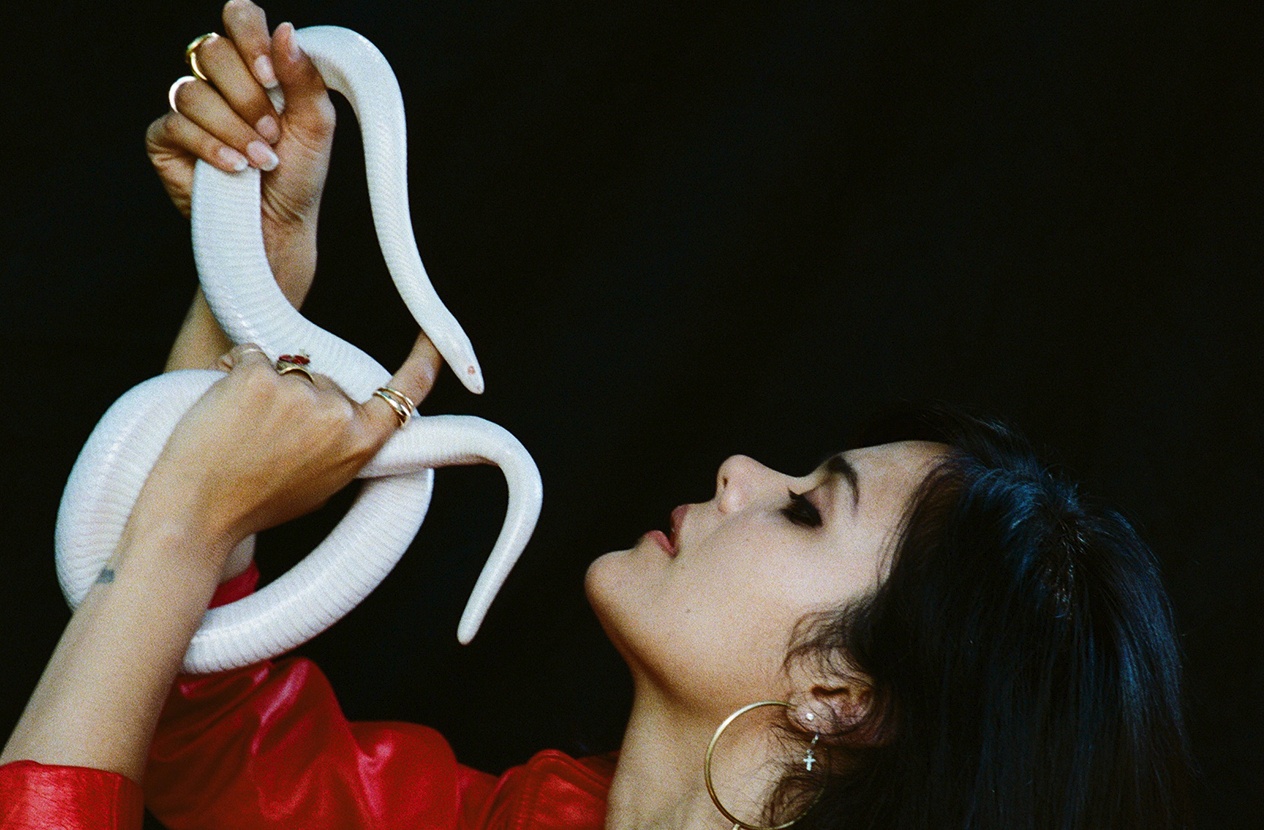 Natasha Khan is glowing. The California sun has bronzed her cheeks and button nose, there's new horizons sparkling in her eyes, and it's more than just the morning light illuminating the FaceTime display. Bat for Lashes is lit up with love, and it suits her.
The first time I interviewed Khan was for her FADER cover back in 2009. I boarded a train from London to blustery Brighton, where she kept an apartment by the sea. Khan was weeks away from turning 30 and about to release her second record, Two Suns, a collection that sniffed at the mere notion of a sophomore slump. From love-torn torch tunes ("Sad Eyes," "Laura"), to primal grooves (her Sexwitch collaboration with British rockers TOY), to the cinematic sweep of recent single "Kids in the Dark", Khan's back catalogue is rich with meticulously conceived offerings where the delicious feminine is always pushed to the fore.
But three years ago, Khan found herself at a crossroads. Her four-album Parlophone contract fulfilled, the Pakistani-English singer was free, and the West Coast came calling. "A lot of the creative people had drained out of London, and I noticed a lot of people from New York had moved to LA — there was this community building," she explains of her move. "I felt like a big life change and some new inspiration." Once she got there, Khan dedicated herself to other disciplines such as film, painting, and directing and scoring the Margaret Qualley-starring short Light Beings — as well as developing the script for her "vampire-y dark love story" Lost Girls. She also taught twice a week at LA's Design and Media Academy.
But she also leant back and let life happen. For the first time ever, music took a backseat, as Khan found a cosy spot with a backyard in Highland Park where draping bougainvillea blooms magenta on street corners and sunsets stain the sky peach. Romantic relationships formed and fragmented; she fell in love again and she adopted a tawny rescue mutt with a dark brown muzzle called Janice. "I didn't name her, but I kept it because I think it's a great dog name!" she laughs.

Last year, JJ Abrams' production company Bad Robot approached Khan to contribute a song to their Stephen King series Castle Rock. After meeting the show's music supervisor Charles Scott IV, the pair wrote "Kids in the Dark," in just one day, and from there their collaboration continued to evolve. "As always, the music just comes along and takes over," she says. "I'd found my partner in crime."
Bonding over a love of horror films and '80s music and movies, their songs became Bat for Lashes' latest album Lost Girls. A collection centered around Nikki Pink and a sandy-haired boy she meets on an internet forum, the fictional pair investigate small towns that are being terrorized by a mysterious gang of biker girls. "What Nikki doesn't realize is these girls are subconsciously summoning her to this town because they want to take her in and make her the head witch," explains Khan. "It's a metaphor for me meeting someone and falling in love with someone who's great, but needing to integrate these personalities and female aspects of myself that range from very dark to very light."
Khan has always glided through an emotional dreamworld: pristine vocals yoked with nostalgia-pop synths, songs populated by a varied cast of characters, dark, filmic visuals. Whether donning a blonde wig and exploring her divided self circa Two Suns or going full-on conceptual for her fourth album The Bride, Khan peels back her own layers by wrapping them in new mythologies — creating worlds that say as much about her present self as they do her deeper desires and imagined adventures.

"A lot of the songs are very emotional and come from my own experiences, but they're all in this universe because I like to locate them somewhere in my psyche and give them a home," Khan explains. "It's like David Bowie and Ziggy Stardust. Nikki is fleshed out by me, but within the construct of her I'm able to explore more poetic ideas."

Last time we talked in 2016, you said you were yearning for a sense of balance where you were less obsessively dedicated to work. Have you achieved that?
I was like, I'm not going to make music, I'm going to rescue a puppy, have a nice boyfriend, cook, but obviously I just have to do creative things. I wanted to focus on writing, painting, and taking desert trips, but that served to fill the cauldron of inspiration. It was bubbling away, and that's what made Lost Girls so effortless and easy — it was popping out because I was almost not wanting it to.
Through this whole process I've managed to hold down a relationship, go for walks with my dog, and have a community of friends. But I've also made work, and I'm making work. Touring is the biggest thing that takes you away, which I've yet to deal with. But up until this point it's been a symbiotic relationship between creativity and life.

You didn't really tour behind The Bride.
I don't really want to tour because it takes me away from making stuff. For me, the joy is in the creation of bodies of work. I want to get better at painting and writing scripts — or at least collaborate with someone on a script that's great. There's horror films I'd like to make soundtracks to. I want to make a baby! I want to make shit! I don't want to trawl it around for 10 months. The only thing I'm not making is money because I'm not doing the fucking touring! [Laughs] That's hard, trying to balance out living in the world and being responsible. But I've got lots to do, and I've got to do it.

"Desert Man" really gets me in the gut.
It's an obvious reference to the landscape, but also about being in a relationship with someone who doesn't feel a sense of home — that romance about the nomadic wild guy and how difficult it is to penetrate people that don't want to be. It was one of the earlier songs where I was using the landscape as a metaphor for these stark people, empty promises, and vast distances. In love, it's not the real thing.

Did you ever consider yourself ambitious?
Definitely. I was ambitious to be successful, but not for the sake of success. I wanted to professionally make things. If you stop being ambitious or having a desire for things, you die out. The desires I have now are different, but they're still passionate. You definitely change your perspective with age, and I think that's right.

Crazy that it was 10 years ago that we first met.
You don't look any different.
It's happening. But also: you look the same.
Pfft! I'm seeing the changes.
We're all seeing the changes in ourselves that others can't see.

I feel bad that people don't like themselves because they're getting older. It's bullshit that society makes you feel like that. Georgia O'Keefe, Patti Smith, Pina Bausch, Tilda Swinton — there's all these amazing, beautiful women in their 50s and 60s and they're so beautiful. The transition time is hard.

Around the late 30s it feels like decisions carry a kind of permanence — doors are closing, even as our perspective and desires shift and other doors open. It's hard to…
…let go. I completely get it. And the power that you had is different. Your looks and the confidence you feel in your 20s, that you took for granted. Now I feel like I'm not as powerful visually, but I'm getting more powerful spiritually and creatively. It's a revolving door instead of a closing one. There's a dynamic shift in what I use as power now.
What do you use as power now?
Creativity is my power, and I still have that. It's sad to admit, but in our visual world there's a lot of power connected to youth, beauty, and vibrancy. My beauty might not always be on the surface, but in the essence of who I am. When someone walks in the room, if they have this incredible presence they can be attractive to everyone there. Before, I was attractive because I was young, but now in questioning my attractiveness, I'm trying not to let it make me feel under-confident. I do feel beautiful, but it's not always going to be that way, and I want to know that my essence is really robust and beautiful. I love myself enough that it will be my attractiveness and my power.
It's hard to talk about these things because it's not really mentioned that much — your 30s or 40s, how difficult it can be in the world we live in. We all feel like we're supposed to be these badasses — we're feminists and we don't care about that stuff — but it's not true. It's a vulnerable time, and an opportunity to realize that there are cycles and to understand that with a death there comes grieving of a certain identity of who you were. How do I deepen my experience rather than freaking out and feeling less than something I was? It's not less than — it's just different.