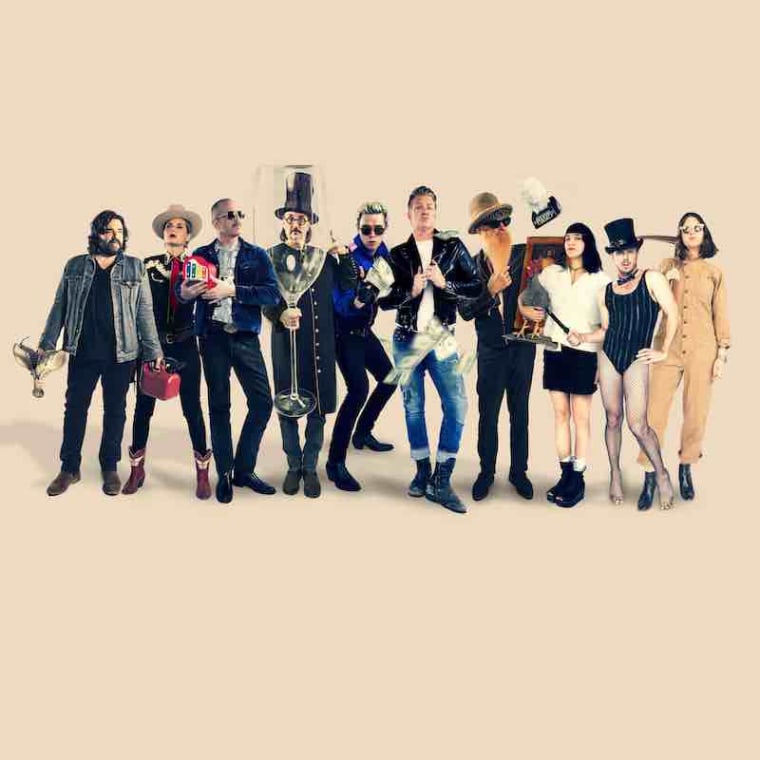 Queens of the Stone Age frontman Josh Homme has announced that the first Desert Sessions albums since 2003 will be released next month. Two albums, titled Arrivederci Despair and Tightwads & Nitwits & Critics & Heels, will be available via Matador Records from October 25.
The albums, Vols. 11 and 12 in the long-running collaborative series, feature contributions from ZZ Top's Billy Gibbons, Jake Shears of Scissor Sisters, Warpaint drummer Stella Mozgawa, and Royal Blood's Mike Kerr among others. Comedy actor, and musician, Matt Berry appears on a track titled "Chic Tweetz."
There are eight tracks in total across the two albums, which will be available digitally and as a limited edition first vinyl pressing including a one of a kind custom mix and match body swap booklet.
Tracklist for Desert Sessions Vols. 11 & 12:
"Move Together" (lead vocal: Billy F. Gibbons)
"Noses in Roses, Forever" (lead vocal: Joshua Homme)
"Far East for the Trees"
"If You Run" (lead vocal: Libby Grace)
"Crucifire" (lead vocal: Mike Kerr)
"Chic Tweetz" (vocals: Töôrnst Hülpft, Matt Berry)
"Something You Can't See" (lead vocal: Jake Shears)
"Easier Said Than Done" (lead vocal: Joshua Homme)
Listen to The FADER's weekly playlist of songs you need in your life