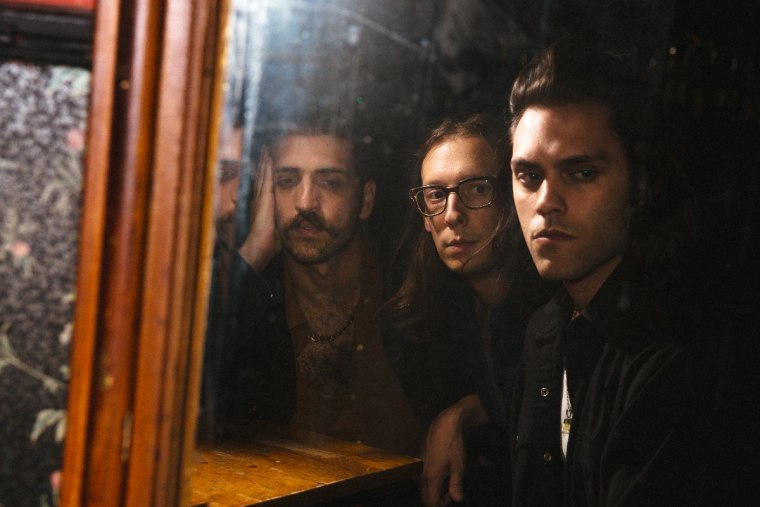 As Bambara, brothers Reid and Blaze Bateh, and William Brookshire blaze through homespun fables with dead set conviction, leaving ornate shadows in their wake. This coming winter, the band will release their fourth album Stray, a record that stares mortality right back in its face. There's still a bit of hope, though, and it seeps through the crevices of the record's lead single, "Serafina," which we're premiering here today. A love song for suburban armageddon, "Serafina" sinks its claws in and holds on for dear life — tenderness as a means of survival.
"Stray is a death-obsessed album," Reid wrote to The FADER. "Most of the songs are about different characters' futile attempts at living meaningful lives under the weight of imminent annihilation. I wanted 'Serafina' to feel different. I wanted the song to radiate a sort of wild-eyed hope. A youthful disregard for death itself. Serafina and Sadie live exactly how they want to live, exploring their love for one another before a backdrop of flames. The knowledge of their own mortality takes nothing from their enthusiasm for life. If anything, they see it as a challenge they might one day overcome together. When they say 'We'll never die,' I want it to feel like they might actually have a shot."
Hear "Serafina" above, and check out Bambara's forthcoming tour itinerary below. Stray is out February 14, 2020 via Wharf Cat.
Bambara tour dates:
10/19/2019 - Simple Things Fest - Bristol, UK
10/20/2019 - SWN Fest - Cardiff, UK
10/22/2019 - Soup Kitchen - Manchester, UK
10/23/2019 - Hyde Park Book Club - Leeds, UK
10/25/2019 - Record Junkie - Sheffield, UK
10/26/2019 - The Poetry Club - Glasgow, UK
10/28/2019 - Green Door Store - Brighton, UK
10/29/2019 - Sebright Arms - London, UK
11/11/2019 - St. Vitus - Brooklyn, NY
2/19/2020 - Union Stage - Washington, DC
2/20/2020 - Boot & Saddle - Philadelphia, PA
2/22/2020 - Great Scott - Boston, MA
2/24/2020 - Bar Le Ritz - Montreal, QC
2/25/2020 - The Garrison - Toronto, ON
2/26/2020 - Beachland Tavern - Cleveland, OH
2/27/2020 - PJ's Lager House - Detroit, MI
2/28/2020 - Sleeping Village - Chicago, IL
2/29/2020 - 7th Street Entry - Minneapolis, MN
3/3/2020 - The Sunset - Seattle, WA
3/4/2020 - Fox Cabaret - Vancouver, BC
3/5/2020 - Doug Fir Lounge - Portland, OR
3/6/2020 - Cafe Du Nord - San Francisco, CA
3/7/2020 - The Echo - Los Angeles, CA
3/9/2020 - The Rebel Lounge - Phoenix, AZ
3/10/2020 - Lowbrow Palace - El Paso, TX
3/11/2020 - Barracuda - Austin, TX
3/12/2020 - Ruins - Dallas, TX
3/13/2020 - Hi Tone (Small Room) - Memphis, TN
3/14/2020 - The High Watt - Nashville, TN
3/15/2020 - The Earl - Atlanta, GA
3/17/2020 - Cat's Cradle Back Room - Carrboro, NC