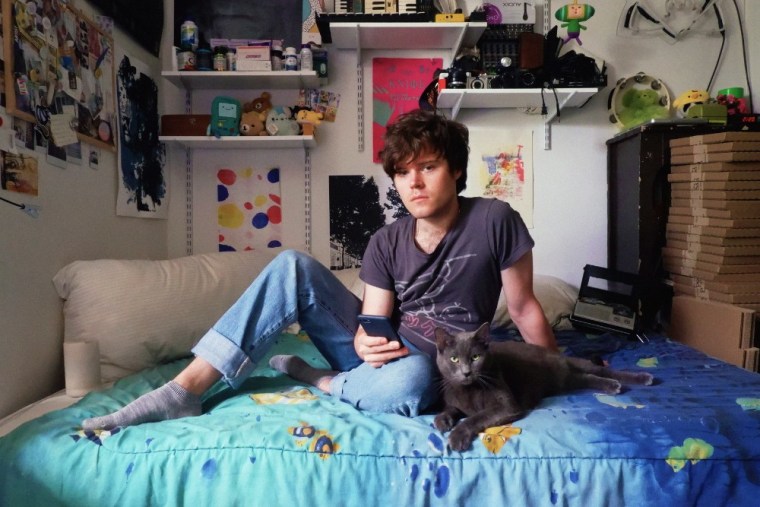 Later this month, Foxes In Fiction — the solo indie-rock project of Toronto-born, New York-based musician Warren Hildebrand — will release Trillium Killer, their first full-length in five years. The follow-up to 2014's beloved Ontario Gothic the early singles from Trillium Killer point towards a harsher, more complex direction for Hildebrand's music, with lead singles "Antibody" and "Rush To Spark" showcasing abrasive textures and claustrophobic production, as well as experiments in vocal manipulation. Today, The FADER is premiering "Say Yes To Violence," a sprawling and engrossing new song from Trillium Killer. A warped, psych-pop elegy, "Say Yes To Violence" finds Hildebrand experimenting with form more than they ever have before.
Of the track, Hildebrand tells The FADER:
"Say Yes to Violence" is a song about confronting temptation to give into self-destruction and what it means to decide to push up against those urges. It's about how parts of yourself become compromised and turn against you when you enter a state like that, and how it feels like divided parts of your internal self are fighting against each other for dominance. It's also about consciously killing off sections of identity to make room for new ones and how difficult the doubt and confusion that comes with making those changes in real time can be to navigate.
A lot of inspiration for writing the vocal parts and overall feeling of "Violence" came from Charli XCX. I was really enamored with her both as an artist and from a songwriting / production standpoint when it came to making the songs on Trillium Killer and I found myself constantly inspired both by Charli's relentless work ethic and her constant willingness to fuck with the form, conventions and limits of pop music."