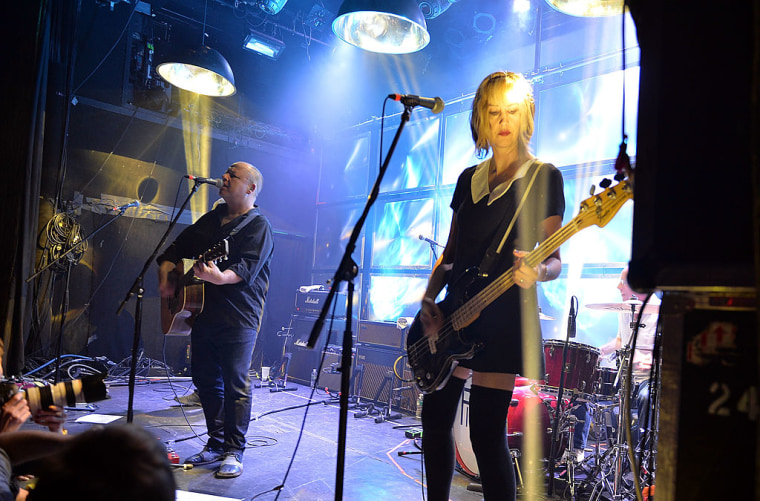 Kim Shattuck of The Muffs has died, her band mates have confirmed. Shattuck was 56 and recently revealed that, in 2017, she had been diagnosed with ALS, the neurological disease also known as motor neuron disease.
"We are very sorry to announce the passing of our bandmate and dear friend Kim Shattuck," the Muffs' Ronnie Barnett and Roy McDonald said in a statement published on the band's Facebook page. "Besides being a brilliant songwriter, rocking guitarist and singer/screamer extrodinaire, Kim was a true force of nature. While battling ALS Kim produced our last album, overseeing every part of the record from tracking to artwork. She was our best friend and playing her songs was an honor. Goodbye Kimba. We love you more than we could ever say." The Muffs' new album No Holiday is due on October 18.
Former Muffs bandmate Melanie Vammen said she her "heart is forever broken" as she posted a screenshot of Shattuck's husband, Kevin Suth, sharing news of his wife's death.
Tributes to Shattuck have been paid from across the rock world following news of her death. Pixies, with who Shattuck briefly played with as a member of their live band, said they were "devastated" by the news. Billie Joe Armstrong of Green Day, meanwhile, paid tribute to "one of my favorite song writers."
We are devastated about Kim's passing. She was a genuine musician, writer and performer who committed her life for the cause. She brought all of her life force to her endeavors and we are fortunate for her sharing some of that life force with us. RIP. pic.twitter.com/iTBagHViah

— PIXIES (@PIXIES) October 3, 2019
Beyond speechless right now with this news. Kim, thank you for being our big sister in the scene, for always supporting our art, for singing on our records and playing shows together. Total heartbreak with this news 💔😥 Everyone, play your Muffs records tonight.#kimshattuck pic.twitter.com/E056m5IHvT

— The Dollyrots (@TheDollyrots) October 2, 2019
RIP to Kim Shattuck. One of the all time great voices. LISTEN TO THE MUFFS!!!

— Damian Abraham (@leftfordamian) October 2, 2019
R.i.p. Kim Shattuck of @TheMuffs & @TheRealPandoras A true inspiration. pic.twitter.com/5CVn8ph9Oj

— Nardwuar (@nardwuar) October 3, 2019
Heartbroken about Kim. One of the all time greats. How could anyone be such a brilliant pop songwriter, singer, screamer, and such a total punk-rock badass, and be so insanely cute at the same time? No one funnier or cooler. We love you, Kim 💔💔💔#kimshattuck #RIPKimShattuck pic.twitter.com/rD8fsARpV7

— Veruca Salt (@verucasalt) October 3, 2019
RIP Kim Shattuck of The Muffs, one of my favorite songwriters, an inspiration, someone whose music I have been listening to on repeat for years. 💔💔💔 https://t.co/vvI2ZbYGPJ

— Jeff Rosenstock (@jeffrosenstock) October 2, 2019
The Muffs formed in 1991 and, prior to new album No Holiday, released six studio records. The band went on a break following the release of 2004 album Really Really Happy. Shattuck spent this time collaborating with artists including The Dollyrots, Bowling For Soup, and NOFX. She toured with Pixies in 2013 when the band reformed minus bass player Kim Deal.
Earlier this year, Shattuck and Vammen formed new band The Coolies and released Uh Oh! It's...The Coolies EP. Proceeds from the project were donated to ALS research. You can download the EP here.
Listen to The FADER's weekly playlist of songs you need in your life