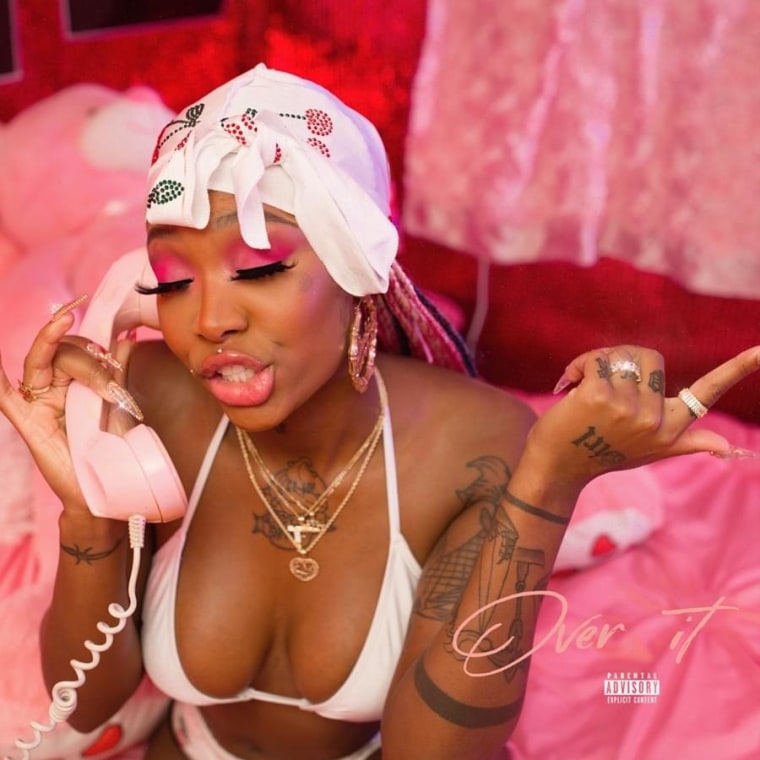 Over the past year, Atlanta singer Summer Walker has steadily solidified herself as one of the premiere rising acts in R&B with a voice that has the ability to translate all the uncertainty, agony, and pleasure that comes with the complications of love. On her breakout project Last Days of Summer, which was released almost an exact year ago, those skills were put on the display for the world outside of Atlanta. Songs like the 90-second "Deep" framed her as someone so deeply in tune with their emotions that, no matter how short of a song, she could make you feel fully absorbed in her romantic dilemmas. That gift caught the eyes of Drake earlier this year when he hopped on the remix to one of Last Days of Summer's best songs in "Girls Need Love." That remix punctuates Summer's newly released album Over It, which before you get to that moment, is filled with much cleaner and smoother takes on everything that's made her enjoyable up to this point. And she has guest appearances from some of R&B most elusive acts like Bryson Tiller, Partynextdoor, and even Usher. Below, The FADER staff lays out our five favorite tracks from the album so far.
"Like It" f. 6lack
"Like It" is one of my favorite songs on Over It. In a world that seems to want R&B to be a derivative version of anything except what it is, Summer Walker says "fuck that noise." "Like It" is the perfect example of this sentiment, a tried and true R&B seduction by a girl ready to go after what she wants. Summer Walker has a gift for song structure. If there are complaints of monotony, it's an issue of content and not ability. Her songs never drag, and if they don't hold your attention, they fade into the background to create what one might call "a vibe." "Like It," however, is present the entire time, hitting a sweet spot in every verse, bridge, and chorus. The bridge is dynamic and floaty, swinging us into a chorus where the vocal melodies spill into the next note like a waterfall. We're laid down easy by the prince of brief appearances, 6lack, and it's a perfect fit. After all, there isn't a single song on the face of this dying Earth that a 6lack feature didn't improve. The song is a strong moment on a debut that fills a necessary pocket in the culture, and in short, I have to say I like it. - Nalae White
"Over It"
Over the weekend, as Summer Walker's record became available to the masses, the singer was posted on Twitter, doling relationship advice to her followers. Many of her suggestions were just different variations of one message: leave him on read, then block him, and it's this bad bitch, deliciously flippant energy that imbues her whole album; "Over It," the two-minute cut that opens the record, serves as the mood-setting primer for the ensuing frustration, heartbreak, and serrated declarations of love. Over a rippling mid-tempo beat complete with finger snaps and compressed ad libs, Walker briefly wonders if her troubles are because she's "really that much to handle." By the end of the song's two minutes, she's landed on a better answer. One that can be summed up by another mantra with real cultural value: Before you say I'm "extra" and "too much", ask yourself...are you even "enough"? - Steffanee Wang
"Playing Games"
In many ways, "Playing Games" feels like a full circle moment for those who grew up surrounded by the top 40 R&B of the early aughts. As Summer Walker lays out her drowsy desire for reciprocity, she's joined by a mischievous acoustic guitar line that wouldn't feel out of place on an old Nelly track. And then comes the chorus, a full interpolation of one of Destiny's Child's most ubiquitous preachings. Yet it never feels like Summer Walker is phoning it in with the nostalgia: her delivery stays firmly rooted in 2019 as she comes to terms with these truths she's been hearing on the radio since childhood. - Salvatore Maicki
"Come Thru" f. Usher
In 1997, an 18-year-old Usher Raymond solidified his spot in R&B stardom when he released "You Make Me Wanna...," a beautifully produced track about being so into someone that he was starting to consider ending his current relationship. That storyline wasn't a new one for the genre at all — much of R&B, throughout its history, has hinged on selling lustful fantasies that many would shy away from pursuing in real life in order to maintain some semblance of general morality. But it's the passion that this type of slightly-over-the-line model comes with that makes it so irresistible. For Summer Walker's new album Over It, the singer builds on Atlanta R&B tradition by reworking the song with Usher's help as somewhat of a sequel to the 22-year-old original. On "Come Thru," London on da Track updates Jermaine Dupri's production to lay the foundation for Summer to tell her side of the story, which is that, even though she knows better than to get too emotionally-invested into a new lover, she doesn't know how to not indulge in the thrill of it all. But (maybe) luckily for her, Usher has been down this road, as he asserts with lines like, "I been in this predicament." -Lawrence Burney
"Girls Need Love"
Over the past few years, much of popular R&B has has fallen into the Jhené Aiko subgenre: downtempo, hi-hat-rolling, lovesick, "a vibe." With "Girls Need Love," the second single she released under Interscope and her 2018 breakout song, Summer Walker seemed perfectly positioned as the heir apparent in this lineage. Aiko shows up towards the end of Over It, Walker's debut album, to assist on "I'll Kill You." Their duet, produced by London On Da Track and Scott Storch among others, seems to perfectly capture the essence of the subgenre: a possessive partner anthem with high-gloss vocals — perfect for a bedroom playlist. "If them bitches 'round you, better be blood/ If it ain't me or your mama, shouldn't be showin' you no love," they sing together. It feels like the passing of a torch. - Ben Dandridge-Lemco