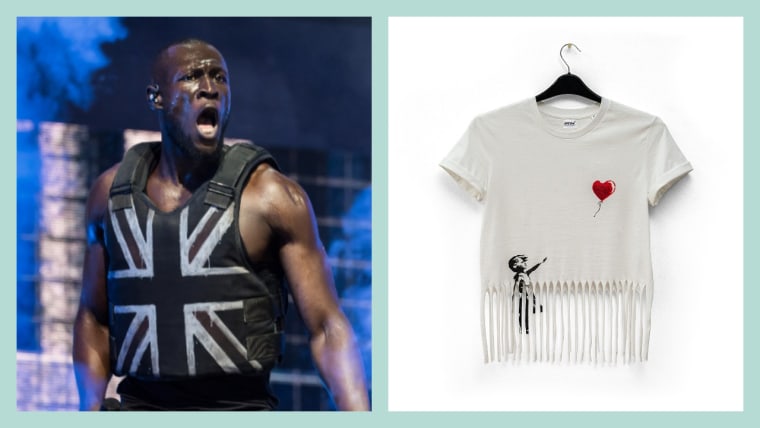 Banksy, ostensibly one of the more popular anti-capitalist artists of our times, has launched an online homewares store. The store is named Gross Domestic Product™, the same as his pop-up of the same name which was launched in South London earlier this month. Although its doors were never open and its lights were always on, the store will be closed today according to the Belfast Telegraph.
Launched just in time for Christmas, Gross Domestic Product sells a range of Banksy-inspired products, including a 'Banksy Shredded Tee' (obviously), Banksy mugs, and a tombstone. Notably, there's also an £850 replica of the Union Jack stab vest that Stormzy wore at Glastonbury for sale. In order to buy the items, shoppers must first answer the question "Does art matter?" and will then be given the opportunity to purchase the item of their choice if their answer is deemed sufficient.
While the website stresses that Gross Domestic Product is an "actual" shop — "it sells stuff and offers refunds and complies with data protection" — it also very much wants users to understand that it's, y'know, art. "All the products are made in an art studio, not a factory," the website reads, "Everything is produced by a handful of people using recycled material wherever possible in a workplace culture of daytime drinking." Who ever said producing 'radical' 'anti-capitalist' art couldn't also be incredibly lucrative?
Banksy says the merchandise for sale at Gross Domestic Product is "impractical and offensive" — a statement that's only confusing if you stop to think about the fact that much of Banksy's art is coveted by art industry establishment and routinely purchased by one-percent-ers for millions of dollars. The reason for the store's existence is typically convoluted, if perhaps not in the way you'd expect — Banksy was required to enforce his trademark through sale of products bearing his art and logo if he wanted to stop another corporation (in this case, a large card company) from utilising the trademark. By opening Gross Domestic Product, other companies can no longer profit off his work.
While the site notes that there isn't much stock, some products, such as the mug, are marked as 'unlimited'. Speaking to HYPEBEAST, Banksy said, "Shopping with us is likely to be a disappointing retail experience – especially if you're successful in making a purchase." Aside from the mugs and shredded tees, the online store will also be selling a variety of household goods, art, and other oddities including but not limited to: a Tony the Tiger-looking rug, a hatchet made made out of polymer resin, and a clutch bag fashioned from a brick. News of this attempt at e-commerce comes about a year after Banksy broke his personal record by selling a painting that self-destructs for $1.4 million. Shop Banksy's Gross Domestic Product store here.
Listen to The FADER's weekly playlist of songs you need in your life