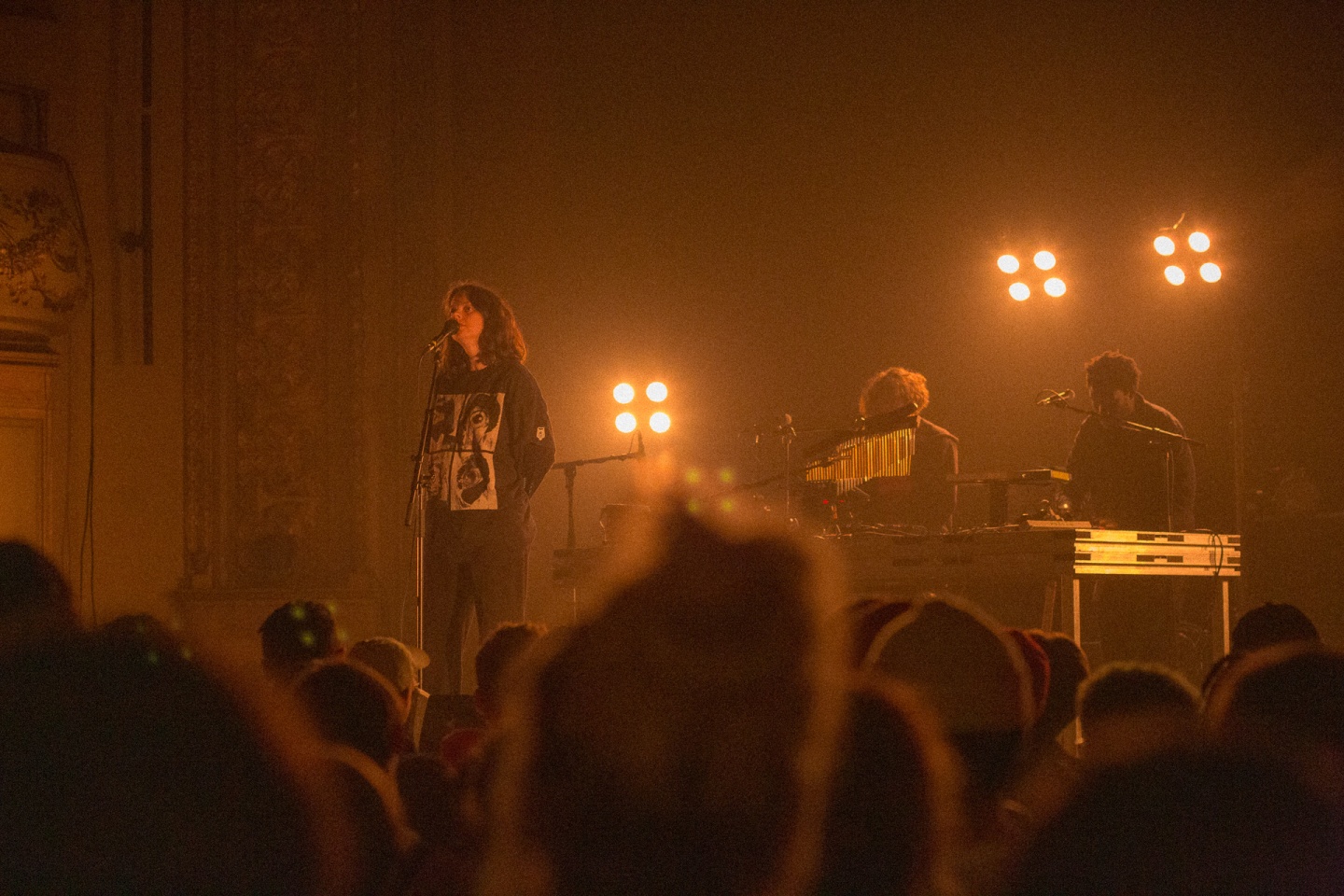 Inside the ornate and historic Theatre Rialto ballroom, Tirzah walks onstage for her set at the cult-indie POP Montreal festival; wearing a black long-sleeve, t-shirt, and pants, she approaches the mic shyly, her hands fidgeting at her side. Tending to a complex electronic set-up behind her is her dedicated collaborator and childhood friend Mica Levi, to her left, and album collaborator Coby Sey to her right. As the sputtering beat of "Reach Hi" begins to play, yellow stage lights turn on behind her that cast a shadow on her face, and she begins to sing: well, well, well, well...
It's the Londoner's second show ever in North America, and it's a special one. This past summer, Tirzah was scheduled to perform what would have been her first U.S. shows in a smattering of cities — Los Angeles, New York, and Chicago, — but cancelled at the last minute due to visa issues. It makes sense then, when the organizer casually remarks to me, that there may be a notable population of out-of-towners and -country-ers in the crowd tonight, hoping to catch her in her brief stop in our half of the hemisphere.
The idea of crossing a border to attend the show of an independent artist coming off their debut LP may seem extreme, but it captures the attentive audience Tirzah has gained in the past year. Devotion came out last August to acclaim; The FADER ranked "Holding On" fourth on the 100 Best Songs of 2018 list, and the project as a whole received Pitchfork's Best New Music. More intimately, the songwriter's package off-kilter soul songs became beloved by many — its out-of-step love songs concerned with simple and straightforward desires, serving as a bright spot in an awful year. Co-produced by Levi, with additional features from her tight-knit circle, Devotion is a distinct labour of love — "It feels like an extension of us being friends," she said of working with Levi in an interview with The FADER last year.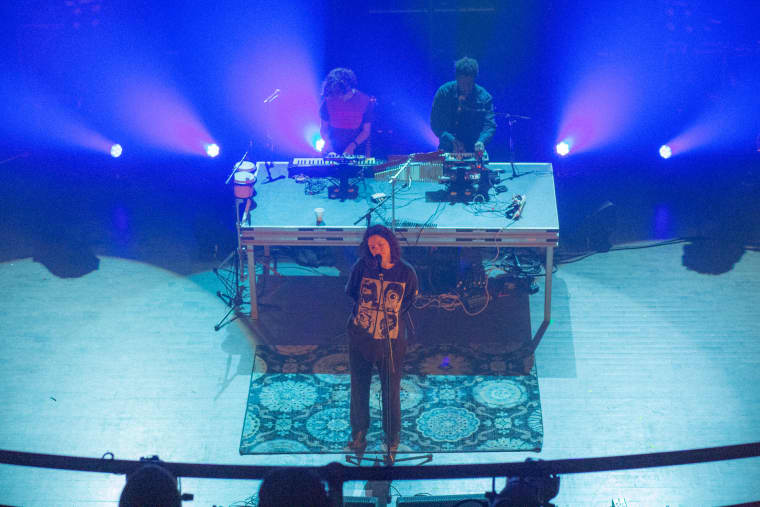 So of course, the environment that wraps a Tirzah live show is just as heart-warming and intimate. Upstage, in a huddle of electronics, wind chimes, and drums, she sings her songs simply, hands tucked behind her back, eyes gazing at something above the crowd; she occasionally turns around to give a few loving taps or swishes to the instruments behind her. The audience finds their own rhythm in the soft-looping melodies of the songs, and the crowd's movement elicits a small grin from Tirzah that lights up the room. Midway through the set, when they play "Gladly," the project's tender first single about the simple bliss of being with someone you love, everyone sings the hook together, conjuring a sort of spring brightness in the dark room.
Generally, though, Tirzah, Levi, and Sey focus their energies on the songs. I get an overwhelming sense that witnessing such close collaborators, and even closer friends, build their songs up in real-time with effortless synchronicity is a rare privilege. Their cohesion is not one that's been meticulously rehearsed, but more instinctive: a particularly excellent jam session between intimate friends. In turn, the music feels all the more enjoyable, radiating from the stage into the room like a warm blanket.
When they reach the end of their last song, an unreleased tune that's more upbeat and dancey, Levi and Sey continue banging at their controls. Tirzah waves goodbye and walks toward the back of the stage, out of the glow of the stage lights, and disappears.