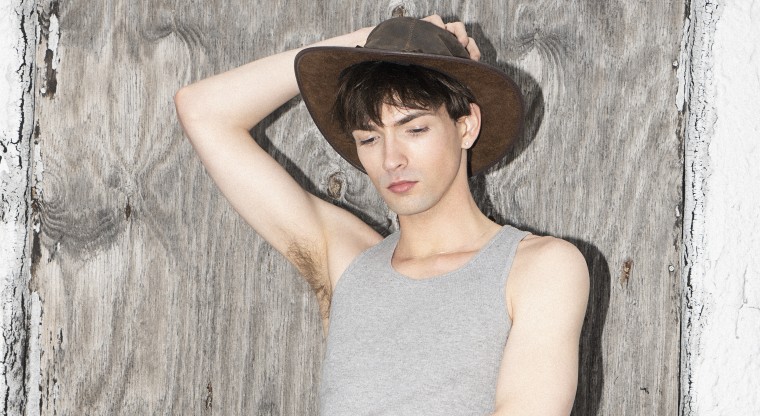 As the only X-rated movie to win Best Picture at the Academy Awards, the 1969 movie Midnight Cowboy broke barriers — but Maxwell Musick's latest single, "Midnight Cowboy," hinges on expectations. Opening with the line "I think you should know I'm an Okie in new clothes," the up-and-coming pop singer-songwriter's new track subverts hometown assumptions while simultaneously reclaiming the sexual odyssey and period of isolation that followed his move to New York City in 2015. Although the subject matter of the track is nuanced — the Oklahoma-born artist wrote it when he was "sleeping around for money" after studying abroad in Berlin — Musick reframes his nuanced experiences in the form of dance-floor catharsis.
For a song with "cowboy" in the name, there's little acoustic instrumentation holding "Midnight Cowboy" together, with quivering synths in the chorus and reverb-washed tribal drums in the verses that stand in opposition to the candid lyrics. In the Olivia Peters-directed music video, the typical narrative of a Midwestern cowboy is transported to industrial cityscapes and empty beaches, as Musick gyrates around them in cowboy boots and jean shorts.
When we meet in Fort Greene Park in Brooklyn on a crisp October morning, he explains his unique ability to dance to personal melodrama: "If you're a casual listener, it still resonates — but if you've lived it, the music is all the more affecting." While he casually reminisces about the open skies of Oklahoma, Musick prides himself on hyper-specificity, and on his new single "Midnight Cowboy" he fully embodies that ethos.

What was your experience growing up in Oklahoma?
Although I had a lot of support being queer in Oklahoma, I also felt a fair amount of judgement growing up there. I started to isolate myself. There's an otherness to Oklahoma where it's definitely a forgotten state, and I wasn't aware of that until I came to New York for college. When I was in Boston for one summer, someone legitimately asked me if I had cows.
Does Oklahoma inform your music?
I used to go to bluegrass festivals with my dad, and I try to create that sentimentality of Americana simplicity in my music. Something that I noticed about my writing, which could be considered very country-ish, is that my words are pretty simple: If you read them out loud, I want them to be able to be read and understood, like a story. Oklahoma feels more casually personal than New York, so I don't feel comfortable talking about things that haven't happened. In general, I'm very affected by the places I go.
What was moving to New York like?
The first part of me being in New York was trying to figure out where I fit in it and realizing that I don't actually fit anywhere, which is fine. People here are like, "You don't seem like you belong in Oklahoma." I never felt any sense of community in college until I started working with Luke Davis.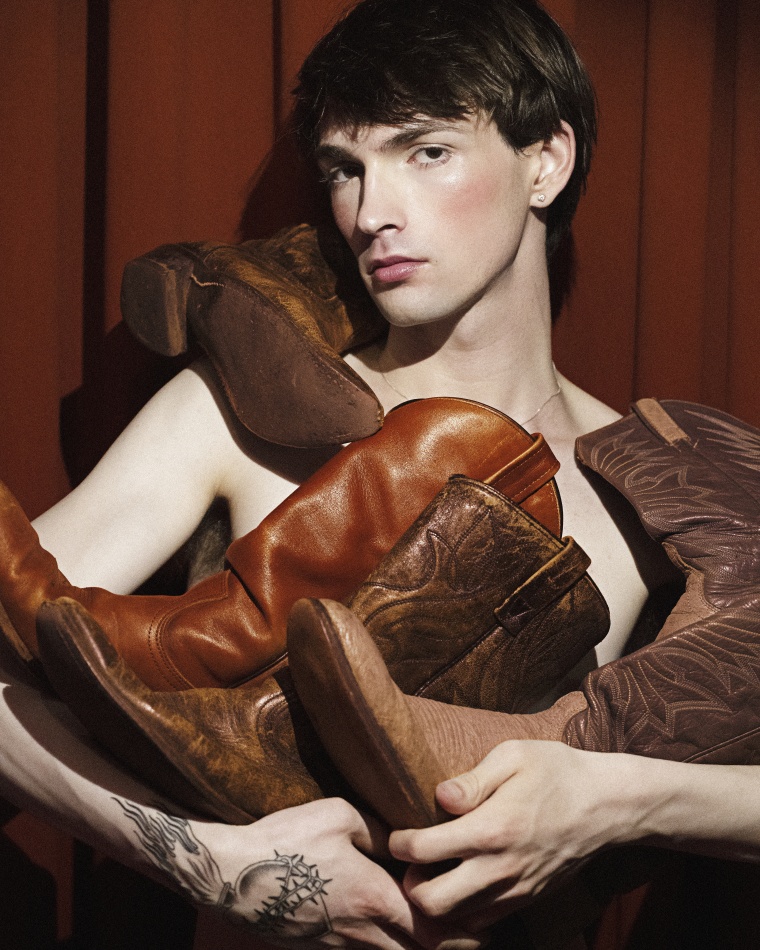 How did you and Luke start collaborating?
We became friends after I went to Berlin during my junior year, and he started producing stuff. I had such a horrible time in Berlin, because I was drugged when I was there and went through a k-hole and remembered a lot of really traumatic stuff from childhood. When that happened, I could only listen to pop music — Ariana Grande, Sky Ferreira, Taylor Swift's 1989. In high school, that also happened when my mom got cancer. I went from listening to FKA Twigs and Björk to pure pop.
What do you strive for in your music?
To have the songwriting be the therapy and for everything else to be enjoyable. I don't want to get on stage and cry every night. You can bop to the songs, but sometimes you're like, "Damn, that hurt." "Midnight Cowboy" is about me having sex for money and sleeping around too much, which is genuinely upsetting to me now — but I objectify myself to take power back from that. I want to have fun in a way that speaks to vulnerability and self-empowerment at the same time.
Is "Midnight Cowboy" representative of where you are in your life now?
I don't think so — that's the funny thing about it. When I wrote the song two years ago, I didn't even know the title was a movie. A lot of the verses are actually inspired by Breakfast at Tiffany's, because Holly Golightly is from Texas before she comes to New York. The first line of the song is "I think you should know I'm an Okie in new clothes," and I was going through a period where I'd hook up with people at 4 a.m. and not tell anyone — just walking around Brooklyn by myself when it was fully quiet and no one was around. I was like, "I'm a midnight cowboy."
Having seen Midnight Cowboy now though, it fits. He's from Texas, I'm from Oklahoma. He becomes a prostitute, I was having sex for money. I was struggling so much because I'd isolated myself. It felt like I'd experienced so much trauma on my own that I couldn't share it, but I've come to the realization that it's why I should share it — because people don't talk about it.
Around that time, I also inherited five different pairs of my grandfathers' cowboy boots that fit me perfectly, which felt like a sign of being proud of who I am and where I come from while still addressing that I'm not going to be fully New York. Oklahoma, or anywhere — I'm just going to be me. The idea that someone comes from a place and is that place doesn't play into my narrative. The song is an anthem of claiming my sexuality as a practice and exploration of who I am, while also realizing I'm looking for something that's blatantly not being given. There were so many situations where I'd sleep with people and it felt like they took something from me. It was definitely not an equal transaction.
Tell me the story behind "Money."
Both "Midnight Cowboy" and "Money" started as joke songs, and then I was like, "Wait, this is actually true." "Money" is about when I was having a lot of sex, and I got to a point where I was like, "I might as well be getting paid for it." I did get paid for it a few times after I got back from Berlin, but then it started to get to me a bit. I really commend people who can separate that, but I just have a lot of things about the different roles of power and sexual objectification that play into it. Even working at a coffee shop in Chelsea, there are so many people who make "Daddy" comments to me on a regular basis while they're ordering — it got so disgusting. So many people were attempting to objectify me from so many different areas of my life. In college, professors would be like, "how you look is going to be so important to your brand."
What are you working on now?
I'm releasing a song with Von that should come out in January, and I'm working on an EP called Ride, which sounds so intense for me to say. I had a moment this summer where a friend of mine was like, "You write with the emotions you're currently dealing with, so it never comes out in one thing. You're on top of the highs and the lows all the time, so it never feels immensely overwhelming — but it's still impactful." It's a constant ride, because emotions are one of those things that when you stop analyzing them, they build up. Even my ideology of artistry is just existing in an unapologetic way that's also not harmful. "Midnight Cowboy" and my struggles with sexual empowerment will always be very prominent in my work, because they're such real moments in my life.