When I spoke with pop-rap polymath Brooke Candy over the phone last week, she'd been watching Kathleen Hanna's documentary The Punk Singer. Candy, who released an incendiary song called "War" last year, watching a documentary on a riot grrrl pioneer makes sense. Subverting queer and feminist taboos through hyperbolized sounds, Candy disrupts and empowers those disenfranchised by social norms, as she does again in the video for "FMU," a new single The FADER is premiering today.

The "FMU" video follows an all-female motorcycle gang in the tranquil woods of Oregon. As Brooke's primal verse on "FMU" soundtracks their descent into the woods, she writhes on the ground in the pitch dark, illuminated by the headlights of a motorcycle. It brings to life the dizzying sexuality of the song itself, which interpolates the scandalously carnal "I Sit On Acid" by Lords of Acid; Rico Nasty, who's featured on the song but doesn't appear in the video, uses the sheer grit of her verse to cut through the visual like a demonic entity.

SEXORCISM, expected October 25, is Brooke's debut album and also looking to be this year's most unapologetic project. In our conversation, we talked about the long road to the record, her distaste for Halloween, and how she's already planning the followup.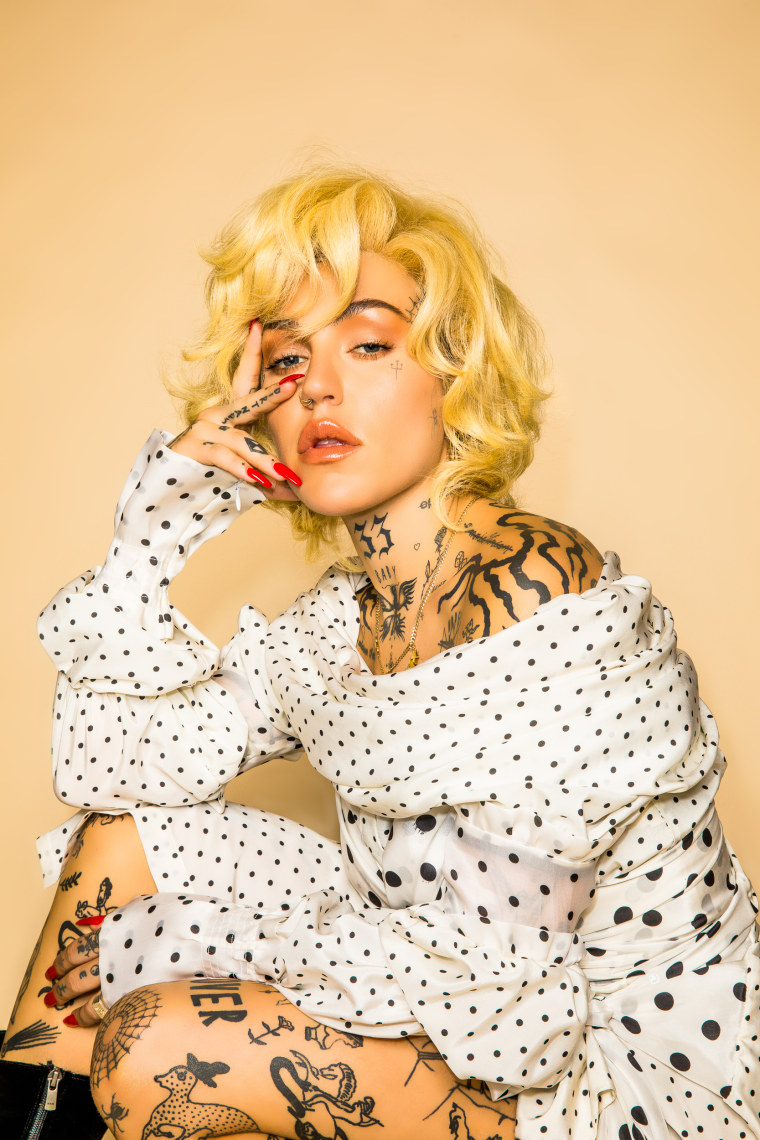 You just got back from touring the west coast with Charli XCX. What was that experience like?

I adore her. I feel like a bit of this album was inspired by her mixtapes and how she features so many cool, different artists on them. She really uses her massive platform to uplift me and other women and queer artists in a way that's really special.
What was the impetus for this album?

Well, I was talking to Ashnikko about doing a video for her and I was like, "Why don't you help me write an EP? I haven't put out a body of work in a really long time and I would love to just make one." She said yes and brought in Oscar Scheller — who is this amazing producer in London — and we went from wanting to just make a three-song EP to making a full album in four days. I wanted all the features to be unapologetic and tough bitches who were women or queer — and I got that.
I want to make a follow-up album with an even more diverse array of features and use my platform — whatever it is — to help leverage other female artists who are really talented, but who don't have the visibility.
This wasn't the first version of SEXORCISM — there was another version of it when you were working with Sony. How did this current version come together?

There was just one other potential album contender called Daddy Issues and that was supposed to come out on Sony. Looking back, I don't think I was ready for that opportunity because I just wasn't ready to go mainstream pop. I think they wanted to homogenize me in the sense that, when I was making an album with them, it was less about me cultivating my art and more about putting me in a box, so that I wasn't a gamble. Making music during that time was never this gut-wrenching urge for me because that music felt more like a job. With SEXORCISM though, this body of work came from a place of, "Oh my God, I have to make this."
The music has this almost reactionary quality that albums like Lil' Kim's Hard Core had, subverting expectations via explicit lyrical content and societal roles.

That's one of my favorite albums. She was the poster child to me of '90s hip-hop and feminism. She was very overtly sexual, her lyrical content was so empowering, honestly, it makes me feel so tough. I'd love for all of my songs to liberate [me] from a different taboo, and I just love the idea of women not being pinned against each other in this weird, contrived, almost pageant-like fight, and to just come together and make music.
What kind of music were you listening to while making the record?

I listen to really weird shit that has nothing to do with my music. Lots of like Loretta Lynn and Patsy Cline, but also I love this German punk group named Malaria! I also love The xx and Charli's music. Lately, I've been listening on repeat to The Stone Roses — so much that I'm never going to be able to listen to them again.
Erotica is my favorite Madonna album and I wanted this [record] to feel like that. She was in her sexual prime, and, right now, I feel the same. I feel like I'm harnessing the most sexual energy that I've ever had; It literally feels like a sexorcism.
How did the collaboration with Rico come out specifically?

After I made the single "My Sex" with Mykki Blanco, Pussy Riot, and MNDR, Boys Noize heard the song and contacted me asking if I wanted to do a track… And I said, "fuck yes! You're Boys Noize." He sent me the instrumental for "FMU" and my friend Jesse Saint John and I got in the studio and we wrote it and sent it to him. He wasn't happy with my cadence on the second verse though, so he actually asked Rico if she would do it and then she just jumped on it and I couldn't have asked for a better feature. Her verse is so perfect for the beat, which I imagine being played in like Berghain or something. It's that kind of dirty beat. What's funny though is before we even knew she got on it, I actually shot the video.
What was the concept and creative process behind the video?

I got invited by these women who run an all-female motorcycle group to meet up in the woods of Bend, Oregon, so I went out with a female DP and my friend Lisa [Katnić] who styled the video. We just went out into the woods, camped out, and shot all the scenes. Everything was natural; it was an interesting group because it's all these women going into the woods to escape. I didn't want to interrupt their moment of tranquility and peace, but they were so open and cool about it. Having that many women just out in nature, riding their motorcycles, there was some real witchy vibes. Since then, I've made another video in nature for another song and I've just realized that I find so much inspiration in that. Maybe it is because I live in New York, or because the planet is in need of serious help, but right now I feel like exposing how beautiful it is; especially because nature doesn't want anything from us, even though it gives us everything. It just wants us to take care of it.
Are you being anything for Halloween?

I'm performing with Charli XCX at the O2 Brixton and the theme is angels and devils, so my friend is making me this crazy leather skeleton outfit in red and then I'm gonna have dancers dressed up as those cute little baby devils. Maybe they'll wear diapers… I want it to be cute because Halloween is kind of scary to me. Every Halloween something weird happens to me. They say Halloween is the one day where the veil between the spirit world and the tangible human world is almost nonexistent, so I'm hesitant to even go outside on Halloween, but this year I'll be performing, so we'll see how it goes!