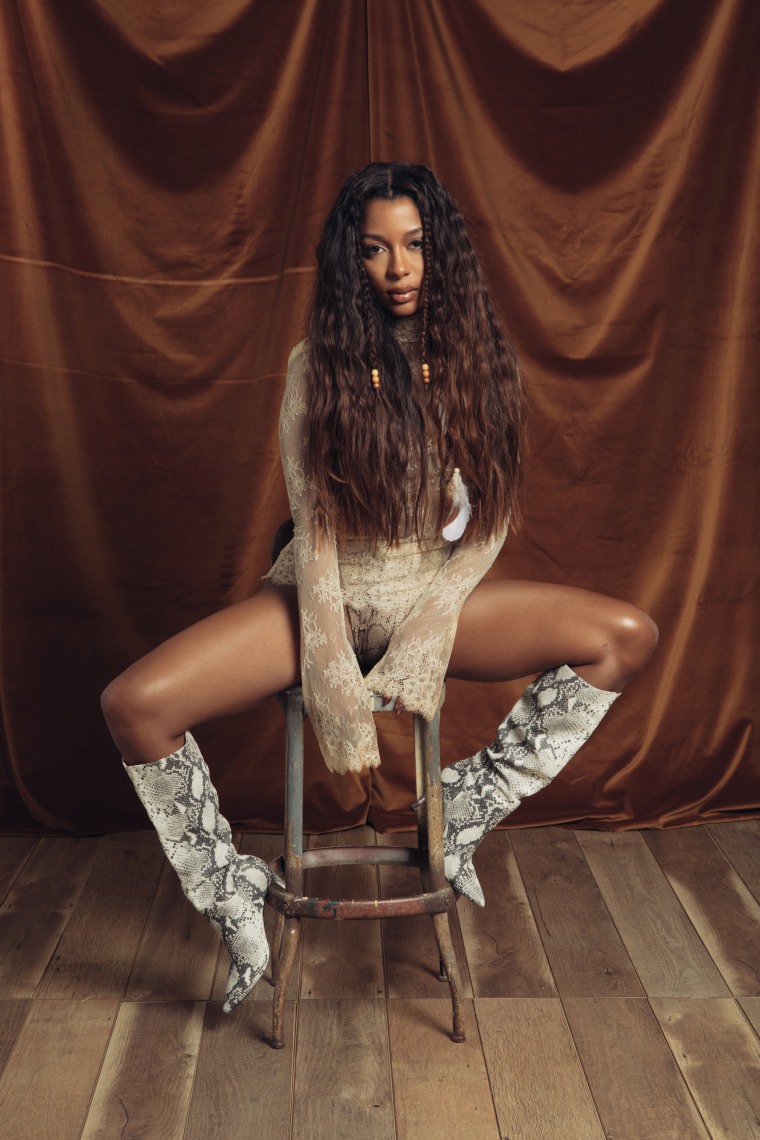 Victoria Monét is ready. Today, she's emerging with her new single "Ass Like That," a honey-glazed R&B throwback sharpened with pop sensibility and a generous helping of self-love. "Treat my calories like weed, yeah, I burn that shit," she coos, trading a club banger mentality for a slow and steady workout, bringing equal parts wit and whimsy in her gym bag. "With the title alone, people would assume it's like twerking," Monét says. "But it's more of a nice little twist on talking about female bodies."
It marks the first single off Monét's forthcoming project due out in 2020, a moment that she's been practicing for. Well before she released her first project, she was writing for acts such as Fifth Harmony, T.I., Chrisette Michelle, and most notably, Ariana Grande, who she's written with since Grande's 2013 debut album Yours Truly. Next month, they'll release "Got Her Own," their long-teased second duet following "Monopoly," which dropped earlier this year. Monét says that the success of thank u, next (for which she cowrote half of the songs) was the catalyst for entering a new creative space on an individual level.
"I think that project freed up space in my head," she says. "My artistry has always been about survival, but it was always secondary because songwriting took off faster for me. One of my goals was to write like a really big song and once "7 Rings" came, I think it allowed me to feel more comfortable to take time off of writing for other people and spend a month straight making my own songs. I'd never done that before, taken the time to dive into what I actually love about music."
Hear "Ass Like That," and read our conversation with Monét, below.
It's been a whole year since you put out your last project. How has life has been after Life After Love, Pt. 2.?
It's actually been really amazing. I put that project out right before leaving for New York to write thank u, next. Both parts of that body of work got me through a really hard relationship, and right after the second part came out, I went back into the studio with the guy that I was in a relationship with and we were able to make magic that the world was really receptive to. It just showed me a lot about how much you can grow from a situation and get the best out of things. Since then, it really feels like I've been on a treadmill and inclined to make something. It's time to get all of the things that I've written on my own out.
The new music has been done for quite awhile. I wasn't signed so like there were a lot of things behind the scenes that had to happen in order to get the music to the fans as an independent artist. I was just really trying to find the perfect home for my music; the perfect team. Like I just started with the new management at the time, so I was like really developing my behind the scenes foundation on the artist side. The most recent song that I've kept on this project was made in March, so like it's been done for quite awhile, but now it's just really exciting to get it out of my folder and my vault into the world, you know?
That's always one part about your job that always fascinates me, how you have to cope with holding onto this finished art. For instance, your song with Ariana Grande, "Got Her Own," which is on the Charlie's Angels soundtrack.

Yeah, that song is not new. When you write something that's not going to come out for a long time, it has to feel more timeless and not specific to a certain project. It just allows you to kind of put music out at a different time versus trying to rush for a trend, or if it's "now," and like I think with music, as a songwriter, it's one scenario where we don't get instant gratification. We get it on Instagram, when we Tweet, we have conversations that are deep, or when you walk outside, it's like things are very fast. People compliment fast, people listen to music fast, so with music you have to have a little bit more patience and I think the roots of your labor are more smart and more appreciated when it kind of blossoms, you know? I know what you mean - It's hard because you want to express how you feel right now and when you make a song, you just want to hop on a livestream and play it for everybody! But you definitely have to have quite a bit of patience.
That kind of almost ties into your new single "Ass Like That" perfectly because sonically, this song definitely has that slow groove payoff.
I think that even for me it was something that grew on me as I was making it, I was really just narrating what I was going through and I kind of like sharing it more and playing it for people and seeing how they would react to it. It's really cool because usually people like songs that are in the club and with the title alone, people would assume it's like twerking, so like it's a nice little twist on, you know, talking about female bodies.
How did that song come together?
Back in January I started training everyday. Then, in March, my mom got diagnosed with diabetes, and working out became even more important to showcase. Having a personal trainer is really expensive, so I would record videos of what I was doing in the gym, so she could replicate everything. I ended up just writing a song about it because it's at the front of my brain and I find it easier to write songs about what's actually happening in my life versus trying to make things up so much, so it really just came together quite naturally and I started with the hook first and then went back to go write the verses and at the camp, there were so many amazing musicians. The whole place was like a creative camp, so you know, there were a lot of producers, live musicians, a lot of great singers, great songwriters, so like a really amazing creative space, and there was one horn player named Kyla there. And so, he like really loved the song, so he just started playing a bunch of horn parts to it and the producer D'Mile just kind of chopped up something that sounded really dope from what he was doing and so, it was also a recurring thing in my project like live music. I have strings and I have horns, live guitars, there are even places where I don't sing. Kind of seventies-influenced where you don't have to sing throughout the whole song. There's nice musical breaks to hear and I think that's been a recurring thing in the music that's really special to me. Just to let it breathe, even on stage. You know? I can just have a dance break on stage.
Beyond the idea of fitness and body goals, I feel like this song emphasizes putting the work in and like making those rituals for yourself and committing to them, which I think is an important message.
Don't you feel good when you set a goal and you stick to it and it actually happens? I think the gym attitude carries into the real world outside of the gym when you start to eat better because you don't want to mess up the work you put in. It gives a good energy to you when you workout because it's all about life and it's really important for me, one, to inspire people to be, you know, fit and healthy and their best self just to be healthy, not even aesthetically, but also for women to be able to talk about their bodies freely in a way that men do in rap and in life, you know? So I just go off on people being shameful about women expressing themselves and I talk about my own ass like a rapper, you know, encouraging me to twerk in the club, which is great - all of it is great - but it's just another form of empowerment to me where women should be able to do that too.
Can you give us any hints on what's to come next from Victoria Monet?

I have the song on the Charlie's Angels soundtrack that I wrote, and then the rest of my project will come in 2020. Not too long of a wait, but I'm gathering up the best content that I can, choosing some of my favorite people just to make sure that I don't lose any momentum and then when I start putting out content next year that it's just nonstop and that I can really give my all to it.
You've gotta train for it, if you will.
Yeah. This is my four years in between the Olympics and I'm about to go.