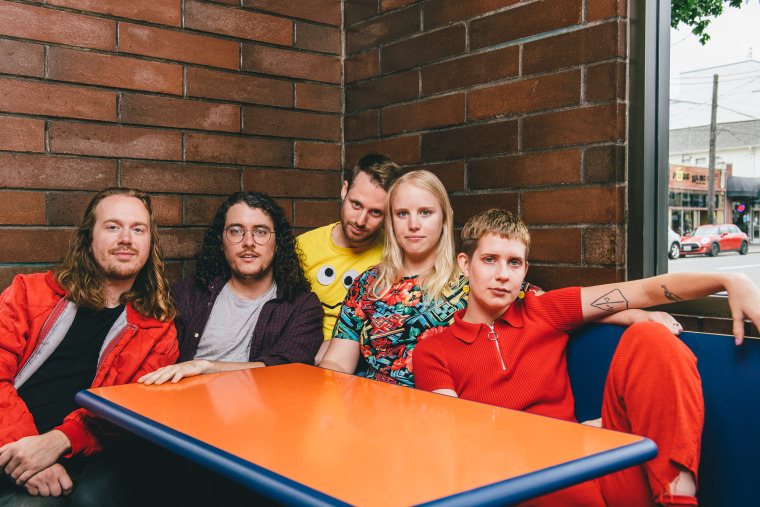 "When Grandma slowly faded from Alzheimer's like a lifeless steak in that empty diner / It now reminds me of my failing grasp of the present memory, self and past," Alex Menne sings on "Mono No Aware," the gauzy fourth song on Great Grandpa's new album, Four of Arrows. The song, like everything on the quintet's second album, resists easy resolution. Mono no Aware itself is an almost impossible concept to translate from the Japanese — it's simultaneously a wide-ranging empathy, a sensitivity to ephemera, and, in Menne's words, "the pathos of all things." But the thread that runs through "Mono no Aware" and the whole of Four of Arrows is that that "failing grasp of the present memory" — an acceptance of impermanence.
In the two years since Great Grandpa released their pop-grunge debut Plastic Cough, they've had to grow comfortable with change. Bassist Carrie Goodwin left the band's Seattle home for Milwaukee, where she could continue to study nursing; her husband Pat, the band's guitarist, followed soon after. Menne, drummer Cam Laflam, and guitarist Dylan Hanwright stayed in the Pacific Northwest, leaving the band split across the country. But over the phone from the band's van on the way to San Francisco, Hanwright says there was never the sense that the situation was impossible. "I never even felt it was like a hiatus," he says. "It felt like a very long, drawn out process to take the time that we needed."
Four of Arrows — streaming in full below ahead of its release on October 25 via Double Double Whammy — is a radical shift for Great Grandpa. Impressionistic, emotionally exhaustive, and delivered through a stream of lush harmonies, it takes the terrestrial promise of their debut and throws it into the cosmos. It focuses sharply on specific images ("All things fade into dark green water down by the lake," Menne sings on the opener) before zooming way out into conceptual obscurity ("A rock in retrograde / Says endure pain today / All things must evolve or fade," they sing moments later on "Digger.") Even when the subject matter is devastating, as it is on the Carrie Goodwin-penned "Split Up The Kids," the songs don't end so much as they burn up and fly off like burning paper.
Above all, it's an attempt to find some measure of peace in that impermanence — the record was, Pat explained to Stereogum's Nina Corcoran, named after a Tarot card he pulled at random while trying to dislodge an idea from his mind. The card says that you need introspection, rest, and sanctuary — even during a frantic recording process, Great Grandpa managed to access some of those things.
You were split up across the country after the Plastic Cough tour. How did the writing process for this record begin?

Pat Goodwin: Most of the songs started with acoustic guitar, whether it was Milwaukee or Japan and Vietnam [where Pat and Carrie travelled for their honeymoon]. They evolved in many places, from our recording studio upstairs in Milwaukee to the practice spaces at Dylan's house. It's a patchwork of different places and different methods to bring it to life.
This record is a big shift in the band's sound and the band's approach. Were you starting off with quieter instrumentation than you had before?

Goodwin: Acoustic guitar is usually my favorite way to write, and has been since the beginning of Great Grandpa. It has projection — you can just pick it up and take it to different places. It's right in the human voice range, which is biologically very appealing range — the same reason people like the cello.
Was it obvious from those early demos that you were taking a different approach?

Goodwin: We knew from the beginning that we wanted to do something different and stretch ourselves. It's the music we've been wanting to make for a long time — a real amalgam of our tastes as they've evolved over the last five years of knowing each other. The songs have this intuitive sense, and with our producer Mike Davis, we had this shared, unspoken language. We unconsciously knew how we wanted to approach them.
I've read that there was a sign on the door of the studio saying "Go Slow, Bold Choices." What did that mean?

Alex Menne: I remember walking into the control room and there was this crazy energy. Looking at the walls, there were two pieces of printer paper that said: "Go Slow, Bold Choices." I was like, "OK, I don't need to ask any questions."
Hanwright: Mike is really good at sensing energies and feeling out how everyone's doing — their mental health and his own. He's aware of how taxing the process can be and has a way of mitigating that. We got the record we wanted to make, and we weren't going to do that unless we were bold with our decisions and deliberate about everything.
Goodwin: So much of this record was about being patient and experimenting. It's hard to say "Go slow" when you only have two weeks to do the majority of the tracking, but we managed to slow down and take our time breaking the songs down. It was methodical, which translates to the record. You can hear how detail-oriented Mike was about everything.
The lyric-writing process seems very collaborative in Great Grandpa.

Hanwright: Writing lyrics collaboratively is really hard. If someone is going to write the lyrics, whoever that is, usually there has to be one person who has ownership over the whole thing.
Menne: It's interesting when you're the smaller collaborator on something — to have to know your relationship, your boundaries, and how this person is going to feel with you coming forth with changes or ideas. Pat will write something and it'll get funneled through Carrie and then me a little bit — then there's all these layers of small collaborations that it's not even within the writing process. But stylistically, everyone's hands touch it.
Alex, what sort of process do you have to go through to interpret somebody else's lyrics and ideas as a singer?

Menne: There's a conversation that I'll have about whatever needs to be sung. For "Split Up The Kids," Carrie sat down and gave a very channeled explanation and told me a bunch of stories. Even though it's not something that I personally have experienced in my life, it was easy for me to empathize. A lot of times, when I'm singing other people's words, the emotion is already there in the words — the connection that I have to whoever wrote it, the knowledge that I have about the way they feel about it, it clicks. There are times where it's hard to get into that headspace, and it's draining to feel emotional in that way — but it's also the most beautiful, rewarding thing to be able to interpret the words of the people that I love the most into feelings that I've felt myself.