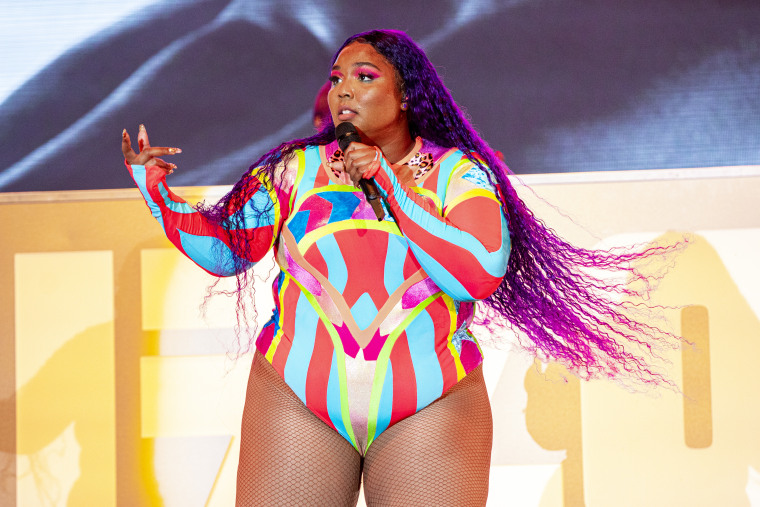 Lizzo has released an official statement with regards to the recent accusations of plagiarism over her current chart-topper, "Truth Hurts." Earlier this month, songwriters Justin and Jeremiah Raisen claimed that Lizzo had lifted elements of an unreleased song they wrote together called "Healthy" — specifically, the way she sang "I just took a DNA test, turns out I'm 100% that bitch," a line originating from Mina Lioness's viral tweet. Now, Lizzo says that she'll credit Lioness, but "not these men."
Lizzo had previously addressed Lioness in February 2018, saying "I've never seen ur viral tweet but I'm glad it exists." Now, in a new statement, she implies that she intends on crediting Lioness, but does not mention her name. "The creator of the tweet is the person I am sharing my success with," Lizzo posted on Wednesday. Lioness confirmed that she is now a credited writer on "Truth Hurts," adding, "I want to publicly thank Lizzo and her entire managment team for embracing me and reaching out."
As far as the Raisen brothers are concerned, Lizzo says she will not be giving them credit. "The men who now claim a piece of 'Truth Hurts' did not help me write any part of the song," she says. "They had nothing to do with the line or how I chose to sing it." Furthermore, Lizzo has filed a lawsuit against the brothers. In a press statement, Lizzo's attorney Cynthia Arato wrote, "The Raisens did not collaborate with Lizzo or anyone else to create the song, and they did not help write any of the material that they now seek to profit from, which is why they expressly renounced any claim to the work, in writing, months ago, as the lawsuit makes abundantly clear."
The FADER has reached out to Lizzo's team for clarification on her statement, as well as to Lioness and the Raisen brothers.