Wale's push for clarity
In a recent conversation, the pioneering DMV rapper talks about the stakes of his new album Wow...That's Crazy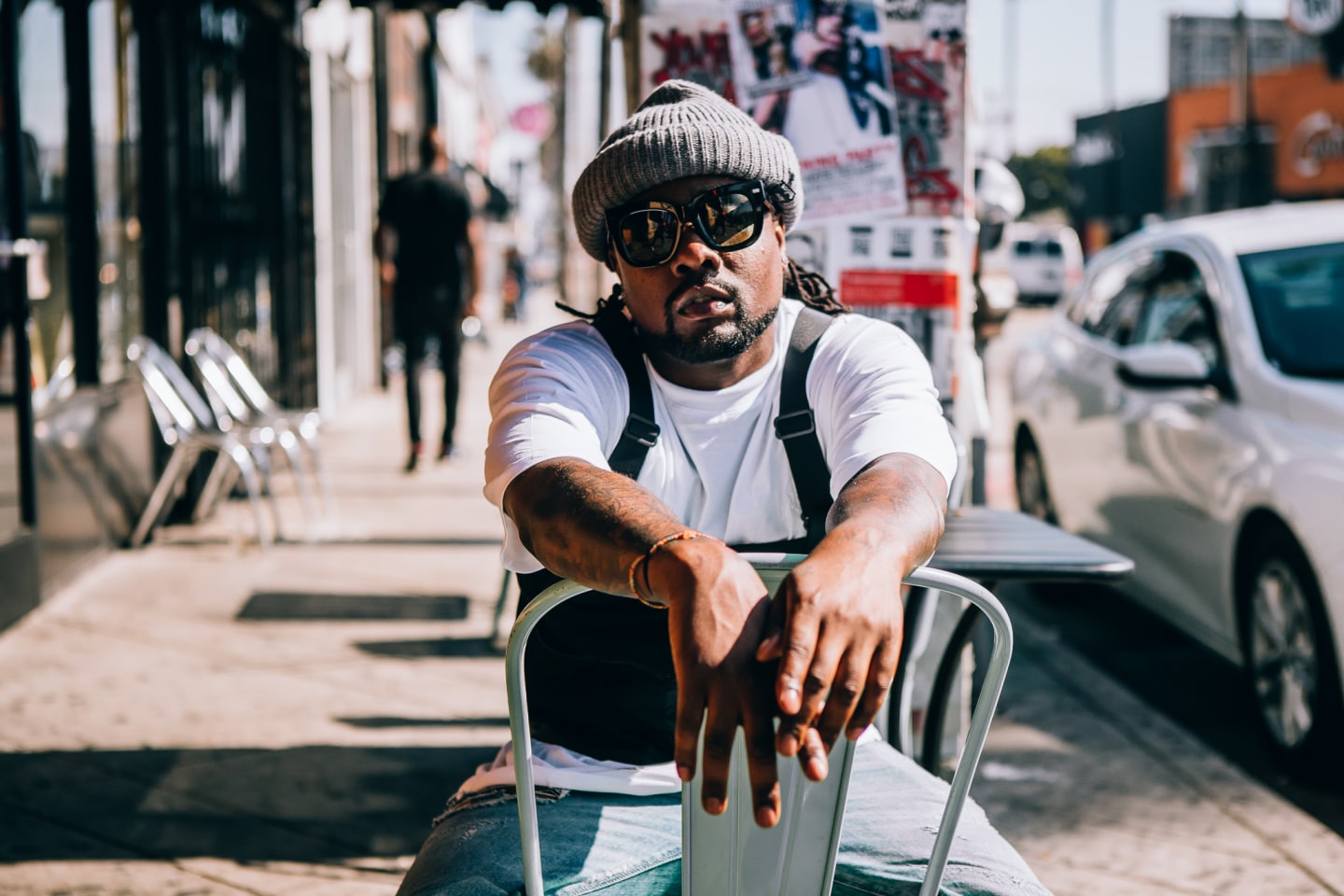 Speaking barely above a road haggard whisper while being interviewed between a slate of promotional appearances in Chicago and Detroit, Wale notes to The FADER that while recording his latest album release Wow...That's Crazy, he felt no need to "change anything up." However, popular opinion of the merits of the music on this sixth solo album in a fifteen-year career feels like something has definitely changed.
Wale's current level of mainstream acclaim is arguably higher than ever before. Jeremih-aided "On Chill" is a certified gold record that could easily achieve platinum status by the end of 2019. It would be his fifth platinum single overall, but the first time he seems to be in full control of his prodigious talent. Wale was once easy to regard as a gifted wordsmith who was frustratingly more than the sum of his antagonizing non-artistic faults. However, via this effort — he's more frank about his mental health failings, accepting of his own self-love, and more masterful in terms of beat selection and performance execution — he's evolved into the total of what appears to be a vast set of unique strengths. On Wow...That's Crazy, he has polished his now signature neo-soul leaning, signature sound.
The balance of Wale's career lays squarely between highly entertaining and deeply nuanced mixtape material, and oftentimes underwhelming album releases. In theory, a rapper releases a great mixtape to precede a great album. Typically, the mixtape is not a standalone product to be judged on its own merit. Rather, the mixtape alerts the world to the idea that the rapper is gifted, and has more to offer. It also keeps the rapper from needing to tout their own excellence, as the music speaks louder than the performer. When it comes to Wale though, because of the constant appearance of disconnect in level of quality between albums and mixtapes, the aforementioned logic does not apply.
Here's how this potentially impacts his creative mindset:
The time between 2007's 100 Miles and Running and 2012's Folarin mixtapes, likely encompasses the recording of six mixtapes and three album releases. That's 176 songs worth of material. Of that number, 56 tracks were on mainstream albums and 110 on internet-ready mixtapes. Of Wale's total album output, five top-five Billboard hits were yielded — yet eluded number one status — while the other 70% of mixtape material contains a similar or greater level of diversely unique content worthy of praise. Because the perception that he could not deliver a top-to-bottom great album was accepted as reality, Wale has been judged equally on his mixtapes as he has his albums. This ultimately puts pressure on all his content to succeed at the same level. That pressure certainly creates a kernel of mental doubt that, when heated by seeing your contemporaries excel, plus public opinion regarding your "creative genius" waver, popped as Wale's oft renowned antagonism.

Nearly two decades into the game and releasing his first album for Warner Records, he's finally arrived at a place where his consistency is unquestionable and finally yielding a steady stream of exemplary content.
For the duration of his new album's 53 minutes, Wale navigates the well worn spaces between self-assured hip-hop swagger and hyper-aware invocation of R&B's heartstring tugging gravitas. Album opener "Sue Me"'s greatest strength is he lyrical wordplay feeling more defined and intentional. Timeless pop records tell stories that leave some facet of an artist's soul seemingly bare to the world at the end of the track. Between noting that he "carries the bitterness of a cola nut," and the hook of "sue me I'm rooting for everybody's that's black," "Sue Me" is a gut-punching lesson in how to highlight one's emotional sensitivity.
Fellow Washington, D.C.-area native Marvin Gaye's career weirdly feels most comparable to the path of Wale's. For 15 years, Gaye navigated a frustrating path from hit material that met industry expectations like "Pride and Joy," to constructively engaging in earnest self-indulgence with smashes like "I Want You." Similarly, the Wale for whom pairing with the likes of Mark Ronson and Lady Gaga signaled his mainstream arrival has finally molted. Who has emerged out of that is a standalone veteran who, as noted before, is finally able to shoulder the weight of being as great as his musical aptitude.
Wale's finally at a place where he's apparently aware, accepting of, and solving his mental struggles — even to the level of refusing to discuss them in depth in this interview. As well, the album feels like more an acceptance of the idea that this is a career make-or-break for him between being a "great, consistent hit maker," or "one of the best to ever do it of all time, ever." On Wow...That's Crazy, the intellectual clarity and well-defined intention required to excel at a higher level are present. Also, he's working with a fresh new deal at Warner Records that has less of the stigma of his previous efforts attached. At present, everything in Wale's career offers hope for achieving the success he believes he's worthy of being afforded.
The following conversation finds him less opinionated and more mission focused. He wants a Grammy. It might not quite happen for this album. But, the focus now apparent shows Wale full cognizant that achieving even greater levels of professional success is possible.

On this album, it feels like you've matured, and the quality of the productions you're working with has leveled up, too. Do you feel these statements are accurate, and what was ultimately the most exciting part of the recording process this time?

I don't think I necessarily changed anything up, I'm still just being [lyrically] honest. As far as the producers and the records? I don't look too much into that like other artists and industry people probably do. Basically, I hit up Hit Boy, he played me some beats, I chose what I liked ["50 in the Safe"]. I didn't overthink it. I went to see Sango, he played me some beats, I picked one [Mannywellz collaboration "Love and Loyalty"]. It wasn't an over-thought situation. It's truly exciting to get the completed project out. Making albums are a headache. Clearing samples, crossing T's, dotting I's, it's a lot. Getting this album out feels like a big weight off my back.
Speaking of weight off your back, you have recently admitted to your own successful struggles with mental health issues. Is this something that you believe you're going to be an advocate for, or is this rather just something that demanded mention on the album?

I don't like to go in depth with interviews or with the press, but I will put a topic like that in the music. I don't want to be the poster child for mental health awareness or anything like that. I just wanted to let people know that they were not alone.
So, a lot of your lyricism and wordplay shows you to be a "thinking man's" rapper. So, as a thinker, I wanted to ask you what's the most interesting thing you've been thinking and learning about music as of late?

This isn't going to be a revelation, but I've been thinking a lot about there's basically two genres of music right now. There's like, "music" music, and then there's like, super microwaved music. Both of them have positive and negative traits. The microwaved stuff, you're like, "this is going to be gone in a week or two." And then, there's the music that you're going to remember for the next five years. The goal for me is to trust my gut instinct about what works best and make the timeless songs.
Kelly Price. She's on this album twice. She's on the opener "Sue Me" as well as "Set You Free." Of all of the possible choices, why her?

Having Kelly Price on this album was important as far as really making this a cohesive release. I always wanted to work with her. I mean, she was the voice of Bad Boy in the 90s [she's the voice on the hook of "Mo Money, Mo Problems"] and made some classic R & B albums. Once we had the MIssissippi Boys Choir recorded and live drums tracked [for "Sue Me"], I decided to get Kelly involved again for "Set You Free" so we could finish the album the same way we started it off.
Aside from Kelly Price, you have a who's who of mainstream R&B singing hooks here. Jeremih, Bryson Tiller, Jacquees, so many. Given that you've also worked with pop hook men like Miguel and Drake as well, who are others that you're interested in working with in the future?

You'd be surprised to see how hard it is to get some people in the studio! Artists are sometimes worried that their creative aesthetic won't match the aesthetics of the record. So, I typically don't go off the names, for real. I work with people I trust that when I call them, they'll know how to get the work in.
I have a good friend of mine who, though we agree on very little about music, do agree that you remind both of us a great deal of Marvin Gaye. Most notably in how you approach the records you work on from an emotional level. What do you feel are your skills that allow you to excel at crafting R&B records?

I try to make songs that others can't quite make because they don't have my background. From being raised with African music to being in go-go bands, I'm in my most natural musical space when I make records like "BGM" and "Debbie." I guess I can call having a good control over making records like that one of my "superpowers." I'm able to walk the line between many different genres [to make soul records like those].
Speaking of, "On Chill" is proving to be a huge single. When you hear that Raphael Saadiq sample, did you immediately think, "oh this is a hit?" What was that process like in the studio?

I have a weird recording process. Some days in the studio, I'll just rap on the first thing that I hear. When I'm in that space, I'm just like, "go," and get in the booth. When I heard the sample [of Raphael Saadiq's 1995 R & B hit single "Ask of You"], it was the right day, so I wrote it, and decided, yeah, let's get right into it. I was worried, though. Sometimes when you have a lot of musical knowledge, your fear is that certain samples seem too obvious. Then I just realized that I know a lot of songs (laughs). Once it was done, I was like, "oh wait, this is fire, tho! I did it again!"
Some other standouts to me here are that huge sounding 'MMG in 2010' record "Routine" with Meek Mill and Rick Ross, your Lil Durk collaboration for "Break My Heart," and the already released Megan Thee Stallion feature "Poledancer." Can you take me through what it's like for you working with these folks?

Rick, Meek and I ALWAYS have records. I have two other records that I'm trying to put out. I've got more records with Rick, and more records with Meek, too. We never stopped recording. The timing felt right to release "Routine." Durk? I like working with Lil Durk. I think this is the third record we've made. Me and Durk have been cool for a long time. Durk has a sensitive side as far as when it comes to talking about relationships, plus he's a really detailed songwriter. As far as Megan, she's a friend first, and that's what makes the collaboration easy. Me and her, we talk about our personal lives and tell each other jokes. Making music with people like that, that's a double win.
You're a D.C.-area native, and you showcased two rising D.C. area performers -- Mannywellz (on "Love and Loyalty," and Ari Lennox (on "Cliche") -- on the album. What led to you making these choices from what is a rising level of talented artists in the area?

I mean, Ari Lennox is a superstar. She's also the sweetest guiding light of a person. I just love Ari to death. As far as Mannywellz, I was put onto his music like, two and a half years ago and when we met, we just immediately started making music. He's really talented, and you know, our families know each other. The Nigerian community in D.C. is big, and once we finished recording "Love and Loyalty," we realized that his father and my uncle are friends.
What would be the most significant goal you could achieve with this album? Also, what do you feel are the album's attributes that make it a success?

I want to win a Grammy. Sadly, we missed the cutoff for Grammy consideration for most of this album. "BGM" and "On Chill" are the only eligible singles. I think both of those are definitely worthy, though. I hope that the good people who are voting will consider them. Overall, I just want people to receive the album in a good light. It's a cohesive project, where everything is intentional. Nothing is an accident.