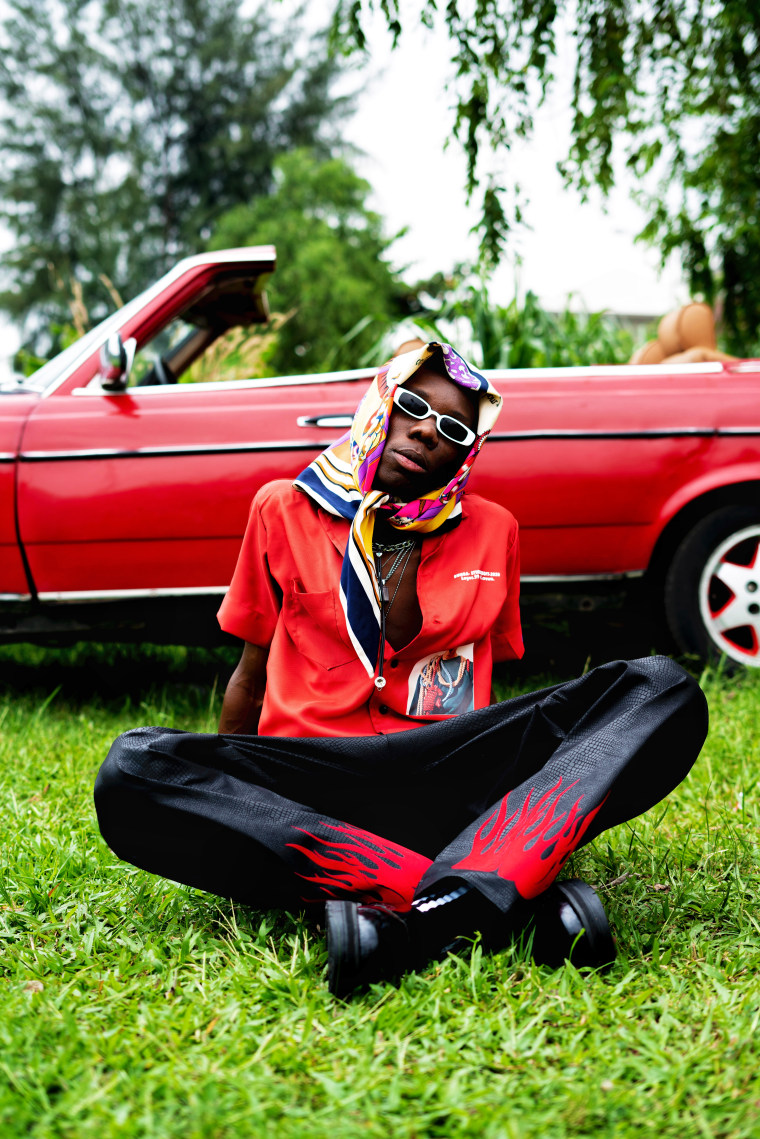 The majority of what people would justifiably associate with West Africa's current musical landscape is afrobeats and all of its derivatives. But beyond that is a crop of artists going against what's popular to try their hand at genres that resonate with them most. Nigeria — the home country of superstars like Burna Boy, Wizkid, and Davido — is not typically a destination for rap music but 24-year-old Blaqbonez is trying to change that. For nearly a decade, he's been crafting his lyrical skill, winning a number of freestyle competitions throughout the Lagos area in his teenage years. Last year, he released Bad Boy Blaq, a 10-track project that spanned from trap to conventional spitting to afrobeats-leaning harmonies, properly displaying his versatility.
Since then, Blaqbonez has been steadily building an entertaining online persona, in which he regularly proclaims himself as the continent's top emcee, gaining plenty of animosity from fans and peers. He also makes a game of rolling out alter-egos, sometimes even interviewing them split-screen style. One of the more recent characters he's created is Mr. Boombastic, a smooth, laid-back dude who's inspired by dancehall and afrowave. So fittingly, the EP that he released today is titled after the new persona, presenting Bonez in a way that he hasn't been before. Its lead single, "Shut Up," is one of the best examples of his meshing ability and the song's video — featuring men in wedding gowns cruising through Lagos with guns half their size — is one of the year's most aesthetically pleasing visuals to be released, regardless of genre. Over email, we spoke to Blaqbonez about the new sonic shift, his marketing strategies, and his place within Nigeria's rap scene.
Your Bad Boy Blaq project from last year was more trap-inspired, which allowed you to really show off your lyrical skill. Mr. Boombastic on the other hand is an alter ego that's more inspired by afrobeats and dancehall. What inspired the shift in sound?

I've always admired PARTYNEXTDOOR and his ability to make every project different from the last. So the moment I decided I wanted to make another project, I knew I needed to come up with a different style. I started taking beats from producers I naturally won't work with and started being more open minded. The day I recorded "Run My Race" I realized I had done something there, and i just kept fine tuning — adding more sauce.
You've been pushing yourself really hard as being the best rapper in Africa, which is a big statement. Why does having that title mean so much to you?

The main reason I'm pushing myself so hard with the Best Rapper in Africa title is mainly because when I initially said it, a lotta people said I wasn't, and in that moment, it sparked a resolve that nobody can actually tell me I'm not the best at what I do. So I decided to go hard with it, go to any length to prove everyone wrong, and show everyone I can be whatever I set my mind to.
Throughout your career, have you found it difficult to garner attention and support because you are more of a conventional rapper than a lot of your peers?

Yeah I used to find it hard to garner support because the conventional style of rap isn't widely accepted in Nigeria. But in the last few years I've been able to unlock new sides of me that I didn't even know existed, and that evolution has paid off. A lot of the credit would also go to Loose Kaynon and AQ — who run my label 100 Crowns — for giving me full creative freedom and supporting whatever direction my music has taken.
"Shut Up," Mr. Boombastic's lead single has one of the more entertaining and aesthetically pleasing videos I've seen this year period. Was everything happening in it your idea? How did it come about?

I won't take most of the credit for the video. A lot of it was TG Omori's creative mind. We had a meeting at his house and we bounced ideas off each other. We both are believers in approaching things in an unorthodox fashion, so it was easy for us.
I really enjoy how you market yourself online from throwing jabs at peers to interviewing your own alter egos. Is it as entertaining for you as it is for fans and supporters?

It is, because I'm finally letting people see me for who I am. I don't have to fake being something I'm not just so I can please everyone or be what the industry requires of an artist. So I'm totally enjoying it.
Where would you like to push Nigerian hip-hop and African hip-hop in general?

I see what Wizkid, Burna [Boy], and Davido are doing with afrobeats and I want to take our hip-hop to those heights. Who says a Nigerian rapper can't chart on Billboard? Who says I can't compete with the likes of Drake? I believe my strongest point is my personality and I believe I have an angle that no other rapper in Africa has.