How artist Jacolby Satterwhite transformed family recordings for his new album
The New York-based artist worked with Teengirl Fantasy's Nick Weiss to turn his mom's audio recording into a club record.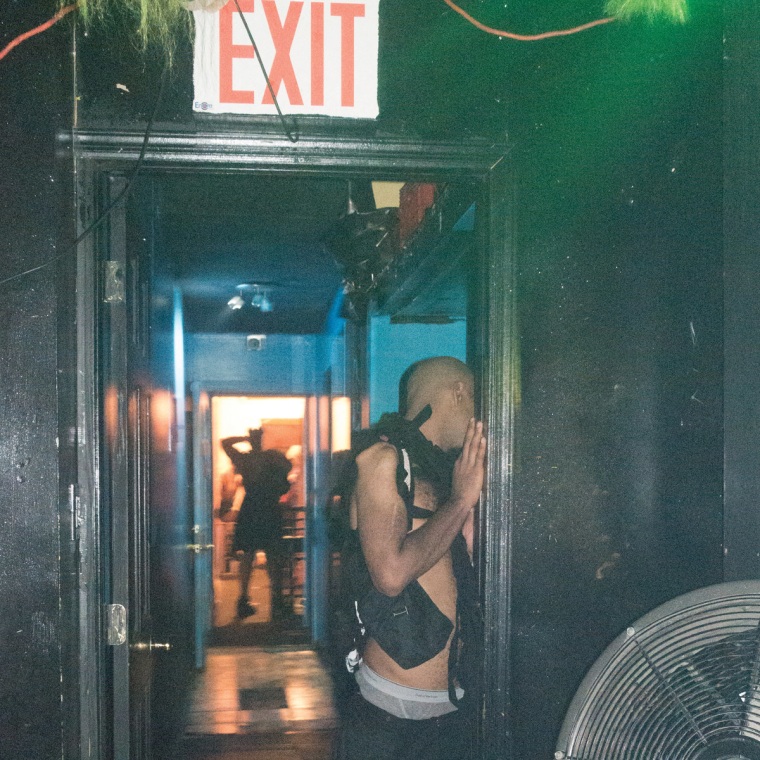 On Love Will Find a Way Home Jacolby Satterwhite spotlights his very first collaborator: his late mother Patricia. A former party girl and Mary Kay salesgirl, she became a shut-in as her schizophrenia developed, resulting in extended periods of creation. Jacolby remembers growing up in rural South Carolina as a three-year-old, assisting her in diagramming couture gowns and tampons embedded with artificial intelligence, which she drew while binge watching the Home Shopping Network. She also longed to be a pop star and compulsively sang gospel and folk-inspired originals, which she recorded a cappella. When she died in 2016, she left behind hundreds of cassette tapes.
On Love Will Find a Way Home, Jacolby and Teengirl Fantasy's Nick Weiss transmit Patricia's lo-fi recordings onto forward-facing club productions, creating haunting fantasias of sound. Patricia's voice anchors the project's 14 tracks, an earnestly plaintive instrument that flutters, belts and wallows down rabbit holes of emotion. On "Born 2 Be Free," she sings, as if confessing: "I'm not the same, but I'm the way I ought to be." On single "We Are In Hell When We Hurt Each Other," the tapping of a pencil against her thigh collides into a wall of techno.
Jacolby and Weiss named their collective — the album features contributions from Kindness, Lawfawndah, and Patrick Belaga, and others — PAT, after Patricia, but don't mistake the album as an homage. "It's not sentimental like" — here Jacolby's voice warbles— "a tribute to my great mother!" Instead, "it's just a continuum of a creation legacy that is collaborative, a call and response," he says. "The recordings are just a material for self-expression."
The album punctuates a breakout year for the 33-year-old multi-media artist, who conjured an animated colosseum of twerking bodies for Solange's visual album When I Get Home. In September, he opened his first solo museum show at Philadelphia's Fabric Workshop and Museum, followed by an exhibition at Brooklyn's Pioneer Works that functioned as a visual extension to Love Will Find A Way Home; in a Tower Records-like gift shop, virtual reality headsets immersed viewers in songs from the album, which were set to surrealist digital landscapes that made collaged references to gay sex, climate change, and African rituals of regeneration. Jacolby calls the project his attempt to bring back the "objecthood of the listening experience."
The Fader spoke to the artist from his bedroom-work space in the Bedford-Stuyvesant neighborhood of Brooklyn, where a Janet Jackson poster next to his bed hung catty-corner to another Janet Jackson poster next to his window.
I have this very distinct memory of you at the Butt Magazine Halloween party in 2010, because you were vogueing in the most jaw-dropping shiny gold outfit, with screens projecting videos of you dancing.

That's so funny. That look is now in an art collection showing at the Walker Museum. At first it was something I was just using to disrupt space. I was that kind of queer performer then.
What was your relationship to queer nightlife growing up?

It was a place for inspiration; a site of vulnerability and confession and experimentation where outsider's find solace. Both of my brothers are gay and way older than me — 14 and 12 years older — so they used to have me tag along if it was a babysitting thing. Sometimes I would stay with them in Atlanta in the summers and when I was 12 or 13 they would take me to really amazing gay clubs that were completely underground. My synesthesia for gay pleasure comes from that vibe, that acid house period, that Paradise Garage period, and the histories behind it. I'm happy to see those histories illuminated in shows like Pose because it's cool to see that it's become second language. Once it gets cheesy it gets good.
When I was 19 or 20 I used to go clubbing in New York at the Shetler. It was a very secular experience staying up til 3pm with a fake ID. Later, I found a certain kind of renaissance going to the first Spectrum around eight years ago.
Do you go out today?

By myself, on weird random nights. I don't go out properly. I go out now to observe chaos and order and come back feeling inspiration. I just look in the corner and go home. I like to see humanity.
Do you think your mother would've liked this record?

She only heard two or three tracks before she died. She was shocked. She didn't even believe it was her from back in the day. She was like, How did you do it? It made me sad.
Growing up, what was your relationship to her singing?

My friends would come over to play Playstation and she is belting in the living room. Til 3 in the morning sometimes. On a school night. We had a very tiny house in the backwoods of South Carolina. I'm looking back at that time now and seeing how chaotic and weird it was, but if that's all you know…
Making this album, I realized wow, this woman made a 155 track anthology of American south folk recordings emulating standard top 40 Billboard songwriting. I think she was trying to get an Earth, Wind & Fire or Michael Jackson tone, but at the end of the day she was expressing genuine pain through heartfelt lyrics.
Was making this album cathartic for you?

It was cathartic. It definitely was. But I've been working with the material for so long and I always promised it would be objective and never soft and sappy, because I just thought they were important recordings. Even if I found them in Australia somewhere I would feel the same way. For me, it's just a material for self-expression. I'm such a brutish maker.
As an artist who works mostly with visuals, what was the process of collaborating with a musician like Nick Weiss?

We'd order Greek food and I would be stoned or something. It starts with a conversation. I'm full of thoughts and I'm very clear about what I'm thinking about culturally. We're playing music videos, looking at old Janet concerts, and then we start twisting the knobs on the synth looking for a sound to focus on— he really showed me how to work Ableton and Pro Tools. It was just us being gay and having a fun conversation. It was long and tedious and fun.
Sometimes I tried to imitate a riff from a Mr. Fingers song and make it slower and build around it. I'm a huge fan of acid house. I'm interested in that time of unsung black queer techno heroes that I feel pre-dated everything about style, sound and culture. It was also an alternative form of the blues or gospel at the height of the AIDS crisis. People were singing these deep blues songs on minimalist beats. Conceptually, how sophisticated is that?
Your video work for the visual component to this album feels so subconscious to me. Do you dream?

The way I build images, I think I'm always dreaming. I'm always trying to get a vibe. I'm always thinking about what the potentiality of space could be. When I'm sleeping, it's just me trying to resolve normal human being stuff. It's pretty boring. Like I put the pie on the table and it disappeared. Let me go find it. It's very David Lynch-ian, but not even the good parts.
Wolfgang Tillmans took the photo of you on the album cover. Where were you in that photo and is there a story behind the image?

At the first Spectrum. That day was funny because I was at an Alexander Wang party — it was a fashion week disaster thing — and my friend was trying to push me onto Lady Gaga because she was next to us. And I was like I don't want to talk to her. I was just not in the mood to talk to a huge star. Security thought I was causing trouble somehow so they kicked me out in this embarrassing way. One thing led to another and I ended up at Spectrum. I was black out drunk and on drugs or something. The image encapsulated everything I wanted to express sonically and visually for the entire project.
In what space would make you the happiest to hear this album?

I love to randomly hear one of the harder hitting dance songs like Second Time Around at a Bushwick function with shirts off. Like what! Even though I play these things for museums, something about having that moment at a basic ass gay club would be fucking funny. I want it to be at a warehouse. It would be the weirdest thing. It would just tickle my fancy.