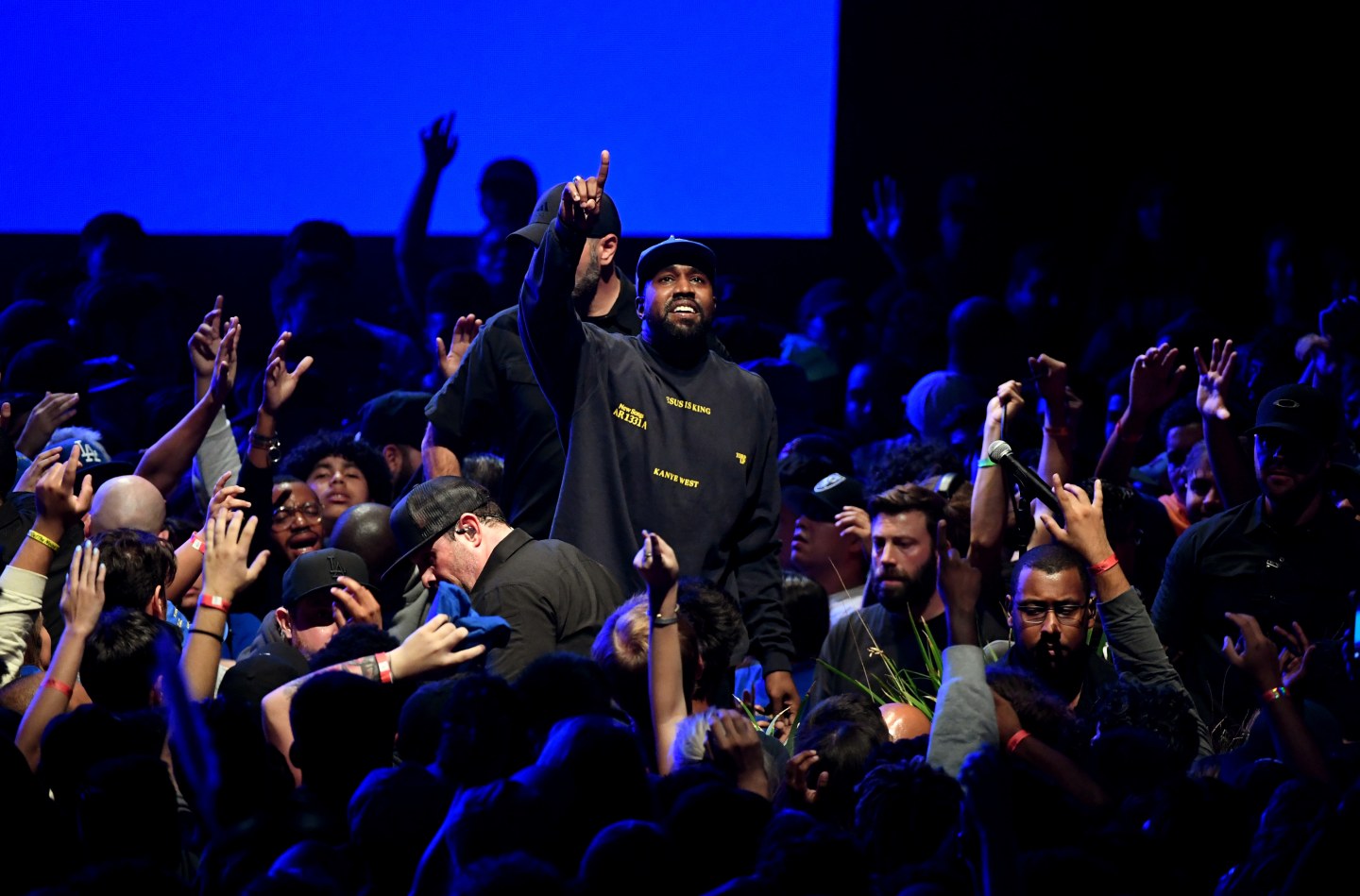 Speaking about Kanye Omari West at this time begs for big ideas and easy clarifications. In a sense it's an extension of his personality: he's grandiosely brash and lacks nuance, with an aversion to true self-reflection and perhaps no understanding of contradiction. How else does one explain the man who famously spoke for untold millions of people when he said that "George Bush doesn't care about Black people" now saying that he doesn't care about the opinions of "Black Twitter" seconds before declaring his love for Twitter CEO and co-founder Jack Dorsey with vocal inflections and word choices that — to put it bluntly — leave him sounding like a modern-day House Negro? To put this forward as a calculated move on Kanye's part or frame it as the totality of who he currently is would just be another easily clarified big idea. And it would be wrong.
Kanye West is many things and many people. From his own mouth, he is (or has been) Pablo Picasso, Steve Jobs, Walt Disney. He is (or has been) a genius, the greatest human artist of all time, a god. It has to be said that he may no longer be any of these things because Kanye West's declarations live almost entirely in the present, devoid of context or meaning besides a justification of his emotional state. And — perhaps with the exception of interrupting Taylor Swift in the unauthorized name of Beyoncé — none of his declarations have worked to serve anyone but himself. Even when he seems to be fighting for a greater cause or mourning tragedy, the common denominator and driving force is how Kanye feels — about not being allowed to finish a speech, about not being given opportunities he has shown no qualifications for, about his personal tastes and judgment being the ultimate arbiter of credibility.

There seems to be a bit of a role reversal on "On God," from the just-released Jesus Is King. Here, Kanye declares some amount of regret for chasing worldly goals in unseemly ways in the past. "The Devil had my soul, I can't lie," he raps. But it's also more of the same. Kanye doesn't mention his former priorities to reflect on how bad he was then, as much as he does to underscore how great he is now. He suggests that it's solely his responsibility to repeal the 13th amendment of the Constitution, declares himself the greatest artist dead or alive, and humblebrags about his home, his cars, his Forbes cover, his exorbitant sneaker prices.

It's no wonder that West has taken to Christianity and its Bible these days—it's the perfect intellectual ecosystem for someone who cherrypicks his points and insists that some things are to be taken literally while others are obviously poetry. When he mentions only reading halfway through the book of Ephesians on album track "Hands On," it's unclear if he's talking about himself, let alone whether or not he's being confessional or metaphoric. On "Selah" he feverishly references two verses from the Gospel of John, not in service of Jesus as much as himself: "He saved a wretch like me," he declares after hinting to not only being chosen, but to also having some precognition about what's to come. "Before the flood, people judge/ They did the same thing to Noah."
For the first time in his public career, Kanye may be opting to praise something other than himself — but it's still so much about him. In this sense, he's like the rest of us: unable to escape the gravity of his celebrity and myth, even when we declare him canceled or over. He may or may not be any of the things he declares himself to be, but he remains unignorable and polarizing. We're stuck talking about him, even if only to say we're not talking about him anymore. Jesus Is King is his new gospel-inspired album, one that comes after many delays and abortions and leaks; the album that comes after years of admissions of mental issues, befuddling statements about the "choices" surrounding American chattel slavery, White House visits to gleefully meet with the man who will undoubtedly be remembered as the most incompetent President in US history up until this time. This is the album that was meant to be a corrective statement after the largely forgettable Ye. But you know all this. Because he's inescapable like that — even to those of us who don't care about him.
Many of the outlets and trusted voices that, for years, turned a blind eye to his most harmful eccentricities are now reckoning with the weight of Kanye's words in light of the reality that his best solo music is most likely behind him. There may be arguments made as to whether he peaked with The Life of Pablo in 2016, or almost a decade ago with My Beautiful Dark Twisted Fantasy, but more and more, we are all settling into the reality that the "old Kanye" is the most musically accomplished Kanye. During the times of MBDTF and TLOP, it was hard to imagine that Kanye West would be making forgettable music almost immediately after. Just three years ago, the feeling was that, if Kanye made incomprehensible and inaccessible music, it was for the purpose of experimentation. Yet, here we are, with Jesus is King, an incredibly mediocre album that's not good as a rap album, a gospel album, and definitely not a gospel-rap album. It's not even the best gospel-rap album released by a mainstream Chicago rapper in the past five years. That would be Chance the Rapper's Coloring Book.

Kanye is still doing what he's always done: thinking that the ignorant blindspots of a dilettante's eye are actually the kinds of mastery that eludes seasoned practitioners. It's a strategy that's worked for him as a visual visionary and clothing designer, but it no longer feels cute. Much of the past few years have felt like the best people with the best instincts are no longer around him, or as if everyone around him is playing cautious out of reverence for the real estate of his celebrity or the fragility of his mental state. Or maybe it's just what happens when you have a hip-hop album created while living in Wyoming and A&R'd by Jesus after being heavily influenced by the Kardashians.
Kanye West's solo albums have never been truly solo affairs. They've always been amalgamations of ideas provided by ghostwriters and hidden producers who were properly credited but not quite openly acknowledged. But on Jesus Is King, there's no sense of any of these songs adding up to the sum of their contributors. Take "Closed On Sunday." This is a song that sounds like a silly ditty that a husband sings to his wife, but never in front of others. Or the theme song for mealtime at a Jesus Camp. It feels like an excessive Kanye troll; during a moment in which the Popeye's chicken sandwich has been deemed the best of them all, West is praising problematic-ass Chick-fil-A as a stand-in for family values, fidelity, and self-determination. It's a mess, but it's somehow co-produced by Timbaland and features both members of the Clipse on writing duty.
The Brothers Thornton show up again on "Use This Gospel" and it's not the Clipse reunion we've been waiting for. Pusha T's verse sounds like it was AirDropped from one studio over, where he was working on a project he actually cared about. No Malice puts forth his best gospel-rap foot as if he were expecting his bars to be featured on an album with more substance and meaning. The song demonstrates so much of what is wrong with this album and where it could have gone right. There's a "door ajar" chime ringing through the beat which, while it may not work well here, shows the kind of creative chances that are mostly absent on Jesus Is King. No Malice's verse is pretty immaculate, but it's the contextual sinning that makes it worthwhile: "Lotta damaged souls, I done damaged those/ And, in my arrogance, took a pic like a camera pose." The song also wastes a Kenny G appearance, which comes in as a disembodied instrument, which is a shame, considering we know the Clipse and the saxophonist were all in the same room at some point.
Kanye's best gospel moments rely on others. Chance, Kirk Franklin, Kelly Price, and The-Dream to carry the cross on "Ultralight Beam." The internal struggle between morality and vengeance presented by Jay-Z on "Lucifer" and Pusha on "Santeria." When left relatively alone on Jesus is King, Kanye rings incredibly hollow. Very early on in the album, "Selah" builds up into a marital stomp with spirit-raising hallelujahs and reverberating whooping. It feels like the song and album are going to build to something transcendental that would justify the cringy Ned Flanders bars ("They say the week start on Monday/But the strong start on Sunday"), but it never amounts to anything but a quick end.

The album's best song is undoubtedly "Follow God," which pulses forward with an unrelenting soul chop and a steady typewriter flow. But the track ends too early in more ways than one. It's only one and three-quarter minutes long and has Kanye admitting that he's "wrestlin' with God" while he repeatedly mentions arguing with his father. After rapping, he recalls the interaction with his father, claiming that his dad spazzed on him and when Kanye responded in kind, his dad told time that he wasn't being "Christ-like." To that, Kanye retorts with a shriek that ends the song, and as a result, the conversation.
This much is not new. West has always avoided speaking to complexity via emotional outbursts. But his evangelical take on matters embodies his avoidance with an ultralight beam of self-righteousness that creates a distance between him and the rest of us mortals. Mixing his fame with Christ's divinity into an unholy cocktail of self- and God-reverence explains why Kanye West will talk to his Heavenly Father but scream at his biological one. And it's no wonder he doesn't care what Black Twitter thinks but loves Jack Dorsey. Above all, Kanye West respects power and loves himself. And there is no one more powerful or more loving of him than the God in his mind. At least for now.