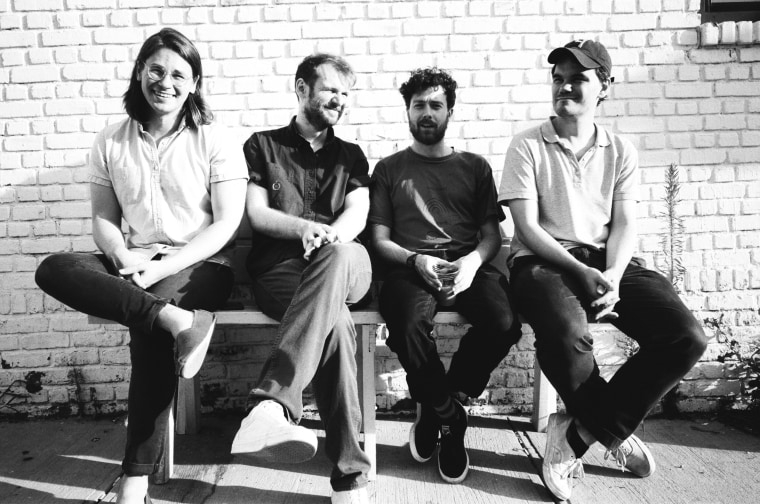 Office Culture's music belongs on a different timeline. Their hypermellow keys have been slowed down to the point that they border on New Age relaxation; flutes and horns slither into the sides of the mix to add a thick veneer of luxury; lead singer Winston Cook-Wilson sings with a clarity that splits the difference between Prefab Sprout's Paddy McAloon and Roxy Music's Bryan Ferry. They spend some of the best moments on their second album, A Life Of Crime — out this Friday via Whatever's Clever but streaming in full below — sounding like the most vital lounge-pop act of all time. Their melodies, often pressed through Cook-Wilson's rangy falsetto, are impossibly graceful and often willfully melodramatic. The Brooklyn-based four-piece is what would have happened if sophistipop had never relaxed its grip on the charts, but instead spent three decades refining itself even further.
The band's 2017 debut, I Did The Best I Could, was elegant in parts, though Cook-Wilson recently told PopMatters he can't listen to it anymore and, when placed next to A Life of Crime (unfair though that may be), it does sound a little cluttered. Cook-Wilson's grand piano-led solo record, Thirty, released a few months after the band's debut, seems to have laid the groundwork for Office Culture's follow-up. "Through the process of doing our first album, Charlie [Kaplan, electric bass], Ian [Wayne, electric guitar and synths], Pat [Kelly, drums], and I figured out how to be a collaborative unit rather than an extension of a solo project," Cook-Wilson explained in an email to The FADER. "For this new album, I wanted to strip away the bells and whistles and haze, and hear the band more. By the time we went to record, we had honed in on a pretty specific atmosphere we wanted to preserve across the album, and we had the best possible tools to realize that, thanks to the amazing people we worked with."
"In this day and age, more and more of us feel an imperative to nail something down in the identity department and project it out all over everyone, so they can project it back to us and signal: 'You did okay, champ,'" Cook-Wilson continued, without a prompt. "For me and hopefully lots of people, fixed concepts of 'who I am' and 'what I want' often feel like fish trying to slip out of our hands. There is too much context to consider:people we love, employers, the weird and rapidly changing syntax of the world, shortcomings in ourselves we haven't figured out how to change. A lot of the time, you return to this base feeling of being an impostor — some kind of crook putting over a con on everyone."
Listen to A Life of Crime above and pre-order the album here.