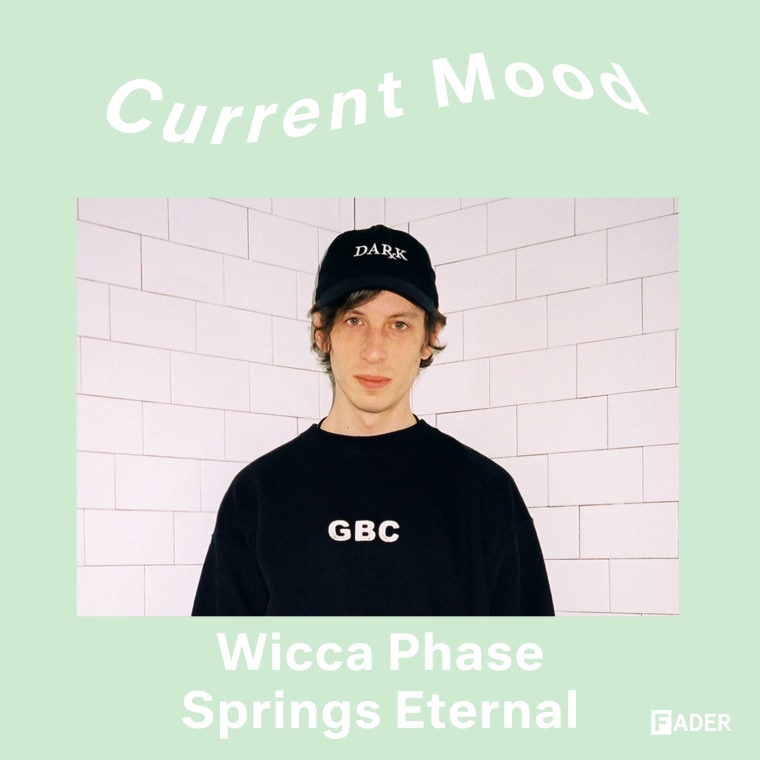 In our Current Mood series, we ask some of our favorite artists to curate a playlist according to a specific theme or mood of their choice. For Current Mood #035, GothBoiClique co-founder Wicca Phase Springs Eternal shares the music that's shaping his forthcoming LP. Listen to past Current Mood playlists here.
"Hardcore," the propulsive latest single from Wicca Phase Springs Eternal — the creative persona of Scranton, PA musician Adam McIlwee — took a sharp left turn from Suffer On, the record that preceded it by mere months. Adding a raw, grungy chug to McIlwee's already-dark music, "Hardcore" hinted at a new path for the singer, songwriter, producer and multi-instrumentalist. His FADER CURRENT MOOD playlist serves a sonic mood board around the direction for his upcoming LP, and it pushes further away from what listeners know of the Wicca Phase Springs Eternal project, selecting songs by everyone from Nick Cave to Jackson C Frank to Infinity Crush as indicators for his new music.
"I recently spent a week in Kerhonkson, NY with døves working on music and planning my next LP," McIlwee tells The FADER of the playlist. "This playlist is a mix of what we were listening to during that trip, as well as songs I put on a mood board playlist for that next LP. My album won't sound like any of these songs, but I'll try to take the maturity that I hear in the songs from this playlist and reflect it in my songs." Listen to Wicca Phase Springs Eternal's CURRENT MOOD playlist above.