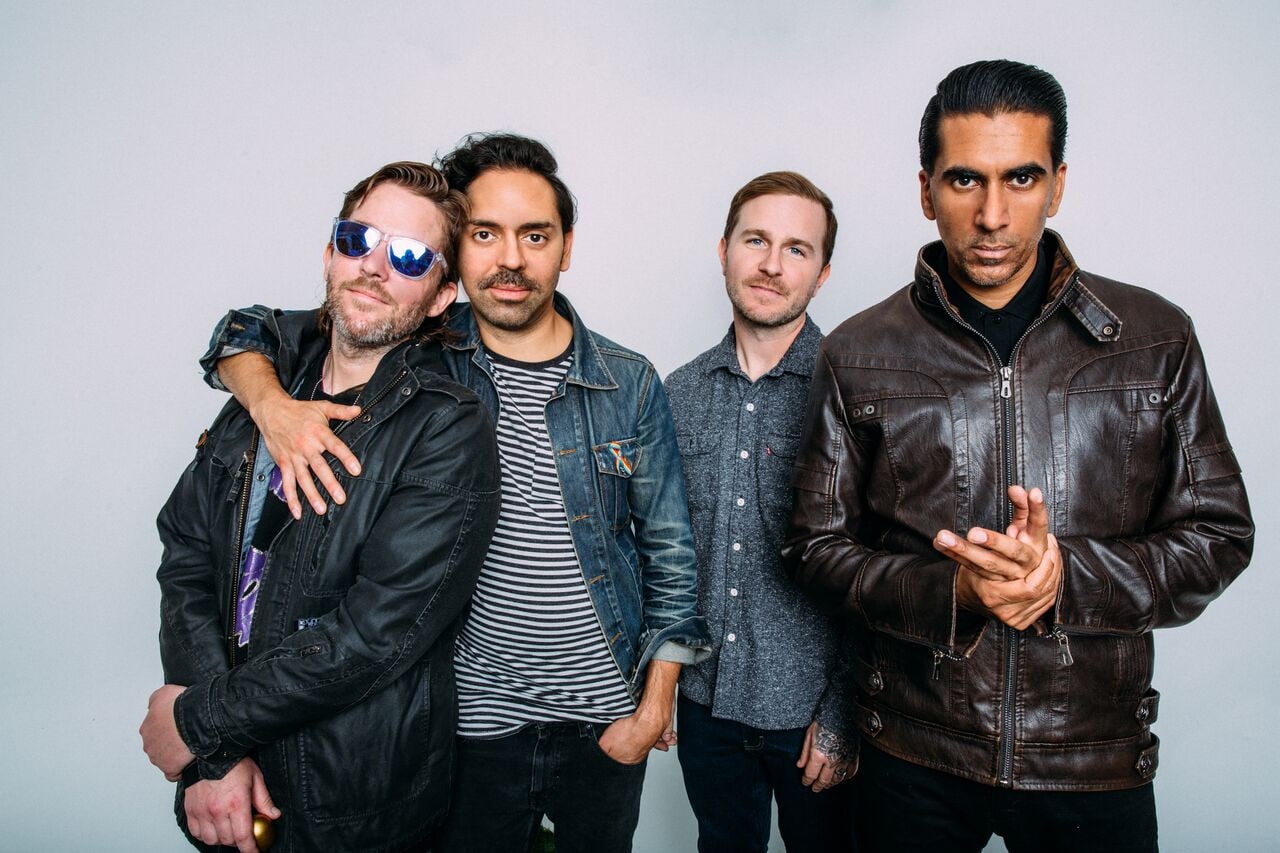 Chris Conley spent the first 19 years of his life getting bullied constantly, so he was understandably shocked when people thought the songs on an album called Through Being Cool were autobiographical. "I grew up as this overweight kid with acne and I just relentlessly teased," the Saves the Day frontman explains. "It was a daily experience — non-stop, since preschool." He started the beloved pop-punk institution during his junior year of high school as a cathartic outlet for his social torment; within a year, they were on Equal Vision Records with the likes of Converge, Sick Of It All, and Ten Yard Fight.
But a different kind of bullying emerged, as the band were getting heckled by hardcore kids who couldn't fathom a bunch of squeaky-clean Princeton kids sharing stages with Bane while playing blindingly bright pop songs at Warped Tour speeds. This is the history that precedes Saves the Day's classic sophomore album, and you can't say Conley doesn't have a sense of humor about it all: "It was relatively undeniable that the album was good."
Recently commemorated with a 20th anniversary deluxe release, Through Being Cool is a platonic ideal of its form — an Atomic Warhead of piercing, sweet melody and macabre, often violent lyricism whose innovations are tougher to appreciate after two decades of copyism. Compared to the California goofballs and East Coast hardheads that typified pop-punk, Saves the Day boasted cleaner vocals and more obvious roots in hardcore, with double-time beats and chunky palm-muted guitars that justified their presence on Equal Vision. Still, it didn't make Saves the Day cool — at least not in any traditional sense.

Already outcasts in their local scene, Conley and drummer Bryan Newman were misfits at New York University in 1999, where the druggy, cosmopolitan ennui of the ensuing New Rock Revolution was already taking shape. (Imagine the possibility of Conley sharing a classroom with fellow alum like Interpol's Carlos D or Paul Banks.) And for the past two decades, Through Being Cool didn't even have the indie credibility granted to wildly influential and initially overlooked emo masterworks from 1999 like American Football, Clarity, or Look Now Look Again.
But the success and influence of Through Being Cool was instantaneous — Conley estimates it sold around 30-40,000 copies, enough for a hardcore band to be the subject of a major-label bidding war. Though esteemed elder statesmen like H2O and Face to Face vouched for Saves the Day, "Older fans of hardcore punk took a longer time to warm up to us," Conley notes. "Younger kids who would go to the mall just loved Saves the Day — they were more our age and felt the same kind of excitement. You really did hear more bands sounding like that afterwards." Among them: Taking Back Sunday, My Chemical Romance, Yellowcard, Say Anything and Fall Out Boy. "They started out as two Saves the Day cover bands," Conley proudly boasts.

For most of the 90s, major labels signed bands like Jimmy Eat World, Mineral and Texas is the Reason hoping that emo could replicate pop-punk's commercial success of years prior. But Saves the Day — and the lineage of bands that soon became their peers — obliterated the distinction between the two genres and created the sound of early-21st-century mainstream alternative rock. It was a wave that Saves the Day wouldn't ride for very long: while 2001's Stay What You Are vaulted Saves the Day to late-night television and tours with Green Day, neither Equal Vision diehards or the newbies stuck around for the lysergic pop of 2003's In Reverie — Saves the Day's only major-label album which has oddly become their true cult classic, largely beloved by fourth-wave emo acts like Pity Sex, the World is a Beautiful Place & I Am No Longer Afraid to Die, and Tigers Jaw (whose Ben Walsh has called it his favorite album of all time).
"We've always just been this punk rock band, so any of the brushes with that kind of commercial machine, we've bristled at," Conley says. Since In Reverie, they've scaled the ladder in reverse, releasing their subsequent two albums on Vagrant and their two most recent on Equal Vision. After years of confounding the more nostalgic pockets of both his fanbase and that of the Chicago Bears, Conley has embraced those who see their return home as a course correction; the band's Equal Vision reunion was titled Saves the Day, while last year's 9 began with a song called "Saves the Day" and ended with a 21-minute retelling of the band's history.
On the cusp of bicoastal one-off shows with Hot Rod Circuit celebrating Through Being Cool, the 39-year old returns to the word "grateful" quite often during our conversation. Also, "surreal" — particularly that an album he wrote as a tormented, emotionally stunted teen has resulted in a life of inconceivable serenity and gratitude. His new home of Chino, California has the collegiate charm of Princeton without the shitty weather; a nearby guest house doubles as his studio, and his teenage daughter's school has anti-bullying programs. "I've always been extremely grateful, because I really am this oblivious, aloof, absent-minded guy who just likes playing guitar and writing songs," Conley gushes. "It's a miracle that all of this happened."
Was there ever a time in the early days where Saves the Day worried about being cool?

No. Once we made Through Being Cool, people really started to come out to shows. At the time, we were just kids making music. The title was more of a punk rock sentiment. There's a Jawbreaker song that says "Wake me up when you're through being cool cause I'm snoring." There was also Devo record with a song called "Through Being Cool" that I really liked. Those two bands using that term made it stick with me.
It's interesting that Through Being Cool was written at NYU, since it's such a quintessential, suburban New Jersey pop-punk album.

I wrote a lot of lyrics waiting for class to start. I'd be sitting in psychology working on a homework assignment for creative writing, and those words would become the lyrics for "You Vandal." I'd go to Washington Square Park and sit on the benches. It was an inspiring place to be. I'd be going back to Princeton nearly every weekend because I had friends and a girlfriend there. You can hear me traveling between two states. "Third Engine" was literally written on the train from Penn Station to Princeton Junction — I was looking out the window, watching the world go by, writing those lyrics.
Did anyone on campus know you as "Chris from Saves the Day"?

Maybe in the hardcore world. The people who liked it really liked it, but it wasn't until Through Being Cool that we were "the guys from Saves the Day." It was still very small though. It's still just a punk record, so it's awesome that it made such a mark.
Did you experience any backlash in the scene?

There was a change in the way people reacted to us. We were respected by the bands, and it felt so good to be taken on tour with H2O and to have them tell us they like our music. That meant everything. There were still people who would make fun of us for singing, but H2O sang too. When we started playing with Face to Face and Alkaline Trio, their fans liked us too, because Alkaline Trio are a punk band who sing super melodic, catchy pop songs and Face To Face is perfect pop songs played by a sick punk band. The bands that ended up taking us under their wing and appreciating us was all we needed.
In 1999, there were still a lot of hangups about "selling out" in punk rock. Was there any point where you started becoming skeptical about the newfound attention?

I was more totally blown away and grateful. Bryan Newman and I went to school our whole lives together, and when we were in eighth grade, he found out I learned how to play guitar over the summer. The first week of school, he called me up asked if I want to jam in his parent's basement that weekend, and that was the beginning of everything. If Bryan never called me, I'd never have started a band. I'm so grateful he gave me that call that led to this incredible life.
You're the only member of Saves the Day that still remains from Through Being Cool. How has personal interaction with your bandmates changed in the past 20 years?

One of the things I learned along the way was how to be a better, more confident leader. I was always the guy who had the final say, but when you're young and playing with friends, it's hard to be a boss without it being emotional. Younger people have a harder time being removed from their emotions. There was already a lot of upheaval in the band before Through Being Cool — that was maybe the fifth or sixth lineup. We were always having new people in the band that were strangers we'd meet through the scene. After Can't Slow Down, we got another friend from our high school who wasn't in the band, David Salloway.
Interacting with another human being is hard enough when it's not work-related. I've always had really high standards, which was really hard on the other guys. I didn't know how to say, "That one note that you're playing right there is out of tune with this other note and it throws off the whole chord." I know how to say all the things I need to say now after 20 years of on-the-job training, but back then I'd just sorta be upset, which creates friction.
"...thank God I have the ability to write and get it all out — and thank God people liked it, because it seems to help them when they're going through something and they can't put their finger on what it is." —Chris Conley
You've spoken about how these songs mostly started at creative writing assignments, but "Rocks Tonic Juice Magic" would often be held up as an example of an inherent misogyny in pop-punk or emo. Did it bother you that Saves the Day wasn't given the same authorial license as artists in other genres?

It was a shock, and it shouldn't have been. But that's part of me being aloof and totally oblivious. Those were all written as poems — they were creative writing assignments, or stream of consciousness, where it was an emotion itself writing those words and it had nothing to do with actual events. When I finally realized that people thought these things were true, it was kinda horrifying. I'm glad that people ask about it now so I can clarify it. I wasn't thinking that 20 years later, I'm gonna be on the phone having to explain this stuff. It's funny, but it's also serious.
What did your girlfriend at the time make of those lyrics?

She didn't think anything of them at all. We went to high school together and she knew they were assignments. I would read some of them at poetry readings. All the love songs are the ones that are real. She really did go to Costa Rica, and I really did miss her. I really was on the train going back to see her. But then you go back to a song like "My Sweet Fracture" — that one is angry, but it's directed at a guy. It talks about them being a jerk — you don't call a female a jerk.
Did you find yourself becoming less angry after Through Being Cool?

I'm less angry now, but at that time, it's not like I was writing to get through anything. I was literally just writing from a place of feeling — I wasn't trying to get over the feeling. It was years later that I made a conscious effort to find out why I was so fucked up. That was through years of therapy, and I wrote the trilogy [Sound the Alarm, Under the Boards and Daybreak] about my exploration of my psyche and subconscious and all the feelings that were down there that I never dealt with as I was growing up, without anyone telling me how to deal with my emotions.
In the world I grew up in, no one sits you down and asks, "How you doing?" Maybe there are other places where that happens, but it seems like people just want to gloss over all the tough feelings and have a stiff upper lip. That's how you get such emotionally charged lyrics, because it was stuff that had been building up for years. The writing for all the albums has been an incredibly important process of understanding my own experience, and thank God I have the ability to write and get it all out — and thank God people liked it, because it seems to help them when they're going through something and they can't put their finger on what it is.
I feel like the bands that carry on the legacy of Saves the Day in either pop-punk and emo are much more open about therapy from an earlier age.

Emo revolution! It's awesome, people are getting better — you can't bear that kind of thing. It's nice that we're in the future and people are being respected more in society for being whoever you want to be.
I imagine most pop-punk bands these days couldn't fathom what it was like to be courted by a major label back in the late '90s. Was there any moment that was particularly disorienting?

We started to get wined and dined by huge major labels and huge indies — you'd go to the swankiest joint, sit at a huge roundtable, and order everything on the menu. And then you'd go to some massive skyscraper to the top of the building and have a meeting at a really long conference table, where they'd tell you you're gonna be the next this and that. And it all felt so phony to us. Thank God we had punk rock in our veins. We wanted to be a successful band once we realized that could happen, and we were excited to be having all these meetings. We were willing and gracious guests.
But the people at Vagrant felt like a West Coast version of the people at Equal Vision, it was all family and part of the scene. They were real people who really cared. After Stay What You Are, we went through that again but on a higher level — going to the Super Bowl in private jets, stuff like that. I don't look back on any of it with disdain, it's all just part of this crazy story. We made In Reverie for Vagrant, on Vagrant. But that's when major labels started to come in again because we were one of the biggest bands in the world at that point. In fact, DreamWorks was technically an independently owned label. It was just owned by a bunch of billionaires [Laughs]. We've never been on a major label. We got shuffled to Interscope when DreamWorks got sold, but we asked to get cut loose from our contract and they were kind enough to do that.
There seems to be this assumption that there's a new "Shoulder to the Wheel" video because you hated the old one.

I don't remember any of that! I remember feeling like I hated being in my own skin and I've never liked looking at photos or videos of myself. I just don't do it.
So how did you cope shooting the "At Your Funeral" video, where you're facing the camera the entire time?

That was fun because we were with this great group. The director Maureen Egan was Rich Egan's sister, he owned Vagrant. It all just felt like family. Even the Through Being Cool [cover] shoot was at the apartment of the sister of the wife of the owner of Equal Vision. The "Shoulder to the Wheel" video was shot at our guitar player's house. Doing the shoots felt comfortable, but if I'm asked to look at it or think about it after the fact, I just don't want to because I have self-loathing. I've got issues.