Lil Texas is pushing hardcore techno past the speed of sound
An interview with the firebrand producer about his rise and future plans.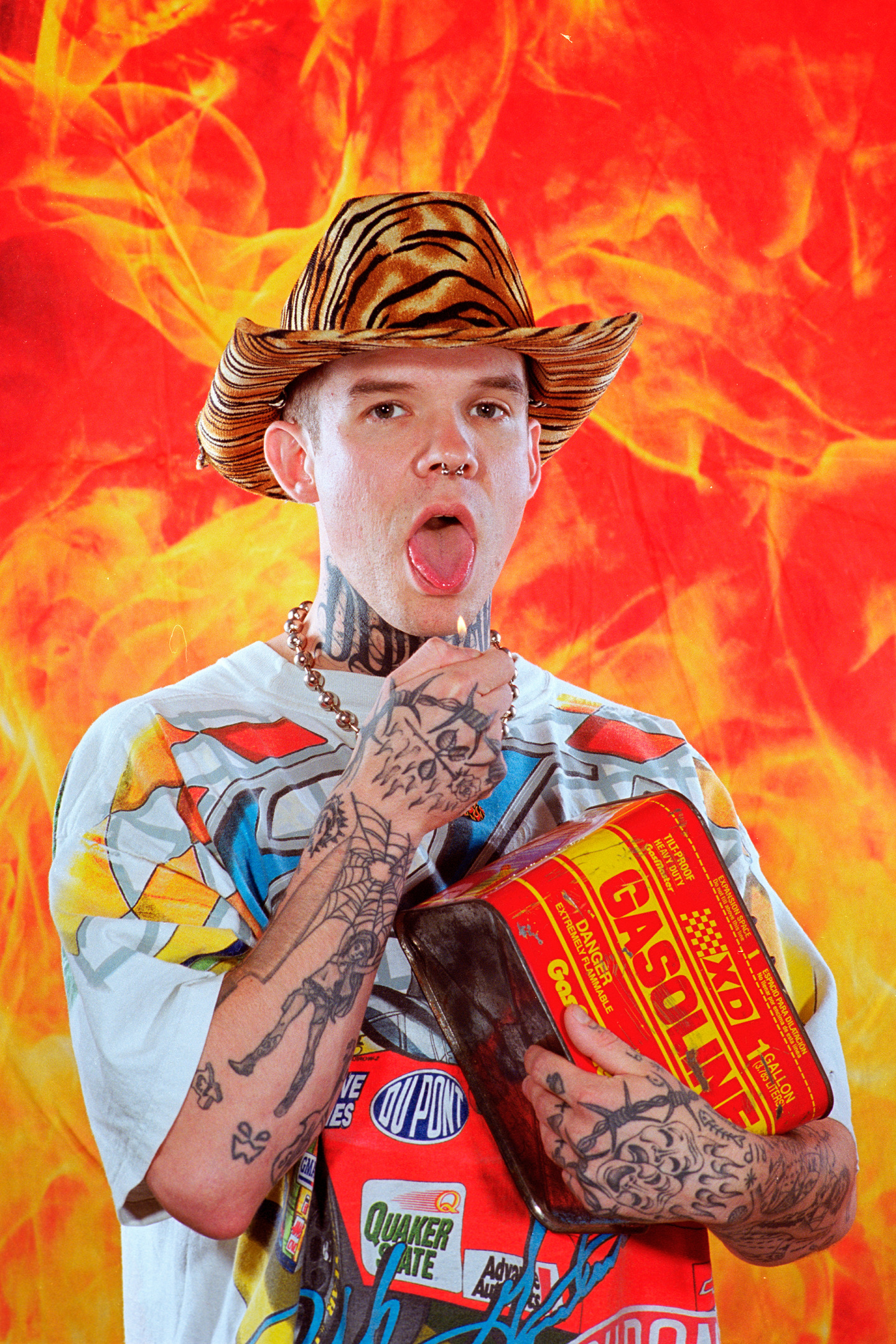 Lil Texas knows that hardcore techno has always been a middle finger to the establishment, a direct confrontation with the limits of acceptable taste. Since its start in the late 1980s, the Dutch genre has served as a refuge for listeners exhausted by dance music's endless respect for tradition, with faster tempos, crazier samples, and the sort of brutal, in-your-face kicks that can leave even the most open-minded techno fan with a headache. Yet somehow it seems that this same penchant for dance music puritanism has finally caught up with Lil Texas, who's recent EDM-infused take on the genre has inspired more than a few hardcore veterans to get defensive about a style once defined by its open-mindedness.
"A lot of old hardcore heads think I'm an abomination to the genre," he says, sly smirking at the irony. The Dallas-born, Los Angeles-based producer is coming off of a whirlwind year of shows in cities like Amsterdam, Krakow, and Cologne — the same places where hardcore first exploded from a regional trend into a genre recognized around the world. In the wake of a pair of recent sets at Amsterdam's annual ADE conference and festival, the 30-year-old Angelino seems confident that he's finally cultivating the audience he always wanted, even if it's meant pissing off a few purists in the process. "Now in Europe, there's a lot of people who are really interested in the project and it's starting to grow," he says in the days following ADE. "But that's very new, it's in its infancy right now."
Over the last few months, he's taken to calling his sound "Texcore," both as an homage to his Southern roots and in an effort to set himself apart from the style's originators. "It's definitely got a lot of old-school gabber influence, and my melodies and breakdown intro structure comes primarily from early hardcore," he says. Loaded with synth stabs, horror film samples, and a clear punk and grindcore influence, it's just about the furthest thing from the mainstream EDM market, where he's cultivated a surprisingly passionate following of listeners burnt out on the genre's runaway commercialism.
He's also caught the ears of high-profile DJs like Skrillex and Marshmello, who've both included his tracks in recent festival sets. "We live in a cool time where it literally starts right here," he says, gesturing toward his home studio monitors. "And then I see a video of Marshmello playing it in Indonesia. It's cool to see these ideas come to fruition, and to get respect from these other DJs."
Clocking in at 200+ BPM, it's not the kind of music that fits particularly easily into an ordinary house or techno set; still, there's a spiritual connection to America's initial EDM breakthrough, where the conventions of trap and dubstep were more like vague guidelines than the kind of steadfast rules so prevalent in European dance music. Now with even those purists struggling to defend their cynicism, it's clear that Lil Texas is onto something big — though perhaps not as big as the rhinestone cowboy hat on his head or sprawling tattoos across his arms and chest. Haters and skeptics, take notice.
It must be strange to be an American making Dutch hardcore music abroad. Do you feel like it's received the same way internationally? Is it treated mainly as an EDM thing?

It's interesting, man. I think that for a long time, a lot of people in the States really felt that Europe was the necessary avenue for their success when in reality, focusing on their own market was how to get European attention. For me, focusing primarily on the States this past year, I actually gained the attention from all the people that I wanted it from — I wanted the Dutch respect and the Dutch to fuck with me — and it ended up happening over the past two to three months.
It's kind of a love-it-or-hate-it thing with me though. People in the States are generally into it, except for a lot of old hardcore heads who think I'm an abomination to the genre, I'm not real hardcore and whatnot. But my unique take on the genre is ultimately what got me the attention from everybody. Now in Europe, there's a lot of people who are really interested in the project and it's starting to grow. But that's very new, it's in its infancy right now.
Can you describe a little bit about what "Texcore" means? I know you've used it on like SoundCloud as a genre descriptor for your tracks.

Texcore is generally at 200 BPM or higher. It's definitely got a lot of old-school gabber influence, my melodies and breakdown intro structure comes primarily from early hardcore. A lot of rave stabs, a lot of grindcore stuff, a lot of punk stuff, hardcore samples. It also has a lot to do with my kick style. The kick is really just my own thing. It's a bit Frenchcore sometimes. I made it using a sort of EDM-style production technique with the bass.

It seems like you've made a lot of different kinds of music through the years — from starting out at Berklee College of Music and working with M|O|D, making this kind of melodic, trap-influenced, Jersey Club kind of stuff, does it feel like with hardcore and Texcore, you finally found "your sound?"

Yeah, it definitely does. I was at a point where I wasn't really relating to the music that I was producing as much. I was doing the same thing over and over and over again expecting different results. I got to a place where I was going to quit music entirely. I ended up playing this festival set that was all hardcore. It was very well received and so I started messing around with making hardcore. As I got through it, I was like, "Yo 200 BPM is really like my tempo, I really like this music, I'm listening to this music."
Also, the number is a catchy number. There was definitely some thought behind producing at 200. It was sort of a marketing tool, apart from just loving the music because it catches your eye, you're like "What the fuck is 200?" I think the mainstream EDM market — by and large, not entirely, hardcore has existed in America since the '90s, it's nothing new — but in the mainstream EDM market, I think it was something that a lot of people had not heard of yet.

I know you just put out this recent Texcore, Vol. 2 EP. When did that start coming together? How long has that been in the works?

Probably over the last five or six months. That was when I started compiling some tracks. I write a lot — I finish tracks and move on to the next one. We compiled a set of like eight or nine demos, and whichever ones the label likes, we end up using. They pick four and we rocket from there. It's always interesting to see what the label ends up picking.
I'm kind of curious how the project came to be. I know you were at Berklee in Boston for a bit and you were doing M|O|D stuff. When did it become a serious project? When did you want to get behind it and make a career out of it?

Well, I mean I've kind of always been Lil Texas. Back in like 2012 or 2013 when the M|O|D stuff was happening, there was a big push at the beginning of the trap movement and we were sort of there. I think I was a little immature at that time and I was partying really hard, which is another part of my story.
I really just got eaten up by the LA party scene and my own sort of issues around that. It got to a point where I had to get some help and change. For those people who don't know, I'm sober, I don't drink, I don't do drugs and stuff. For me, that's just a better way of life, it's much safer, much less risk. And what's funny is that I party even harder now. I just don't feel hungover the next day. But no judgement there.
I continued to do Lil Texas from 2015 up until now. I was doing some Jersey club stuff and some trap stuff and nothing really clicked and I had a day job in sales. When the hardcore thing happened, it really started to click, and I saw this big movement happening with my socials and with the shows and the streams. Everything really started to click and I started basically building fans, which I had never really had. When all that started happening, I was like, 'You know what? I need to take a risk' and quit my day job, tattooed my neck, and here we are.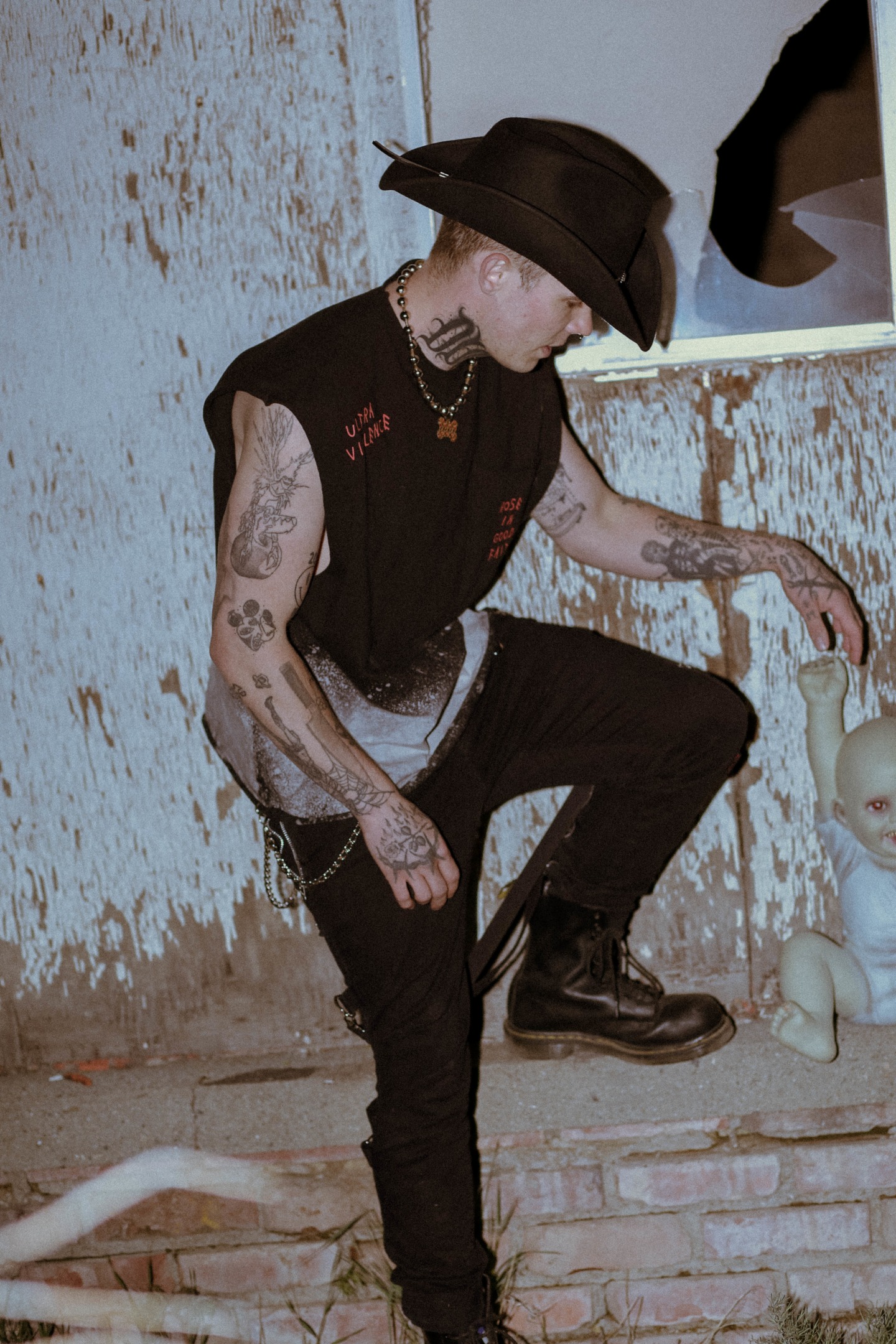 Is it hard staying sober while traveling and playing shows?
It depends. I do a lot of different kinds of work and I have a support system that I've built here in LA. LA's a great place to get sober. That helps me maintain a healthy state of mind so that I can go into spaces where people are using or people are partying really hard and be totally fine and not want to. My obsession to alter my reality has been sort of removed and lifted over the course of the past four-and-a-half years. I have a lot of experience doing things sober and that's been good. There's only some times where it's really crazy. But most of the time, I know what's on the other side of that, and I have enough experience fucking up from my early 20s to know what happens when I do those kind of things.
It feels like hardcore has made something of a comeback in the last couple years. Do you ever worry that it just might be a fad?
Totally. I think that it is a trend, I think that you're absolutely right about that and it's even a trend within the underground. There's like a lot of big parties in Europe and in New York and LA and I went to a happy hardcore rave the other night, Kilbourne played, we love Kilbourne. They did like a total industrial middle-period hardcore to like early hardcore and a bit of modern.I do worry about that sometimes, but I do think that within the genre of hardcore, there's this level of pride that will never die. And it's huge in Europe still.
I know that 2019 has been a weird year for cowboy culture too. Lil Nas X, Orville Peck, Mason Ramsey, yeehaw everything — how do you feel about all that stuff?
I love it, man. We roll with it. It all just kinda happened at the same time and my name was fitting. I don't know why I never decided to do this before, but I did it and I like it. I think that there's room and there will always be room for it going forward. I don't think it'll be as trendy as it is, but I think they'll be some people that live beyond the trend and I hope I'll be one of those. But we have backup plans.
Does it ever feel like your thing has become too commercialized?
To be honest, I do worry about it a little bit. Like this huge selling point, it's like really good timing, it really clicked with it that way. But I think that the music will always shine out. Like in Europe, there's no yeehaw trend. I'm like a freakshow to them, I walked into HDE and everyone was confused. I'm just walking Amsterdam and we're like, 'Dude, they've never seen a fucking cowboy.' Especially not one with like a fat neck tattoo and fucking rhinestones all over him, you know what I mean? I look like a fucking freak to those people.
What's on the horizon?
I'm working on an album right now. I'm working with some different record labels, there's definitely going to be some different sort of things happening, especially with the sort of big hardcore labels and shows over there. That's kind of one of the big plays of 2020 that we're working on. Additionally, finding a home for that album and finishing that. And a lot of collabs, I think the next move is getting these collabs out, like Kayzo and I just finished one, I'm working on one with Sullivan King, Nitti Gritti and I have a collab, and then a bunch of big European people. Me and Deadly Guns just did one, and some other people that I can't really talk about as much. But yeah, that's really it, man—albums, mixes, bigger, better shows, and doing more Lil Texas headlining stuff is the goal for the end of 2020.