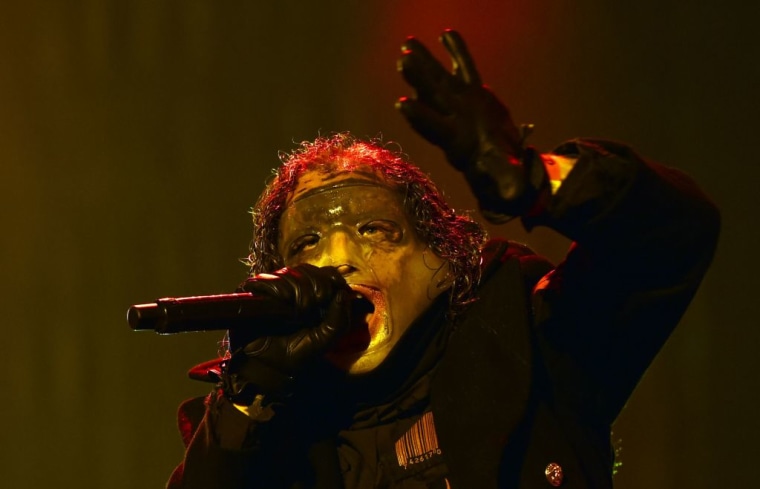 Slipknot brought their traveling festival Knotfest to Mexico on Sunday, December 1, but the event was brought to an early end when a broken barricade meant that both Slipknot and support band Evanescence could not perform safely. When news of the festival's cancelation was made public some fans at the event stormed the stage and set fire to Evanescence's equipment. Scroll down to see fan footage of the events, below.
Adiós a la batería de Evanescence en el #KnotFest, gracias a la pésima organización y seguridad de Live Talent pic.twitter.com/5obb663pLo

— Uziel (@UzielChavz) December 1, 2019
Asistentes del #Knotfest destrozan batería de #Evanescence
Video/Diego Simón pic.twitter.com/Hcfhl74wer

— El Universal (@El_Universal_Mx) December 1, 2019
El momento justo y motivo de la cancelación de @evanescence y @slipknot en el @knotfestmexico 2019..
LAMENTABLE.
.#knotfestmexico #knotfestmeetsforcefest #knotfest pic.twitter.com/g8TrHJNuk1

— Marco Lup Burgos (@ElMarcoLup) December 1, 2019
Revolver reports that the barricade was broken earlier in the day during a set by Behemoth. "Safety – especially the safety of our fans and fellow bands – is priority number one," Slipknot said in a statement. "We apologize profusely and hope you all understand. If anything were to happen to any of you, we wouldn't forgive ourselves. Also, If we could have fixed the barricade correctly, we would have gone on stage. Again, we hope you all understand and we will try to make it up to you as soon as we can."
#KnotfestMexico pic.twitter.com/Sxo9Ot5pol

— Slipknot (@slipknot) December 1, 2019
Evanescence also commented, saying in a video posted to Instagram. "We are heartbroken we didn't get to play for you tonight, México City. Your safety, your life is more important than any show! We love you and we will be back soon, that's a promise." Lead singer Amy Lee managed to see the funny side of things, too.
Now I find myself wondering if we need a flaming drum kit in The Chain video 🤔

— Amy Lee (@AmyLeeEV) December 1, 2019