Normani's true self
Flying solo and hard at work on her debut, the former Fifth Harmony member is ready to show the world who she really is.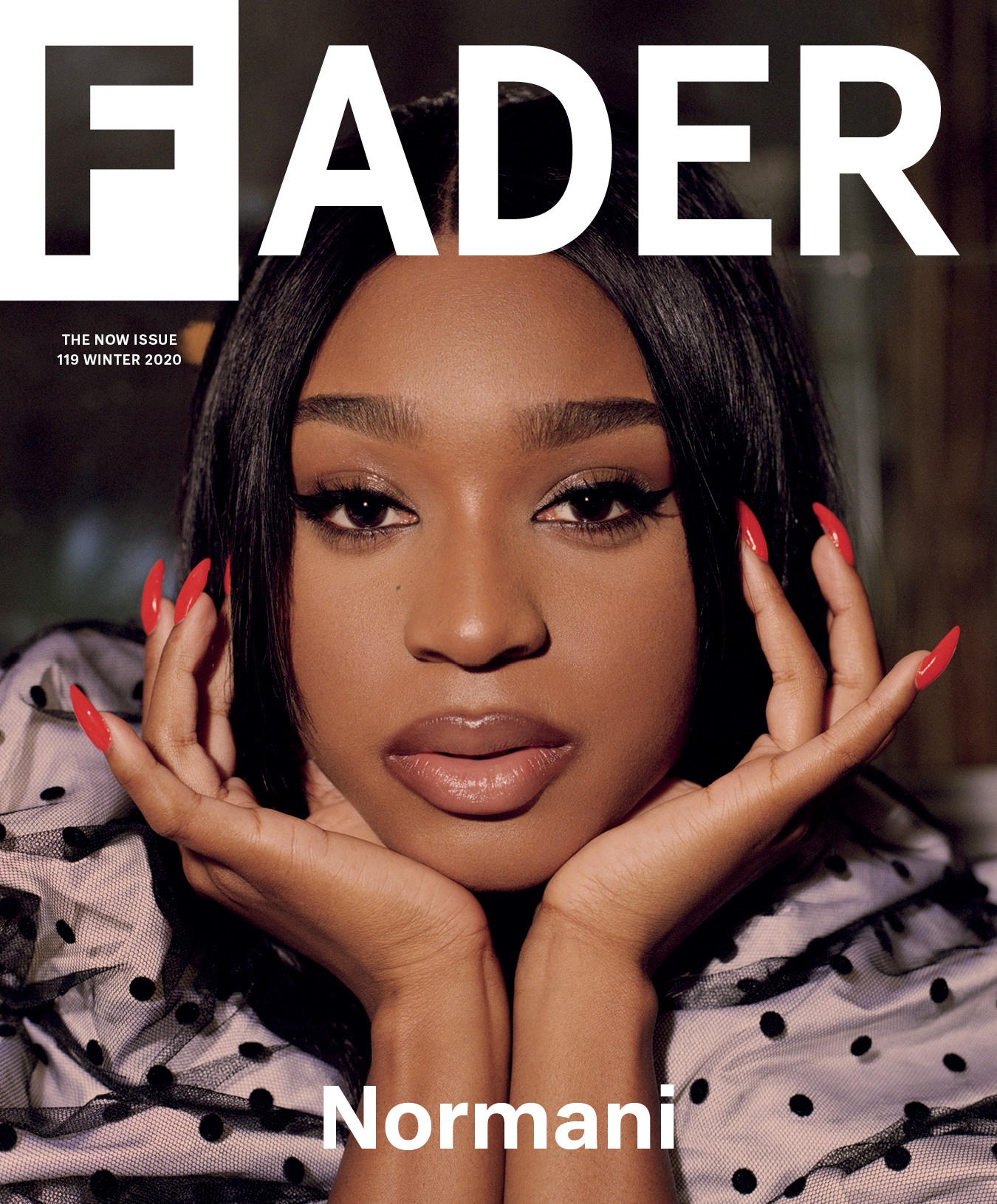 The artificial turf that lines the walls of Wonderland is bright green and dingy in the fluorescent light. Running her hands down its spiky surface, Normani is looking for clues. They could be anywhere — tucked in a corner, freed only after finding some hidden lever or button — and we're running out of time.
"Should we ask for a hint?" Normani asks the room, which is full of friends and handlers, after a couple minutes of searching. All we've found is a set of four kooky-looking hats. We've already consulted the set of instructions we received — a riddle suggests we need to be looking for tea — but are stumped on where to begin. We all raise our hands, and a voice crackles from a hidden speaker: "Match the hats to the heads on the walls."
It is a hot and sunny fall day on Melrose Boulevard in Los Angeles, and Normani, her crew, and I are in a pocket replica of Wonderland at the city's #1 ranked escape room company, 60out.
Moments earlier, we listened to our objective: Alice has been accused of stealing from the Red Queen, and we have an hour to build a case that proves her innocence. A professed fan of escape rooms, Normani quickly takes the lead, rifling through some prop luggage and diplomatically suggesting new ideas whenever we get stuck.
The 23-year-old singer, dancer, performer, and former Fifth Harmony member's mind is still ticking after a very busy year. From March through June, she was on the road with Ariana Grande, opening for the pop star's Sweetener World Tour before finally releasing her debut single, "Motivation," in August — her first major release since Fifth Harmony announced an indefinite hiatus in March of last year. A brass-inflected stadium-pop number, the song and its accompanying video trended at the top of on YouTube upon release, and her subsequent live performance of the track at the 2019 VMAs only served to prolong the feverish online conversation.
While making the rounds this September at New York Fashion Week, Normani landed a short but significant cameo in Rihanna's Savage x Fenty lingerie show, along with pretty much the highest compliment a rising performer can receive: "NORMANIIIIII you bad BIH!!!! Ugh why can't I be you," Rihanna gushed in a tweet after the show. Early in my trip to L.A., Normani brings it up, beaming: "[She's] somebody that I've looked up to for a very long time. There's nothing that she can't do. I hope to follow in her footsteps one day."
The importance of this juncture in Normani's career is not lost on her. The story of Fifth Harmony is one of resilience in which five young women of color formed a girl group manufactured by a wealthy white man on a national television competition show, finished in third place, and was still the most famous act from their season. What followed: intense public scrutiny, a rigorous recording and performing schedule, and a messy, public split that ground all that busyness to a halt. Now that that time in her life is behind her, Normani faces another challenge just months out from the release of her debut album: She has to decide which version of herself she wants to introduce to the world.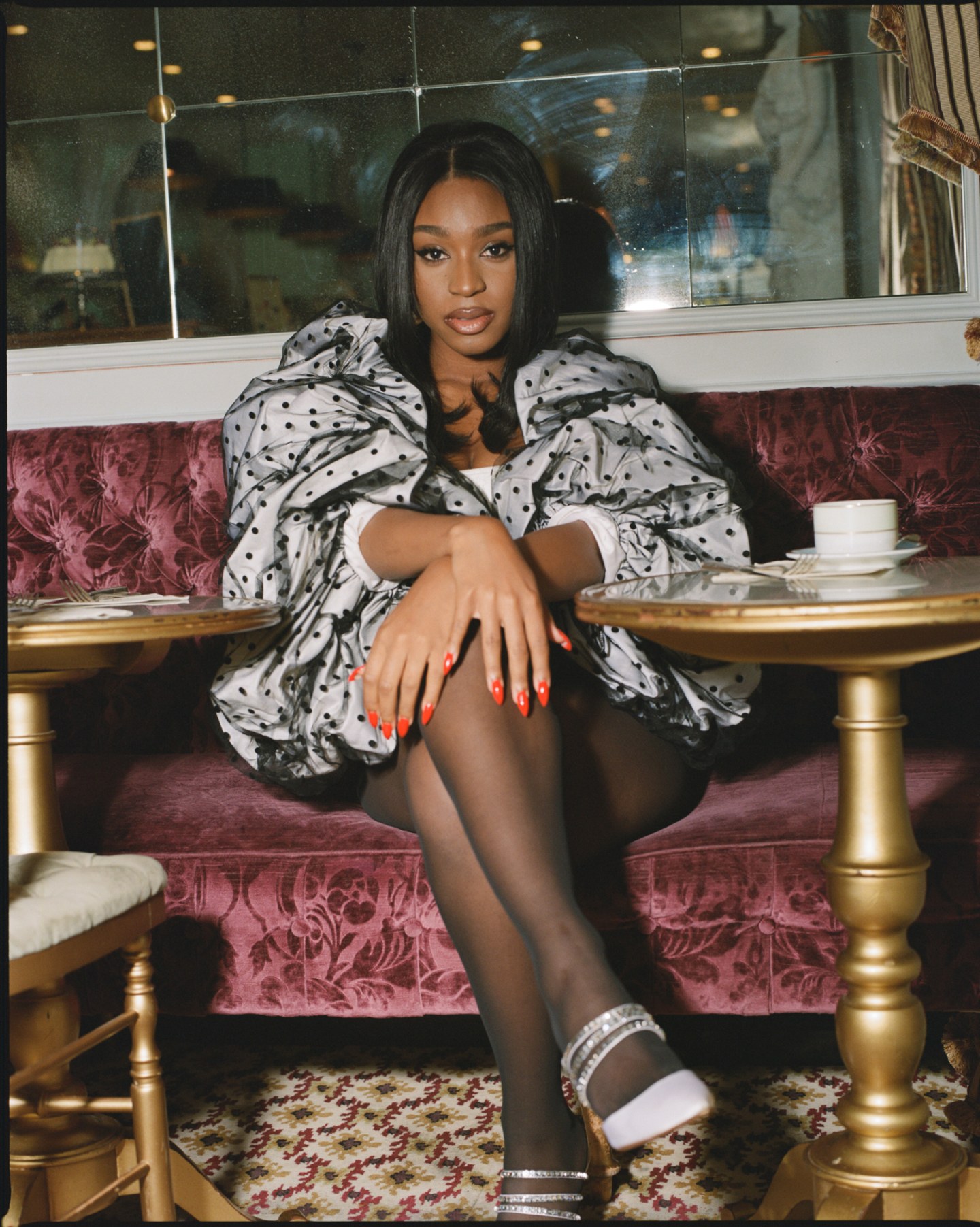 Normani Kordei Hamilton was born in Atlanta, Georgia to a flight attendant mother and her father — "a union man." When she was three months old, they moved the family to New Orleans, where her grandmother looked after her when her parents were traveling for work. "She was literally my mom when my mom wasn't there," Normani says.
Growing up, the house was filled with "good music": Tina Turner, Toni Braxton, Anita Baker, and whatever was playing on BET's R&B and hip-hop program, 106 & Park. The first time Normani remembers wanting to become a performer was at the age of three, right after watching the musical Annie—she was three years old; Normani's mother eventually homeschooled her so she could attend auditions and take part in extracurriculars including gymnastics, dance, and karate. "When most kids are like, I want to be a singer, I want to be an actress, they have to prove why," Normani remembers. "[My parents] believed in me, sometimes way more than I even believed in myself."
In 2005, Hurricane Katrina arrived. Amid the mass evacuation of New Orleans, Normani's family decided to start over in Houston. Eventually, she dropped gymnastics and began participating in pageants at the behest of her dance teacher, where she started leaning into singing. "For a state competition, I sang "Home" by Stephanie Mills, and I actually ended up getting fifth runner-up," Normani remembers with a smile. "That was my first time doing a pageant like that. Everything that I've done shaped and prepared me for this."
On March 22, 2012, a 15-year-old Normani and her mother drove to Austin, Texas where Simon Cowell was holding auditions for the second season of the U.S. edition of The X-Factor. Her mom convinced her that it'd be a good learning experience; Normani ended up passing every producer round and returned in May to audition live for the judges. The broadcast cut of her audition — which has since been preserved in a fan-made YouTube compilation with over 20 million views — only lasted a few seconds, but her growling rendition of Aretha Franklin's "Chain of Fools" offered a clear glimpse of her impressive vocal range and charisma. She headed to Miami for the bootcamp round, an intense series of televised challenges designed to thin out the playing field.

"That was a tough week," Normani says, "Everybody has to sing their little part, and then they put you in a duet to battle. They'd have one girl sing this song and the other girl singing the same song. It was the biggest mindfuck. For me, not even expecting that I would even get that far, I'm like, What the fuck did I get hit with?" She was eventually eliminated, but the show's creators gave her the opportunity to continue on in a group with four other girls — Camila Cabello, Ally Brooke Hernandez, Dinah Jane Hansen, and Lauren Jauregui — as Fifth Harmony.
Though the group placed third at the end of the eight-week competition, they'd emerged as a clear fan-favorite, and at the top of 2013 they signed to L.A. Reid's Epic Records and Cowell's Syco Music, the same label as fellow Cowell-pop-Frankenstein creation One Direction. In October 2014, after performing in malls across the country and releasing their debut EP, Better Together, Fifth Harmony scored their first big breakout with "Sledgehammer," an over-the-top synth-pop number about having heart palpitations over a crush that landed them on the Billboard Top 40.
"Sledgehammer" was the second single for their 2015 debut record, Reflection, a collection of empowering anthems about romance and self-love driven by energetic pop beats and R&B grooves courtesy of producers like Stargate, Dr. Luke, and Victoria Monét. For their rapidly growing fanbase, which they sweetly named "the Harmonizers," Fifth Harmony's age-old feminist messages hit like a breath of fresh air, the pop-ified life mantras feeling genuinely achievable when coming from Fifth Harmony. "You just gotta remind yourself that you're amazing, babe / You break it down in every way," they sang on Reflection's closing ballad "Brave Honest Beautiful."
But it was more complicated behind the scenes. When I ask Normani over ramen what it was like to be inside Fifth Harmony, she speaks with the weariness of someone emotionally detached from the situation. "I don't feel like while I was in the group anyone saw the truest version of me," she says. "I wasn't allowed the opportunity to showcase that." For one, Normani's extensive dance history meant she often felt stunted when practicing and performing the choreography with the other girls. "I'm not able to go in in the way that I want to [because] of what the group was," she says.
She feels similar about the parts she was given to sing; it was the roughest during the early days, she says, when she felt she played more of a supporting role as a vocalist: "It's like, Okay, well, what do I not have to offer that everybody else is able to?" Normani sighs, citing Reflection's first single "BO$$" (on which she led both verses) as the first time she truly felt seen as a vocalist. She and the other women also felt they lacked creative agency on the songs they were singing; on their first two records, they're only credited as songwriters once. "We would be like, Yo, we want to write it, we want to contribute, we have perspective. We're not just girls that you put in a girl group," Normani tells me plainly.
As the glamour of stardom began to wear off, the girls were feeling the full brunt of working inside the pop machine. "We were 15 and 16, having to put on our big-girl underwear and make real business woman decisions." On the outside, fans began circulating their own theories about what was going on in the group; in August 2016, the members of Fifth Harmony sat for a casual Facebook Live conversation with Galore Magazine, and when asked to describe each of her bandmates in one word, Normani paused for a moment when describing Cabello: "She is...let's see. Camila. Very quirky, cute."
Some fans were upset by the interview, Tweeting that Normani's descriptor for Cabello wasn't as elaborate as the ones for the other members. Then, a small subsection of Cabello fans began calling Normani the n-word and "normonkey" on Twitter; some circulated edited images of her face on a photo of a lynched slave. The next day, Normani announced that she was taking a break from the platform. "Over the last 48 hours...I've been racially cyber bullied with tweets and pictures so horrific and racially charged that i can't subject myself any longer to the hate," she wrote.
By the next day, the other members of Fifth Harmony had issued their own statements, also condemning the racist Tweets. "i stand by the words "love only", meaning I won't tolerate on my timeline any kind of hate, racism, or discrimination towards ANYONE. period," wrote Cabello. Normani claims that they discussed the incident internally, but it still left her feeling increasingly alienated within the group. "[The girls] offered support, but I'm not sure they could be there in the way that I needed because it's not their experience," she says. "They don't have to face on a day-to-day basis the things that I have to. I definitely learned after that that I had to walk a different way. I can't look like everybody else."
At 11 p.m. on December 18, 2016, just hours after the quintet had wrapped the last date of the iHeartRadio Jingle Ball tour, a letter posted to Fifth Harmony's official social media accounts revealed that "Camila has decided to leave Fifth Harmony" and that the remaining four members would continue on as a four-piece. Their fans freaked out, but it wasn't entirely unexpected: Back in September, Cabello had left in the middle of a show due to an anxiety attack, leaving the four others to finish the concert on their own.

Still, the fall-out over the next 72 hours was public and messy, complete with long, explanatory notes from both parties. Cabello released a statement the next day: "i was shocked to read the statement the fifth harmony account posted without my knowing," she wrote, elaborating that she was leaving to "follow her heart." When I ask if Normani and the other girls knew that Camila was going to leave the group, she politely tells me she'd prefer not to talk about it. "We're all on good terms," she asserts. "Conversations have obviously been had. I spoke to [Camila] at Billboard Music Awards. I saw her again at the VMAs, and no bad blood at all."
Over the next year, the remaining members of Fifth Harmony released their final and self-titled album, and in March of 2018 the group announced an indefinite hiatus — a mutual decision among the girls, Normani says. "We survived, you know? Through all the BS, the good, the bad, the four of us were the last four standing, and we owed [recording one last album] to ourselves, each other, and our fans."
Looking back on her time in Fifth Harmony, Normani says there's one word she keeps coming back to: Resilience. "Five girls coming together and really beating the odds," she says. "Five girls that made something so beautiful, and had the impact that they had, with their fans and being able to change lives. We're some strong women."
Even before the hiatus, it was clear that Normani was setting the stage for something bigger. From 2015 through 2017, she uploaded a smattering of dance videos and song covers to her YouTube channel — clips that offered her fans the extent and depth of her training. (The videos have since been taken down.) In the spring of 2017, she entered ABC's celebrity dance competition Dancing with the Stars, where she and dance partner Valentin Chmerkovskiy finished in third place. (Her former bandmate, Ally Brooke, is currently a contestant in the show's 28th season.)
Her first non-Fifth Harmony release was "Love Lies" in 2018, a woozy and unassuming pop-R&B bop with Khalid that slowly climbed its way up to Billboard's Top 10; a few months after its release, she'd signed to RCA. But it wasn't until the 2018 Billboard Music Awards when even non-Fifth Harmony diehards started paying attention. Entering the stage with a series of twirls, Normani executed a complicated floor routine while delivering a pitch-perfect rendition of "Love Lies." "Someone went to Beyoncé's School of Performing Arts," observed one commenter in the video's YouTube comments.
Over the next year, Normani explored her sound through collabs with 6LACK, Calvin Harris, and Sam Smith, as well as a guest appearance on Migos member Quavo's 2018 solo bow Quavo Huncho. Normani says this game of genre hopscotch was strategic: "For me, [it's] so important to be able to play on urban stations and playing at fricking number one on the Top 40," she says. "I can give you an R&B record, but I can also be on a pop record with one of the biggest artists in the whole world."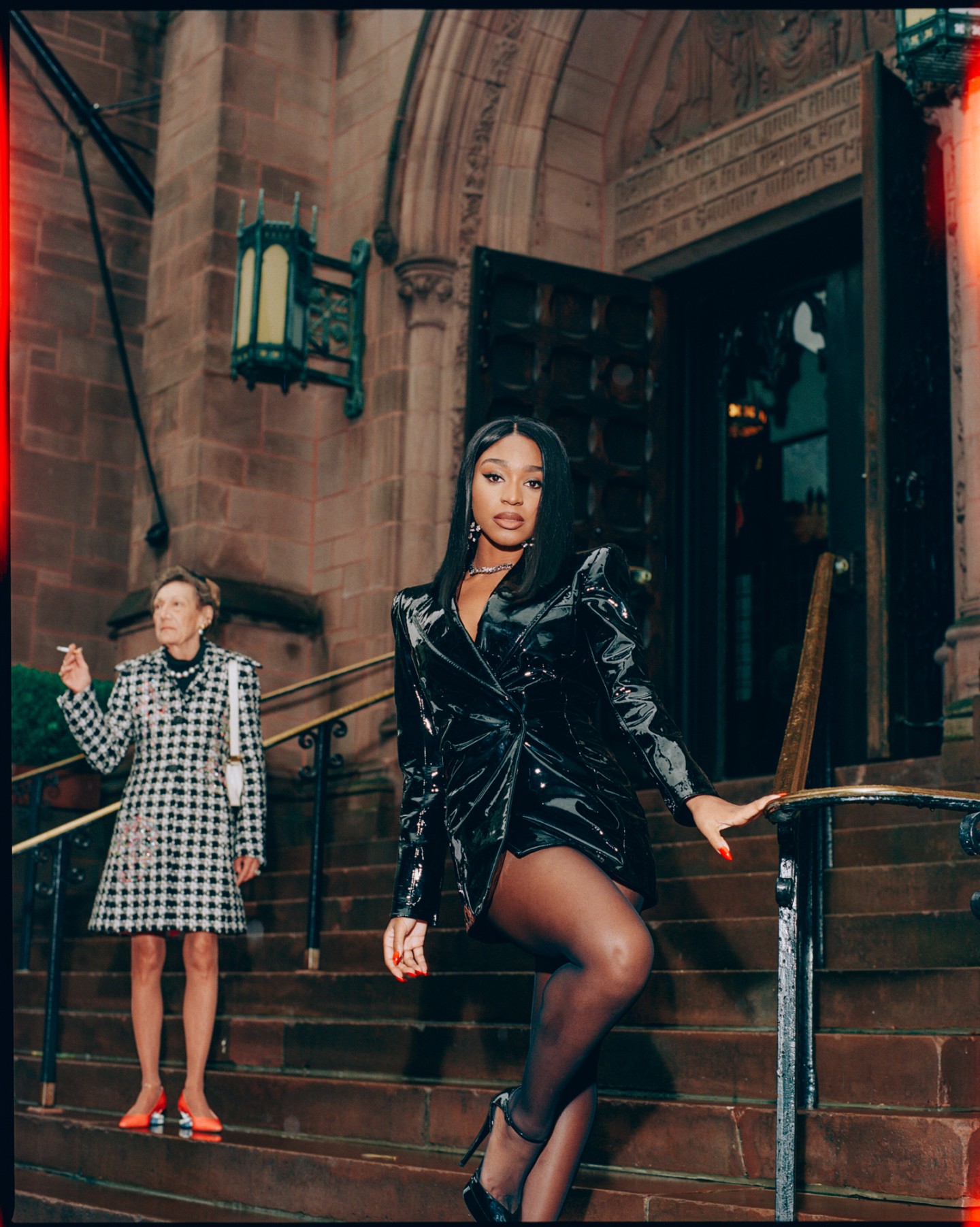 These days, Normani's clearly enjoying the freedom that comes with making her own decisions on her own schedule. When we meet, she tells me that her only obligations in the coming months are an appearance at the Forbes 30 Under 30 summit and some top-secret Halloween plans (which turn out to be incredible recreations of iconic looks from Cher, Naomi Campbell, and Selena Quintanilla that briefly break the internet). Otherwise, she'll be splitting time between her home and the studio until she finishes her debut album. "I tried my best to write on the road with the time given," she says of her stint on the Sweetener tour. "But it's the first week that I'm back, and it's been really nice."
Originally teased as a late 2019 release, Normani's album was pushed back to the first quarter of 2020; over the phone a few weeks after my trip, her manager Brandon Silverstein says that the album "...will come out when Normani feels happy with it, and we're trying to get it out as soon as possible." For her part, Normani says she'd already be working on her second album if it wasn't for such a busy year: "I have to have dedicated time, especially because I'm such a perfectionist. I want to make the wait worthwhile, especially for my fans, because they deserve the absolute best — but also, for myself. I'm never going to get the opportunity to drop my first album again."
After the escape room, we head to a chic, minimally furnished tea shop where Normani and her team play me a few songs she's considering for the record. "Ring" is a sultry ballad with acoustic guitar in which she coos confidently about tying down a man, wafting through the mix like tendrils of smoke. ("I probably have to give ["Ring"] away," she later reveals.) Then there's "One-on-One," an atmospheric R&B number with arcade-game flourishes that brings the grooves. She's already been in sessions with Pharrell, Max Martin, Salmanzadeh Ilya (who contributed to "Motivation"), and Victoria Monet, with future studio time scheduled with Stargate and Tayla Parx, and possibly Bibi Bourelly.
Both of the songs played for me sound like opportunities for Normani to showcase her voice, by turns husky and raspy — then, smooth and warm. "I feel like I have so much to offer vocally," she says. "Even in terms of taste and arrangement, production-wise, I'm proving to myself that I can wear multiple hats." After six years of being confined to one-fifth of a song, she can now sprawl out, stretch wide, and fill all the empty spaces. "I'm doing this as therapy for me," she says confidently. "To be able to get to know myself in a way that hasn't even been revealed yet, to be vulnerable in a way that I haven't been before. I want this to be like a diary of all women — to reflect and showcase the many layers of us. We're not one-dimensional."
She hopes that her story can provide uplift to her fans — especially other young black women. "Being one of a few black women — but also dark skinned women — given the opportunity, representation is key," she says. "Who's to say the next time they give another girl the opportunity? It could be in 10 years. I understand [the importance of] that responsibility. It's much more than just music."
But Normani's experiences in Fifth Harmony still have her wary about her relationship with the Internet. She still runs her social media accounts but largely favors Instagram over Twitter, especially following the 2016 incident. "Instagram, you can turn comments off," she reasons. "You could select certain words that you don't want to see. I feel like there's more control. I post a picture, I'm done for the day."
In this age of hyper-connectivity, where the gulf between superstars and their fans can be temporarily bridged through live Q&As and shared "inside" jokes, Normani's more strategic presence could suggest that she's not taking full advantage of her incredibly online fanbase. But that doesn't mean she isn't acutely appreciative of her ride-or-dies. "They're actually very charismatic and very funny," she kindly offers, before laughing: "They're ruthless in every single way. They're invested to the point where they'll be telling me, 'You should have merch for Halloween, because you'd make so much money off of this.' They think that I'm not on social media and don't see half the things that they're Tweeting, but I see everything."
At one point during my time in L.A., I get a call from Normani's publicist; based on our interview the previous day, he's worried that my article will focus too much on her years in Fifth Harmony. Given everything the young pop star has gone through, it wasn't a totally unjustified concern. When it feels like everyone already seems to know who you are and where you belong, it takes bravery to show the world the person you're in the process of becoming. But it's a risk that Normani feels ready to take. "All that I ever asked is just for the opportunity to become Normani," Normani says to me one point. "Just give me the opportunity to prove that I can be the best that I can be. I'm not going to be the best anybody else; that's just an unrealistic ask. That I can be the best that I can be — that's all I have to offer."
Back at the escape room, the clock is ticking. There's ten minutes left to the game, and we're on our last puzzle, some digital game that requires us to figure out how to trap the Red Queen's marching army in a loop. No one knows what they're doing, or how the controls work. When everyone's emotions seem to reach a peak — and the Gamemaster, clearly witnessing our confusion, starts to tell us the answer over the intercom — Normani has a lightbulb moment. She reaches over, turns the right knob, and captures the queen. We cheer as the door to our left pops open, the light from the outside spilling into the room.