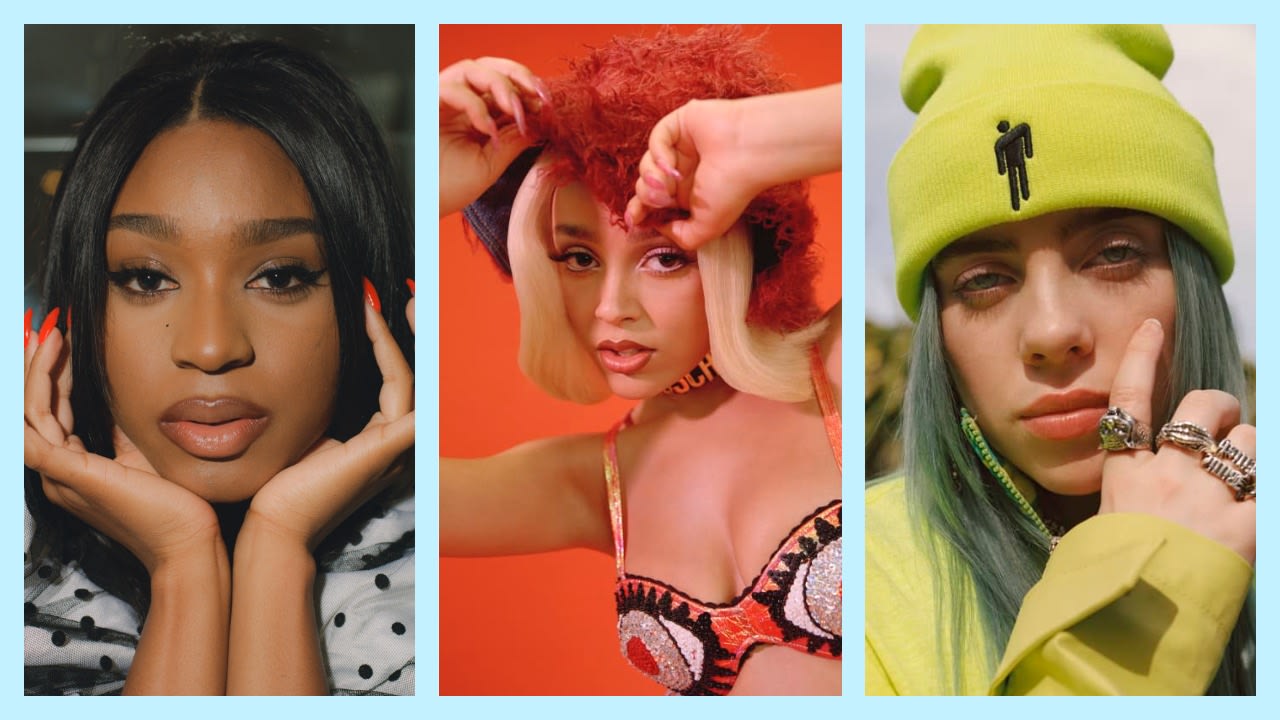 Every month The FADER brings you the best pop songs in the world. This month, we take a look back at the 25 best pop songs released in 2019, including tracks by Normani, Billie Eilish, Camila Cabello, Charli XCX and more.
It was a strange and wonderful year for pop music. The year was, arguably, ruled by a 17-year-old visionary and her older brother, who used unconventional techniques and abrasive, aggressive sounds to create a No. 1 single and the year's most-streamed album. Titans like Katy Perry and Taylor Swift released career-best music but ceded chart supremacy to livewire up-and-comers like Lil Nas X and Summer Walker. And experimentalists like Dylan Brady and Laura Les — who teamed up to rip a hole through the internet with their 1000 gecs album — and Caroline Polachek used pop techniques and sounds to create warped and poignant records. This list tries to make sense of all the chaotic left-turns pop took this year in the form of 25 wildly different but entirely vital tracks. The No. 1 song, I believe, encapsulates much of pop's past while drawing the blueprint for the genre's wild and emotive future. Enjoy.
---
25
Marie Davidson, "Work It (Soulwax Remix)"

With her excellent 2018 record Working Class Woman, Québécoise producer Marie Davidson recast the discursive, spoken-word techno she's been making for years as glossy club pop. The political charge of her writing is still as acidic as ever, but now her capitalist critiques feel just as likely to be played in malls as they are in underground raves. This year's Soulwax remix of album highlight "Work It" pushes Davidson's aesthetic ascension even further, turning the irony-laced #Girlboss anthem into a festival-ready thumper.
24
Kanye West, "On God"

No matter how unpalatable or lazy Kanye West's lyrics are, I'm still profoundly awed by how his songs sound. There's a lush, technicolour feeling to his best beats that can rarely be found elsewhere. Add that penchant for mind-blowing sonics to Pi'erre Bourne's seemingly-boundless ability to create hypnotic and surprising beats, and of course you get a song like "On God."
"On God," the highlight of West's Jesus Is King, pings and pounds: it sounds like the taste of citric acid and heavily-carbonated lemonade. Ghostly wails cloud a vortex of laserbeam synths and skittering drumbeats; it sounds like Graduation with all the depth and recklessness of many of Pablo's best beats infused. I rarely listen to Jesus Is King, but few weeks go by without me wanting hear the soaring, screaming track behind "On God" at least once.
23
Halsey, "Nightmare"

It's plainly insulting that Halsey has left "Nightmare" — one of the less well-performing singles she's released this year — off the tracklist from her upcoming record Manic. Like previous false-start singles from Ariana Grande ("Focus") and Charli XCX ("SuperLove,") it's likely just one of those songs that's too weird and wild for a major label record. What a shame, though: the song's chaotic nü-metal trap made for one of the most surreal, interesting songs to hit Top 40 radio this year.
22
Summer Walker & Usher, "Come Thru"

Summer Walker's "Come Thru," which both interpolates Usher and features him, closely ties the R&B icon's Hustlers cameo as my favorite Usher moment of the year.
21
Lil Nas X & Billy Ray Cyrus, "Old Town Road (Remix)"

The arbitrary, constricting rule book of country-pop has tripped up so many wonderful and transgressive stars in the past few years (Kacey Musgraves, Taylor Swift) that the entire genre has been overdue for a reckoning. Who could've known that said reckoning would be sparked by a teenage Nicki Minaj stan, a supposed has-been, and a cheap NIN-sampling beat? "Old Town Road" managed the double feat of not just blowing up the country top 40 hegemony, but also becoming the most successful No. 1 of all time. It didn't even need to be a good song. Thankfully, it is.
20
Nasty Cherry, "Live Forever"

The full scope of the Nasty Cherry project came into full view earlier this year with the release of their chintzy debut EP Season 1, which synthesized Charli XCX-style wildness with goofy post-punk influences like Orange Juice and Lizzy Mercier Descloux. In that context, the glamorous and sneering "Live Forever" sounds even better, like a lost demo meant for the Desperately Seeking Susan soundtrack. Closing out the six-track record with bright guitars and bratty gang vocals, "Live Forever" proved Nasty Cherry could be a project with longevity befitting the song's title.
19
Grace Ives, "Mirror"

Grace Ives' gauzy, impressionistic dance songs don't always reveal all their secrets at first listen. Luckily, songs like "Mirror" are so short and so compulsively replayable that they give you all the time and space needed to unpick and unravel them.
18
Rosalía, J Balvin and El Guincho, "Con Altura"

The fact that Rosalía followed-up her mournful, auteurist masterpiece El Mal Querer with six absolutely unimpeachable bangers was not only a referendum on her own talent and versatility but also on the fact that she clearly understands one of pop music's most fundamental truths: sometimes creating a couple of truly fucking great singles is just as hard, if not harder, than writing one masterful and experimental album. El Mal Querer introduced Rosalía, the talented upstart; "Con Altura" introduced Rosalía, the fucking legend.
17
Katy Perry, "Never Really Over"

Hypothetical: If Katy Perry had released "Never Really Over" as the lead single from her Prism follow-up Witness, would her imperial phase have ever ended in the chaotic and upsetting way that it did? It's hard to say, but the soaring, heartfelt "Never Really Over" is the best song Perry has released since "Teenage Dream." Even if it didn't signal a true commercial comeback, it sure as hell felt good to hear Perry at the top of her game for four minutes.
16
Camila Cabello & Shawn Mendes, "Señorita"

"Señorita" is the year's perfect 2000s throwback — not aesthetically, but conceptually. Ridiculously horny like "Promiscuous" and tied into a real-life narrative in the same way that "Cry Me A River" and "Crazy In Love" were, it's fun, frivolous, and gobsmackingly earworm-y.
15
100 gecs, "hand crushed by a mallet"

So much culture released in 2019 was surreal and dissociative — an aesthetic for a hellish year. It felt good, then, to be pummelled repeatedly by 100 gecs' ridiculous, bone-shattering pop. "hand crushed by a mallet" is loud, violent and disorientating; it reminds me, vaguely, of how it genuinely feels to be alive.
14
Jorja Smith & Burna Boy, "Be Honest"

Jorja Smith's debut showcased her affinity for sleek soul; her Preditah collab "On My Mind" proved she could sing atop bangers, too. "Be Honest," her recently-released Burna Boy collab, has her drawing from both worlds. Smith's best release to date, "Be Honest" is flirty and addictive, the perfect end-of-summer tribute to delirious, fraught romantic encounters.
13
Ariana Grande, "ghostin'"

It's impressive that Ariana Grande managed to deliver Sweetener and thank u, next within six months of each other. Add to that everything she went through in that time and the fact that those quickly-released, trauma-borne records included songs like "ghostin'," and the whole thing begins to seem vaguely impossible. "ghostin'"s glossy synths and reverb-heavy vocals point to a kind of coldness, but in reality it's the most empathic song Grande has ever made. Like an inversion of "thank u, next'"s sunny empowerment talk, "ghostin'" finds Grande at a loss for how to keep going, haunted by her love for an ex. "I know that it breaks your heart when I cry again," goes the song's unusually understated chorus, an astonishingly vulnerable sentiment that, even after thank u, next's many beautifully coined lyrics about sadness, hits hard.
12
FKA Twigs, "Cellophane"

A detail from FKA twigs' recent Pitchfork cover story stuck out to me: her arms are covered with nicks and scratches from learning choreography involving a sword for her Mary Magdalene tour. That image — an artist literally bleeding to put their work together — feels like a pretty accurate summation of "Cellophane," a song so intense in its woundedness and honesty that, sometimes, it feels like it's drawing blood.
11
Lana Del Rey, "Norman Fucking Rockwell"

It's fitting that Norman Fucking Rockwell!, Lana Del Rey's most introspective record by a mile, would open with a song so deeply empathetic. The characters on Del Rey's early records were, by design, ciphers; they didn't need personalities or quirks in order for them to serve the purposes of the songs. But on NFR!'s opening title track, Del Rey sings softly to a deadbeat lover, dissecting his flaws and sweetly reminiscing on his good traits in equal measure. It's touching and nuanced and, most excitingly, entirely new ground for Del Rey.
10
Caroline Polachek, "Door"

"Door" isn't a breakup track, but a liberation track. To my ears, it's about the clear-eyed feeling that suddenly hits one day after a breakup, when your obsession with an ex is finally starting to wane. Sometimes, it feels good to be another girl in a sweater.
9
Clairo, "Bags"

It was quietly revolutionary of Clairo to make her debut album a record about same-sex attraction that didn't try to capitalise on 2019's thirst for cheap representation politics. Instead, it felt truthful and open-hearted, a new classic in the pantheon of queer pop records. "Bags," about trying to work out the sexuality of the object of your affection, typifies the album's touching spirit.
8
Taylor Swift, "I Think He Knows"

This giddy sprint of a love song is a delight, and one of the most satisfyingly experimental songs on Lover. What seems at first to be a pretty standard Swift track quickly outs itself as so much more: many elements of "I Think He Knows," like the contrasting cadences, and the way Swift's falsetto on the chorus clashes with the track's deeply satisfying low end, are entirely new not just to Lover but to Swift's entire oeuvre.
7
Maggie Rogers, "Overnight"

Like much of Maggie Rogers' excellent debut Heard It In A Past Life, "Overnight" is warm and urbane, a nuanced portrait of emotions that don't get sung about all that often. It's a track about feeling weird and unmoored when everyone expects you not to be, about writing and deleting messages and ghosting at parties when you see an ex. "Overnight" is low-stakes, sure — but it also happened to be one of the year's warmest, most smartly-written pop tracks.
6
Mark Ronson & Lykke Li, "Late Night Feelings"

Mark Ronson's Uptown Special follow-up Late Night Feelings turned out to be one of the year's most delightful pop records, a hedonistic and thoroughly modern take on depressed disco and house music. On the album's title track, Ronson and Lykke Li make drunk texting sound as glamorous and tragic as it feels at the time, with none of the morning-after headache.
5
Normani, "Motivation"

The star power Normani radiates in "Motivation" could power entire countries. While it's not technically her debut, "Motivation" feels like an arrival, and while so much pop music right now hinges on being "minimal," "Motivation" is filled with bells, whistles, and adornments. A welcome change of pace, but I suspect that even an acapella version of this track would fucking slap — Normani's presence is that magnetic.
4
Tove Lo, "Glad He's Gone"

Only Tove Lo could take the concept of "Glad He's Gone" — a song asking a friend to get over her breakup because her ex was so annoying — and turn it into one of the year's most heartwarming, empathic pop tracks. "Glad He's Gone" takes the bawdiness of Lo's best songs ("Did you go down on his birthday? / Did you let him leave a necklace?" and "Baby, no tears for that sucker / Never go dry this whole summer" are some of her most wonderfully jarring lines yet) and uses it to make "Glad He's Gone" a gleeful and deeply loving ode to female friendship. Destined to be a future cult karaoke classic, "Glad He's Gone" never strains, and yet it's a hell of a lot more empowering than any of the many trite girl power anthems released over the past couple of years. We could all use a friend like Tove Lo.
3
Doja Cat, "Juicy"

All those videos of Doja Cat explaining "Juicy" are great, because Doja herself seems to understand the central beauty of the song more than anyone: there's so little to "Juicy" that you can listen to 30 seconds of it and pretty much know all you need to know. The act of listening to it, then, is pure pleasure — three minutes and twenty seconds of nothing but, as Doja might call it, thickie pop.
2
Billie Eilish, "bury a friend"

The thumping, haunted "bury a friend" is the ultimate distillation of Billie Eilish's art. It's scary and weird, drawing as much from house music as it does from Tyler, the Creator and J-horror. That Eilish managed to make a song like this even before she was the most famous teenager in the world makes me excited about what kind of demented masterpiece she'll be able to create with even more money, time, and connections at her disposal. Every megastar likes to talk big talk about redefining what pop music can be, and while they all weren't looking, a smart, weird 16-year-old beat them all at their own game.


1
Charli XCX, "Thoughts"

When one thinks of the Platonic ideal of a sad pop song, a track like Adele's "Someone Like You" probably comes to mind — heartbreaking and graceful in equal measure, devastating on first listen and hopeful on fiftieth. But what about songs for how you feel when listening to something like "Someone Like You," that sound like how it feels to be doubled over in emotional pain, sobbing and snotty and screaming, because the sadness you're feeling can't coexist with hope? "Thoughts" is that song, a noxious and puckering distillation of catastrophic pain.
The centrepiece of Charli XCX's third album Charli, "Thoughts" is loud, abrasive, and overwhelming, propelled by A. G. Cook's demented Tron-like synths and Charli's wounded vocal. It's hard to be anything less than utterly overwhelmed by a track like this, which is so forceful and particular in sound and so galaxy-brain simple in its thesis: "On the drugs at a bar, took 'em all / Can't stop thinking 'bout you." But with that sense of overwhelm comes such a gratifying and powerful sense of catharsis that it's hard not to want to listen again. The world isn't in short supply of sad songs, but it sure could use a few more tracks like "Thoughts."
Editor's note: Clairo's debut album, featuring "Bags," was released on The FADER's in-house record label. FADER Label staff were not consulted during the compiling of this list, and have no bearing on editorial opinions or practise.
Some blurbs were taken from previous editions of the Best Pop Songs column.