How The NATIVE became the go-to platform for African youth culture
The FADER touches base with the co-founders of The NATIVE magazine on the publication's origins and what attendees can anticipate at this year's NATIVELAND festival.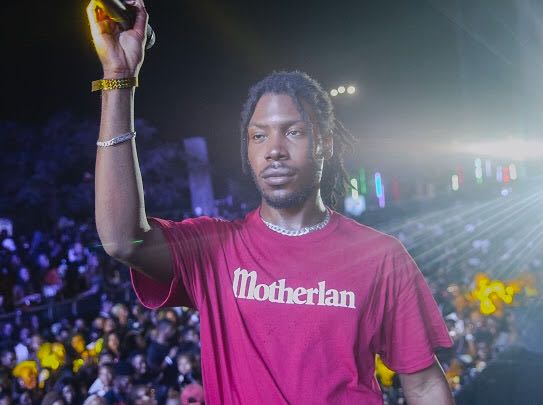 The NATIVE, the digital platform reflecting the pulse of the African millennial, is gearing up for the fourth installment of NATIVELAND — the highly-anticipated music festival to land in Lagos, Nigeria—commencing today at Muri Okunola Park.
Seni Saraki and Teezee, co-founders of the platform, pride themselves on being the collective definitive voice for African youth culture, with the brand evolving from producing live experiences and an editorial magazine (print and digital), to producing one of the continent's most exciting youth-driven festivals just within four years. Through NATIVELAND and the magazine, they seek to be the center for young Africans who are into learning what's next in African music, art and style for generations to come.
Although some may note NATIVELAND to be a space for the buzzing alté community at the time of its launch, it was meant to be a safe space for all Nigerian youth and music enthusiasts to experience something new.
In its fourth year, the festival stays true to amplifying emerging talent coming out of Nigeria and the diaspora with a stacked bill with Burna Boy and Dave as its headlining acts. Others gracing the stage are budding rapper Naira Marley, who's been churning hits that reflect the struggles of Nigerian youth like "Am I a Yahoo Boy" and "Soapy, Santi (who's making a return to the festival), Rema, Koffee, Lady Donli, and more.
NATIVELAND's success so far is indicative that African youth are the keepers of the culture who shouldn't be underestimated. The festival is what's yielded when those who are of the culture tell their own authentic stories and make space for the art and conversations they create and consume.
In the midst of it being crunch time for this year's festival, I managed to ask Saraki and Teezee about the purpose of both NATIVELAND and the magazine, what we can expect at this year's edition and more. Cue the FOMO.

NATIVELAND has grown to be a can't-miss experience since 2016—how do you all make sure to stay true to the ethos you started out with?
Seni Saraki: It's always about the music and making sure that we are in touch with our community. It's amazing for me—to see artists that started as opening acts in the first year, headlining this year. That's a sign our vision is being actualized. We want to stay true to the ethos, but we still need to keep building. This is our fourth NATIVELAND and attendance has tripled since the first one. We've outgrown our venue.
Why has it been important for The NATIVE to make the acts on the bill so diverse?
The festival is a celebration of the year and the music we cover throughout the year, as well as the artists we work with. We want to cover all the angles for our community. There are people at the festival that may come for the Burna Boy or Davido, but leave wanting to listen to more Lady Donli and Maison2500. And we have people who come for Santi and leave thinking, "Wow, that D'Banj performance was fire."
Teezee: We are really music lovers at The NATIVE and understand that people in Lagos listen to everything—especially the kids! It's the biggest city in Africa it would only make sense for our bill to be diverse. We think about the future now.
Who are some acts on the lineup that folks watching from afar should keep a close eye on?
Seni Saraki: I'm personally really excited to see Solis and Buju perform. They're both making their NATIVELAND debuts after stellar years, and I think they're the ones to watch.
Teezee: I got Maison2500, Tems, and Santi on heavy rotation right now. I'd say them.
Are there any successes from other music festivals you all made sure to implement when producing NATIVELAND, as well as any mistakes you made sure to avoid? If so, what are some examples?
Seni Saraki: A really important part of festivals for me is the set times. I see it as almost planning a long DJ set—knowing when to play the hits, when to slow it down, when to get it lit. I think the best festivals in the world get this right.
How do the respective digital and live experience missions of The NATIVE contribute to pushing contemporary African culture forward?
For NATIVE, the more opportunities we can provide for the creative community across different realms—digital, live, print and everything else—the better for the entire culture pushing forward. And it's always a clear vision. Look at Rema, for example. We covered him online pretty early, before the entire wave got on. We were his first interview and put him in our print issue in April. Then Addy (co-founder, Native Sound System DJ) played his London debut at Boiler Room. And now, he's got top billing at the festival. Similar with Santi—we covered him extensively, he had a feature in our first magazine, he was on the cover of the Easter issue and now he's one of the headliners. This is the type of ecosystem that pushes the whole movement forward.
Teezee: We are documenting and curating our cultural landscape in a way that can't be duplicated. It's all about the authenticity. We really love our community, so it's important we tell our own stories first.
What are some challenges you have faced implementing such?
Seni Saraki: I think due to the actions of other media companies, artists do not always intrinsically think one has their best interests at heart. But over the years through our community and background of the founders, we've built that up. The industry here is still growing. Everyone is still getting accustomed to building working relationships [with media].
What should digital and live experience platforms in the diaspora keep in mind when telling the stories of African youth on the ground? What are they getting right, and what are they not getting right?
I think platforms in the diaspora can tell [our] stories, but everyone has to understand that they are doing it from their own vantage point. The prestige of a platform or a publication, shouldn't be confused with them being experts on certain topics. You see places like Pitchfork giving reviews of Nigerian albums, and scoring them—which is fine, everyone has a say—and Pitchfork is one of the most prestigious music platforms. But they are not the authority on our music or our stories. And more often than not, it's people looking from the outside-in telling these stories—which is completely fine, as that is such an important part of everyone growing, but it shouldn't be forgotten or held up too highly. Certain platforms are doing it in real genuine ways—making sure to get in touch with people on the ground; making sure to tell the real stories, not just shape it to what they think the diaspora wants to hear.
Teezee: I would say to always be inclusive and sometimes collaborate. There are so many talented and diverse people here.
This platform approaches digital content and its festival from a visionary perspective. What does the future look like for this space and how do you foresee The NATIVE's place in it?
Seni Saraki: The future is bright, but it's a long, long road. We all have to keep supporting each other and be transparent about opportunities. Everyone is looking in now and wants a piece of what's going on. So now more than ever, we have to stay together. The NATIVE has acted as the glue for the culture since inception—bridging the gap between the different mediums of expression and we have to continue to do that. It is essential to the growth and survival of this thing of ours.
What's next for The NATIVE after NATIVELAND?
We're really looking forward to next year. Editorially, we're really stepping up how we cover content and what we cover. NATIVELAND will be growing too and we can't wait to share plans for that. We're really just working on how to provide more experiences to our community in the things they love. NATIVELAND has become the premier music festival for music discovery and a celebration of the best. We want to do that for all facets surrounding the culture: whether that's sports, fashion, or food. Who better than us?