The nice side of Hook
Cali's hottest new MC is tough, tender, and totally indefinable.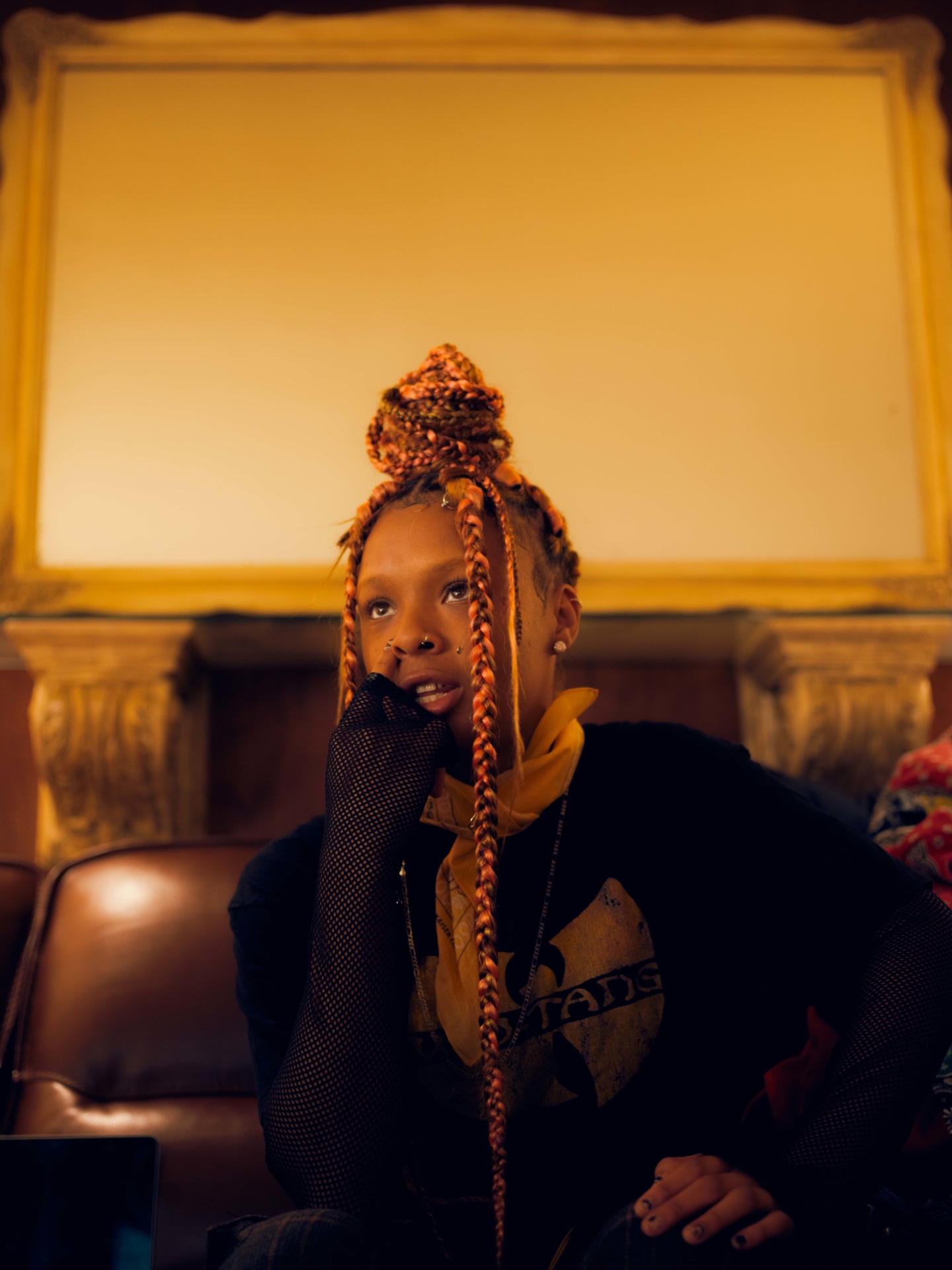 The California city of Riverside — a vastly underwhelming urban municipality that has earned the distinction of being called the "smog belt" for its abnormally high air pollution levels — has seemingly little to contribute to contemporary cultural history. The popular radio personality Don Imus, once famously suspended from his network for racist remarks he made about the Rutgers University women's basketball team, was born there. The R&B legend Etta James died there. Most of its hometown heroes are little-known athletes. The city suffers from a reputation as a cultural backwater.

If you grew up there, it's the kind of place you move away from — predictably, to Los Angeles, or more interesting cities — to make something of yourself. That's why one of Riverside's newest exports is now here in Leimert Park, a quiet neighborhood in South Los Angeles. The 20-year-old rapper Hook — whose name will one day be a lot easier to Google than it is now — sits on a couch, her face framed by light pink braids, surrounded by moving boxes, their contents overflowing with her belongings. A 333 tattoo on the side of her head, parallel to her right ear, is a tribute to her three-person friend group. In person, she's far more amiable than her music per- sona — her most recent project, Bully, produced by Nedarb, contains lines like, "I'll break your leg 'fore I break bread, bitch."
"That's the thing about Bully," she explains, " I didn't want people to think I was really a bully. I mean, I get bullied. I don't be bully. There's a difference. I'm not mean..." A pause. "Sometimes."
Hook moved to Los Angeles with her aunt a few weeks ago to close the distance between her, her collaborators, and the studios she records in. But she still lays claim to Riverside, a city so bereft of recreation that Hook and her friends spent most of their time growing up there, hanging out and smoking in a parking structure.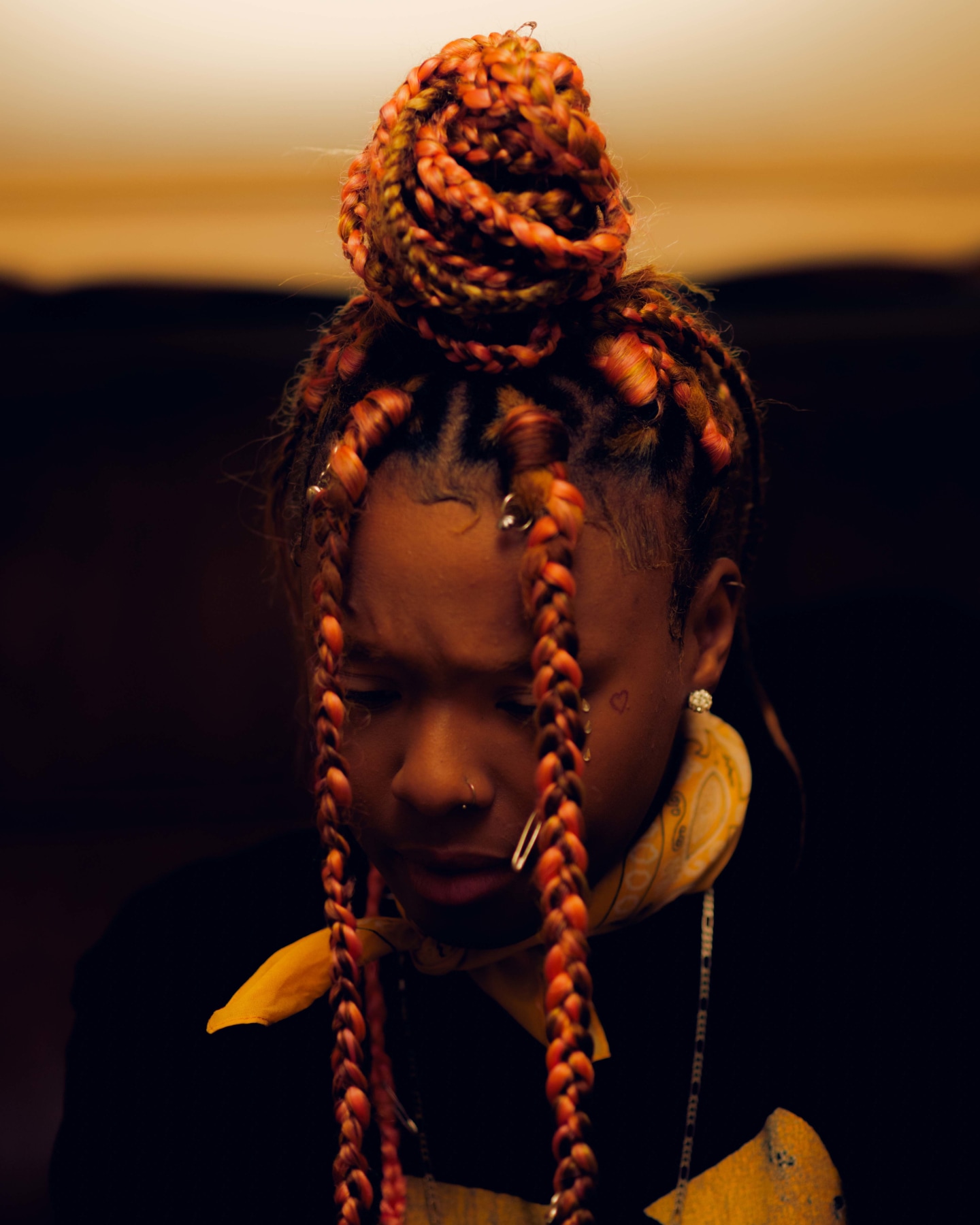 "We would call it the Towers. Like, 'Let's meet at the Towers.' Skip first and second period [of school]. Smoke. We would be high as fuck going to class," she says. "I know if I ask the homies now, 'Let's just link and smoke,' nobody is.... trying to do that shit no more.
On other days, they'd go the next town over, in the Moreno Valley, and record music, laying the groundwork for what would become Hook's signature sound. Music is embedded in her family history, and it came easy to her: Her biological dad was a rapper and the first time she was ever in a studio was with her stepdad, who helped her record a song called "Pop My Gum." So when she decided to drop out of college — where she was planning to study forensic science — move to Los Angeles, and seriously pursue a career in music, her parents were supportive. "They couldn't really get mad at me, because I'm my own person," she says, "I don't have a child, so I don't have to take care of nobody. I don't have my own house, I'm not paying for rent."
She released her first project, Hook, at the top of the year, and it caught the attention of L.A.-based producer Nedarb. It's a brassy, energetic mixtape, a jeering provocation to Hook's imaginary adversaries, a school- yard taunt turned into a joyful, lyrical narrative.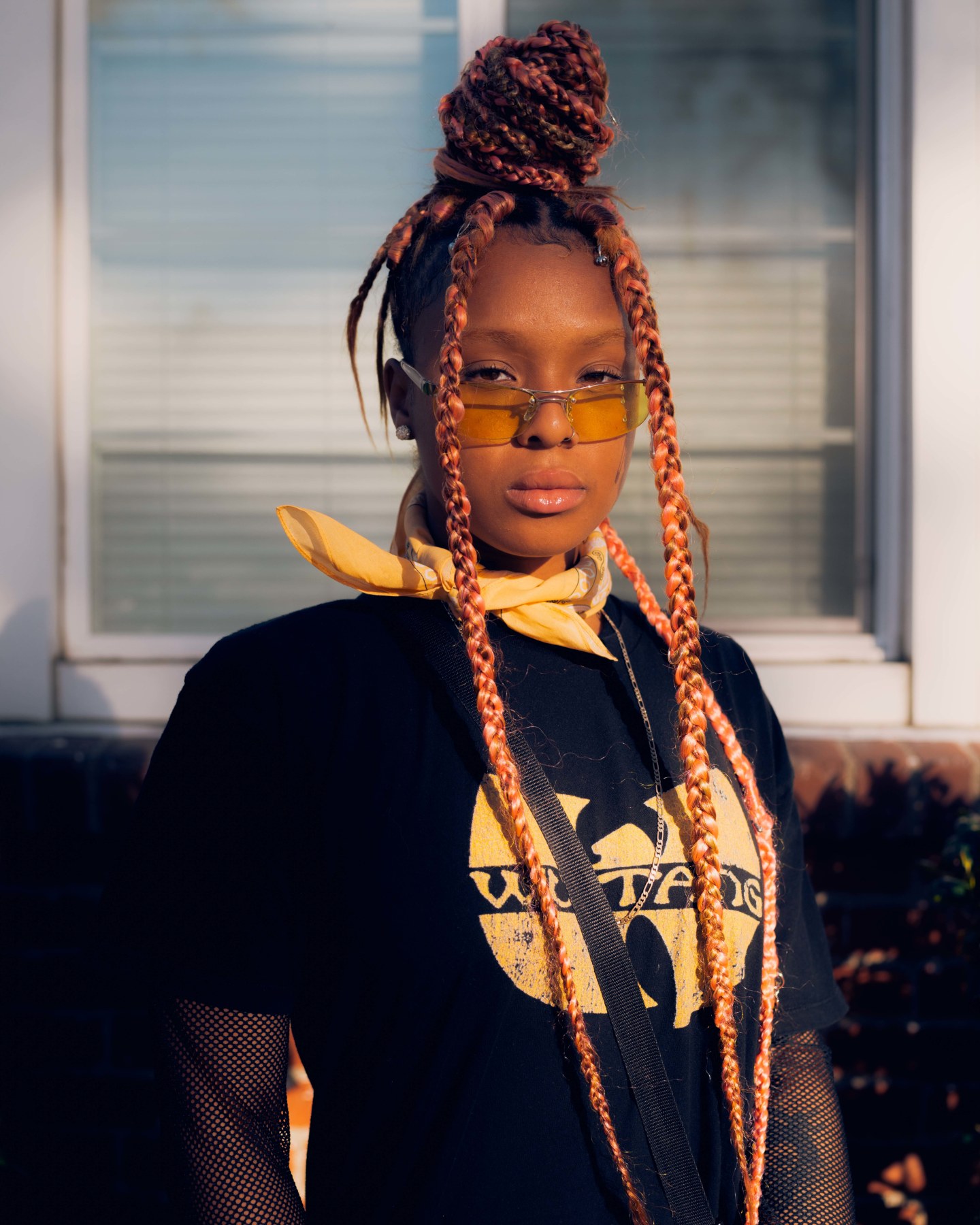 "Last day of school, baby, we can get it crackin' / First day of school, fists fly like a falcon," she raps on the mix- tape's title track. "Used to be on, damn, nigga, what happened? / Thought you had talent, on stage, started laughing." Hook's delivery turns scathing jibes into playful teases; an impish smile forms easily on her face just talking about it. "Since I don't like talk shit and cuss people out every day, let's just do it on a whole fucking tape. And that's what I did," she explains.
IRL Hook doesn't confront her bullies, she just shuts them out — stops talking to them. Lets the anger sit inside her and then uses her music to transmute it into oral thunder. "After that tape, I did... I Love You, Hook," she says. "I wanted to show a complete opposite side [of me], because... one of my supporters hit me up like, 'Bully... Are you really a bully?' And I'm just like, 'No, I'm fucking nice.'"
On I Love You, Hook, released in September, the young rapper gets vulnerable, but retains her confident swagger. "If I leave, I ain't coming back," she threatens on "Iffy" before demanding of her crush, "Call me pretty." But later, she admits in a breathy delivery, "I feel empty." She released the mixtape in September, making it her third project in a year — it's a pace of output that has become par for the course for young rappers today.
But Hook is discriminating about what she releases to the public and the image she projects. She wipes her Instagram clean every few weeks ("I just get bored of looking at something. So I'm like, 'They must be getting bored, too.'"). When she was in high school, she was in a music group that she is hesitant to name because she doesn't want her fans to look up the music she made with them, which still lives online.
"When I first started rapping, I used to be like, 'I'm just doing this shit for fun,' but there is literally a time when you just need to be like... If you want to do it as a profession, as a career, you need to be able to tell yourself, 'That shit was wack.'"
Her next project is called I Crashed My Car, and will release on her 21st birthday — January 23. It's about, literally, crashing her car, which she confesses to doing at least nine times. "I can't even drive no more, because I have PTSD," she says. "I even get scared of being in cars with other people, for real. Like if they on the brake light too slow, and I get behind them. My heart literally drops every time."
Is she going to be mean again? I ask. Will she be Bully or I Love You, Hook? Not mean, she says. Sarcastic. A smartass. "I like to fuck with people," she says. "In a good way, in the most humblest way possible."