King Princess takes control
Mikaela Straus entered 2019 squinting into the bright lights. After pouring herself into her craft, she ends the year as a compelling artist on the rise.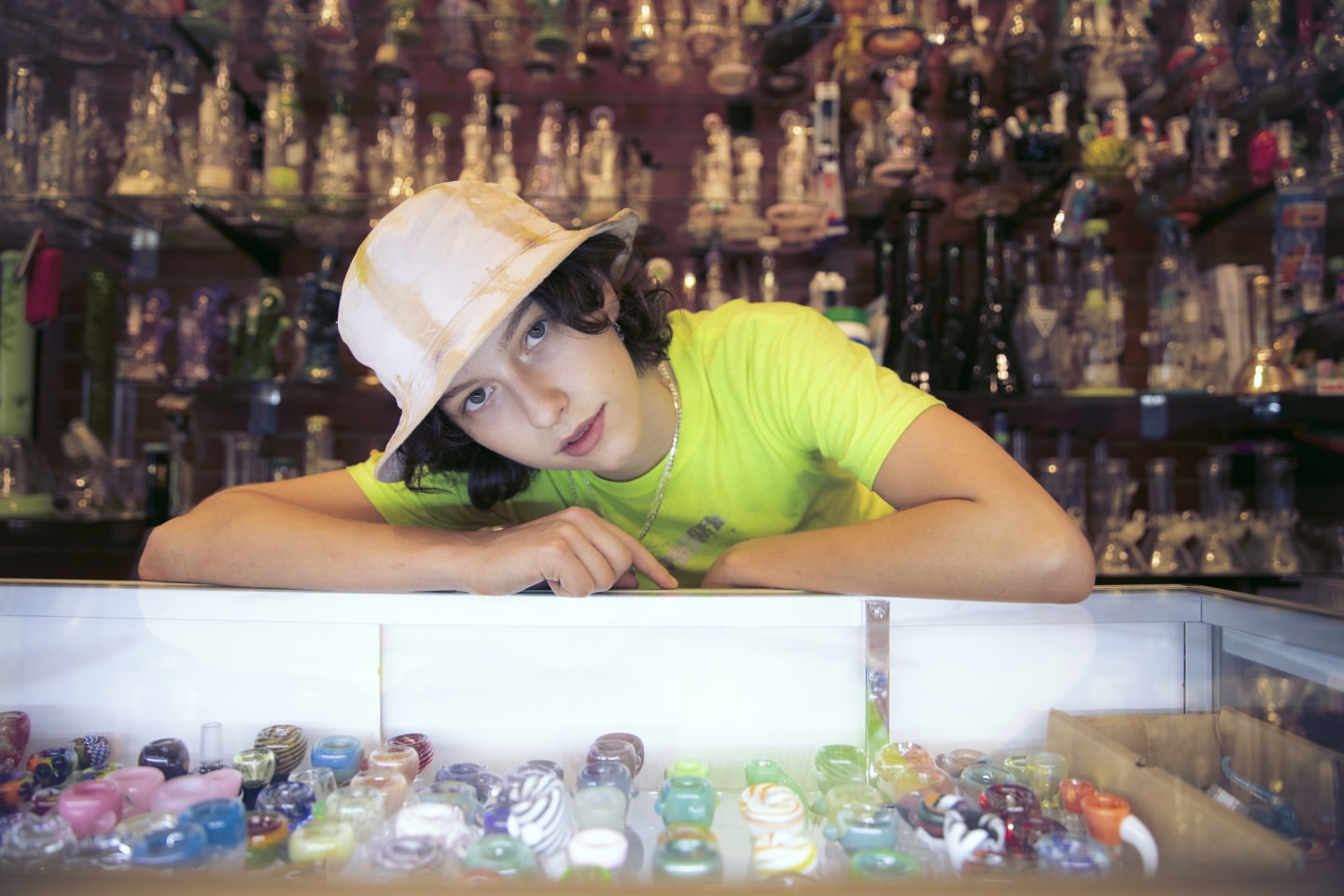 "'Pussy Is God' was a fucking nightmare to write," says King Princess, a.k.a. Mikaela Straus. She's explaining the genesis of one of her most beloved songs, which, she says, was arduous. For months it had a hook but no chorus, and Straus tends to get "turned off" if the creative process drags.

Sometimes the process is smoother, as it was with her debut single "1950." Released in early 2018, it gained traction early, but it only went truly stratospheric when Harry Styles tweeted one of its lyrics: "I love it when we play 1950." A tribute to queer, unrequited love, and a nod to Patricia Highsmith's groundbreaking 1952 lesbian love story The Price of Salt, the melody came to Straus in her USC dorm room shower and took just 20 minutes to write. "'Cos that's the best shit," she says raising a knowing eyebrow. "It comes out in 20 minutes, honey."

But back to "Pussy Is God," which was languishing after multiple writing sessions, until Mark Ronson — the superproducer who signed Straus to his own Zelig Records — suggested she sample Nas and Bravehearts' x-rated 2001 hit "Oochie Wally."
"I was like, 'The song about taking huge dick all day?'" Straus laughs. "You know what? That's not a bad idea!" Ronson gave her the stems, she chopped it up in Ableton, threw in the "He really, he really," and the rest fell into place. "So I re-appropriated a song about taking dick all day to make it a song about pussy-eating. Hot!"

Today we've posted up at Hamburger Mary's, a West Hollywood drag queen party joint ("Eat! Drink! Be Mary!" the menu proclaims). It's dead inside because it's noon on a Wednesday, so it's just us: Straus in a white tank-top and navy Adidas track pants, sipping a bloody mary. Kylie Minogue's "Can't Get You Out of My Head" blares in the background as cars rumble down Santa Monica Boulevard.
Spending any amount of time with Straus is a hoot. She's whip-smart, dry, deliciously confessional, and heavy on the expletives. Her vernacular is littered with kitsch phrases. She calls Ronson "Daddy," the hot sauce on the table is "Ms. Sriracha," and says words like "gorge," elongating the "or" at its center in a campy drawl. When discussing the speed of songwriting for her debut album Cheap Queen, she says: "I just kinda popped those hoes out. I really did, I popped those girls out!"

Released in late October, the songs that make up Cheap Queen chronicle a tumultuous year for the 21-year-old singer. At the beginning of those 12 months she was in love, and then she was heartbroken; when the year closed out she was in love again, but with someone new. It was the year Straus released her first piece of music and soon found herself squinting into the bright lights. She was a rising star in her own right, but also the plus-one to a romantic partner already established in the celebrity firmament. This was the year Mikaela Straus became King Princess. "I wouldn't have this record without this last year and all the shit that went down," she says, leaning in. "I never want to not write music about my life because it's so painful and so cathartic. It's because of the music that I'm fine. The music is the closure."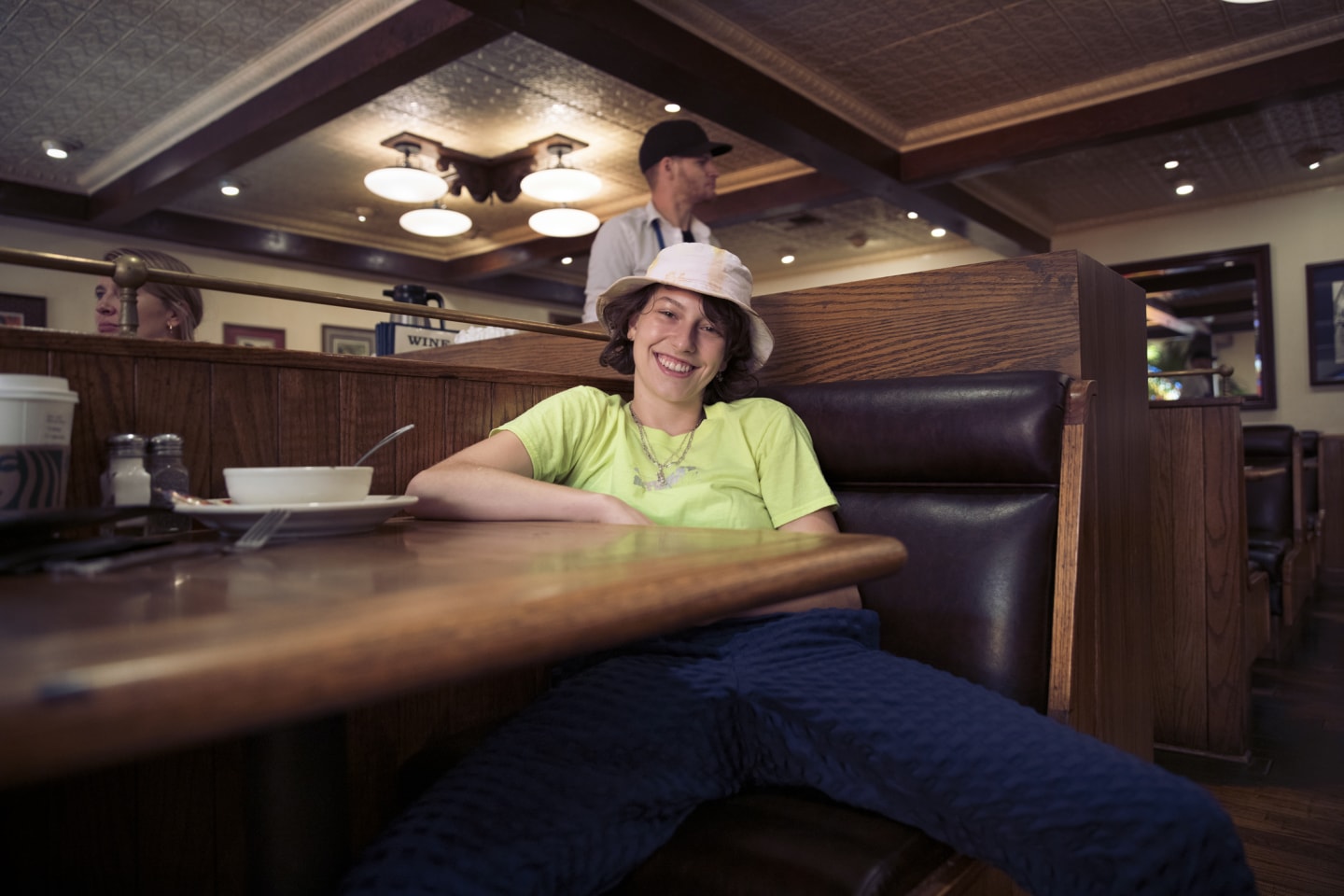 Straus was born on December 19, 1998 and raised in Williamsburg, Brooklyn. Her parents were in a metal band: her father Oliver played drums, her mom Agnes sang. "They're divorced now so maybe the band dynamic wasn't the best for them!" she laughs. Nevertheless, her mom did convince her dad to buy a house in Williamsburg — they would live upstairs and turn the basement into a recording space. Eventually Straus's dad bought a proper studio nearby and founded Mission Sound, where everyone from Arctic Monkeys to Jack Antonoff to Animal Collective have recorded. "It was magical," recalls Straus. "I would play with the console and it felt like a spaceship, and you know, if you're a dykey kid, those are the right toys."

Matt and Kim, who recorded there in 2009, remember Straus as a 10-year-old. "We started talking about how cool it must have been growing up in Williamsburg. She replied with something like, 'It was way better before these condos started showing up!'" Matt recounts. "Kim and I were shocked, because she seemed like she was 30 years old already. She was really outgoing, and not nervous around adults like some kids are… she could just hang like she was any of our friends."

Straus attended an artsy private school in Chelsea, Manhattan. Her early experiences in formal music class were "very kumbaya, very choral," and her teacher kept yelling at her because she was singing too loud. Once upon a time she was cast in a production of Oklahoma, but was asked to leave for being too rowdy. Straus started off playing drums like her dad, before progressing to the guitar, piano, and bass. There are dozens of recordings of her from age five onwards, but it wasn't until she was in high school that Straus wrote her first proper song. "That's when I started being fully gay and eating pussy," she says. "That's when the songs started flowing out of me, because I had something to say."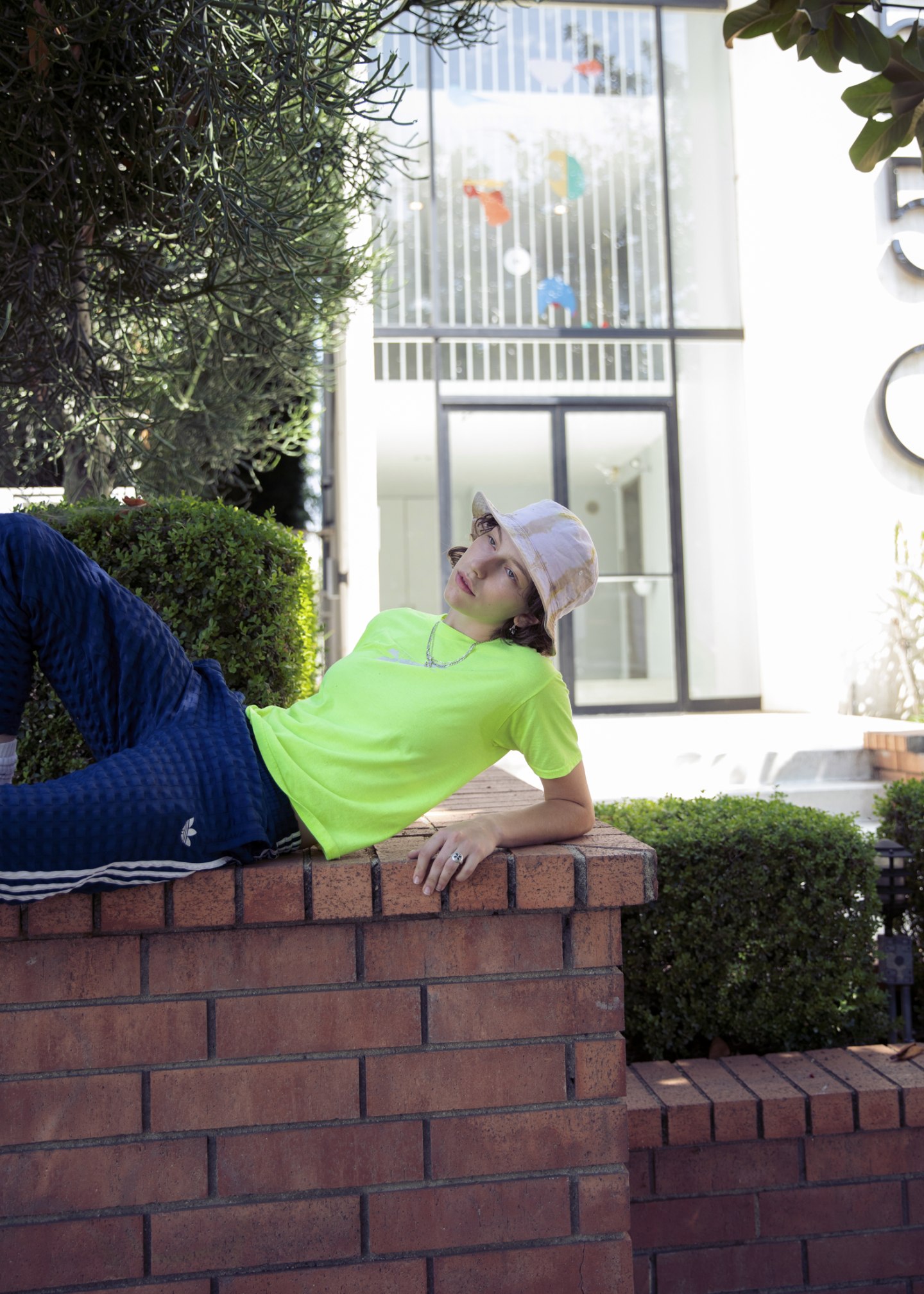 When Straus was 11 she almost signed with Virgin Records, who wanted her to be the voice of Emily the Strange for a feature-length film's companion album. The film never happened, "but being in a room where I was taking meetings was probably super fucking helpful," Straus says now, picking at a basket of fries. Her parents, she stresses, were the antithesis of showbiz-pushy. "We had this unspoken rule that I could always say no. Always. We don't sign anything. I was like, fierce. Now I sign shit."

In the end, it was Ronson who signed Straus, making her the first artist on his Columbia Records offshoot. After hearing some demos, the pair met for dinner back in 2017, and Ronson was immediately intrigued. "When I met Alicia Keys for the first time, she was 18 coming from school to my tiny studio on 54th Street," Ronson says. "She sat down and had this confidence without being cocky. Same thing with Lady Gaga. I think it's a New York energy — streetwise, self-aware, no need to be too showy, but you kind of know you're the real deal. I got that from [Straus]. I could tell from that conversation — this person is going to do something really great."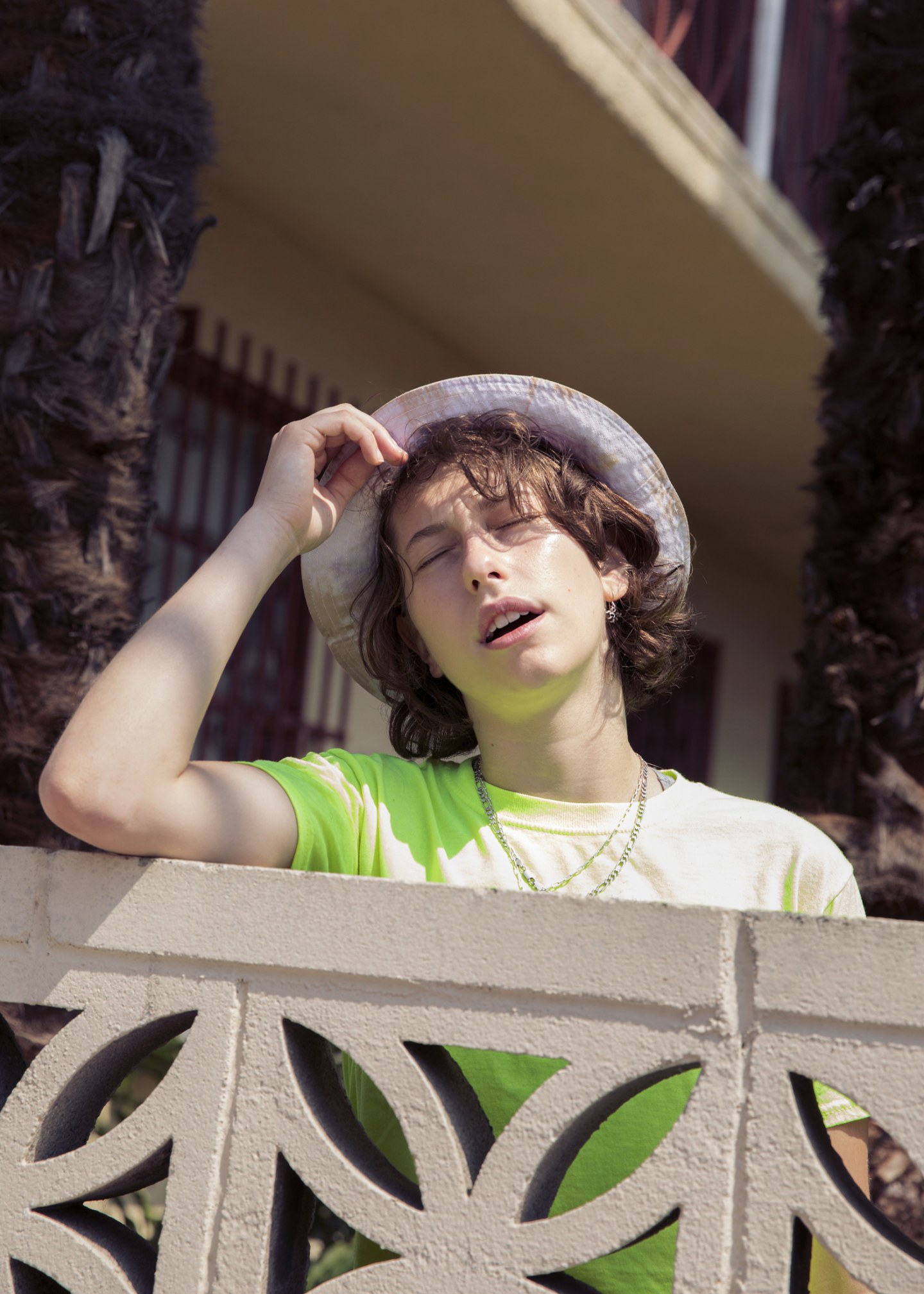 Last year, Straus looked like she was having the time of her life. After signing with Ronson and dropping out of USC's songwriting program, she released her debut EP, Make My Bed. The release was met with universal acclaim, her shows were selling out, and she was in a happy relationship with actor Amandla Stenberg. From afar, photographed on red carpets hand-in-hand with her girlfriend, and goofing off on social media, she looked completely at ease. I tell her she has an excellent game face. Straus fixes me with her hazel-flecked green eyes: "Girl, oh I know. That's what's so fucked up about it! Full game face. I did not crack for a year and then I so cracked hard, like, Oh my God, I'm going to fucking die."

For all Straus's sass and preternatural confidence, she was still a teenager navigating incredibly surreal situations. "I was going to events, being around people who are clouty, had celebrity," she says. "I was visible to people on a wide scale for the first time in my whole damn life, and it was really scary." Writing became her mode of processing. "I'm gettin' too cocky since everyone wants me / It's harder to be myself," she sings on Cheap Queen's title track.

"The music is where I talked about those things that made me deeply out of my body and confused for my younger self who wasn't cool," she says. "I didn't know where to stand, what to do, I was a little messy, but it was good because it was authentically messy and I'm proud of myself for not changing and not shifting."

Musically, Cheap Queen is a patchwork of smart, polished pop with Straus's tones dominating over slick beats, seamless samples, and clever couplets. There are some retro nods, like the dusky trip-hop of "You Destroyed My Heart," and some songs, like "Hit The Back," are playful and bright, but Straus really levels up when harnessing her emotional transparency. On "Homegirl," her collaboration with The xx's Romy Madley Croft, Straus's vocals are sparsely adorned. She sings like Patsy Cline — rich, husky — but her lyrics are decidedly modern: "We're friends at the party / I'll give you my body at home." On "Isabel's Moment" with Tobias Jesso Jr., she sings about a ruptured friendship, her voice cracking with despair. "Friendships are as meaningful, dramatic, and as important as romantic relationships," she says. "I've definitely had a much harder time finding friendships than I have finding girlfriends."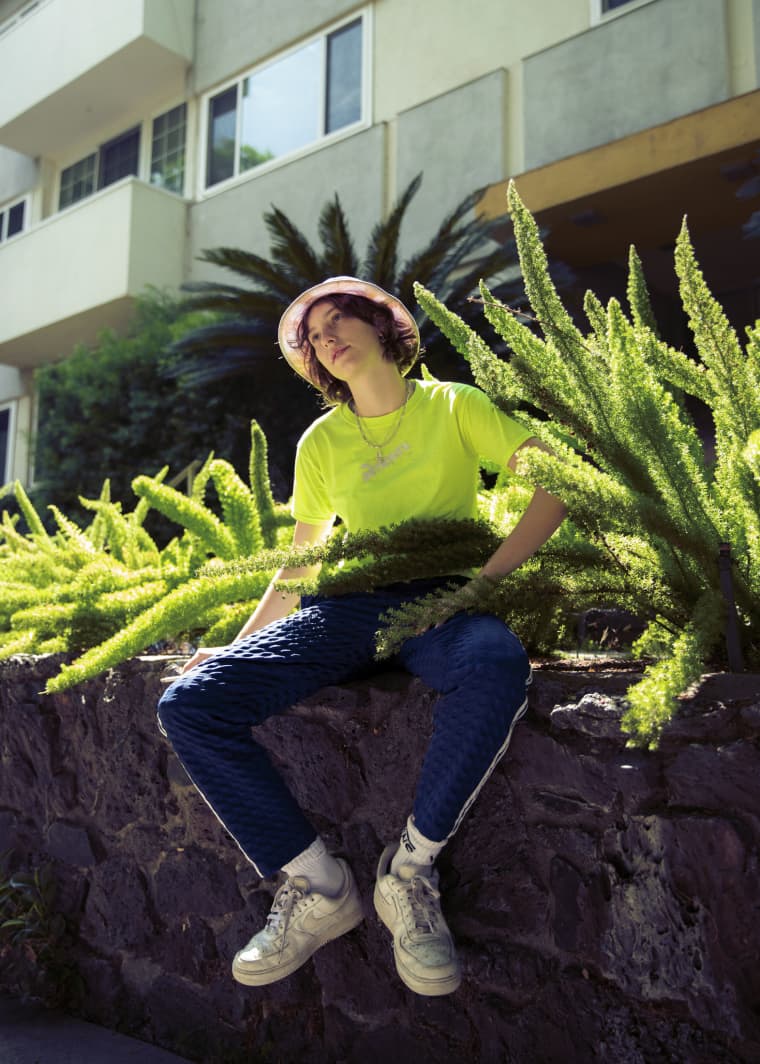 Straus says "Isabel's Moment" is the record's beating core, and while it's true that the singer's romantic relationships aren't necessarily central to the work, the shards of her broken heart glitter and gleam all over Cheap Queen, because heartbreak is a motherfucker. Sometimes you feel it coming, unease creeping like fire curling the edges of yesterday's paper; sometimes, even when you know you're on shifting ground, you still feel blindsided, a suckerpunch that leaves you gasping. "Watching My Phone" is one of those crushingly relatable moments: A study in power, balance, and control, and how sometimes, even if you know that person isn't your person, you love them anyway, and you love them too hard.

"Yeah that's the one, let's talk about her," Straus says unblinking. "Tears, seriously. I wrote it three days before this break up. It was the darkest night. Sometimes I think I'm a demon-wizard who knows exactly what's going to go down all the time and the music is my prophecy."
I tell her I love the opening lyric: "And I know you, destroying things you love to save yourself / And I'm passing through your life." Straus responds emphatically, eyes widening: "Yeah because it's so true. There's those gay sob moments, like '1950.' Gay people, straight people, queer people listen to it and feel that heartbreak. You listen and it sounds like the person whose singing is broken. The production is the perfect outfit for that broken girl."

In many ways Straus is an open book. "Only tea," she says. "I only serve tea and I will not stop doing that." There's really only one moment that gives her pause. When I ask her what happens when an ex, meaning the ex, listens to the music, she hesitates: "I'm very open. Umm… I think what happens isssss…" At this point the waitress checks in, giving Straus a moment to collect. "All you have is your truth," she says. "I go into all my relationships with this understanding, like, Bitch you will be written about, if that's a dealbreaker you better let me know now because there could be a record. I played all my songs for my ex. She was like, These are some fair reads. They are, but there was so much love in those reads. I don't do mean, that's not my zhuzh."

These days Straus is giddy-happy and very much in love with director Quinn Wilson (most lauded for her work with Lizzo). They're cute as hell all over Instagram — blurry pics, cosying up, FaceTiming — and drunk-ass dancing together amongst the cigarette smoke, fans, and drag queens at Straus's New York City album launch party. The buoyant single "Hit the Back" is for her. "I just wanted to put her in there," she says. "Like, I love you."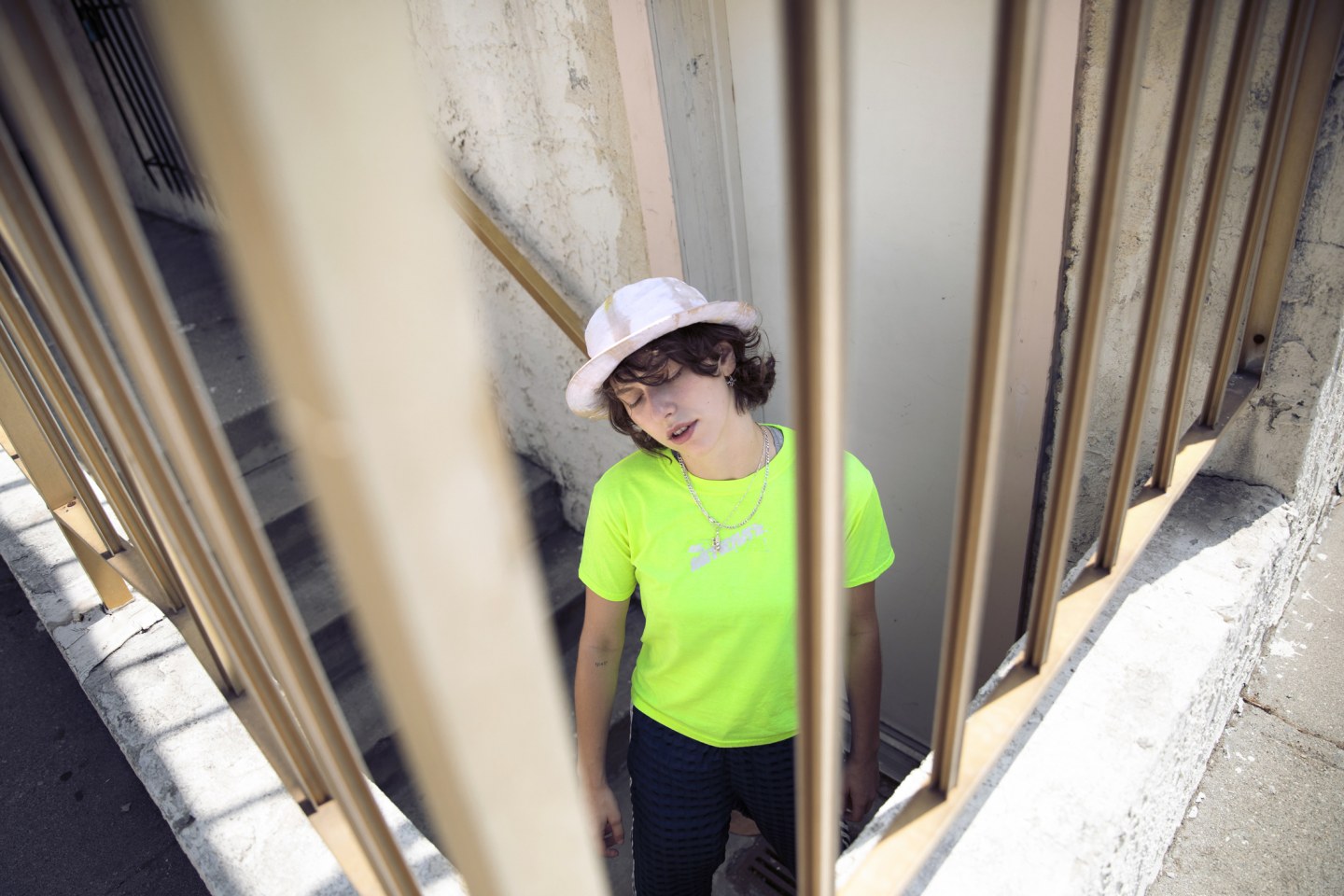 The inclusive, celebratory, safe-space vibe of a King Princess show is not unlike a Lady Gaga concert, although the audience is younger, less theatrical, and a lot more cool. At 11 Straus went to the Monster Ball tour in New Jersey with her mom in tow. Straus — just beginning to assemble her sexual identity and dazzled by Gaga's diva-tude, outre outfits, and no-fucks-given flamboyance — proclaimed herself the "biggest Gaga stan in the world." Years later, the night before Straus's 19th birthday, backstage with Mark Ronson at a Gaga show, she met her hero for the first time. "Hello, I've heard so much about you," said Gaga, to which Straus replied: "I'm gay," and burst into tears. Gaga just hugged her and said, "I know."
"It was like something deep in my childhood was unlocked," Straus says now. "I've never had that kind of visceral reaction to someone! You will not catch me shedding tears for anyone, but I was for her."
Aside from Gaga, there weren't many role models Straus identified with when she was growing up. Now King Princess can be pinned to bedroom walls alongside queer pop icons like Christine and the Queens, Troye Sivan, Hayley Kiyoko (that's Lesbian Jesus to her fans), Halsey, Shura, Kim Petras, and Kindness. These artists are leading conversations previously held only in hushed tones — if they were held at all. Straus explains that when she was younger she didn't relate to women, but that finding a group of girls in high school where she felt accepted, not tokenized, was a game-changer. I ask her how she would describe her gender.
"I had a really long talk with my friend about this yesterday: I think I'm a gender-queer person — I've always liked being called she, and she for me is more like the royal she. I feel like I've never felt connected to my female body, I've never felt entirely female. I sometimes feel like I'm an observer to femininity more than a participant. It's hard because for a long time you exist in this binary where if you're not trans or fully transitioning, and you're not cis, that middle ground isn't considered real."

She continues: "But it absolutely is because gender is a spectrum and I know how I feel when I wake up every day — it's different, it changes, I'm in-between, and I'm so thankful because it's such a beautiful perspective."

Today Straus says her outfit is reminiscent of something she'd wear back when she was six years old. In this get-up she feels like her truest self, and when decked out in full glam she feels like the sexiest drag queen around. "I'm a drag queen at heart, but I think we need to revive that space for people who don't feel that they fall into either category because how gorgeous is that? That you can just exist in that ambiguity and still be proud of it. I think it's really important."

On the one hand the fact that Straus's sexuality is entwined with her music is empowering — "Like, uh honey, I'm a gay ass bitch at a major label, she wasn't supposed to be here"— but the flipside is frustrating.
"It's when you're asked, How does being gay influence your music? Imagine being asked that!" she exclaims. "How does being straight influence your writing? No girl. It doesn't. It's just life. Sometimes I see something that's written about me and I'm like, Was it really that necessary to spend 90 percent of the interview talking about what it means for me to be a gay artist? Is it maybe more important that I'm producing my own music?"

That Straus's dedication to musicianship and production is not given equal billing to her sexuality is irksome, but unsurprising, in much the same way that Christine and the Queens' Héloïse Letissier's production muscle on both albums was a footnote, if that.
The narrative that men are the technical wizkids molding and marshalling a woman's emotionally-anchored pop nous haunts countless careers. In a 2015 interview with Pitchfork, Björk corrected the misconception that Arca was the sole producer on Vulnicura, but it was not the first time her skills in that department have been attributed incorrectly. "I did 80% of the beats on Vespertine…" Björk explained. "[Electronic duo] Matmos came in the last two weeks and added percussion on top of the songs, but they didn't do any of the main parts, and they are credited everywhere as having done the whole album." Just a few weeks ago Charli XCX tweeted a frustrated thread railing against the same issue: "i'm just saying it how it is. women in this industry are constantly questioned on their validity... 'did she REALLY write that?' 'can she REALLY produce?' 'does she REALLY know what she's doing?' i see it all the time."
Mike Malchicoff, who Straus calls a legend and an icon, worked as a co-producer, mixer, and engineer on Cheap Queen, but Straus' songwriting and production credits are front and center on every track, and she's confident she'll get her due. In the meantime, those around her are keenly aware of her talent, both innate and honed. Despite the 20-plus year age gap and the mentorship role Mark Ronson fills in her life, the producer utilized Straus as a critical sounding board for his solo record, Late Night Feelings (she contributed to "Pieces of Us") and on Cheap Queen Ronson was savvy enough to leave Straus to steer her own ship. ("I don't want to obstruct the vision of a 20-year-old on their debut album doing something completely brand new," he says.) On the occasions he'd check in, the 44-year-old was floored by the exponential acceleration of her skills. "I was really watching her do her production," says Ronson. "Starting off as a musician and watching her do these killer tracks on Ableton, just watching her take her laptop out and start making these really banging beats."

Nick Long of Dark Waves, who has written songs with K. Flay and BØRNS, initially met with Straus on the recommendation of his friend, who'd known the singer since she was nine. "I immediately thought, She's better than everyone I'm working with — every writer between her age and mine," says 35-year-old Long. "Who she is in conversation is exactly who she is when she's writing a song."

Straus is very much a Gen Z star, a pop culture encyclopedia, her brain keeping pace with the infinite scroll. Her bullshit detector is finely tuned, and she understands innately that her fans crave a window into her soft-centered, sometimes disheveled, authentic self. But as an artist she's also old fashioned — a multi-instrumentalist studio rat who believes in albums with a throughline, the full-length as a cohesive whole. Cheap Queen concludes with her Imogen Heap moment, "If You Think It's Love." Straus wrote the entire song at her piano in one fell swoop.
"It's the most truthful song about feeling completely lost: everything you ever wanted has happened and now you feel empty," she says. For a while we talk about how, after a break-up, you're drowning in doubts, questioning everything about your former relationship. Was that real? Did I mean as much to that person as they did to me? Was our entire time together a fever dream infatuation? And then the speed of it — with one line, one look, it's done. "If You Think It's Love" mines all of this.
"That's how I wanted to end the record, after everything that happened this year, every emotion I had," she says. "When I sing this onstage I really feel it. It's a message to myself and in turn to everyone else. I should never doubt those moments. It was love, it is love, there will be more love, you know?"