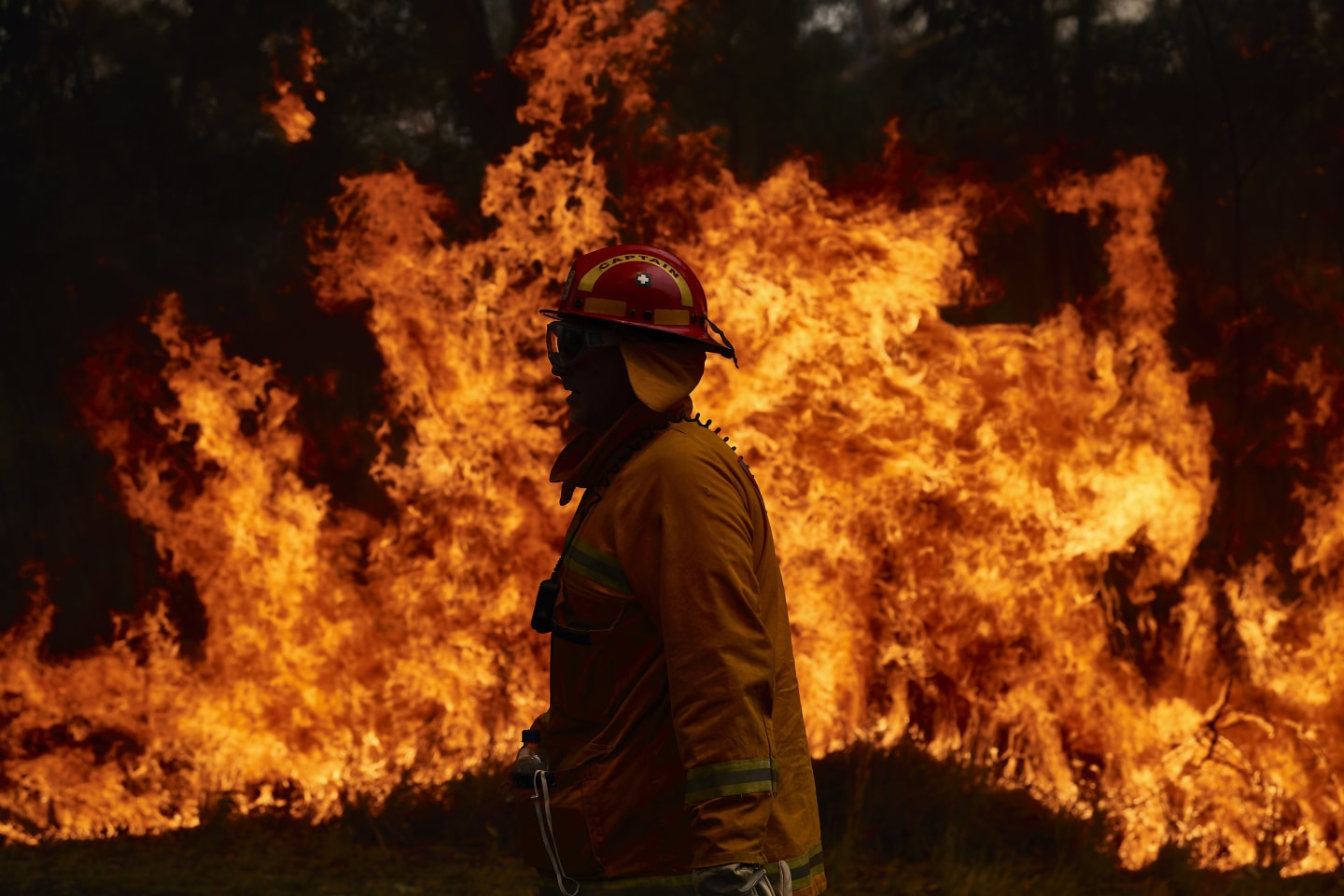 For the past few months, Australia has found itself in the midst of a climate emergency the likes of which have rarely — if ever — been seen in the country. Bushfires are ravaging the densely-populated east coast, displacing tens of thousands of people and eradicating vast proportions of the rare flora and fauna that exists only in Australia. 1.8 million acres of land burned in California's deadliest ever bushfire season, while 2.2 million acres burned in the 2019 Amazon rainforest fires; in comparison, Australia has seen over 12 million acres burn since September, with millions more under threat in the coming days. 18 people are already confirmed dead, with an additional 28 unaccounted for. Only one month into summer, the bushfire crisis is only expected to get worse, with heat intensifying into early-March and little real rain expected until, at the very earliest, late February. [The below video, from NSW Emergency Services, depicts the terrifying and horror movie-like conditions firefighters are facing.]

The crew from Fire and Rescue NSW Station 509 Wyoming recorded this video showing the moment their truck was overrun by the bushfire burning South of Nowra. The crew was forced to shelter in their truck as the fire front passed through. #NSWFires #ProtectTheIrreplaceable pic.twitter.com/Hb0yVrefi9

— Fire and Rescue NSW (@FRNSW) December 31, 2019
Fire brigades, which rely nearly entirely on volunteer services, are struggling to keep up with the increasingly intense conditions; the deputy commissioner of the Rural Fire Service has gone on record saying that even "10,000 firefighters" could not control these blazes. The state of Victoria is currently in a month-long state of disaster for one of only a handful of times in the state's history; New South Wales, meanwhile, has declared a seven-day state of emergency as it heads into a weekend where temperatures are expected to routinely expected to exceed 105F.
Terrifyingly, the severity of these fires means that they beget more fires in more ways than one. Many of these supersized bushfires create pyrocumulonimbus storms — fire tornadoes that can flip trucks and create dry lightning clouds which, in turn, start new blazes. Even in areas largely unaffected by fires, such as major cities Sydney, Melbourne, and Canberra, air quality has been catastrophic: a woman in Canberra died earlier this week due to respiratory problems caused by the thick smoke in the city. In New Zealand — thousands of miles away from Australia — smog is thick and glaciers are changing color due to traveling smoke.
The bushfire season so far #AustraliaBurning

19 people killed nationwide, 28 missing in Victoria alone
Half a billion animals killed
15 million acres burned
1600+ homes destroyed
Entire communities cut off from electricity, supplies and evacuation
Cities are choking

Links below pic.twitter.com/rT68ivxdLS

— Connor (@ConnorGoudie) January 3, 2020
At the same time, Australia's conservative government, which was elected largely on a campaign that ignored and underplayed the increasing threat of climate change, is doing little to assist: Prime Minister Scott Morrison took an extended holiday to Hawaii as the fires first began to rage and has since insulted affected communities with tokenistic platitudes, while fire brigades and experts have alleged that Minister for Emergency Services David Littleproud flat-out ignored their early warnings that this year's bushfire season would be one of the worst ever, as well as their calls for extra equipment and water-bomber planes.
It is undeniable, though, that the increasingly long and dry summers caused by global warming — drought conditions are also contributing to the fast-spreading fires — are a primary cause for the severity of this year's fire season, as well as the fact that this year's bushfire season is not just a short-term cause of major concern for Australians, but a sign that the impact of rapid global warming is going to affect every corner of the world, even in countries with the most stable and secure infrastructure in place.
This is just a brief overview of the catastrophe the country is facing; international press on the crisis has been scarce, but essays in New York magazine and The New York Times, as well as The Guardian's live feed of bushfire updates, give a clearer, and scarier, picture. But in the mean time, read on for how you can help fire-affected communities.
These are dark, desperate times. People are trapped, surrounded by fire, with no way out, jumping in the ocean and lakes just so they don't burn to death. Our country is crying, please help us. #NSWbushfires #AustraliaBurning #australiaisburning pic.twitter.com/uLwS3PAPH5

— zoe 🤠 (@zoettinkler) January 2, 2020
Donating to fire services and affected communities
The most immediate and concrete way to provide assistance to affected areas is to donate funds to the various organizations that are doing work to put out these fires and assist affected communities. As the fires rage on, the County Fire Authority and the Rural Fire Service — the peak bodies that govern and organise the many volunteer-run fire services in regional Victoria and New South Wales, the two most affected areas — are key organizations to support and donate to. They train and support the firefighters keeping communities safe and keeping fires at bay. You can donate to the CFA here and the RFS here. (For Americans and Brits wanting to donate to the RFS, tick 'Make a donation to the Rural Fire Service', then select your country in the country box and 'Other' in the state box.)
In the long term, the Red Cross and the Salvation Army will be assisting the tens of thousands of evacuees at evacuation centers and recovery hubs in Victoria and New South Wales, providing long-term recovery services and emergency assistance. In the immediate future, the Red Cross will be providing emergency grants to those who have lost their properties. It is worth noting that the Salvation Army, while undeniably assistive in its charitable efforts, has a long history of transphobic and homophobic practices. Donate to the Red Cross here and the Salvation Army here.
Assisting displaced and affected First Nations (indigenous) communities
This season's bushfires have displaced countless people in First Nations — Australian indigenous — communities across the east coast. Both governmental and non-governmental efforts to assist and provide for First Nations communities have historically proven disastrous and ill-informed; as such, Yorta Yorta community organizer and musician Neil Morris, who performs as DRMNGNOW, has organized a First Nations-specific collection that will go towards affected communities. The aim of Morris' fundraiser is to "offer a culturally sensitive [and] specific direct support to some of those communities," and will offer emergency relocation costs, basic amenity and emergency relief costs, resettling expenses, refurbishment of damaged property, rental support, and replacement of vital items. Donate to the First Nations fire relief collection here.
Donating to wildlife and environmental organizations
Much of Australia's rare and continent-specific flora and fauna has been devastated by these fires. As such, organizations such as WIRES and the RSPCA have founded bushfire-specific collections to help native flora and fauna. "In WIRES history we have never seen a concurrent series of emergencies events like [this,]" WIRES writes on its website. "It is impossible to know how many animals have perished and it will be many months before the impact on wild populations can be better understood but ecologists at Sydney University have estimated over 480 million animals have tragically died in Australia since September." Donate to the WIRES emergency fund here and the RSPCA NSW fire fund here.
Spreading awareness and calling for international action
Prime Minister Scott Morrison and his denialist government are extremely averse to even acknowledging that the current bushfire season is both catastrophic and a result of accelerated and hyper-detrimental global warming. Morrison and co. are attempting to normalize these bushfires, trying to convince the tens of thousands of affected Australians that these fires are simply normal conditions in this country. As such, one of the most important things that Australians and non-Australians alike can do is continue to make the devastation of these fires visible and known. Currently, the most popular bushfire hashtag to monitor is #AustraliaBurning. Retweeting the admittedly terrifying first-hand accounts, footage, and photography coming from bushfire affected towns ensures that masses are seeing and having to grapple with the gravity of this situation. In addition, @GuardianAus, @VicEmergency, and @NSWRFS are all tweeting constant updates on the fire situations. Australia's climate change-denialist politicians are desperate for this phenomenon to be normalized; if change is going to be effected, that can't happen.