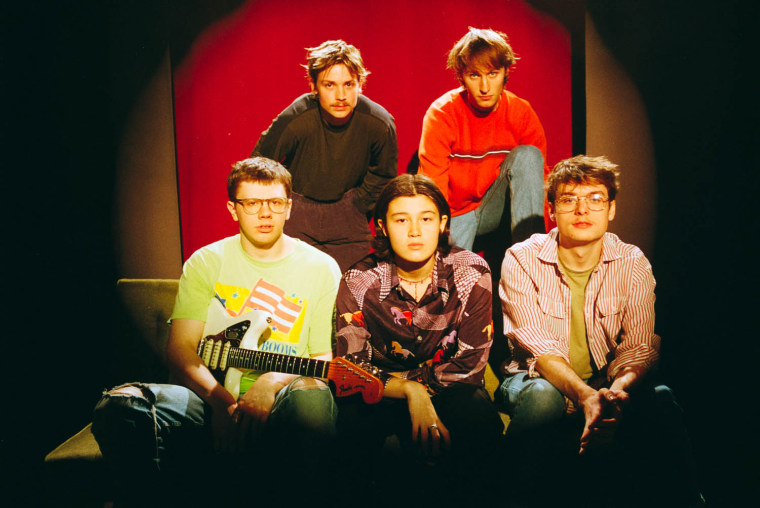 Disq, the Wisconsin band started in middle school by founder members Raina Bock and Isaac deBroux-Slone, are back with a funny but biting new song "Daily Routine."
Now a five-piece, Disq have signed to Saddle Creek ahead of the release of debut album Collector on March 6 (pre-order the album here). "Daily Routine" is an all too relatable indictment of modern work practices that leave many feeling uninspired and lethargic. "This is my daily routine / Spend my hours on a computer screen..." the band sing. "I'm in prison but I think this place was built by me."
"'Daily Routine' is a song about an intense personal struggle," the band said in a statement. "In dark times, life can feel like a cycle that I'm trapped in, repeating over and over with no means of escape. It's easy to fall into a void, thinking that everybody else has it all figured out, while losing sight of the fact that many others feel exactly the same way."
"The tongue-in-cheek lyrics are a coping mechanism for me as sometimes being able to laugh at my own situation is the only thing that can make me feel better," the statement continues. "Sonically the song ended up a loose template for the sound of many other songs on the album; expressing feelings simply through loud guitars."
Disq tour in April. Check out the band's dates below. Tickets are available from January 10.
1/14 - London, UK @ The Lexington (Five Day Forecast)
1/15 - London, UK @ The Old Blue Last *
3/16-22 - Austin, TX @ SXSW
4/3 - Iowa City, IA @ Mission Creek Festival
4/4 - Chicago, IL @ Schubas ^
4/6 - Detroit, MI @ PJ's Lager House ^
4/7 - Toronto, ON @ The Drake ^
4/9 - Boston, MA @ Great Scott ^
4/10 - New York, NY @ Rough Trade ^
4/11 - Philadelphia, PA @ Boot & Saddle ^
4/12 - Washington, DC @ Songbyrd ^
4/14 - Nashville, TN @ High Watt
4/15 - Kansas City, MO @ Uptown Theater
4/17 - Denver, CO @ Larimer Lounge
4/18 - Salt Lake City, UT @ Kilby Court
4/20 - San Diego, CA @ Soda Bar ~
4/21 - Los Angeles, CA @ The Echo ~
4/22 - San Francisco, CA @ Cafe du Nord ~
4/24 - Seattle, WA @ Barboza ~
4/25 - Portland, OR @ Doug Fir ~
4/28 - Minneapolis, MN @ 7th St Entry
5/1 - Madison, WI @ High Noon Saloon
* w/ The Districts
^ w/ Pom Pom Squad
~ w/ Girl Friday