Hear an anti-capitalist gem from '80s post-punks Use No Hooks
Use No Hooks are back with an album of previously-unheard recordings. Listen to the first song from the album, "The Hook."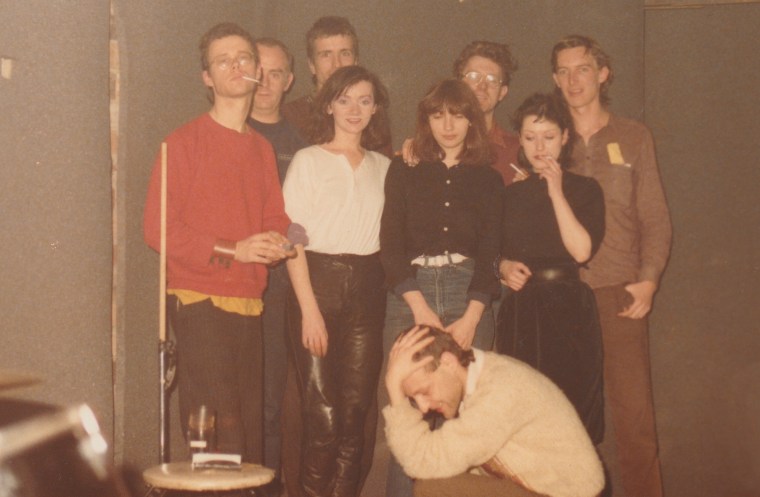 Melbourne's iconic 'Little Band' scene — the 70s and 80s community of musicians that formed and dissolved countless experimental post-punk bands over the course of a few years — was defined, even moreso than many more "traditional" punk scenes, by a steadfast refusal to allow the commodification and bastardization of its art. Bands rarely played more than a couple of shows under one name, and community radio was at the scene's centre, rather than any traditional kind of label structure.
While they ended up becoming a more long-lasting and structured group than many others in the little band scene, nine-piece disco-punks Use No Hooks never lost that anti-capitalist streak. Take, for example, "The Hook," a newly unearthed Use No Hooks song premiering above. Sleazy and atmospheric with its disco beat and underlying crowd noise sample, "The Hook" sends up the hypnotic and idiotic nature of advertising jargon that was at its peak in the 80s: "Gotta go, go out and get it," a voice tells you, without ever specifying what it is. Even forty-odd years later, "The Hook" feels relevant, recalling bizarre Instagram ads from WISH and the like. Taken from a new album of previously unreleased Use No Hooks recordings to be released later this year, "The Hook" is as 2020 in spirit as songs come.
"'The Hook' was written as an imaginary fake ad for an all-purpose, universal consumer product," guitarist and songwriter Mick Earls tells The FADER. "It has no distinctive features whatsoever, and you "don't know if it's bad or good", but — it's "got a hook", so everyone's "gotta go, go out and get it"."
"The Hook" is taken from The Job, a new album of previously-unreleased recordings by Use No Hooks, out March 6th via Chapter Music. Pre-order the album here.