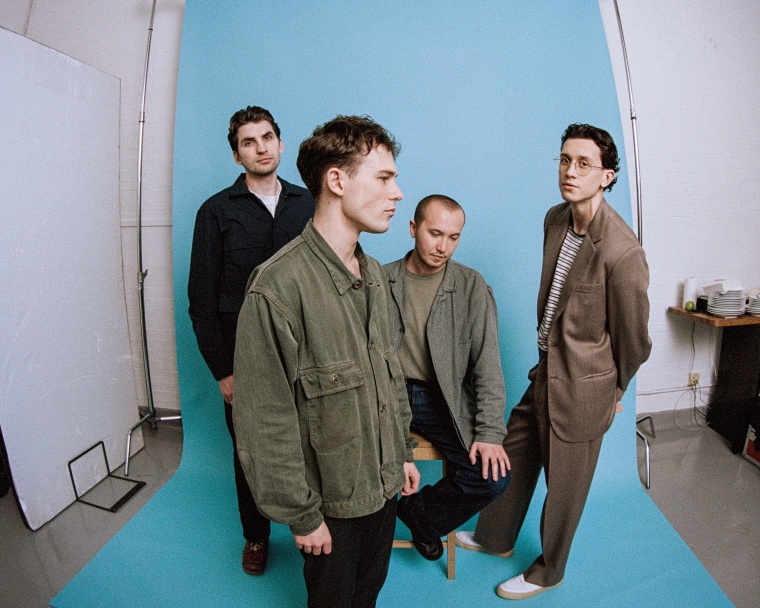 The Northern soul scene of the 1970s regularly offered up fantastic and surreal sights in which men and women from industrial towns in the north-west of England danced like Olympic gymnasts to rare black American soul 45s. Men with moustaches and labor-intensive jobs cut loose with a series of spins, slides, and high kicks to some of the most life-affirming music imaginable.
Understandably, British band The Magic Gang were keen to channel some of that energy when making the follow-up to their 2018 debut album. "Think" is the first taste of the indie group's second record, made in Atlanta with producer Ben H. Allen (Deerhunter, Animal Collective) and due later in 2020, and marks a joyous new chapter in the melodically-gifted unit's journey. Taking the vinyl obscurities favored by DJs at northern soul clubs like Wigan Casino, as well as a hearty dose of Dexy's Midnight Runners, as a jump-off point, "Think" is an undeniably catchy and energetice exercise.
It comes with a video shot in east London venue Moth Club. In the video the band sit and sup pints of Guiness while a dancer (Lauren Fitzpatrick) moves to the heavy beat and fast tempo of the music, pulling off some of the 70s-era moves. The band, having drunk some more, eventually give in to the music and join her on the dancefloor. It's a fun video and a sly introduction to the themes of the band's new music, which interrogates both the free abandon of a great night out and the anxiety and introspection the following morning can bring.
Check out the video below and read on for a q+a with band members Gus Taylor, Jack Kaye, Kristian Smith, and Paeris Giles.
What does "Think" mean to The Magic Gang?
Gus: It was like a miracle. We conceived it in about half an hour in a rehearsal room. Kristian took the helm on writing the lyrics and wrote it about 5 minutes on a cigarette break.
Kristian: I wanted us to do a tune with an up-tempo groove and while the other guys were doing that I went outside for one of those internal conversations and came back with the song fully formed. A lot of the time we spend a lot of time analyzing creative decisions but this one just came together really quickly.
How did you come to be listening to so much Northern soul at the time?
Kristian: I've always been a fan. My uncle was a regular at Wigan Casino and we just rediscovered it.
Gus: We got back into it in a much bigger way than before. We were listening to a lot of Ruby Andrews, "The Night" by Four Seasons, and "Out On The Floor" by Dobie Gray.
Is the song indicative of what's to come on the new album?
Gus: Yeah, especially with lyrics. We knew we wanted to explore more than we ever had before with this album. A good example is that Jack and Kristian both came in one week with a song each that they'd written after going to the same house party.
Jack: We'd accidentally given two accounts of the same house party in Brighton. The one I'd written was this blissed out experience while Kris was on another floor having a terrible time. So we've come out with totally different stories to tell.
What other themes are you exploring on the record?
Gus: A big one for us was coming into our mid-to-late twenties and feeling like the party is over, in some respects.
Jack: Half-way through the writing process, when we'd all been away and writing alone, we came back together and discovered that we'd all been writing along these two themes of a) going out and having a good time and b) looking inward and examining ourselves in quite a dour way. That day and night thing occurred to us early on and you can really hear two moods on there.
Gus: It's us navigating this awkward time of being a twenty-something and going through those struggles of not knowing where your life is heading and spending half your pay check on rent. On the flip side to that you're surrounded by great friends and letting off steam together. There's always a sense of 'Could I be doing more?' that plays on our minds.
Kristian: We thought a lot about this idealized version of ourselves that we imagine we can be and then beating ourselves up for failing to meet unrealistic standards.
Gus: It's a very truthful album and very open. I wouldn't say the album is entirely downtrodden. It's a celebration of having amazing friends and family around you and expressing that by going out. It has darker moments but it reflects the potential to have good times and bad times.
What drew you to Ben Allen as a producer?
Jack: There were a couple of names brought up and when we looked at what Ben has done, particularly his work with Deerhunter, and that really excited us. He's done albums with cult bands that we grew up listening to but then he's also made pop records with Gnarls Barkley and that is pretty unique. Plus, he's in America and we were buzzing to get out there.
Gus: Atlanta is such a nice city. We were there for a month and got really settled there. People want to talk to you and they're curious as to why you're there. The whole thing was a drea.
Paeris: Atlanta has fringe scenes that have inspired us too. R.E.M., The B-52s and post-punk bands like Pylon, who were from Athens.
Jack: Ben's a maximalist and is up for trying everything. We've been guilty of not putting ideas forward in the past. He's make us see through every idea before writing it off. It meant that we were open to so much more and thus coming up with things that were exciting and felt new to us.